As the Curator of Public Programs at the Museum of Fine Arts, St. Petersburg, my professional focus has always been the MFA's public spaces, performing arts venue, and gardens—not the collection galleries. Most of the museum programs I've overseen have been centered on exhibitions in one of our five rotating galleries, with our vast permanent collection serving only—for me, at least—as a scenic shortcut as I checked in on musicians, sound-checked a film, or readied a room for a lecture.
But as our collection galleries underwent a long-planned renovation during our pandemic-induced closure, I began to contemplate something new and exciting. In 2021, what would a museum opening its doors for the first time look like? Instead of using our collection as a backdrop to our programs, how could we use our programs to underscore our collection's value, demonstrating to our neighbors, partners, and guests that art can be essential to their wellbeing and to the civic life of our city?
The result of this questioning is Picture of Health, the MFA's innovative new wellness initiative that harnesses the power of our collection and gardens as places to enhance wellbeing and find healing and solace. Here's a look at the trio of programs that comprise Picture of Health and their origins in the pandemic.
Sit, Stay, Heal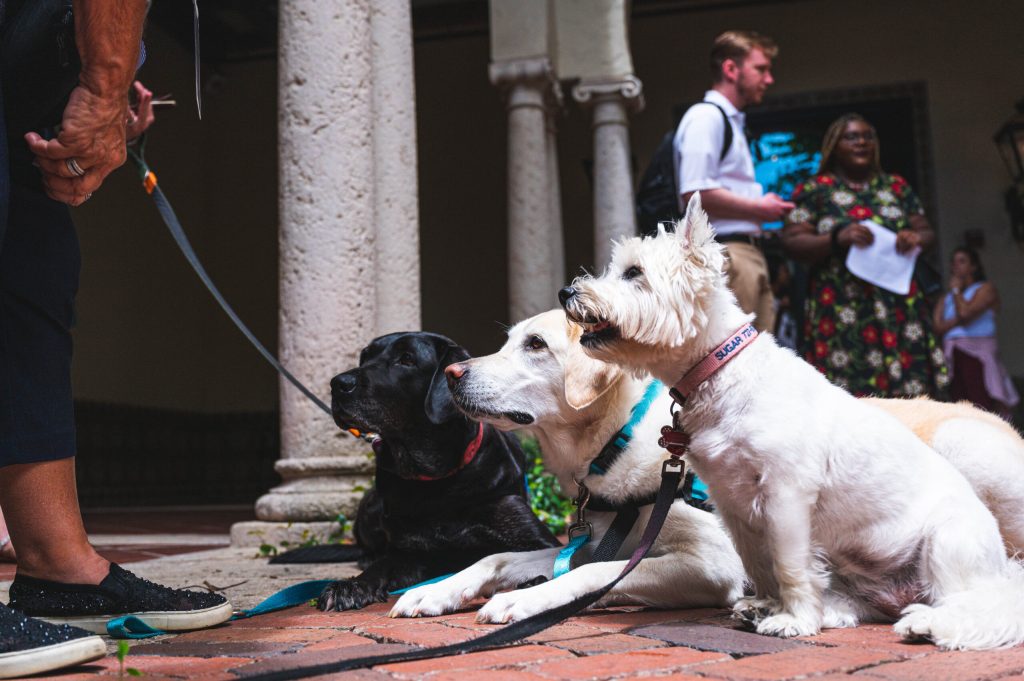 As I began to brainstorm the Picture of Health concept, my thoughts immediately turned to our city's frontline workers, who were facing unimaginable pressure. They had borne an outsized responsibility during the pandemic, putting themselves at risk while enduring the physical and mental toll of caring for others. How could the MFA help?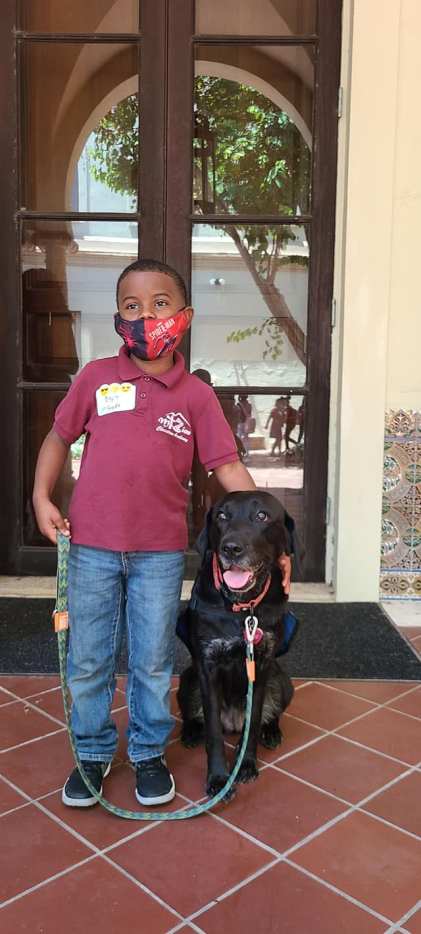 Waiting in the car line at doggy day care one morning, I saw a scrubs-clad woman in front of me grasp her dog in a deep hug, and something clicked. I thought, let's eschew lessons both ingrained (no dogs near the art) and new (limiting people in the galleries), to see if we can bring therapy dogs into the museum for our frontline workers!
After working with our curatorial team on best practices, I began searching for therapy dogs. And there, too, it turned out, the pandemic had taken its toll. Therapy dogs and their caregivers, who once spent their days at hospitals, schools, and nursing homes, were all stuck at home with no opportunities to give comfort. We developed pre-vaccine safety protocols, reached out to area hospitals for insight and advice, and readied our shaded—and more importantly, outdoor—Membership Garden for use. We assembled canine care teams affiliated with the Alliance of Therapy Dogs and Project PUP. We purchased treats and water bowls, handed out doggie wipes, and created a pup-centric playlist.
When our Sit, Stay, Heal program launched, there were still numerous uncertainties around social gatherings. Despite our strong safety precautions, the anxiety of venturing out was a real challenge for our visitors and members. But six months later, as CDC recommendations shifted and COVID-19 vaccines rolled out, Sit, Stay, Heal has grown legs, and we now have an ever-expanding group of canine care teams and hospital staff who visit monthly. Due to demand, we have also expanded the program to include all museum visitors, as well as a therapy dog visit to our staff offices.
Mood Tours
Witnessing the response to Sit, Stay, Heal allowed me to begin envisioning a suite of wellness programs. For inspiration, I turned to research and focus groups we conducted in 2018 in advance of a planned program to meet the needs of our memory care/dementia community. Surely, there were lessons to be learned in those findings, even though we were no longer able to safely accommodate such a vulnerable population. As I revisited our research and focus group findings, I was struck again by the overwhelming evidence that an emotions-based museum visit could facilitate health and wellness:
Participants overwhelmingly valued social interactions and the ability of museum programs to facilitate relationship-building.
Participants ranked the emotions art evoked for them as the main key to deepening their connection to it, edging out learning background information about the art and artist.
Participants were equally divided on whether they preferred hands-on or more passive educational activities, which pointed to the need for variety and the ability to adjust their level of participation.
Thus, our Mood Tours were conceived! These tours look at art in our collections through a personal rather than art-historical lens, offer paths for intimate and meaningful art-viewing, and provide opportunities for both art-viewing and art-making. With the help of Jasmine Parker, an art therapist, and Mason Gehring, a recent graduate from the University of Florida's highly respected Arts in Medicine graduate program, we developed tours of our galleries and artworks we thought visitors might connect to in one of six areas: Grief & Resilience, Joy & Celebration, Self-Reflection, Empowerment, Relationships, and Calm.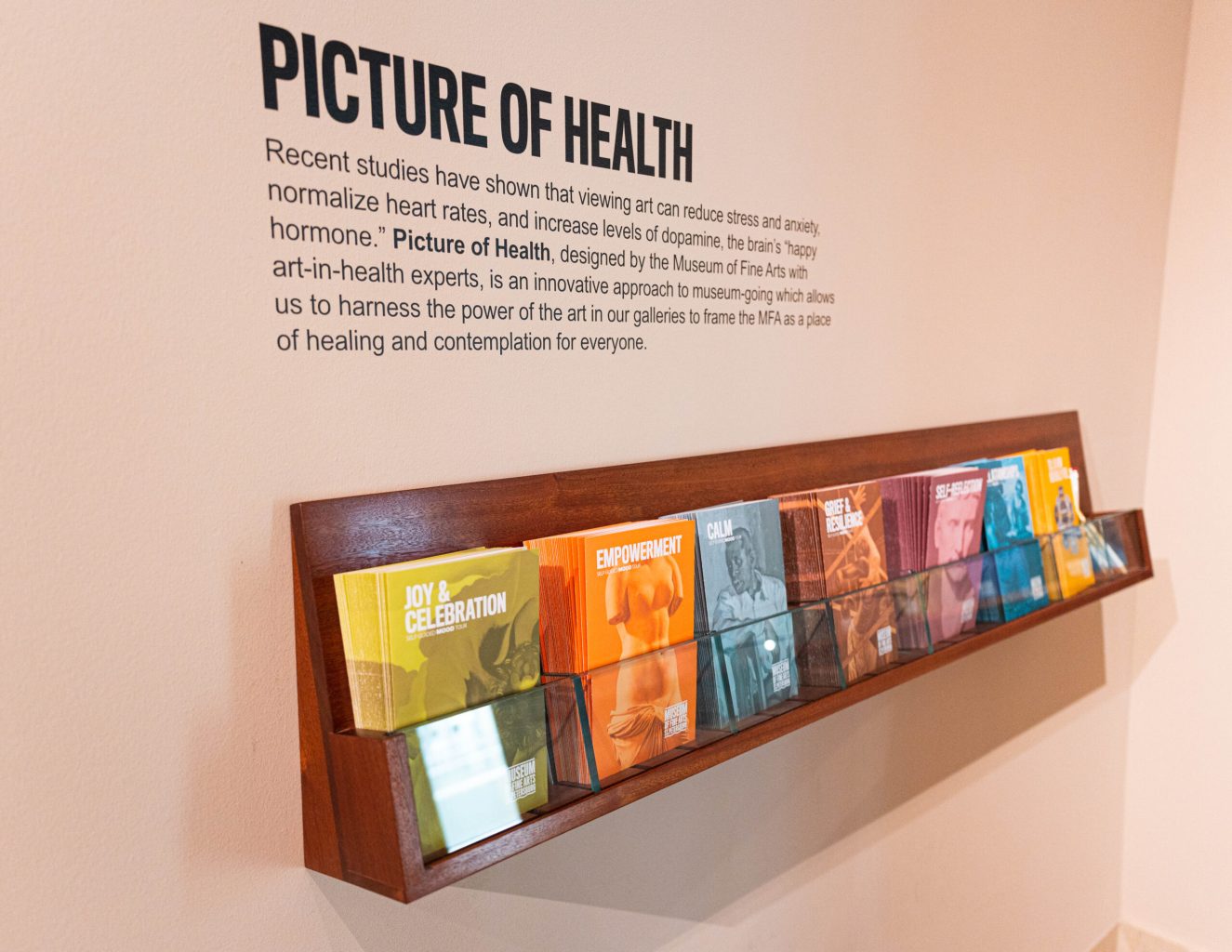 And in the end, the connections were made.
An audience favorite, Gathering at Church Entrance by Richard Hall, allowed us to place ourselves in the hierarchy of the townspeople in the painting.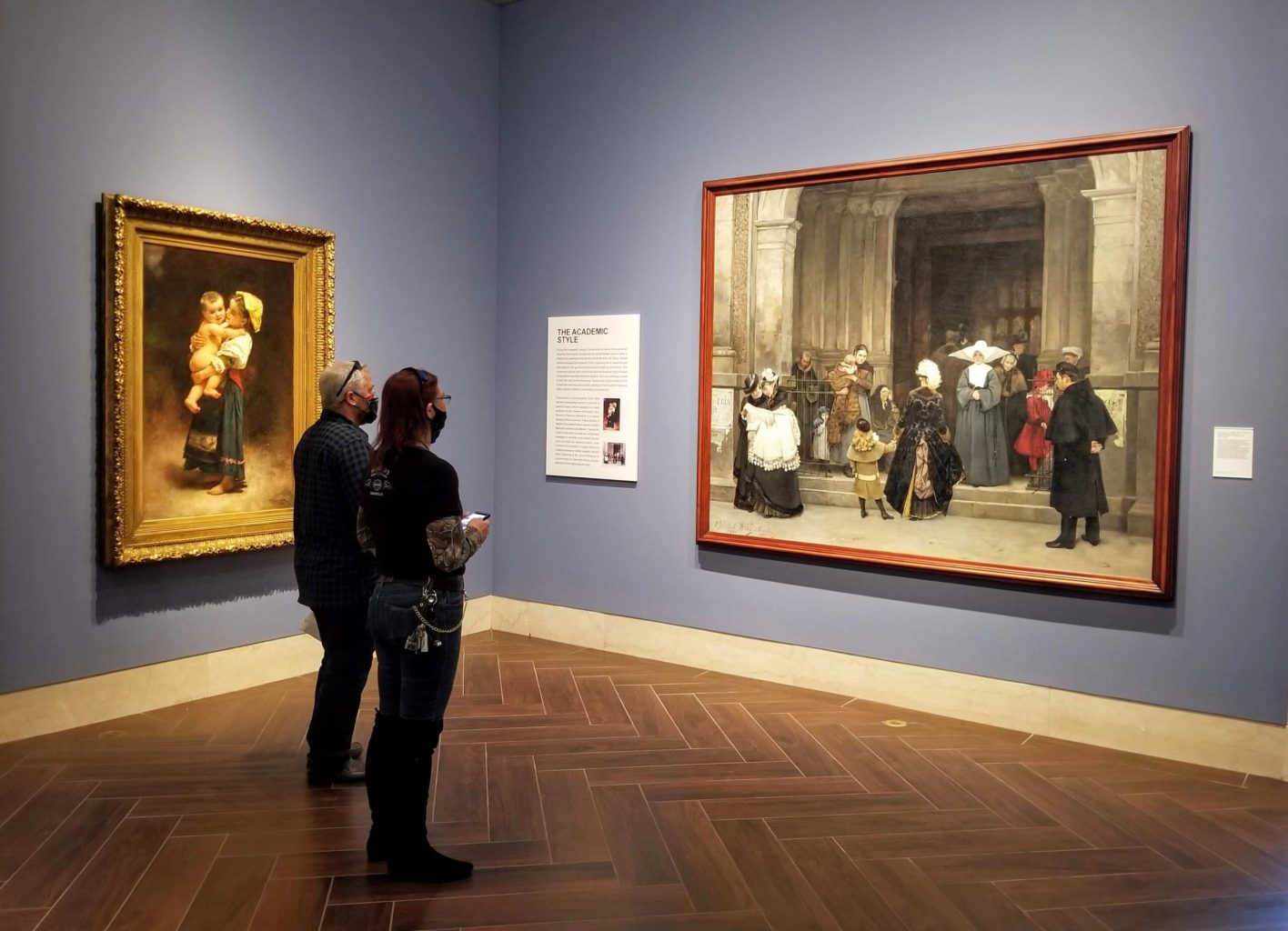 The young man in Kehinde Wiley's portrait Leviathan Zodiac offered empowerment.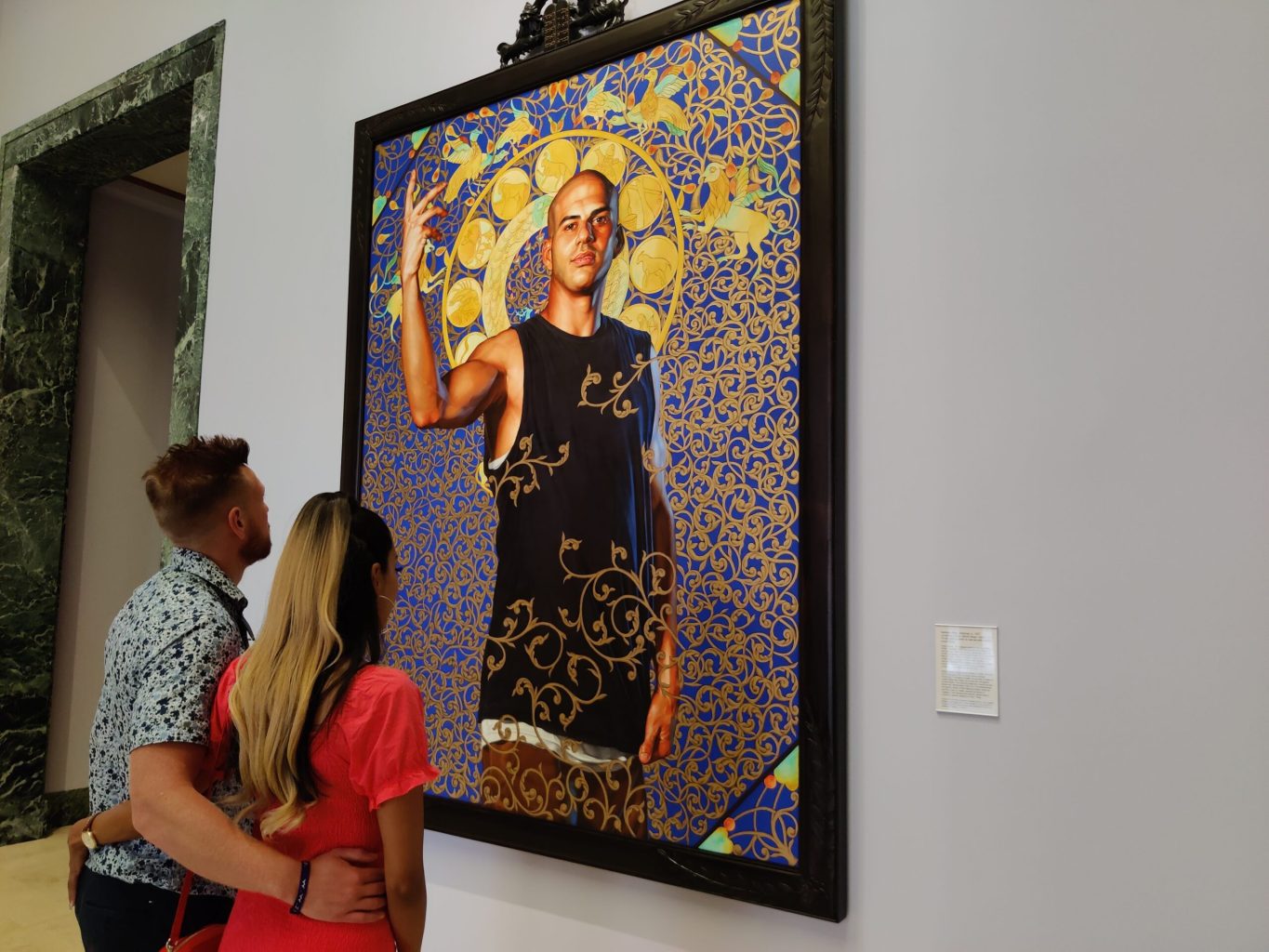 One of our favorite pieces to watch people interact with became Big Blue by Leon Berkowitz, who had worked in art therapy as a psychologist in the US Army. At first glance, the emotional touchpoint isn't apparent, but the longer you sit with his meditative work, the more completely you are drawn in.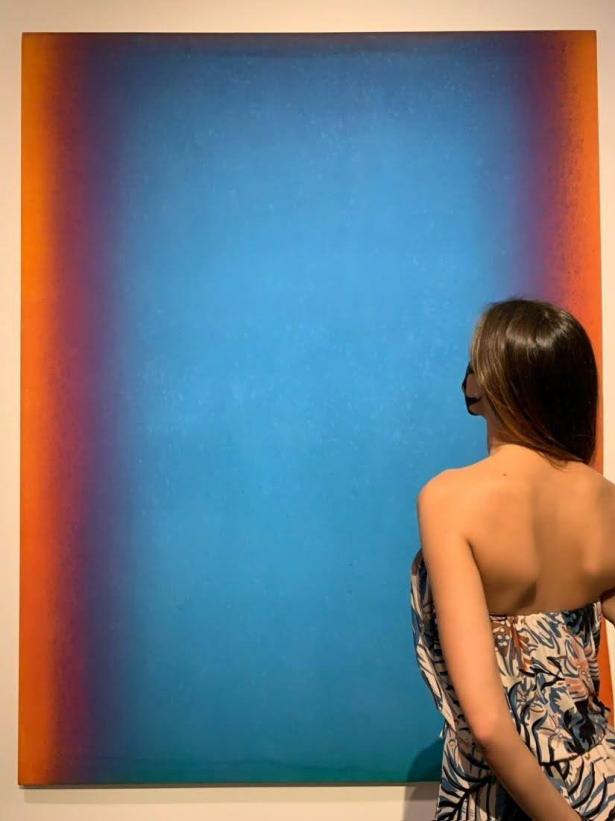 Within each printed Mood Tour guide, we created an art activity designed to allow deeper engagement with the art and our visitors' feelings. It was important for us to facilitate the connection to the artworks, but also provide an outlet to process those connections and emotions.
Museum on Prescription
With group activities placed on hold for the foreseeable future, I turned my attention to a practice called "social prescribing," which had long been on my wish list. Social prescribing is when physicians prescribe a visit to a museum to their patient, a practice based on compelling research into the health benefits of arts and cultural experiences. Studies have shown that art-viewing, art-making, and museum visits offer very real and tangible psychological and physiological benefits, including:
Improvements in physical health, with benefits akin to mild-to-moderate exercise
Improvements in psychological or mental wellbeing, including a reduction in symptoms of anxiety and/or depression
Engagement with the brain's pleasure and reward system
Stimulation of the visual cortex
Reduction in social isolation and loneliness for hard-to-reach people
Increases in self-esteem and confidence
Reduction in visits to physicians or referring health professionals
But the practice, while popular in Canada and parts of Europe, has yet to catch on in the US, which had stymied our efforts to experiment with it in the past. But since the pandemic began, the health care field (much like the museum world), had proven itself much nimbler and more adaptable than before, paving the way for us to try again.
Acting on the belief that physicians with a relationship to the museum would be more inclined to participate, we compiled a list of doctors and began our outreach efforts. Our goal: to start small and grow the program only after assessing its impact on the wellbeing of our visitors. We have started with a core group of five physicians who will participate for six months, and are now in the process of working with practitioners at our local Veterans Hospital. Afterward, we will assess the data and see if we should implement further adjustments.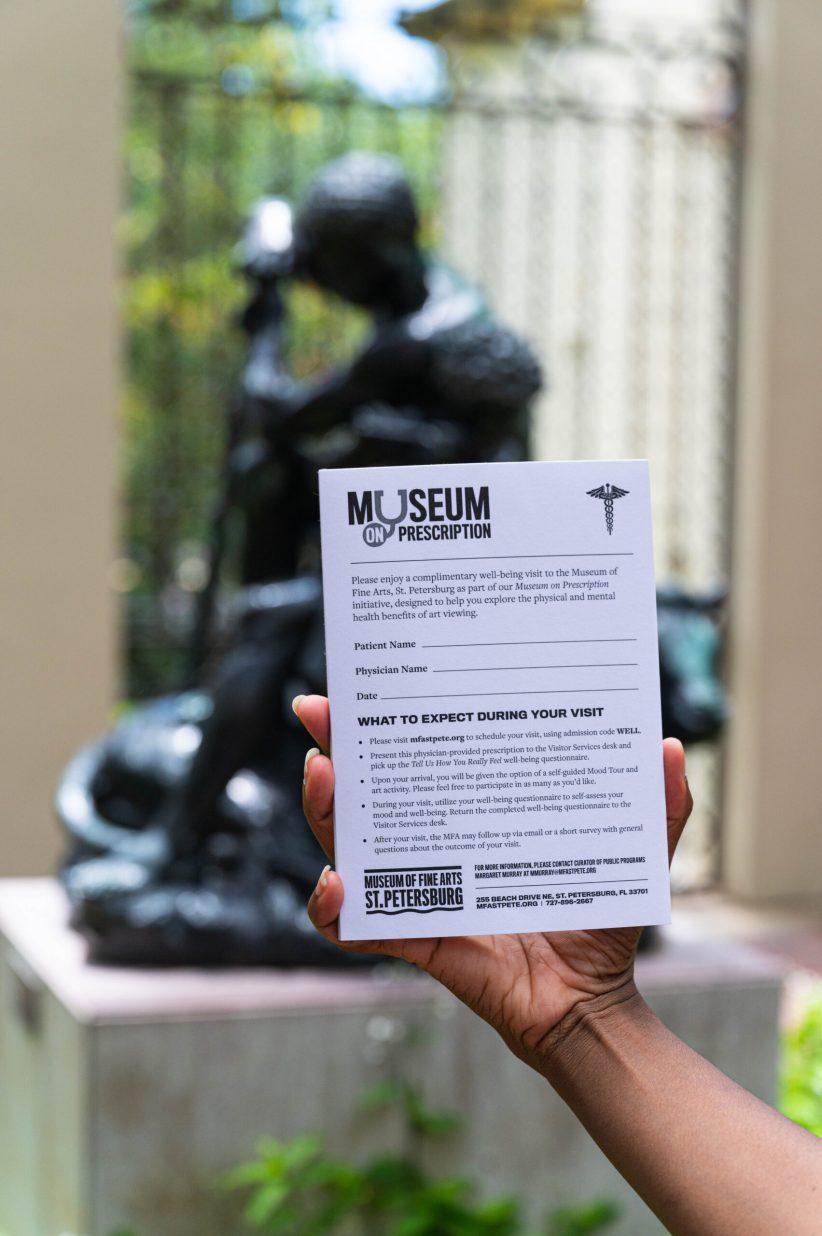 Aiding in our assessment is the MFA's "Tell Us How You Really Feel" questionnaire, which we adapted from the University College London Museum Wellbeing Measures Toolkit.
Each of these programs, in some way, addresses the findings from our own research, as well as museum programs increasingly occurring around the world. We also looked to last year's Culture Track COVID-19 survey, which found that the public expected or wanted the following qualities in a post-COVID museum visit:
To see beautiful things (57 percent)
To have a thought-provoking or challenging experience (49 percent)
To have an emotionally powerful experience (47 percent)
As we enter the autumn of 2021, our gallery renovations are complete, and visitors are cautiously returning to the museum. While much remains unclear, one thing is absolutely certain: we have, as a museum, created opportunities to meet the health concerns and emotional needs of our community in a uniquely twenty-first century manner.
Skip over related stories to continue reading article