This post is an advertorial written by a company that serves the museum field. The views, opinions, and positions expressed by the authors and those providing comments are theirs alone and do not necessarily reflect the views, opinions, or positions of AAM or its employees.
---
As visitors are beginning to return to museums after more than a year of keeping their distance, museums may still be faced with challenges to drawing in attendees. Even prior to 2020, many museums were forced to delay projects, downsize exhibitions, and even lay off staff as costs and insurance premiums continued to rise and government funds dwindled. Additionally, as technology continues to become more and more embedded in everyday life, there is a rising generation of people who have grown up in a digital world where a static sculpture, a fossil, or ancient ruins may not engage attendees like they once did.
Augmented Reality (AR) technology has the ability to apply layers of computer-generated information and images to enhance a real-world experience, and can be seen as one of the most exciting advancements of our time. It can generate new perspectives by transporting people into the shoes of another person, restoring a room of its original furnishings to portray a different time period, resurrecting objects that existed decades ago, and more. While mobile phones can be utilized to deliver AR-enhanced experiences, coupling AR technology with a pair of transparent smart glasses, like the Epson Moverio Smart Glasses, can provide an overall better experience that keeps your head up and hands free.
For nearly ten years, Epson Moverio has been a world leader in smart glasses—bringing the power of augmented reality to a variety of industries and applications with a focus on image quality, comfort, and durability. Powered by Si-OLED micro projection technology, Moverio delivers sharp images, integrated sensors, and enhanced connectivity features to seamlessly blend digital content into the outside world.
AR presents content in a way that is digestible and engaging, so it is not surprising that forward-thinking museums are among the pioneers who are embracing this opportunity and are considering the technology's potential to improve customer experiences. The following are a few ways for museums to integrate wearable AR technology into exhibits to enhance visitor experiences:
Create customized experiences: AR smart glasses are being used to deliver unique museum experiences in a new compelling way by adding an interactive component. Visitors can roam completely hands-free through augmented environments where 3D holograms, videos, pictures, and text appear amidst real-world art, artifacts, architecture, and landscapes. Wearable AR can help turn education into entertainment and keep young visitors engaged by sprinkling in sections of interactive AR gaming experiences. Additionally, AR provides visitors with an experience that never feels repetitive by creating visual tour guides or compelling storylines that can be taken outside the museum or recreated differently during the visits.
Expand accessibility: Many museums have integrated audio guides, QR codes, and mobile apps into their exhibits, but oftentimes that is not enough. Ideal for real-time captioning and translation for museum attendees with hearing and visual disabilities, as well as those needing translation services, AR smart glasses provide a unique heads-up, hands-free experience by displaying content directly onto the glasses, eliminating a need for a separate closed captioning screen. The AR smart glasses can be used in a museum's dedicated theater or throughout the exhibits inside and outside of the museum.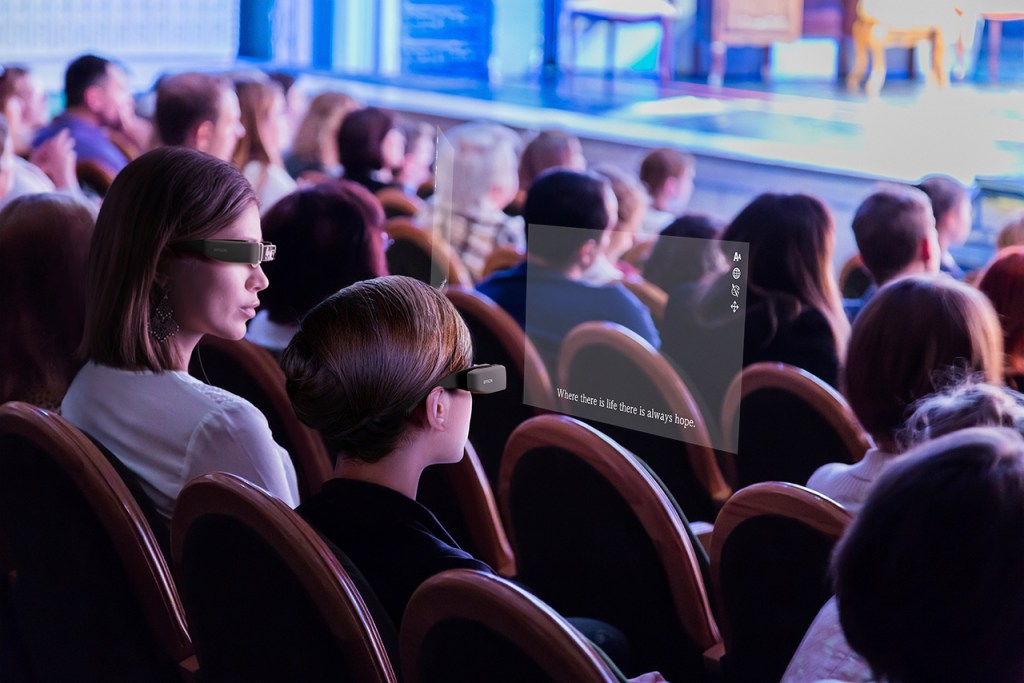 Bring exhibits to life with AR content: For many museums, storytelling is at the center of the experience. Imagine stepping into a room and you are immediately transported to colonial times. The fireplace lights up, music from the time period is piping in softly, and you witness George Washington reading a book before your eyes. Bring details of the past to life at iconic historical sites and museums with AR-enhanced scenarios by allowing visitors to experience characters in full motion, 3D reconstructions of long-lost buildings and landscapes, historic documents, 360 panoramas, and more. Experiences can also be accompanied by surround audio with voices, music, and sounds for an added element to the ambiance.
Museums are much more than repositories of objects or locations dedicated to preserving the past. They are places for people to come together not only to express appreciation for history but to spur and forge new ideas. By adding wearable AR technology, museums can expand accessibility for visitors with hearing and visual disabilities, as well as those from all over the world that might need translation services.
Objects that existed thousands of years ago can be brought to life and visitors can immerse themselves in semi-virtual worlds through digitally recreated building interiors and exteriors. Added technological visualization can help guide visitors' eyes to different aspects of a painting, and environmental visual cues can improve a connection with an art piece and deepen their understanding as a whole. In order to survive and stay relevant in our technology-driven society, museums and exhibitors must mirror the outside world and consider all the opportunities that AR can offer the cultural tourism industry today.
Skip over related stories to continue reading article