This post is an advertorial written by a company that serves the museum field. The views, opinions, and positions expressed by the authors and those providing comments are theirs alone and do not necessarily reflect the views, opinions, or positions of AAM or its employees.
---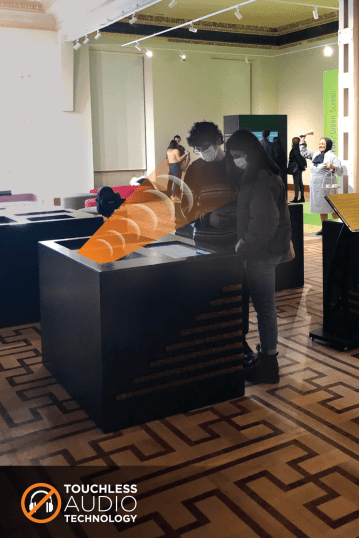 Holosonics' patented directional speaker technology is seamlessly employed throughout a variety of exhibits in the recently unveiled Istanbul Cinema Museum to bring an immersive, as well as safe, touchless sound experience to visitors of this highly celebrated cultural destination. A total of ten AS-168iX Audio Spotlight directional sound speakers were installed to enhance the museum's interactive exploration of Turkey's film industry.
Audio Spotlight speakers are a smart and popular choice for museums. Emitting sound beams as precise as a beam of light, the speakers can be used in areas that are close together, because while the active listener is immersed in sound, the surrounding area is kept quiet. Plus, their inherently touchless design delivers personalized audio experiences without requiring any physical contact by the listener, which today is an indispensable quality. The Istanbul Cinema Museum opened in February 2021, when COVID cases were again on the rise.
"We completed the installation during the pandemic, so the importance of conveying information touch-free provided a huge benefit in terms of hygiene," explained Efe Alpay, Creative Director at Reo-Tek, the installation partner responsible for integrating the technical and visual components of the exhibits. "The Audio Spotlight technology allowed us to condense a very diverse audiovisual content into a relatively narrow space. Plus, their sleek, compact design was easy to integrate discreetly and did not distract from the exhibit."
For instance, in one area of the museum four kiosks are arranged close together, where visitors can discover the history of certain camera models and a sampling of the movies filmed on each piece of equipment. Individual AS-168iX speakers are recessed right into each kiosk and are angled so that the sound beams out exclusively to the listeners standing at each station. Even with the relatively tight arrangement, each listener can have a private sound experience without being distracted by the adjacent exhibits' audio located a mere step or two away.
Similarly, in another installation, three AS-168iX speakers were mounted to the ceiling in front of a large screen where three separate movies are projected simultaneously. The speakers direct the soundtrack for their corresponding visual to a specific listening area, so listeners can enjoy a more immersive and personalized audio experience without the unwanted interference of hearing the soundtracks for the other projections.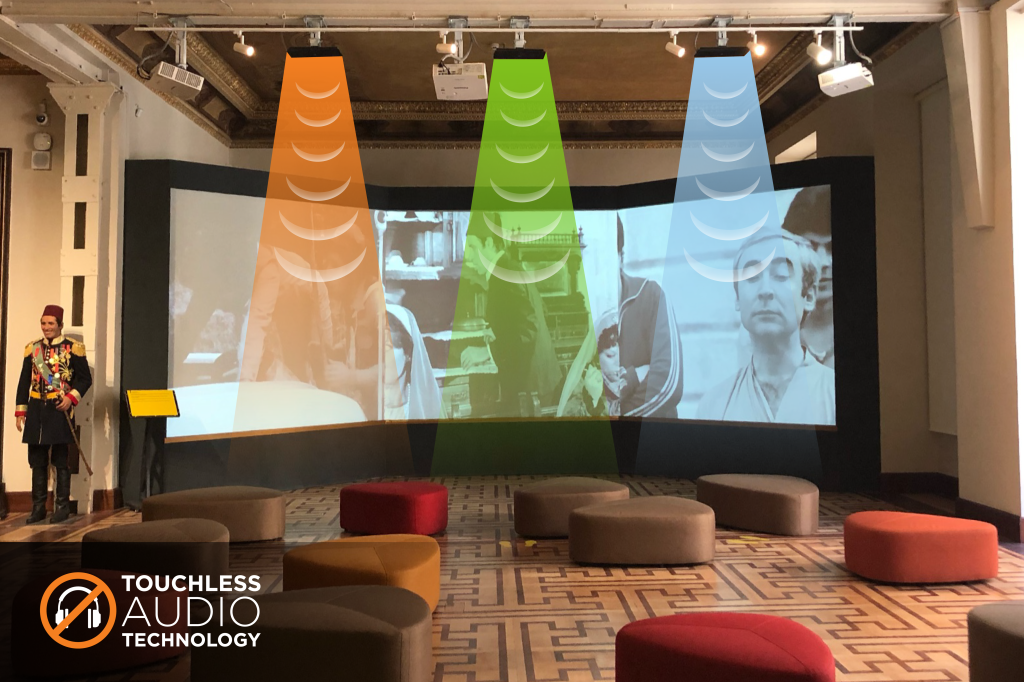 Another example of a creative and efficient application of Audio Spotlight's directional sound is the museum's interactive greenscreen exhibit. Here, visitors enjoy casting themselves into iconic films, complete with a personalized audio experience. Two AS-168iX speakers direct the audio for their scene to the stage so that it does not disturb the other visitors in other areas of the museum.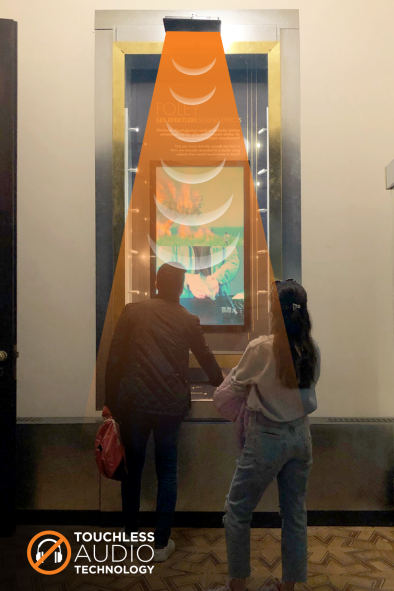 The museum's high-profile opening in February 2021 was attended by Turkish President Recep Tayyip Erdoğan, Culture and Tourism Minister Mehmet Nuri Ersoy, prominent Turkish actors and actresses, and world-famous celebrities like Jason Statham and Guy Ritchie. The opening followed an extensive two-year renovation of the Atlas Theater, the historical building that houses the museum. The renovation was part of a wider project to establish the Beyoğlu district, the area that links renowned sites such as Atatürk Cultural Center and the Galata Tower, as a cultural hub.
Showcasing Neoclassical influences in its impressive ceiling decorations, marble fireplaces, and plaster reliefs, the museum's restoration and the integration of modern technology was a delicate balance. "From the perspective of design, having speakers that blend in unnoticeably with their surroundings is crucial, and the thin, flat Audio Spotlight speaker surfaces blended in with the exhibit seamlessly to provide a clean overall look," Alpay stated, continuing, "Holosonics' ability to control sound as precisely as a laser beam is a magical thing." With their adaptable design, unparalleled directional sound technology, and inherently touchless operation, it's clear why Audio Spotlight speakers are the preferred choice for museum exhibits today.
About Audio Spotlight by Holosonics
Contact us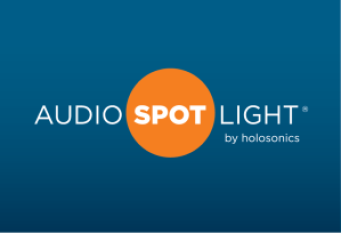 to learn more about how our directional sound technology can benefit your projects and we'll work with you to design an Audio Spotlight solution that will meet all your needs. Our patented technology has enhanced the experience for patrons in a wide variety of settings that include museums, galleries, retail stores, libraries, hospitals, airports, and many other locations throughout the world.
Audio Spotlight is a revolutionary audio technology that creates sound in a narrow beam, just like light. Aim the flat, thin speaker panel to your desired listening area, and provide all of the sound and none of the noise.™ From museums, galleries, exhibits, and a wide range of other venues and applications, thousands of companies throughout the world have chosen this patented technology to provide high-quality, precisely controlled sound, while preserving the quiet.™