At 11:58 am, my finger hovered above the record button. I had set out on a hot August day to capture the noon bell chimes of the Immaculate Conception Church in downtown Salem, Massachusetts. My goal was to weave these ambient sounds into a new Peabody Essex Museum (PEM) audio walking tour about the Salem witch trials. At that very moment, a young woman walked by, a large snake wrapped around her arm. Her male companion had something thicker around his neck—a scarf perhaps, but probably not. I hit the record button, listened to the daily chimes, and thought how, in Salem, a large snake out for a noon stroll can pass through a crowd almost imperceptibly—as can a mummy, a vampire, a werewolf, and a group of tourists in ubiquitous black pointy hats.
Not much can shock a local here. That's because we live in the Witch City, a place where thousands of tourists flock each year to celebrate the Halloween season and simultaneously seek a better understanding of the infamous events of 1692 that put our small city on the map. For more than three hundred years, the complex drama of the Salem witch trials and its themes of injustice and the frailties of human nature have captivated the public imagination. The extraordinary crisis involved more than four hundred people and led to the deaths of twenty-five innocents—men, women, and children.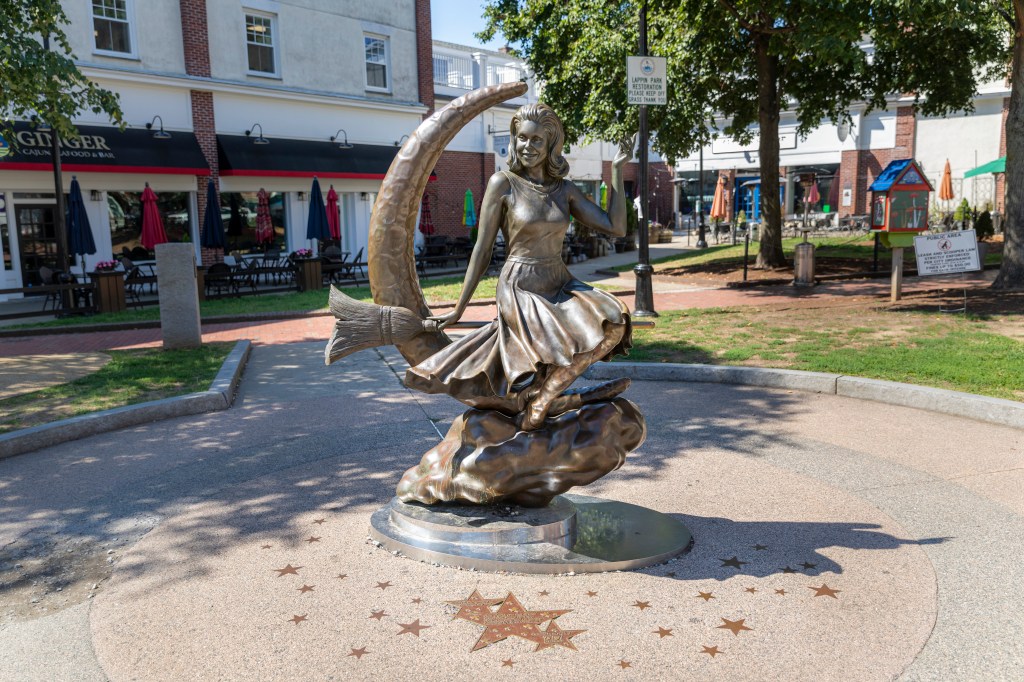 PEM holds the world's largest collection of Salem witch trials materials, including some five hundred original documents on deposit from the Massachusetts Supreme Judicial Court. The museum presented popular exhibitions in 2020 and 2021 focused on the tragic events of the trials and linking them to the modern day, including by featuring the works of photographer Frances F. Denny, who is a descendant of a witch trials judge and created a series of portraits of people who identify as modern-day witches.
This year, we again tapped the expertise of our curators to help people better understand this complex story through a new experience—the Salem Witch Trials Walk. This self-guided audio tour is free with admission, with a trajectory that begins in the museum's galleries, with stops to see original documents and objects and examples of historic witch-themed merchandise later created to "sell" this story to a fascinated public. It then heads outside the museum to key sites in downtown Salem related to the witch trials, including PEM's historic Ropes Mansion made famous by its appearance in the Disney film Hocus Pocus.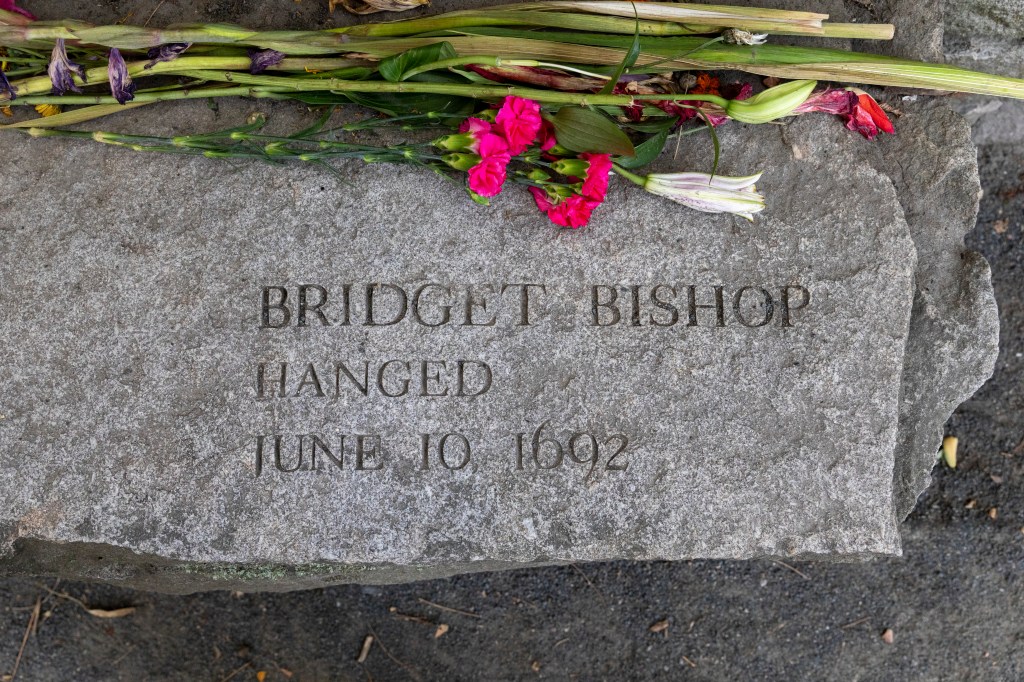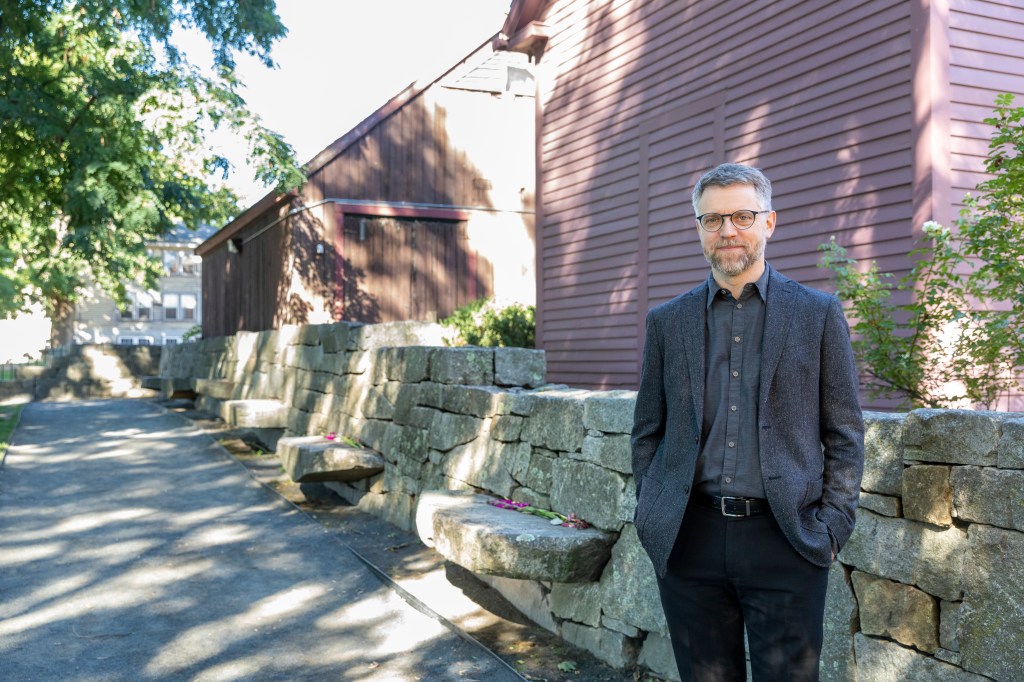 Skip over related stories to continue reading article
One of the goals for our tour was to provide a counterpoint to some of the others that visitors to Salem will find taking place around town. On those tours, guides often intertwine ghost stories with witch trial history, helping curious people who come from other states and even other continents find the spine-tingling experience they're looking for. I took on this project with great gusto. For people like myself who live in Salem, there has always been a sense of "Team History" versus "Team Witch Kitsch." But really, the two are inextricably linked. There is a real history of tragic events and also a real history of nineteenth-century entrepreneurs creating witch-themed products and souvenirs. There is a real connection between a witch trials judge and Salem's literary son, Nathaniel Hawthorne, whose fictional works would contain the breadcrumbs left from 1692. There is a real history of those who identify as witches now making Salem their home and a real history of witch-themed tourism rising in the twentieth century. It's not one or the other.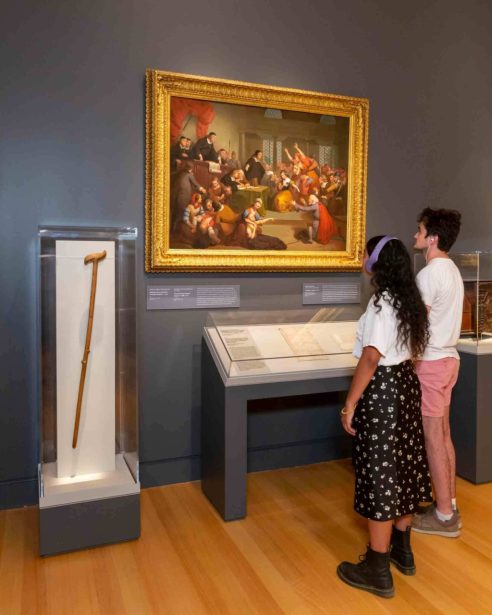 Still, as a museum that stewards tangible pieces of the events that have inspired this playful kitsch, we wanted to challenge ourselves to feed the appetite for it while steering toward more accurate educational outcomes. As PEM Associate Curator Sarah Chasse says on the tour, "The actual objects are a portal to understanding 1692 and the culture in which these events happened." It is our responsibility as the stewards of the objects that belonged to the accusers and the accused, as well as their handwritten court documents, to tell a more complete story.
Part of this responsibility includes bringing awareness to some of the still-relevant lessons of the trials, including "how mass panic can lead to fatal injustice," as the press release for the New-York Historical Society's current traveling edition of our 2021 exhibition puts it. In planning the exhibition, our staff looked to help contemporary audiences reckon with this dark chapter of history and what it meant for the developing United States. "We want visitors to feel the continuing impact of the Salem witch trials, to consider what it says about race and gender, and to think about how they themselves might react to similar moments of widespread injustice," said Dan Lipcan, PEM's Ann C. Pingree Director of the Phillips Library.
As someone who has made two witch trials episodes of PEM's podcast—one about the history and another about the contemporary response—it sometimes feels as though there isn't more for me to learn about the subject. But, of course, that isn't the case. This history, this city (!), keeps teaching us all. Before this project, for example, I never knew Salem's powerful Witch Trials Memorial, which was dedicated in 1992, is intentionally situated behind the gravestones in the Charter Street Cemetery, to symbolize the citizens of Salem turning their backs on the accused. We must continue to go back to the primary sources and to the tangible—like the unassuming bundle of twigs in our gallery, discovered hidden in one of our historic houses and thought to be used as a protective device. These objects reveal the worldview of the local settlers, many of whom sailed from the British Isles to Salem in the seventeenth century to find a place wilder and more different than they could possibly imagine. It is up to us today not to let the noise—or the year-round costume parade—muddle the meaning of the lessons they left behind.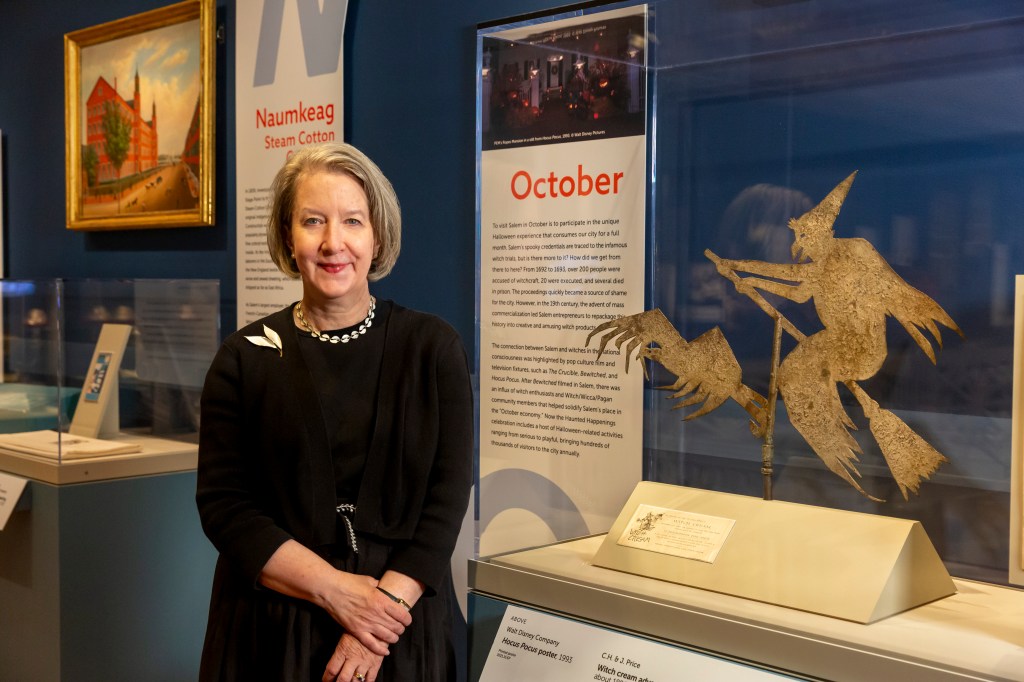 Along with the new walking tour, PEM will present an eclectic mix of programs to embrace the Halloween season this October. These include a dance party dedicated to queer and magical fashion, a pop-up shop where you can find unique costume pieces, spooky stories after dark inside our historic houses, and a special redecoration of the Ropes Mansion to look like it did in Hocus Pocus, just as a new version of that film is released.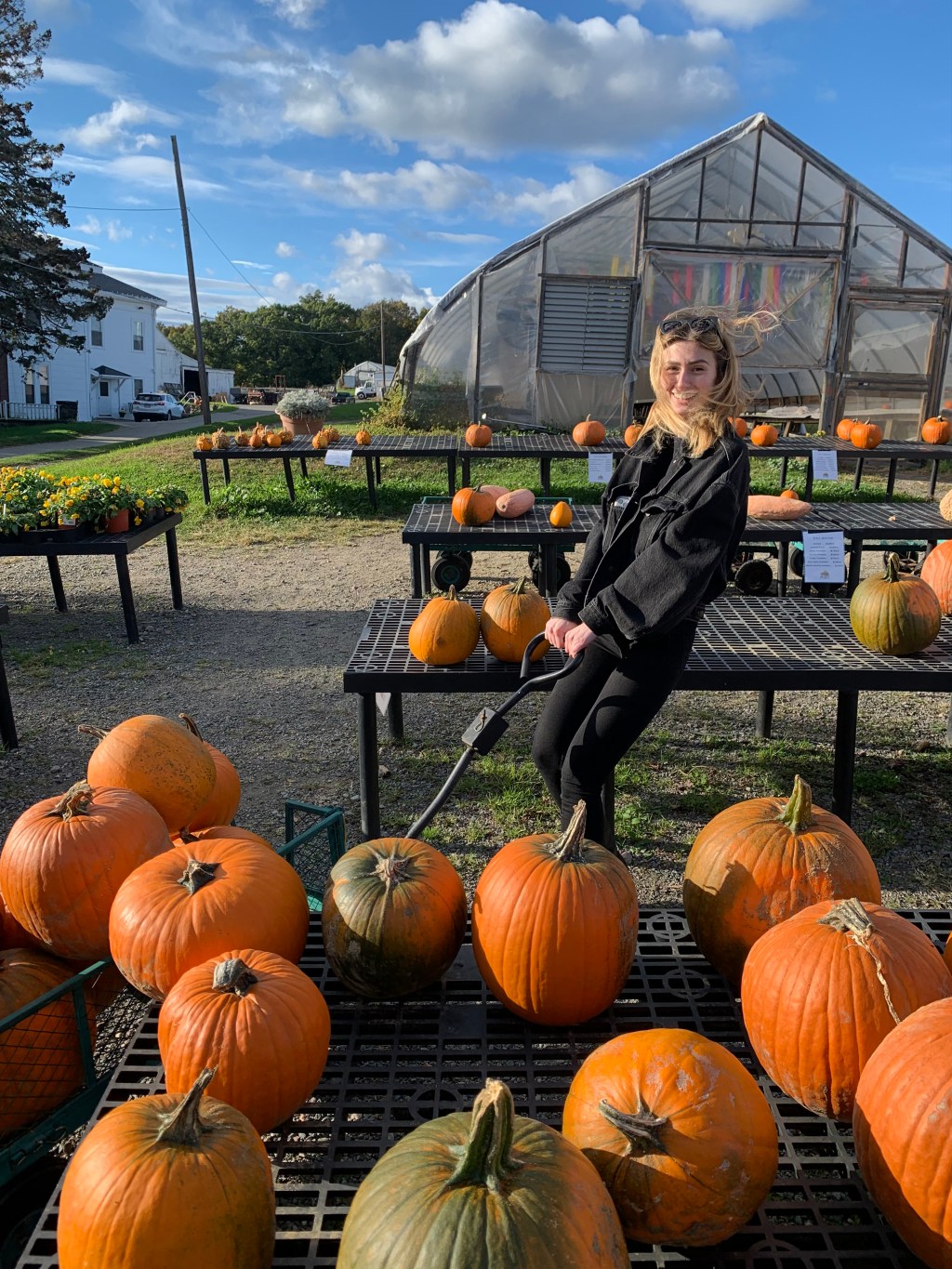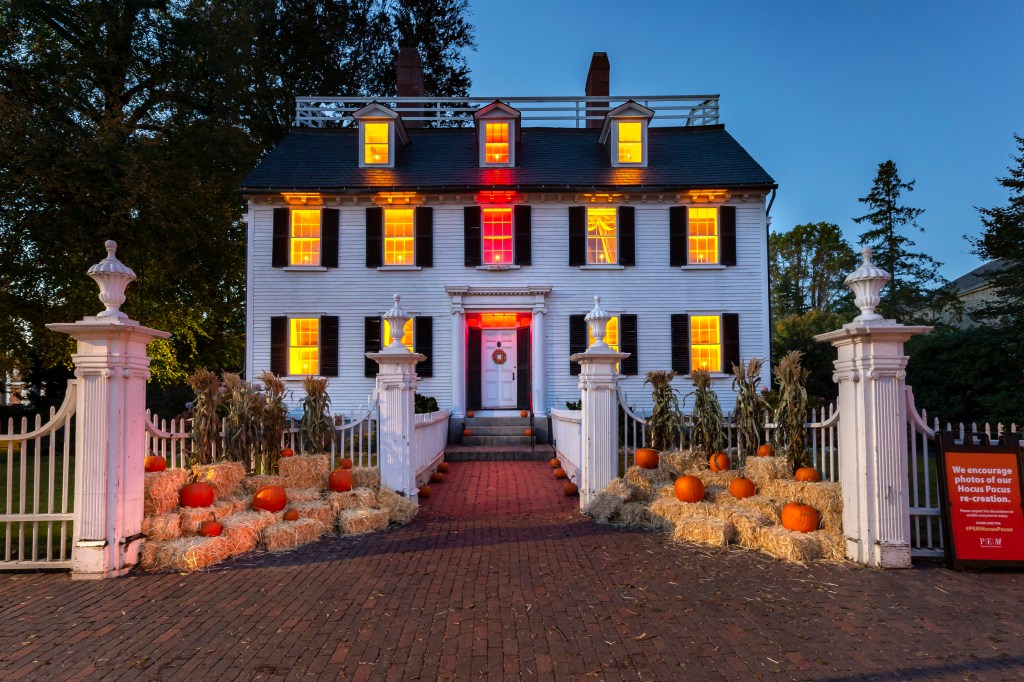 We're also screening the 2015 folk horror film The Witch, for those who want a real scare with a side of sparse seventeenth-century New England, and the beautifully animated ParaNorman. In addition to lectures and special programming, we are celebrating artists and fashion designers like Bill Crisafi and Hogan McLaughlin, whose sensibilities mesh with the Halloween-season aesthetic.
View this post on Instagram

This is, I believe, the tenth project I've done for PEM that involves the Salem witch trials. I've interviewed numerous experts, produced two podcasts, appeared on radio shows, hosted an Instagram takeover, and helped to compile resources for a new website initiative. The lessons we continuously learn about this story—the othering of our neighbors, living in fear, resorting to violence—are as valuable today as they were the moment the frenzy of that terrible summer wore off and the residents realized what they had done.
When this new project is complete, I'll escape to Maine for a few days to stay in a cottage I've rented, albeit owned by a Salemite. For, to paraphrase what Nathaniel Hawthorne often said, there is no escaping Salem for good, not really.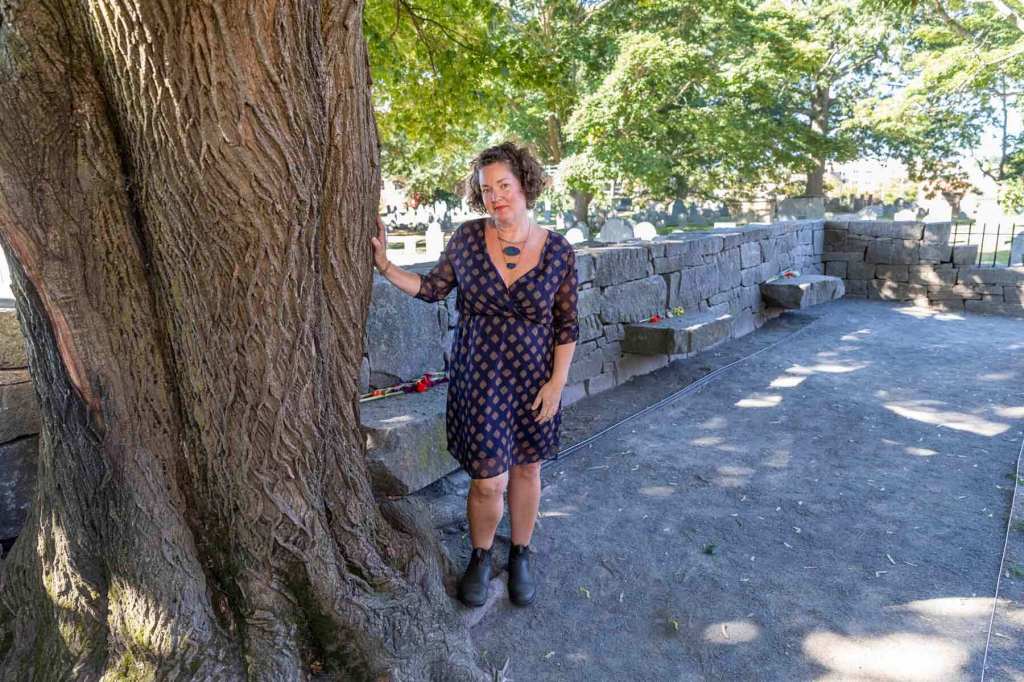 For more Halloween fun at PEM this October, see Eerie Events at pem.org. To follow along on the tour, go HERE.