A search for "diversity and inclusion" on the job portal Indeed produces over two thousand pages of results across public, private, and nonprofit organizations. The titles and responsibilities that come up—such as Chief Diversity Officer (CDO); Director of Diversity, Equity, and Inclusion (DEI); Diversity, Equity, Accessibility, and Inclusion (DEAI) Consultant—reflect a growing recognition of the need to bring DEAI principles into workplaces, including in the museum space. The changes in our world since 2020 have only increased this need, and in turn the need to properly support the people engaged in it, at all levels.
Unfortunately, the people who fill these roles are too often left to fend for themselves, performing their work with few resources and then seeing their recommendations and proposals go nowhere. While many organizations are enthusiastic about bringing in someone in a DEAI-oriented role, they often fail to do the groundwork to help them achieve success in it. The accounts that Black women and other women of color have shared of their experience in CDO roles, for example, reveal a deep disconnect between what organizations believe pursuing DEAI work involves and the reality of pursuing that work. What can result is a feeling of being "set up to fail," given a tremendous number of tasks and responsibilities but no real path toward implementation. Without proper support from the organization, such as a dedicated team or a concerted effort to embed DEAI work throughout the organization's entire structure, people in CDO or similar roles often decide to leave altogether.
This lack of support and resources can be seen in the museum field as much as any other, with staff at museums across the country reporting a lack of action following DEAI statements and an en masse hiring of senior staff tasked with DEAI issues. While the haste to move on DEAI progress is welcome, it could lead to failure in the long run. As museum DEAI consultant Cecile Shellman notes, "Each institution must do extensive diagnostic work to identify and analyze their own challenges—understanding where they are, what cultural changes need to happen, and whether their organizational structure is malleable enough to support cultural transformation in an authentic way."
For those in DEAI-oriented roles at museums, what kinds of resources and forms of support will allow them to not just survive being Black, Indigenous, or a person of color (BIPOC) in a predominantly white field, but thrive and help their institutions achieve their DEAI goals? One answer is more resources that are explicitly by and for them.
Skip over related stories to continue reading article
When media outlets and field organizations write articles, record podcasts, and produce other forms of content about museums, they often assume that because they speak generally about the field and the experiences of people in different positions within it, everyone can gain some benefit and is adequately represented. A problem with this assumption is that the majority of museums are still predominantly white institutions (PWI), despite significant progress to improve this in recent years. This also means that the majority of museum resources have been created by and for members of the cultural and demographic majority groups.
There is content written by and for BIPOC professionals in the museum space, such as a letter from a veteran museum professional to emerging and mid-career staff of color or a post detailing how the Anacostia Community Museum in Washington, DC, continued to serve its community during the COVID-19 pandemic, but these are vastly outnumbered by those written by and for white professionals and predominantly white museums. This was also echoed by fellows who participated in AAM's Facing Change initiative: They recommended there be more content specifically written by and for BIPOC professionals, as well as resources geared toward BIPOC professionals.
With that in mind, AAM's Inclusion team has gathered a list of resources centering and uplifting articles, podcasts, and other media forms created by and for BIPOC museum workers. The list includes tips and guides for practicing self-care, calls for museums to improve the material and psychological conditions of institutional work for BIPOC professionals, steps BIPOC museum professionals can take to directly affect change within their institutions, and more. The Google Spreadsheet breaks down each resource by topic and type of media and provides a short description of what the user can expect to learn from it; there are also tags to help organize resources as the list grows.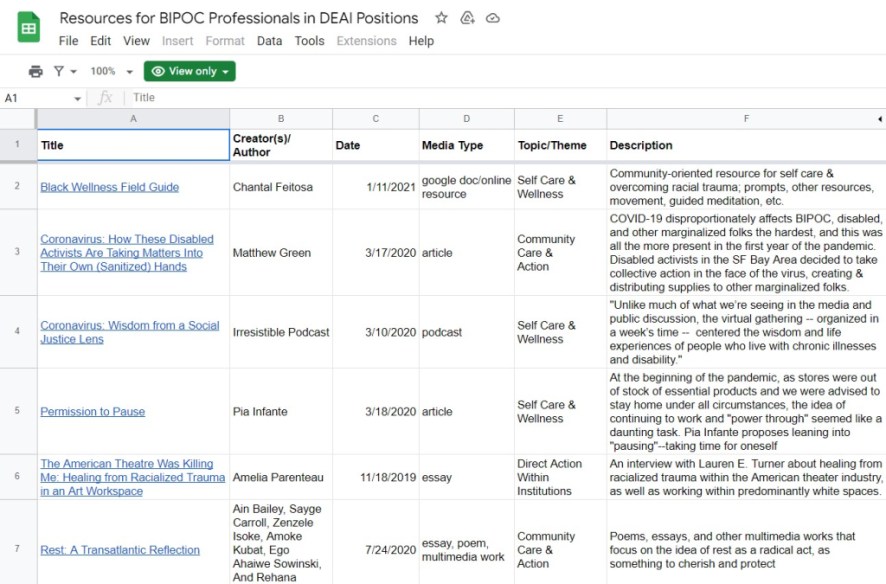 While this list is intended for those working in DEAI positions at museums of all sizes and subjects, the resources do not all come from the museum space. Rather, they represent a spread of learnings across fields and industries, touching on different perspectives and lessons BIPOC professionals can hopefully learn from.
Additionally, there are voices and perspectives that we had difficulty finding resources on. For example, the list includes numerous resources relating to self-care and wellness for BIPOC professionals, but very few about the experiences that those professionals face—and even fewer from the perspective of those in the museum space. Directly addressing the relative lack of breadth in museum content by and for BIPOC professionals will hopefully help identify gaps in knowledge and create space for those voices to take part in an ongoing DEAI conversation.
Topics that we have identified that would greatly benefit from BIPOC voices include:
First-hand/point-of-view perspectives from emerging BIPOC professionals in the museum space talking about how they came to enter the museum world, their journeys within it, and the process of establishing themselves as professionals (the same can be recommended for folks in the nonprofit and fundraising spaces).
The "life cycle" of a BIPOC professional in the museum space, current or former, and lessons that others can learn from it.
Content describing the work and experiences of those working at culturally specific and BIPOC-led institutions; the aforementioned blog post from Anacostia Community Museum is an example to look to.
Letters, articles, and other content from established BIPOC museum professionals and leaders to those early in or midway through their careers, sharing knowledge and other learnings as a guide for their fellow practitioners.
Challenges, opportunities, and areas of improvement that museum leadership can learn from, as told from the perspective of BIPOC staff.
We hope that this resource list is a living document for BIPOC professionals at all stages of their museum careers, as well as a much-needed conversation-starter around how the museum space can be more supportive of voices that have not been as present. Content about museum work should not solely focus on speaking to "everyone," as that risks leaving out those not in the majority. This is all the more important for those in DEAI positions at their museum, who are often tasked with changing the entire culture of an institution without much in the way of support from the institution. Having and creating resources specifically for BIPOC professionals more broadly is one way to offer that support as a field.
With that in mind, we welcome and invite suggestions for blog posts that cover one of the above topics, as well as others that are written by and center BIPOC museum professionals. If you have ideas or suggestions for future posts, please use our Idea Submission Form; you can also send questions and suggestions to facingchange@aam-us.org.