This post is an advertorial written by a company that serves the museum field. The views, opinions, and positions expressed by the authors and those providing comments are theirs alone and do not necessarily reflect the views, opinions, or positions of AAM or its employees.
---
While it may be true that historic trends repeat themselves, the artifacts left behind by each event are unique and numerous. For institutions of all sizes, efforts to manage risk, boost community engagement, optimize space, and preserve and protect their existing collections while making room for future growth can be a precise balancing act.
As technology continues to be a larger part of each generation's way of receiving information and learning new things, museums are looking for versatile ways to blend the tangible remnants of the past with tomorrow's digital dissemination processes. A key requirement for both ingredients in this mixture is space. Here we will show you how Spacesaver's lineup of museum-oriented storage products, including art racks and cabinets, allow staff to safely display and store physical collections while preserving space for accommodating future-focused patrons.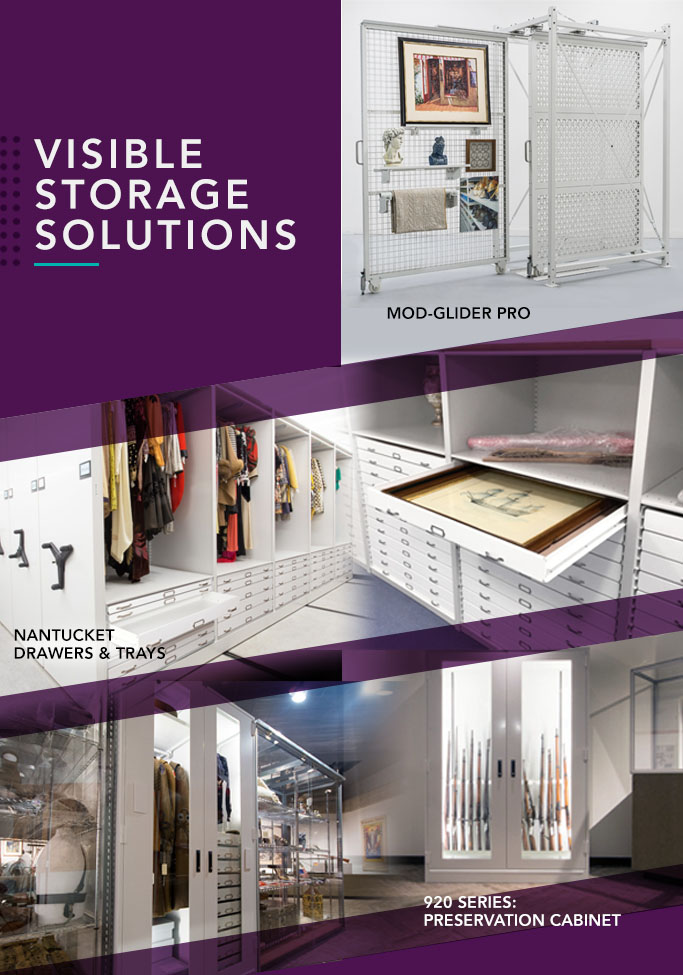 Coming to a Screen Near You
Skip over related stories to continue reading article
Patrons go to the museum to see the objects. Not a surprising fact by any means. What is surprising, however, is that on average only 3 percent of a museum's collection is on display at any given time. Typically, the other 97 percent is left to take up valuable space in backrooms or off-site warehousing, waiting for its turn in the appropriately tempered spotlight.
To ensure more collection objects are visible and accessible to patrons and staff alike, Spacesaver created its Mod-Glider Pro® modular art rack system. The Mod-Glider Pro's innovative welded wire and punched triangle screen types and versatile hanging accessories provide staff the ability to securely display an increased number of pieces within the museum's floorspace, as well as off-site in warehouse storage. One of six main types of art rack systems Spacesaver offers, the Mod-Glider Pro stores more in less space, leaving room for greater interactivity between the objects and those who appreciate them.
Setting the Stage for New Opportunities
There is no such thing as a standard museum collection. The type of artifacts displayed at a museum are strongly dictated by the past of the community, and their care instructions are as unique as the stories of their origins. Knowing this, Spacesaver operates through a network of local distributors backed by their in-house planning and project management teams to offer unparalleled service and attention to detail. Having a local consultant involved in the planning stage of a project can help ensure collections are protected and space optimized for preserving history to come.
Drawing on experience in storing artifacts of all shapes and sizes, Spacesaver designed its 920 Series: Preservation Cabinet with a sturdy modular exterior and interchangeable interior panels to adapt to the varied needs of collections and facilities. To provide increased flexibility for staff to accommodate to the day's needs, the 920 Series: Preservation Cabinets can be equipped with casters. This allows staff to safely transport collections throughout the space to promote a more welcoming space with increased visibility for patrons and access for staff, while minimizing damage from overhandling.
Continuing the trend of bringing flexibility and versatility to any interior environment, Spacesaver's Nantucket Drawers and Trays are fully compatible with their four-post shelving and work seamlessly with all accessories like dividers and hanging rods. Ideal for keeping essential supplies and equipment close at hand and adaptable for use in virtually any space, Nantucket offers increased accessibility and support for IT department storage, as well as supply storage for engagement-boosting options like makerspaces and tool rooms.
Your Museum Storage Specialists
At Spacesaver, we're experts in creative solutions to museum collections storage challenges. Your local Spacesaver consultant can visit your facility, gain a thorough understanding of your collection's needs, and work with our engineering and project management teams to design, manufacture, and install your new storage systems.
Reach out to a Spacesaver storage expert to learn more!
About Spacesaver

Preserving Collections. Promoting Access. Spacesaver is committed to helping your institution fulfill its responsibility to protect and preserve collections. For fifty years, we have offered an innovative approach to optimizing space in museums, archives, libraries, and other institutions. By maximizing space throughout collections areas and providing sturdy, configurable collections equipment, our solutions have earned the respect of museum staff and stand the test of time. Our local consultants, backed by our in-house engineering and manufacturing professionals, can partner with your team—including architects, consultants, and contractors—to protect the past and prepare for the future.