This post is an advertorial written by an organization that serves the museum field. The views, opinions, and positions expressed by the authors and those providing comments are theirs alone and do not necessarily reflect the views, opinions, or positions of AAM or its employees.
---
The AAMC Foundation has released the Best Practices Guide for Artist Demographic Data Coordination, the first resource of its kind for art organizations providing a detailed overview of how to prepare for and execute an artist demographic and identity survey in a manner that is inclusive and fair, and that forefronts the voice of the artist. The free guide provides detailed insight into how art organizations can develop inclusive processes in collecting artist demographic information, and is an invaluable resource to museum professionals, students, and the entire visual arts community.
Collaborating with more than thirty writers and readers from the visual art realm, supported by the Mellon Foundation, the in-depth document provides a review of every phase of a demographic survey. In using the publication, individuals will find helpful sections on getting started, which includes thinking about preparation, conceptualization, assessment, and legal implications; creating and implementing a questionnaire, which offers samples and guidance on design, structure, and content; and data use, management, and maintenance, which gives insight into these often-overlooked areas of the process. The publication also offers case studies and a sample questionnaire. The document is available to download here.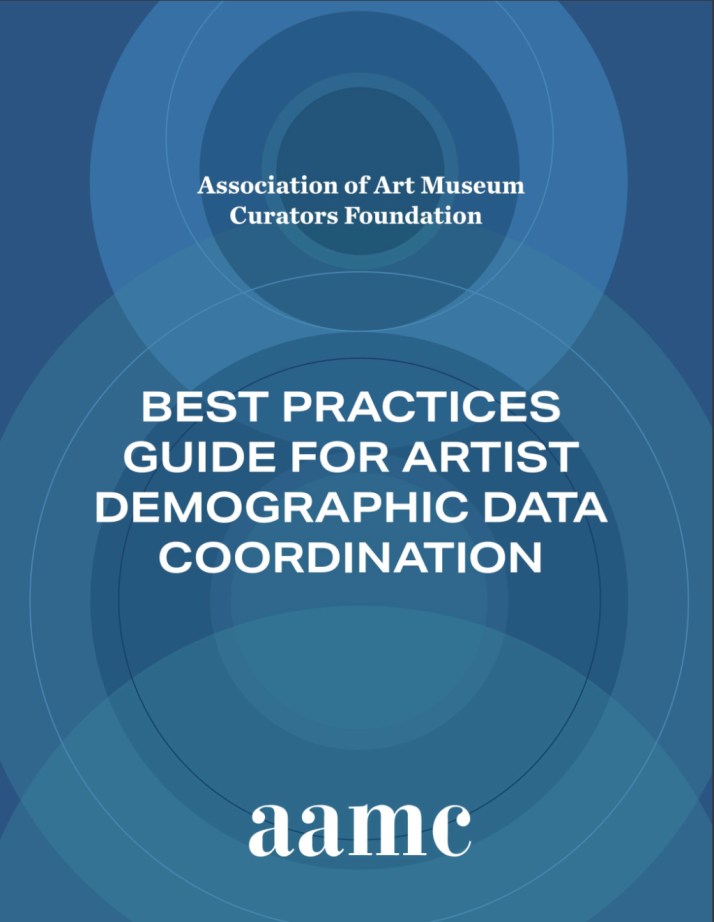 Skip over related stories to continue reading article
Galvanized by the growing recognition that a re-assessment of the art and artists being collected and exhibited by organizations needs to be undertaken, the Best Practices Guide for Artist Demographic Data Coordination was developed by AAMC Foundation to serve as a foundational resource and advocacy tool for the industry. Placing ethical and inclusive work as a primary factor, the publication offers readers a thoughtful and candid examination of the process.
"As art organizations move forward with the goal of being more inclusive, they must better understand who is being collected and exhibited. Coordinating artists' demographic data is a necessary step in this endeavor, but it is sensitive and complex work," noted Michelle Jacques, Head of Exhibitions and Collections/Chief Curator, Remai Modern; President, Board of Trustees, AAMC and AAMC Foundation (2023-2025). "Developed in coordination with experts from the field, the AAMC Foundation's overview of best practices for gathering and analyzing information on artist identities provides a seminal guide for these processes."
The Guide builds upon previous handbooks and pledges developed by AAMC Foundation, such as its Call to Curators: DEAI Practices: Collections and Exhibitions; Code of Conduct for Curators; and Professional Practices for Art Curators in Nonprofits.
"For AAMC & AAMC Foundation, ethical and inclusive best practices are cornerstones of our mission, as evident through our programs, publications, and outreach," added Judith Pineiro, Executive Director, AAMC & AAMC Foundation, and writer and lead on the Guide. "This publication presents ways forward that are relevant beyond the curatorial field and helpful and impactful for all visual-art spaces."