This post is an advertorial written by a company that serves the museum field. The views, opinions, and positions expressed by the authors and those providing comments are theirs alone and do not necessarily reflect the views, opinions, or positions of AAM or its employees.
---
The Smithsonian's National Museum of the American Latino unveiled its first gallery dedicated to Latino history and culture, the Molina Family Latino Gallery at the National Museum of American History. The 4,500-square-foot gallery serves as a place where generations of rich narratives of Latino culture and heritage come to life, and as a precursor for the eventual Latino Museum. At the forefront of this immersive storytelling endeavor is the ingenious use of Holosonics' focused sound technology, masterfully executed through a collaboration with BBI Engineering.
The Molina Family Latino Gallery's distinctive central feature, known as "The Foro," boasts eight video columns, each a portal into the lives of Latino and Latina entrepreneurs, educators, activists, community leaders, and artists. Activated by motion sensors as visitors approach, virtual hosts emerge on screen to warmly greet and share their stories in a lifelike interaction. Every one of the eight displays' captivating audio narratives is delivered by Holosonics' AS-16iX speakers, which have been seamlessly integrated to provide as immersive an auditory journey as possible—a unique and intimate encounter for every visitor.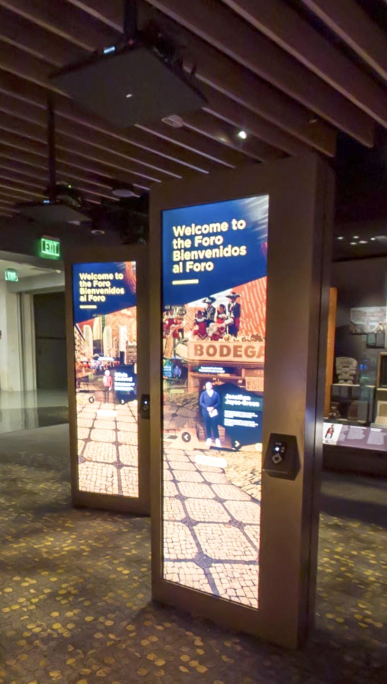 Positioned above each individual storyteller's screen, the dedicated AS-16iX speakers employ Holosonics' patented Audio Spotlight technology to channel the narration into an unbelievably precise and narrow beam, exclusively to its intended listener and no one else. A simple touch of the screens allows visitors to engage directly with the available oral histories, distinctly enveloping them in crystal-clear, compelling audio programs.  The unprecedented sound field control ensures that the audio remains isolated to "The Foro's" columns specifically, and does not interfere with ambient sounds delivered throughout the larger gallery space.
The prowess of BBI Engineering shines through in the meticulous technical execution of this auditory marvel. Vertically oriented FHD LED displays by LG Electronics, enhanced with a Touch Overlay by PQ Labs, grace the gallery, enclosed in bespoke Cinnabar tower boxes—an exquisite blend of technology and craftsmanship. NUC Mini PCs serve as the video source, utilizing Soundblaster USB outputs to synchronize with the speakers seamlessly. The AS-16iX speakers, perched elegantly on pole mounts, conceal Extron shelves behind them, ingeniously camouflaging secured players and peripherals.
Sasha Harris-Cronin, Principal of BBI, shared her insights: "This was a project with a very tight exhibit space, and we needed speakers that prevented sound bleed between the exhibits. The Audio Spotlight was a solution that worked well, and visitor feedback has been excellent."
A pioneer in the realm of directional sound technology, Holosonics has not only elevated the immersive nature of "The Foro" but has also succeeded in rendering historical and cultural narratives both accessible and captivating. This cutting-edge audio solution effortlessly aligns with the gallery's commitment to inclusive design, offering content in both English and Spanish to cater to a diverse audience.
The AS-16iX speakers were an integral part of the exhibit's design, purposefully chosen for their capacity to ensure an intimate listening experience, maintain sound field control, and mitigate sound bleed issues. Their installation, a fundamental element from the gallery's inception, contributed significantly to realizing the concept of clustered exhibits sharing a common space.
The triumphant installation at the Molina Family Latino Gallery sets the stage for the forthcoming Smithsonian National Museum of the American Latino—an imminent new home for these narratives, and the promise of even greater marvels. To delve deeper into Audio Spotlight focused sound solutions and their multifaceted applications, we invite you to explore our website or engage with our dedicated team.
About Audio Spotlight by Holosonics

Audio Spotlight is a revolutionary audio technology that creates sound in a narrow beam, just like light. Aim the flat, thin speaker panel to your desired listening area, and provide all of the sound and none of the noise.™ From museums, galleries, exhibits, and a wide range of other venues and applications, thousands of companies throughout the world have chosen this patented technology to provide high-quality, precisely controlled sound, while preserving the quiet.™
Contact us to learn more about how our directional sound technology can benefit your projects and we'll work with you to design an Audio Spotlight solution that will meet all your needs.