On a hot Sunday afternoon, Sydney Erlikh, seated in a wheelchair, leaned against Maypril Krukowski, a woman with glasses seated on a bench. Sounds of church bells, shuffling footsteps, and walking filled the gallery of landscape paintings and portraits of people bundled in clothing as their performance Right to Wander began. This performance was one of four taking place in various galleries throughout the Art Institute of Chicago (AIC), as part of the performance series Cripping the Galleries. Organized in partnership with Bodies of Work, a Chicago-based consortium of disability arts organizations, the performances challenged perceptions of how disabled bodies should move and respond to art and be regulated in museums.
While AIC has hosted a number of disabled artists and disability-centered programming over the years, this particular partnership began in 2022, when AIC artist and School of the Art Institute faculty member Sandie Yi introduced Sam Ramos and Kristen French, Director and Assistant Director of Gallery Activation at AIC, respectively, to curator Sandy Guttman. At the time, Guttman was a PhD student studying under Carrie Sandahl, Director of the Program on Disability Art, Culture and Humanities, Disability and Human Development at the University of Illinois at Chicago. Guttman introduced the pair to Bodies of Work to begin conversations about performance art in AIC's galleries.
The result was the Cripping the Galleries performance series, the first trial event of which was hosted on August 13 and co-curated by Maggie Bridger and Sydney Erlikh, both PhD candidates in Disability Studies at the University of Illinois at Chicago studying under Sandahl. This article, featuring reflections from Bridger, Erlikh, Ramos, French, and Krukowski, is an open invitation for museum professionals to consider implementing disability-centered programming and inviting disabled artists, activists, and historians into their spaces—a critical step in foregrounding accessibility, equitable experience, and representation.
After the Museum of Contemporary Art, where Guttman currently works, and AIC agreed to co-host the performance series, Guttman connected Bridger and Erlikh with Ramos. As Ramos and French explained, these two co-curators and the five other performers created an informal advisory committee, sharing recommendations with AIC staff about how the performance could reflect and represent disabled voices and experiences. As with many other gallery spaces, one of the first questions was where they could perform in the museum and how to establish a conversation between visitor experiences, curators, and performers.
Skip over related stories to continue reading article
Ramos and French recommended performing in the historic collection galleries on the first and second floor because of restrictions in the modern art wing. Performers were then invited into the galleries to feel and engage with each space before making a decision. For example, Erlikh and Krukowski decided not to perform in a gallery of religious art featuring saints with bodily wounds and depictions of sexual assault. Instead, the two performers settled on a corner second floor gallery in the Department of Painting and Sculpture of Europe. This choice was also made in concert with each gallery's curator. As Bridger explained, the curators were mostly open to experimenting, but because AIC does not regularly host performance art, unlike the MCA, there were few standard expectations or guidelines framing performance development.
There were benefits and drawbacks to this approach, and Bridger ended up drawing a map of her proposed route through the galleries, providing curators with visuals to see how close performers planned to be in relation to the art and how performances would affect visitor flow.
The next critical step involved performers participating in site visits with AIC staff, where they could visualize the space and discuss how they and disabled publics could navigate between different galleries. The performers shaped their plans around their observations on these visits. For example, while Bridger and Erlikh initially aimed to lead viewers on a guided tour throughout the gallery, they realized that AIC's layout could be tricky to navigate, so they ultimately decided to provide accessible services and guides for people to move between the galleries at their own pace and route instead.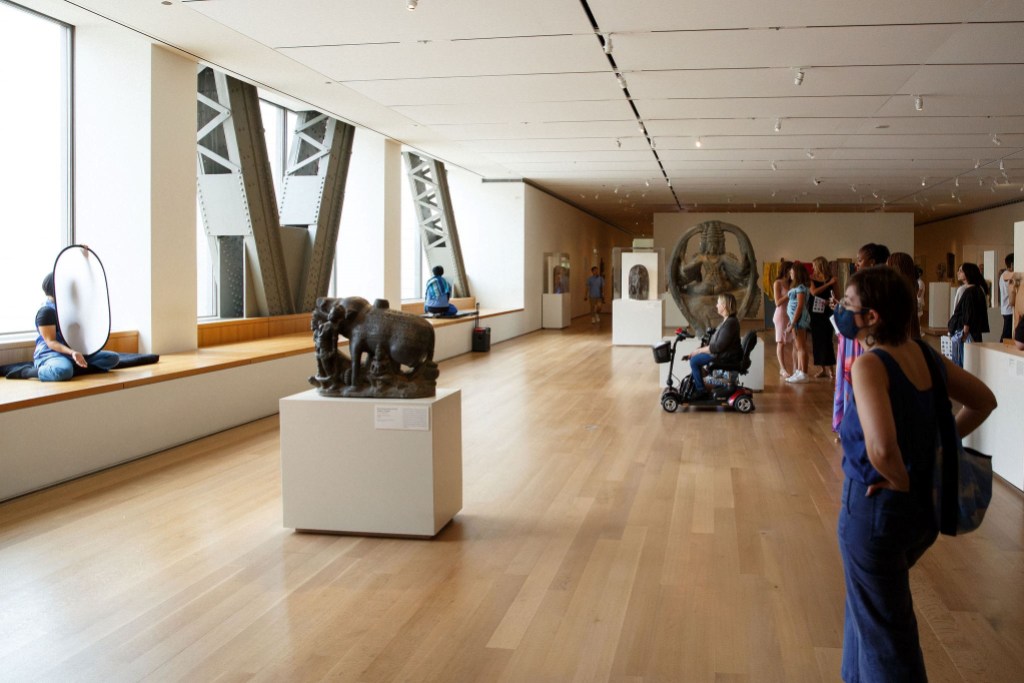 Ramos and French recognized that educating volunteers, security guards, and other AIC staff members would be a critical piece of the puzzle. They planned to brief all security guards on the morning of the event, and when performers arrived, they met with the guard and volunteer working in the gallery that day to share that performers' behaviors may be unexpected but were intentional. Some were particularly enthusiastic about assisting the performance, like one volunteer who approached Bridger while practicing and, after learning what it was about, ended up changing her schedule to serve as a volunteer on the day of the performance.
In addition to informing staff, Ramos and French put up signs on the day of the performances flagging that they would be taking place in the specific galleries, noting that visitors may encounter something different from their expectations in the space. Along with the schedule and mobility accessibility information on AIC's website, AIC partnered with one Deaf educator, two hearing ASL interpreters, and several native Spanish-speaking educators. Each performance was also audio described in some way.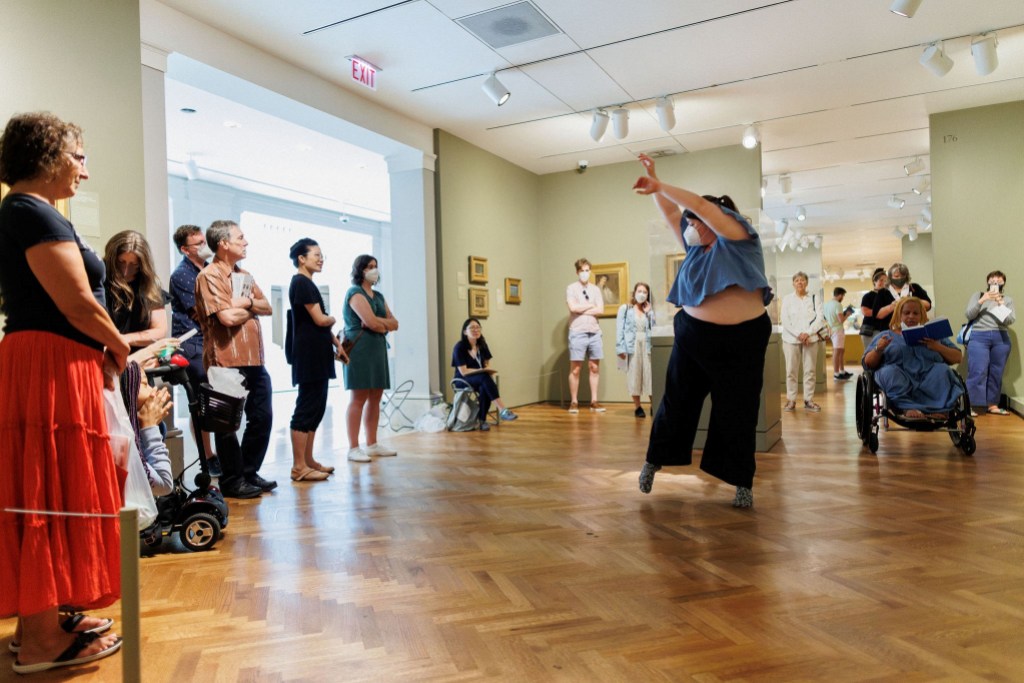 For Kris Lenzo, a disabled dancer and choreographer, this included both descriptions of his movements and his reflections as a person with a limb difference performing in a gallery filled with statues with limb differences. Bridger's audio description narrated movement as well as content, part of her work creating a similar artistic and content-based experience for blind and low-vision individuals. Shireen Hamza and Anjal Chande, performing in the Alsdorf Galleries of Southeast Asian art, developed descriptions around poetry and prose from their own cultural perspectives. Both Hamza and Bridger had printed copies of their audio description text and digital copies, while Erlikh and Krukowski laid their pre-recorded audio description over their music.
The event ran smoothly overall, and in parts where surprises arose, AIC staff members, performers, and members of the public were challenged to think critically about what should be "appropriate behavior" in museums. As Bridger explained, "Often, in entering institutions, especially as disabled people who often don't sort of conform to the typical ways we expect people to behave in museum spaces, we expect pushback, we expect to be distrusted, and of course, that's amplified for folks who occupy other marginalized positions." The performances were a public example of disabled people acting differently from what staff and publics expect to encounter in the gallery, and in doing so, provided space to question the ableism, racism, and sexism inherent in socially approved behaviors.
"As a performer," Bridger explained, "I can signal that not only is this something different than you're expecting to encounter in the space, but also that you're welcome to consider how you come to this space." In between performances, Bridger sat on a cushion in the back corner of the gallery, and one woman came up to her, anxiously asking if she was okay. While Bridger acknowledges the woman was asking out of kindness, she sees her reaction as evidence of the same social expectations she was working to challenge in her performance, such as that people cannot sit on the floor in a gallery. Bringing in disabled performers, she hopes, is an opportunity to all visitors, curators, and artists to question baseline assumptions about how people take up space, whether that be through stimming, talking, singing, or sitting.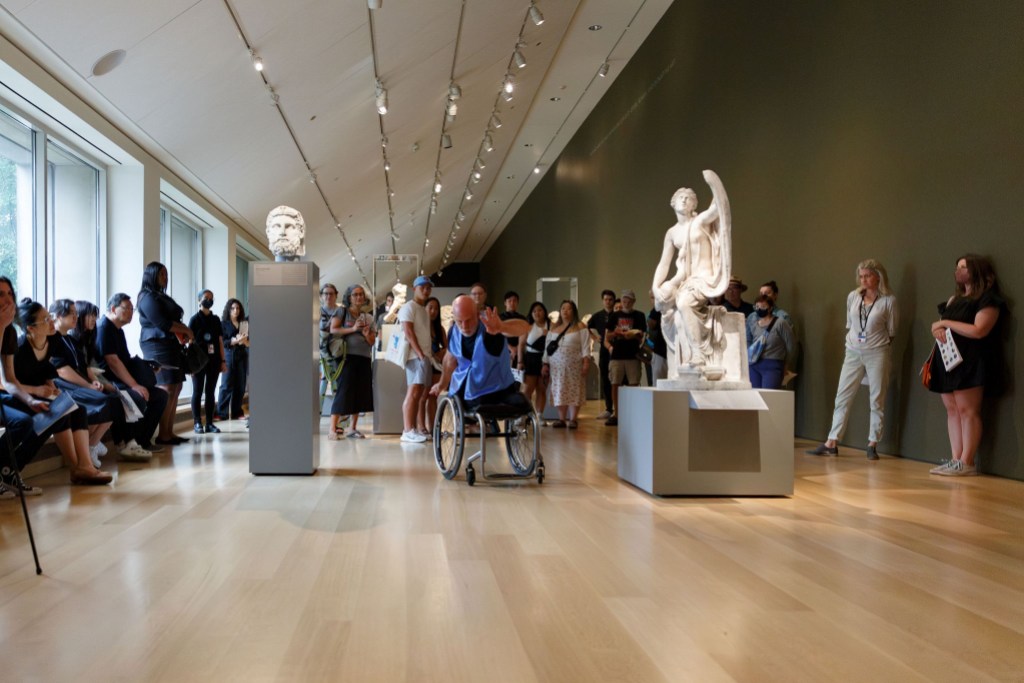 The event also prompted discussions about how disabled people sometimes feel restricted by security guards. While acknowledging the critical role guards play in keeping art and visitors safe, several performers nonetheless expressed discomfort in their interactions with them. In Lenzo's performance, for example, some alarms were going off as he moved around the art. Incidents like these reveal where there is room for improvement in frontline interactions. Security guards and volunteers can serve as important access providers in gallery spaces, but only when they have the education, training, and empathy to support all responses to the material in the museum. The same is true for front-of-house staff, collections managers, curators, and museum educators, who can dismantle or perpetuate systems of ableism that restrict disabled visitors from having meaningful experiences in museums.
This performance was an open invitation to museums across the country to think critically about hosting disabled performers, activists, and artists; their intentional inclusion is the pathway to more inclusive museums that can themselves serve as centers of anti-ableist work.
---
This event was the first in a series, which will next host Janhavi Khemka at the Museum of Contemporary Art on November 12th. AIC staff and performers identified many possibilities for future performances, from adjusting alarm settings to negotiating "acceptable museum behavior" to organizing an ending performance with everyone." All performers were compensated, recognizing the physical and emotional labor of developing, practicing, and performing at AIC and contributing to the artistic experiences of its publics. All performers also chose to use the word "crip," a pejorative reclaimed by the disability community, to expose the oppressive systems within museums that normalize ableism.
Note: Identity-first language is used throughout this piece, a choice made by the writer based on how she identifies. Not everyone in the disability community agrees on this approach, some preferring person-first language. It's important to take note of and ask how disabled artists and disabled museum visitors choose to express their identities.