Nemours Estate is not your typical historic site. The two-hundred-acre estate, home to Mr. Alfred I. duPont and his family from 1910 until 1970, is set apart from other stately homes of the period by the legacy Mr. duPont left after his death in 1935. In his will, he dedicated his fortune to establishing a foundation to care for pediatric orthopedic patients and elderly Delaware residents. His widow, Mrs. Jessie Ball duPont, shared his dedication to caring for children, and with her love of teaching and keen business acumen helped shape The Nemours Foundation into what it is today: a world-renowned children's healthcare system. Their estate now shares a campus with Nemours Children's Hospital, Delaware, whose patients, families, and associates may always visit for free.
Forty-five years after the site opened to the public, we are still building key areas of our work, as we redefine our relationship to the hospital and the rest of the community. After establishing a Learning Programs department, along with a new educational model focused on hospital patients as our primary audience, our most recent task has been establishing a new internship program. While we have hosted many fantastic and accomplished interns in long-standing departments at Nemours Estate over the years, we did not have an extensive formal program at the time. Building a program from scratch has given us the opportunity to think about how internships can best fit into the specialized nature of our organization. We are serving a unique audience, we figured, so it makes perfect sense to work with unique interns!"
For that reason, we decided to break from the traditional museum internship mold. Instead of providing learning experiences in well-established museum careers—like collections management, exhibition design, or education—we are offering opportunities to a broad range of multidisciplinary students and early-career professionals to work on projects that further their learning and career goals, whether they intend to work in museums and historic sites or not. In the process, we are widening our range of perspectives and the deliverables we can offer to our diverse audiences.
Unlike traditional museum audiences, our audiences at the hospital often need individualized attention and can't always come to the estate themselves to self-guide around the site. Therefore, we need tools that bring the site to them and help them indulge their personal passions in ways that account for their individual interests, learning styles, abilities, and moods. This is where our interns and students have focused their projects, in collaboration with Nemours Estate and hospital staff. This post shares what they've worked on so far, as inspiration for anyone looking to take their program out of the box.
---
Student Learning Experiences: Video Game Design & Development
Skip over related stories to continue reading article
Jared Cushlanis and Noah Cedeno, Wilmington University
In the museum/horticultural/cultural sector world, I think it's fair to say that we all have very cool jobs. However, there are few jobs cooler than Scott Shaw's. As Game and Technology Specialist at Nemours Children's Hospital, Delaware, Scott uses video games to help patients make social connections, start conversations, relax, or just see if they like something new. These sounded like the same objectives I was trying to achieve with our learning programs, although who can compete with video games? Luckily, Scott, who also teaches game design and development at Wilmington University, had ideas about how to join forces with two gifted students of his to bring us in on the video game action.
Jared and Noah both wanted experience applying what they had learned in the classroom. As an instructor, Scott wanted his students to take it a step further. He challenged Jared and Noah to use their skills to help patients "visit and experience Nemours Estate in a way that encourages exploration, education, and understanding of the historical importance of the Estate to the hospital." Noah likened this experience to providing patients with a virtual "snow globe" of the site.
Although still in pre-alpha version, Jared and Noah's resulting game ideas are totally unique ways of experiencing Nemours Estate. They spent hours visiting, taking reference photos, creating virtual models, and asking questions. As Jared explained of his work, "I visited the Estate to take pictures, built the rooms in 3D space, and set the project up so that players could walk around each scene and interact with some key objects."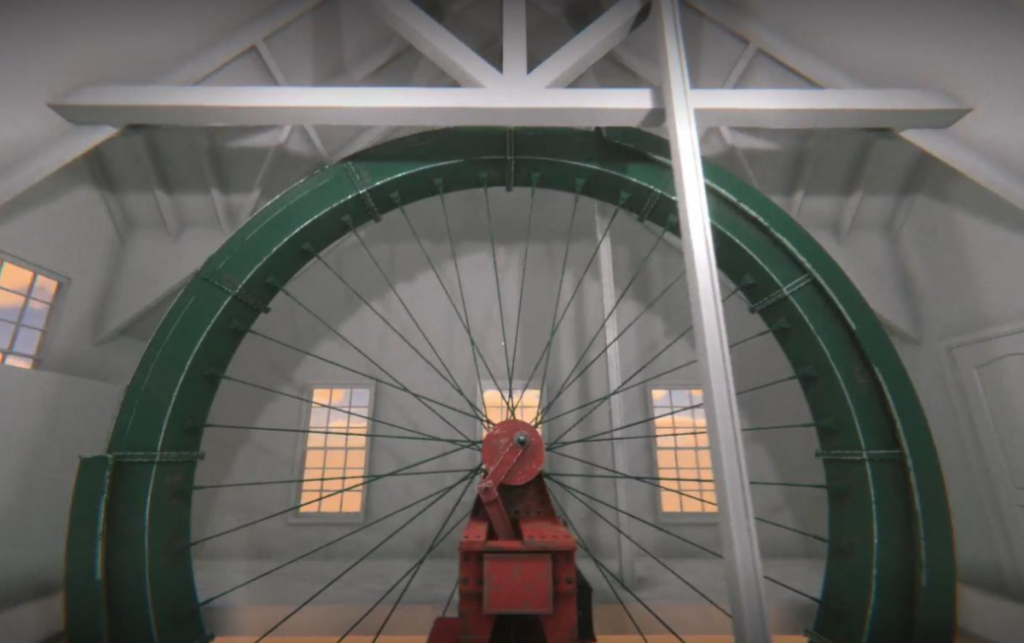 The students were incredibly respectful of historic accuracy, yet I wanted to be sure that we were giving them a long creative leash. I offered them context and resources but gave them permission to use their imaginations. Scott used some of Nemours Estate's most intricate items to challenge their design skills and peppered them with countless creative ideas to foster gameplay development. Their unique perspective created something totally imaginative and ultimately fun. We both gained something from the experience. The students got to world-build, inspired by an amazing place, and I got a future educational tool that is way more exciting than photos. Can I explain to you how a pendulum clock works? Sure, but why don't you jump in this video game and get excited about it first?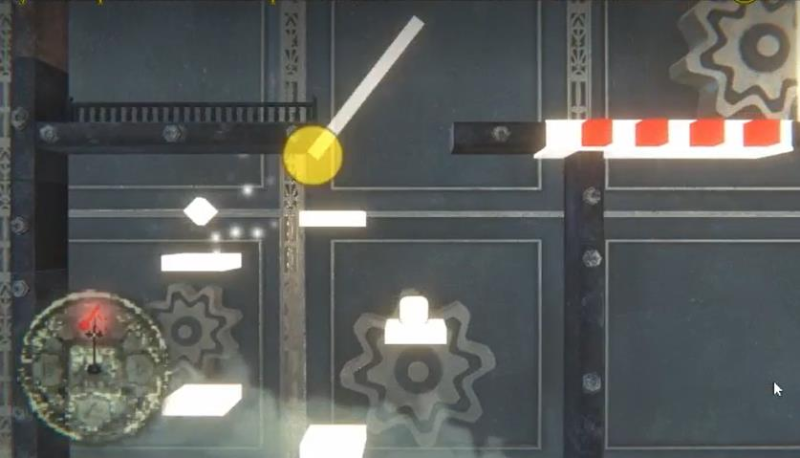 Volunteer Internship: Art Therapy
Lily Smith, Temple University
As Nemours Estate looks towards its future under a reimagined mission, we are excited about the many possibilities for more therapeutic programming, both onsite and at the hospital. Luckily, we were connected with Lily, an art therapy student who was looking for opportunities to work with patients. She applied to the college volunteer program at the hospital, whose staff were kind enough to refer her to Nemours Estate. We decided to work towards both of our goals and give Lily some ownership over our programming with patients. This allowed her to get some great experience working one-on-one in the hospital school classroom setting, though not in an official art therapy capacity, given that she is not certified yet. She brought her artistic skills and her academic background to advance an idea that had been in development for some time: transforming the historic Rock Garden into an outdoor art display area.
The Rock Garden has been a key feature of the Nemours Estate gardens since its development in the 1910s. As part of a pond and spillway system throughout the property, river rocks are arranged on a slope, just past a beautiful stone bridge, to help guide excess water from the main pond into some of the lower property ponds. The duPonts hid 1920s-era garden gnomes around this area, which today is home to beautiful plants and towering trees. The Rock Garden is also located along an accessible path, making it ideal for patient visits.
Lily worked with Nemours Estate Hospital Liaison Saleema Wolfe to select, wash, and prepare rocks from the Rock Garden to bring into the hospital school classroom. The team then spent a series of days painting the rocks with traumatic brain injury patients, who had the option either to take them home or return them to the Rock Garden to be displayed as hidden art for visitors to find. Today, the Rock Garden is turning into a colorful and magical place with a wonderful story!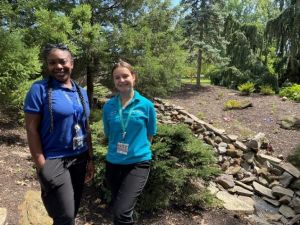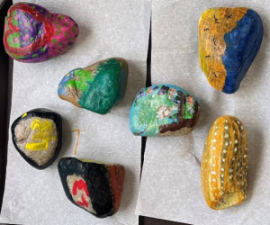 Internship: Video Production
Brianna Riconda, Wilmington University
One of the major lessons we all learned from COVID is that everyone needs relaxing virtual spaces and opportunities from time to time—especially patients and parents in a hospital environment. In 2022, we decided to make virtual programming a priority by establishing the Wren's Nest, a closed-circuit channel available at bedside in the hospital. Through partnerships with more than a dozen local cultural organizations, the Wren's Nest highlights nearby nature, arts, history, and of course, all things Nemours Estate. Capitalizing on all of the COVID-era virtual programming out there got us started, but I knew an internship could take it to the next level.
This internship offers a unique working opportunity for video production students, who face a highly competitive industry that can be tough to navigate for those just starting out. Luckily, we have no shortage of beautiful and inspiring angles here at the Nemours Estate for videographers to hone their skills, and as a bonus, the beautiful results of their experiments with light and composition can be shared with patients and families from their hospital rooms.
Brianna, a recent graduate of the Video & Film Production program at Wilmington University, was eager to enhance her portfolio to increase her marketability for future jobs as she pursues a career in cinematography. We have also been able to connect Brianna with the hospital's videographer and photographer in the medical photography department, so she can learn about another avenue of potential work. When asked if she would ever consider working in another museum or cultural organization, Brianna said, "Without a doubt, I would be willing to. … This experience has provided me with valuable opportunities to enhance my expertise, establish new professional contacts, and expand my knowledge of history within my local area." Brianna has used Nemours Estate as her inspiration for relaxing, slow-TV-style films, and will be here through the fall season to capture changing conditions.
Internship: Learning Programs Research
Kayla Maharaj, Rowan University, New Jersey 
As the most traditional of our "non-traditional" museum interns, Kayla brought not only archival experience to her role, but also a strong record of special education work. For several years, Kayla worked with the YMCA and special education and community groups in South Brunswick, New Jersey, which gave her a head start into understanding needs of pediatric patients. Kayla worked in a hybrid position, conducting research with help from our Archivist-Historian, Kery Lawson, while under my supervision with input from a hospital school instructor. After Kayla finished her research tasks, she was able to easily translate notes into an order that made perfect sense for developing educational programs. She gathered resources and program ideas on her own that blended perfectly with the archival sources. Had I hired an archival intern without her interdisciplinary experiences, I can't imagine the work would have been nearly as helpful.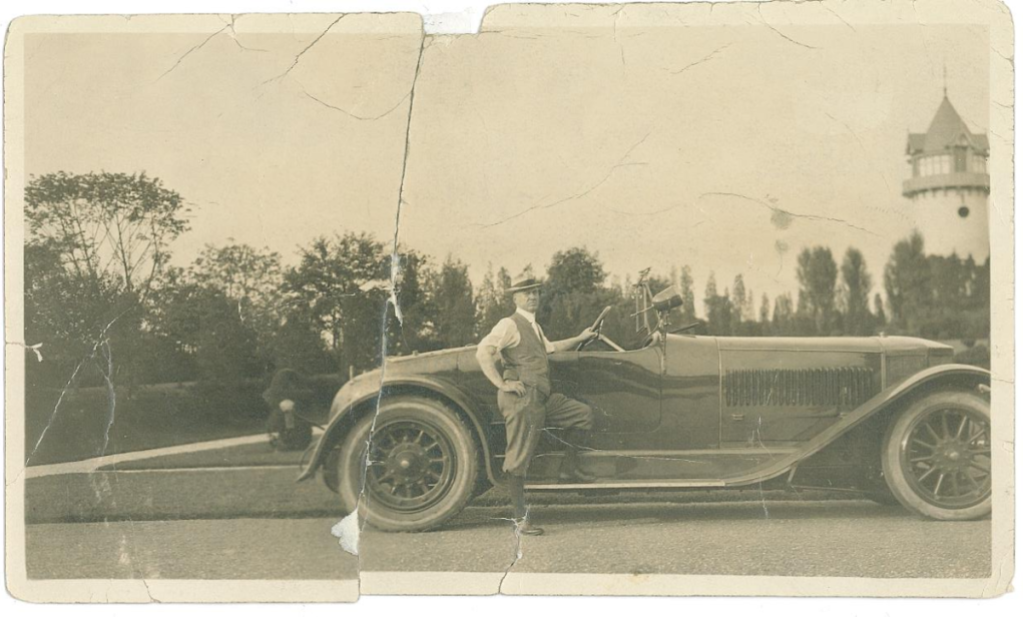 Final Thoughts
I am so grateful to the wonderful team of interns and students who helped Nemours Estate Learning Programs this year, and to the Nemours Estate and hospital staff who helped to guide and mentor them. The students continue to challenge the way I was trained to do museum education, and I am the better for it. My hope is that non-traditional internships can be a way "in" to the museum/horticultural/cultural organization fields for those who may not have considered them. I also feel that by hosting these internships, we are leveraging our sites as stronger community assets. A historic site is a wonderful place to visit, but it can also be an inspiration point for countless other disciplines. Projects resulting from those disciplines can draw in non-traditional museum goers, too!
Throughout the roughly twenty-five years that Alfred I. duPont lived at Nemours Estate, he was constantly improving the property through a variety of disciplines. Mr. duPont was an engineer, an inventor, a musician, a photographer, a videographer, a writer, a designer, and an electrician. The interdisciplinary nature of Nemours Estate is what makes it so fascinating, and our interdisciplinary interns are part of what makes us so unique.