Initiatives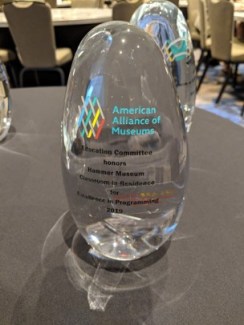 EdCom Awards recognize individuals and programs for their contributions to public education and community service. In 2021, EdCom will offer a single award to recognize the needed innovation in this pandemic year. Learn more here.
Awards are granted annually most years, though not in 2021, for: Excellence in Practice, Excellence in Programming, Excellence in Resources, and Innovation in Museum Education. EdCom also awards the John Cotton Dana Award for Leadership on occasion.
EdCom Task Force on Accreditation has convened a representative group of field leaders to study whether AAM accreditation should require museums to submit a core document that clearly states their educational philosophies and principles and/or guides their decisions about the development and delivery of their educational role. Learn more.
EdComversations are online discussions, generally held monthly, considering topics of interest to the field. The Professional Development committee produces these, usually monthly. To learn more, follow EdCom social media or send an inquiry email to receive notifications.
Museum Education Mentor Program (EdMEM) is a mentoring program designed to support the next generation of museum educators by connecting them with established professionals who can give advice and guidance and promote collaboration. We onboard a new cohort most years, with applications due in the winter. For more information, follow EdCom emails and social media or drop us an email.