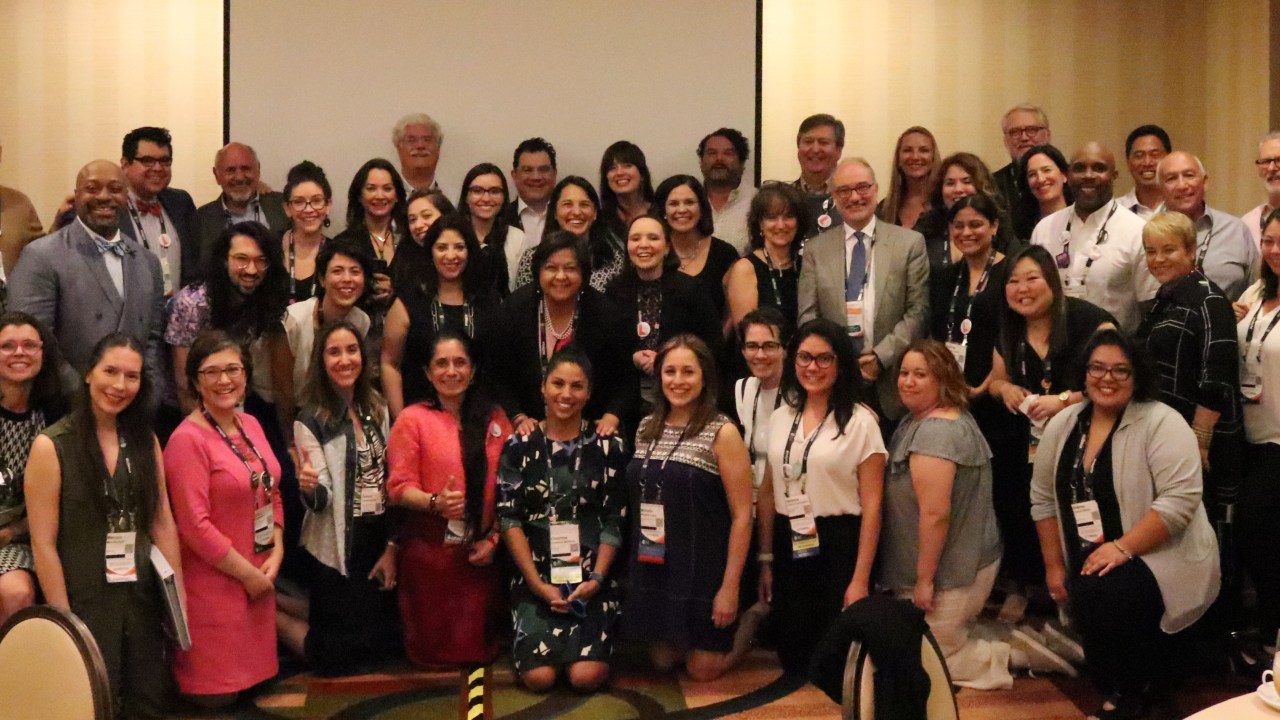 Latino Network
Who We Are:
Established in 1992, the Latino Network (LN) of the American Alliance of Museums (AAM) represents Latino professionals working in museums and cultural institutions in the United States. We offer:
Expertise to US museums interested in engaging Latino audiences through development of exhibitions, collections, public programs, and education initiatives.
Guidance to museums across the US and Latin America in their efforts to create partnerships and collaborations.
A welcoming forum for Latino museum professionals to foster connections and share career opportunities.
A national platform to amplify Latino-related events and exhibitions through our mailing list and social media channels.
For recent projects, updated events and more, follow us on:
What We Do: 
Strategies for Engaging and Representing Latinos in Museums: A resource that provides tools for all museums to foster welcoming spaces and engaging opportunities for Latino audiences. (Available in English and in Spanish.)
Regional Networking Opportunities: Events across the US for members to connect with the LN and AAM.
Latino Presence at the AAM Annual Meeting: The LN hosts a luncheon and evening event to foster community within the field, while advancing the conversation on Latino museum praxis through session programs, roundtables, and open forums.
Supporting AAM and the museum field at large: LN members participate in the National Programming and Scholarship Committees yearly, and also support AAM with Spanish language translation of official documents.
The Latest
The Latino Network has released Strategies for Engaging Representing Latinos in Museums, an in-depth resource which provides background information and strategies for engaging and representing Latinos in authentic and meaningful ways. It includes questions for museums to self-assess their work with Latino communities, offers insights on the value of developing culturally specific content and bilingual initiatives, and highlights the importance of Latino representation on museum staff and boards. Download the document in English or in Spanish.
The Latino Network would like to explore and document the way museums are dealing with issues regarding immigration and how they are impacting their communities. Please share any examples that you think are pertinent. You can send them to Margarita Sandino: msandino@dixon.org
Newsletter/Boletín 
(March 2018)
Members Speak Out In Response to Executive Orders that Affect Immigrant Communities across the Nation
(March 2017)
Members of AAM's Latino Professional Network speak out against a series of executive orders signed in late January, in which President Trump ordered the construction of a wall along the U.S. border with Mexico, restricted federal funds to sanctuary jurisdictions, and imposed a ban on travel to the U.S. from several Muslim-majority countries.
#TailTalk #wearables #communication Follow the link in the photo caption to the associated story. You can find more glimpses of the future (and links) on CFM's Pinterest Bo…