This article originally appeared in the May/June 2011 edition of Museum magazine.
America needs a fresh approach to slavery. In a political climate where people shrug off their collective responsibilities by demanding "less government," and at a time when few remember the enslaved victims of the founding fathers, we need to reconnect with the realities of history. In this country, many African Americans—but also others—live lives twisted by the incredible grief associated with our past, as well as the few public opportunities to process their feelings with honor and understanding.
This is the story of a high-style historic site that discovered its own deep connections to slavery and looked for new ways to create meaning from loss and anger. In doing so, it began forging ties with its surrounding African American neighborhood for the first time in 40 years.
Cliveden is a 1767 mansion filled with Chippendale furniture on five-and-a-half heavily wooded acres that were once a Revolutionary War battlefield. The Chew family, who built the house, remains one of the most distinguished in Philadelphia and occupied it almost continuously until 1970. The historic home is located in a neighborhood that is now roughly 85 percent African American, although many of its neighbors don't even know it's there. Several thousand people visit the main house each year, most of them either antique enthusiasts or Revolutionary War buffs. Few others come because Cliveden is far from the city's main attractions and in a part of town that some consider unsavory. Two days a year there are outdoor festivals: one for the neighbors, the other a reenactment of the 1777 Battle of Germantown. Although several thousand people attend these events, surveys show many of these visitors are not aware they are at Cliveden even as they stand on the grounds.
At one time more than 200,000 historic documents filled the house, many dating back to the 17th century. The family retained ownership of this material until the Chew Family Papers were donated to the Historical Society of Pennsylvania (HSP) in 1982. HSP completed a two-year processing project in 2009, and a 650-page finding aid is available online. Certain parts of the papers have been in use for years—for instance, Benjamin Chew (1722-1810). who built Cliveden, had been a prominent member of the government of Provincial Pennsylvania and one of the commissioners of the Mason-Dixon Line. Other parts received no use at all.
And so it was one day in 2001 that I noticed a mention of Whitehall, a plantation Chew was said to have owned but about which nothing was known. There were three large boxes of unprocessed Whitehall material. When I got to them a few weeks later, I pulled out a letter from overseer George Ford, written Aug. 20, 1795, in which he pled to his employer for help: "I am In danger of my life being taken by the neagroes[.] Last thursday evening I was beatin by Clubs till I was blody as a bucher."
I don't know where I learned what plantation life should be like, but this was not what I expected. Subsequent digging over several years confirmed a major story of the enslaved plantation community's organized resistance—passive, active, violent—the like of which has been rarely documented. A few years later, armed with a 1745 probate map, a three-day weekend and many cups of coffee, I actually located and visited the property in Kent County, Del., where it remains virtually unchanged. Numerous inventories also exist, listing as many as 60 enslaved people on what now appears to have been the largest slave plantation in Delaware's history. And this was just the beginning.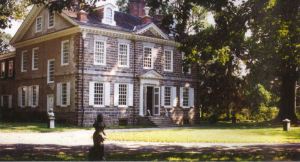 Since that discovery in 2001, a story of slavery and profit of epic proportion has come to light. It began in Colonial Jamestown, where John Chew (1587-1652), the first family member to emigrate from England in 1622, purchased four enslaved Africans and later listed them in his will. His son Samuel (1630-I677), one of the most important men in Maryland of his time, owned 140. These men and their descendants, down to the last owner of enslaved Africans in the Philadelphia branch of the family—Henry Banning Chew (1800-1866)—owned a total of 450 enslaved human beings, most of whom we can now name, provide with a date of birth and one or more places of residence. In addition to Whitehall, we now know there were at least six other plantations in Maryland, many of which I have visited.
The family began divesting itself of many of these farms—and enslaved workers—in the very early 19th century, and most were gone by 1830. But later in that decade and through the 1850s, they also lost much of their wealth through poor business decisions, bad economic times and a lingering dispute over the estate of Benjamin Chew Jr. (1758-1844).
So it was a wonderful thing when Samuel Chew (1832-1887), lawyer and scion of the family, got a job working for David Sands Brown (1800-I877), a prominent figure in Philadelphia's vast textile manufacturing community. Even better, Samuel married Brown's daughter Mary in 1861 and took a seat on the board of directors. It was the perfect match, mating the Chews' prestige with the wealth of the Browns, and it solved the family's financial problems for good.
We are still learning about David Sands Brown & Co., whose gigantic collection of business records has recently been rediscovered, but one fact will suffice: In 1857 the company used 1.56 million pounds of cotton to manufacture its products, almost all of it grown and harvested with the use of enslaved labor in the South. This was the source of the new Chew fortune; they had not gotten out of slavery—they modernized it. When David Sands Brown died in 1877, he left $1.3 million to Sam and Mary as well as control of the company, which they sold in the 1880s. Through gifts and trust funds, this money supported the family until at least 1960 and was probably used to establish Cliveden's endowment.
Over the years of research, this information accumulated slowly like water behind a dam, and there was significant concern among the staff that its release would not be taken well by either the board or the many remaining members of the Chew family. But it was also becoming clearer that Cliveden was heading down the road of so many other sites: It was dying a quiet, polite, irrelevant death, with nothing of interest going on and nobody trying anything new. The endowment kept the heartbeat going, but the patient was essentially on life support.
At this time an unlikely team was forming: the curator—a chubby, middle-aged white European American with a master's degree—and the maintenance man—a slim, older, African American Muslim with a sixth-grade education and the culinary skills of Escoffier. John Reese and I spent the better part of three years working together as we learned from each other; I shared everything I found in the papers, while he taught me about being black—about the weight most African Americans bear, about how he feels every time a car stops near him at a light and the door locks suddenly engage, and why everyone (black) was sure Obama would be shot by a white extremist before he could become president.
For me, it was a sobering and transformative experience and opened my eyes to many of my own blind spots and deficiencies. For him, he got to see some of the real, unfiltered history of the site and of his people at their most courageous. His own tremendous intelligence and experience from many years in prison helped me understand how the enslaved people worked together to fight back, and we coauthored a paper about resistance on the Whitehall Plantation. It will be published in Delaware History this summer.
This creative stroke led to the next—which was to see the new material as a way to connect with our surrounding community for the first time. This was pretty daunting: The neighborhood had been actively ignored for nearly decades; Cliveden's board is all white and the staff nearly so. Unknown to many of them, the site already had a reputation as a "slave place" and as a haven for white folks that neighborhood residents consciously avoided. Yet Reese knew firsthand how inspirational the stories of resistance were likely to be to an African American audience, as well as the importance of the history—bad parts and all—to people whose story had been forgotten, lost, covered up or even erased. He was right. Reese's moral authority, plus the research from the papers, was finally enough to push the project over the hump.
From this point forward, many things happened, not all of which can be recounted in an essay of this length. One of the most important was the receipt of a planning grant from the Pew Center for Arts and Humanities in spring of 2010 to support real exploration into ways that Cliveden could communicate with the neighborhood. This included money for a wonderful African American community relations consultant who helped Cliveden organize a number of neighborhood meetings.
I had envisioned these as focus groups, where we would try out various ideas and see what people thought of them. However, the consultant had much more in mind, and she knew better. We started the meetings with an official welcome and a 20-minute briefing on the research. Most of the guests weren't surprised to hear about the enslaved in general. although the number of people involved was unexpected. But when I started to tell the stories of  resistance, you could have heard a pin drop—every time. Black oral tradition and history is filled with stories of tricksters and rebellions, but few have encountered real. documented stories of individuals who had the courage to stand up and fight back—and win. The emotional release and pride evoked by this material was awe inspiring.
This was followed by a question and answer period. People asked about miscegenation, about violence, about what else had been hidden, what the Chew family thought, where the money came from and why this had taken so long. After years of silence, they came for the truth—and answering them required stark, absolute, gut-wrenching honesty. Finally, a facilitated discussion focused on what the participants wanted to know more about and how they'd like the information delivered. It was clear that the staff needed to do a lot of very careful listening.
The first group, drawn from the offices of various area politicians, was entirely African American. Before we started, I assumed they would be checking their Blackberries and looking for the exit. Instead, they spent two hours in deep conversation about how they learned the essential survival skills for being black in America—the things they don't teach you in school. like what to do when you are stopped by the police or are passed over for a promotion. Two days later, another group—from the neighborhood this time—came at 10 a.m. and stayed until 1 p.m. talking about racism, survival and their concerns about challenges younger generations will face. It was rich, meaningful, vibrant stuff. More than that, it was alive and brought Cliveden to life for the first time in my 10 years there.
And their ideas! Certainly, the best ones came from the community. Get a bus and have a facilitator organize a trip to the plantations so people can experience—and process—the power of place for themselves. Have a day when people from the neighborhood bring artifacts or stories that document their family's historical encounters with slavery. We got clear direction that people need affirmation of the past as well as stories of agency and survival. However, history is not enough: We were also told to make connections between the horrors of the past and the injustice that still plagues us today.
They told us how to do it, too: Storytelling and spoken word are preferred over static exhibits, and people want interactive media and Web creations that can reach into the home. Afro-centrism was another issue; like everyone else, African Americans are not a uniform group, and the feedback went different ways. For some, participation in African-based culture is of itself a form of healing; they felt the power of a libation ceremony and the names of the enslaved on our building walls. Others wanted nothing to do with it. But all agreed that Cliveden needed to make its spaces and programs more inclusive and welcoming, calling on visual and other cues, and definitely, lay on some food.
The community sessions played an important role for me personally, too. After eight years of research, the personal toll of carrying this odious information in silence ate away at me. Other people's fears—that the board wasn't ready, of what the family might do—continually postponed the day when I could speak. One of our consultants repeatedly tried to draw attention to the human cost this exacted from the staff, but of course, no money or attention is ever given to such things. Even when I finally presented to the board, it had to be carefully managed. With no African American members or guests there to bear witness, it was like telling the story of a far-off land, not about people who were suffering right down the street.
The opportunity to speak forthrightly to African American audiences was, therefore, a deliverance. They understood—better than I—the horror their ancestors had been through, the courage of those who had resisted and the pain of discrimination they still face every day of their lives. I would go home and weep, or sit at my computer with tears running down my face. I could finally tell the story to people who didn't need to be convinced that a catastrophe had taken place.
Following the community sessions, we presented a series of four lecture/discussions on slavery-related topics called the "Cliveden Conversations." Originally conceived as typical lectures to a passive audience, we postponed the spring programs until fall so we could have more time to learn about our audience. That was a good move: We reduced the lecture to 20 minutes and added a gifted facilitator to the program to encourage audience participation. The results were astonishing. People dove into the discussions, talking about so-called controversial topics with people they'd never met before, black and white. Over the course of the series, the highly integrated audience doubled in size, with many repeat attendees as well as people who had never visited Cliveden before. All this for a program where strangers met to talk seriously about racial issues. In fact, many people expressed sadness when the last program was over.
Shortly afterward we held a workshop in which another facilitator, an experienced psychologist, handed out 3×5 cards and told his integrated audience to write down their toughest question for the other racial group—and if you put your name on the card, it would be thrown away. Each question was read and discussed by the assembly—and some were powerful. "Do white people realize they're acting superior?" "Why would anyone give up white privilege?" It was fascinating to see what African Americans—often silent—wanted to know.
These experiences have led to a new conclusion about Cliveden's future. The historic site will retain its artifacts,
buildings and grounds because, as always, they remain the material culture that leads to important questions about life. In fact, it's fortunate that new research has opened previously unknown perspectives on many of these materials. Cliveden will continue to develop and deliver content in ways that are appropriate to the audiences' needs and desires, whether it be through storytellers or exhibits. However, it's clear that when the audience is included in the process of choosing and developing these goals, these steps can be just as important—or maybe more so—than the finished product. It is not only possible for everyone to share in the creative process, it can be a wonderful and transforming experience.