This article originally appeared in the January/February 2012 edition of the Museum magazine. 
As part of AAM's ongoing exploration of the role museums will play in the future of America education, the Center for the Future of Museum's Elizabeth Merritt spoke recently with Sal Khan, founder of the Web-based Khan Academy. The academy provides an online library of more than 2,700 educational videos on a variety of academic subjects and 207 related practice exercises. With just a few mouse clicks on a personal computer, kindergarteners, high schoolers and retirees alike can learn what they want within their own time-frame. The material is intended for use within, in conjunction with or outside the traditional classroom.
Previously a hedge fund manager, Khan holds undergraduate degrees in mathematics, electrical engineering and computer science, a master's degree in electrical engineering and an M.B.A.
For more on museums and the future of education, visit the Center for the Future of Museums blog at futureofmuseums.blogspot.com and select "education" from the tag cloud.
For readers who may be unfamiliar with the Khan Academy, can you give a capsule description of your work?
It's not just my work anymore. We're a team of 16 people and still growing. It started as a video library that I originally made for my cousins. I put the videos on YouTube, and they became really popular. I was doing it as a hobby, really-I had a day job as an analyst at an investment fund. I was also working on a primitive version of the software to quiz my cousins, and things like that.
Then in 2009, I quit my job to work on Khan Academy full-time, and in 2010 we got funding, mostly to work on the software platform. The software lets students start at any place—plus 1 equals 2, for example. It'll generate problems for them to practice on and allow them to move ahead as they gain mastery of subjects. They learn at their own pace and can make sure that all of the gaps in their understanding are filled. There are more than 2,700 videos covering everything from basic mathematics to calculus to college level (differential equations, linear algebra), science (biology, chemistry), and a little bit of history, economics, and finance. The exercises go deeper into K through 12 math; over the next year, we hope to add through grade 14 math.
Beyond that, you're going to see the exercise platform move into physics, chemistry, and even parts of biology and maybe grammar. The number one goal for us is to be a way for anyone to get an education. Our mission is literally to provide a world-class education to anyone, anywhere, for free.
Number two, we want to be a tool that can be leveraged inside the classroom to make the classroom more interactive. This is a little counterintuitive because we are a technology tool, and we involve on-demand video and exercises that are done on a computer. When I say interactive, I mean interactive with humans. Much of the "scaffolding" of knowledge—the conceptual development—can be done on an online platform. We're taking that part outside the classroom experience so that it can be done at a student's pace, on their time, and then give data about their progress to the teacher. When students go into the classroom, you have freed up time so that they can teach each other. They're all learning at different paces, and the teachers can do more focused, deeper interventions with the students, because they now have all of this data from the student exercises. Class time is no longer filled up with one-pace-fits-all, one-size-fits-all lectures.
We have about two and a half million unique students a month, and that number is growing exponentially. They've already watched more than 70 million videos and they've done more than 100 million exercises. We have about a million exercises done per day now, and that number is also growing rapidly. And we've only had funding for about 12 months! I've been doing this in some form for close to seven years. But as an organization, we've only been around for less than a year. So these are works in progress.
What are the greatest barriers-technological, cultural, political-to mainstreaming the Khan Academy system into public education?
The first is something that I'll put firmly on Khan Academy's shoulders-we have to make a very compelling case. No one forces these two and a half million students every month to use our site. They find it compelling. But that by itself isn't enough. We need to go into classrooms. It's very important that people understand that we don't think that we have a perfected solution. We want to work with these teachers, students and parents to make a better product and see how it can be used to make the classroom as human an experience as possible.
Then, of course, we have to prove that it works. People in the education and policy worlds like test scores. We want to make sure that we improve test scores, or at minimum have no negative effect. So far we are seeing fairly dramatic improvements in certain classes using the model we're advocating and using our tools. But improvement also happens in intangible ways. Kids are able to do as well on the tests as they were before, or even better. But now they also have a better attitude towards mathematics, they're more attentive in class, they're able to be exposed to new material because you have all of this class time for projects and experiences. These things can't necessarily be captured on an assessment exam.
Once we are able to prove we have a positive effect on education, the main bottleneck is making people understand that we aren't doing this to make money. We're a nonprofit-we're doing this because we genuinely care about education. Right now there are some knee-jerk reactions-people thinking we're all about kids spending all of their time on a computer watching videos, and that somehow replaces teachers. Just the opposite. We think class time should be about interaction.
Currently Khan Academy content is heavy on subjects that focus on facts and absolutes-math, chemistry, physics. Is that mostly a function of your background and expertise or is it inherent in the format? What are the limitations on your current model for covering "squishy" topics like art and literature that are more about aesthetics and interpretation?
It's true that we are covering math, chemistry, physics. But sometimes they're not as fact-based or absolute as people perceive them to be. With that said, I've also started making videos on history and economics. While economics is often considered a science, it can be a squishy subject where aesthetics and interpretation do begin to matter. We are also bringing some people onboard in the very near future to address art history.
In something like history or art history, it's nice to have a "scaffold." You want to know what it means to be a surrealist painter or when the Baroque Period took place. That's where more traditional Khan Academy-style videos are useful—to give you the scaffold of information. But then the conversational style that these professors have pioneered on their Khan Academy videos is a really interesting way to convey multiple viewpoints. On the exercise side, we can develop exercises that make sure you have a scaffold of information: that you know where the Civil War fits into the scope of the U.S. history, or what the Magna Carta was and how it relates to other documents. Once you have that scaffold, you're prepared to participate in a discussion, project or deeper simulation in class.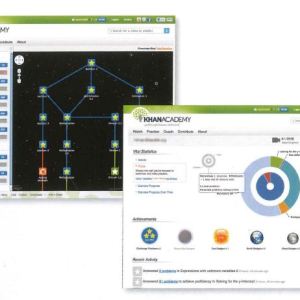 Can the current Khan Academy model help kids go from learning facts and operations to critical reasoning, or does that require a different model?
I'd actually say that critical reasoning is what we're about. Right now the problem with a lot of textbooks and some classes is that they are focused too much on facts and operations. The Khan Academy math videos sometimes show facts and operations, but never devoid of the context for a fact and the motivation for doing an operation. They present the conceptual understanding, why it makes intuitive sense, how you can critically deduce that. There's a lot more work we have to do on the exercises. We want to expose students to more simulations and projects that require more than just knowing the steps of how to do a problem.
Twenty-five years from now, what do you think a school day will be like for an 8-year-old kid in America? Will she be commuting to a physical classroom or accessing content from home? How will she study? Who will her teachers be, and what will be their role?
We at Khan Academy think that physical interaction with other people is a huge part of maturing. So we hope that there is a physical classroom in the future. It might be a very different type. When students can work at their own pace, you don't have to separate kids by age group anymore, and then you reap the benefits of kids helping each other. I would imagine one really large room, and instead of having 30 kids in that room, maybe you have 200. The lower the student-to-teacher ratio the better: If you have a 25:1 ratio, you would have eight teachers in a classroom of 200 kids.
Every student would be working at their own pace for some part of the day in every subject, from grammar to history to mathematics. The teachers are there to mentor, guide and help them get past hurdles. And because so much of the learning can be done in a very efficient way, part of the day is spent on core skills, but most is spent doing projects: writing software; conducting real science experiments; producing video content, Web pages, blogs or newspapers; composing music or writing short stories. The students mentor each other as well. With kids of all different age groups together, students who are more advanced or who have a knack for a certain subject can mentor students who are less advanced or who need help in a specific domain.
We'd eventually like to see the educational system help students build a real, powerful transcript. This is something Khan Academy already takes to heart when we're hiring people. It's nice if you went to a fancy school with a fancy GPA and fancy standardized test scores, but what we really care about is what you have built. Starting with a blank slate, have you ever put your ideas into action? We think that the resume of the future will be the projects that you work on over the course of your school years, in K through 12 and in college. Frankly, I think that the division between K through 12 and college will also get blurred.
You have said your goal is to create tens of thousands of videos in pretty much every subject and the world's first free world-class virtual school where anyone can learn anything. Can you suggest ways that museums or museum practitioners could contribute to Khan Academy?
We're hoping to build tools so that others can contribute to the Khan Academy library in some way. I encourage museums or museum practitioners to both make content and share it with Khan Academy. Some of the art history videos you'll see from us in the near future are a good example of how to make that type of content. The other possibility is to leverage the value of Khan Academy material or Khan Academy-like material. If you have an installation or a painting, why not have someone, Khan-Academy-style, explaining what it's all about, maybe using some of our upcoming videos on art history? Have people contribute their own interpretations of the art, maybe done Khan Academy-style or just with an audio track.
This leads me to a very interesting question: Where are museums going?
I think they're similar to schools. Before, you had to have a physical location to have a school, and you needed a physical location to have a museum. Most museums I know of are amazing architectural and community spaces, and I think there will always be a role for those physical spaces. Sure, if someone goes to the physical museum, that's obviously the best experience. But I think the content in those physical spaces will become much more dynamic. There won't just be this installation that sits there for three months or a year. The information and installations will change based on interactions with visitors. And a lot of static content-paintings or installations-can also be virtualized. The Google Art Project starts to hint at some of this. If you take high-resolution pictures of art that one can zoom into and couple them with a conversational commentary on art history or on the art itself, you get close to creating a virtual experience for people who don't have the privilege of going to the museum.