Stories of the future are all very well, but sometimes illustrations are better.
Which is why I'm inviting you to join the Drawing Club at the AAM annual meeting Minneapolis, week after next.  Catalyzed by local artists recruited by the Walker Art Center, you will become CFM's 2012 "artists envisioning the future of museums." (Worthy heirs to the Pinky Show Cats and Tracy Hicks.)
This project also illustrates one of the cultural trends CFM is tracking—the increased desire, on the part of audiences, for participation. People want to "do as well as view." (Or in the context of our annual meeting, perhaps "do" in addition to listening and talking and listening and talking and…)
Skip over related stories to continue reading article
How does Drawing Club work? We provide art supplies on tables in the AAM Showcase in MuseumExpo™. You will be invited to start a new drawing or select one in progress from the table. After you add your bit, put the drawing back into the pool, pass it around, and alter, edit or amend it until the group declares it complete. Drawing Club's motto is "All ages, abilities, and aesthetics welcome." We will digitize the finished works and display them in the Showcase and on the CFM Blog.
Modifying the usual format for Drawing Club (which is usually unstructured), CFM will challenge you to illustrate potential futures museums may navigate in twenty five, fifty or a hundred years. (We may even use your illustrations in future forecasting reports!)
To get your brain in a drawing mood—grab a pen and start doodling now. What springs to mind when you think "future?"
Living to be (a healthy) 110?
Exhibit objects protected by force fields?
Floating, portable museums?
Robot docents? (Entirely plausible AND fun to draw!)
To prime your imagination, skim the scenarios in "Tomorrow in the Golden State: Museums & the Future of California." Or look at the "Glimpses of the Future" board on CFM's Pinterest page.
To learn more about the Drawing Club, read this post by Scott Stulen, project director for mnartists.org. Scott is one of the programmers of the Walker Open Field Program—creators of Drawing Club—and a visual artist.
And check them out on:
facebook
mnartists
flickr slideshow
tumblr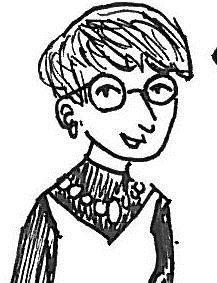 See you in Minneapolis Saint Paul!
–Elizabeth