The AAM annual meeting is often a little bit overwhelming. And exhausting. OK, it is always a bit overwhelming & exhausting. That being so, I was particularly pleased with this year's CFM guest artists project.
As I wrotebefore the meeting, local artists organized by the Walker Art Center's mnartists.org camped out in the AAM Showcase in MuseumExpo™, recruiting attendees to participate in the Walker's Drawing Club—a participatory "citizen art" project. It turned out to be a great way for people to relax and degauss. Some folks sat quietly, working by themselves. Others chatted with friends or new acquaintances as they drew, creating joint masterpieces. It was a truly convivial experience.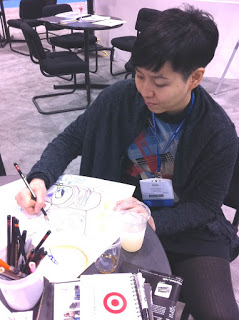 People could (and did) doodle about anything, but we encouraged them to put their visions of the future down on paper. I love what they came up with—take a look! Many of the drawings portrayed museum professionals decades hence.
When people can choose their own DNA (or maybe their physical avatars), will natural history museum directors adopt the form of their favorite dinosaur?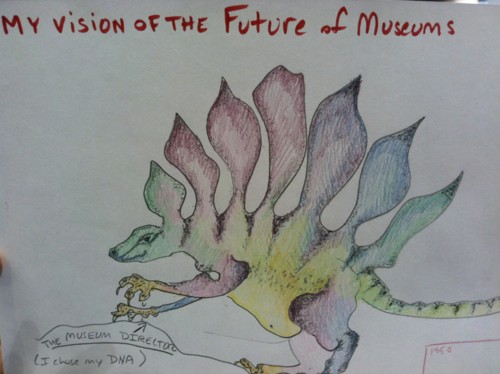 Curators may be holographs
Docents may be robots (an idea much discussed in the recent
#futrchat
between museumers & professional futurists)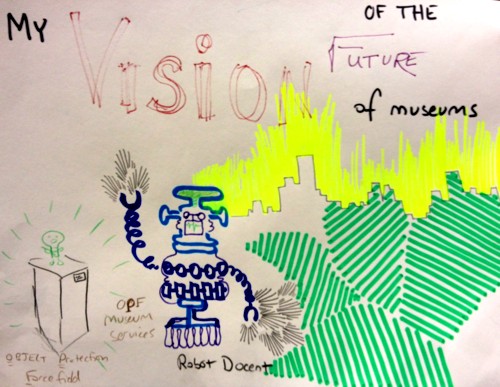 Here's a great group portrait of future staff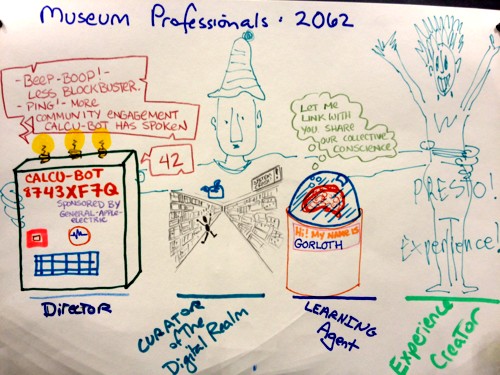 Of course, some people took a stab envisioning the future museum itself
Which might be about (or perhaps exist on) social media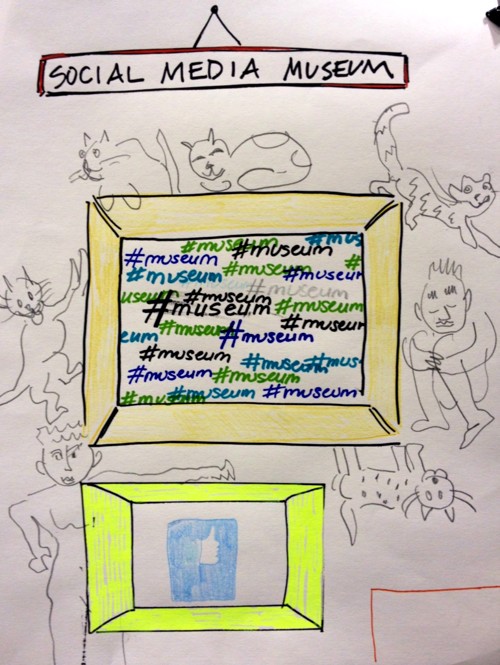 In outer space (exhibiting objects with in zero gravity!)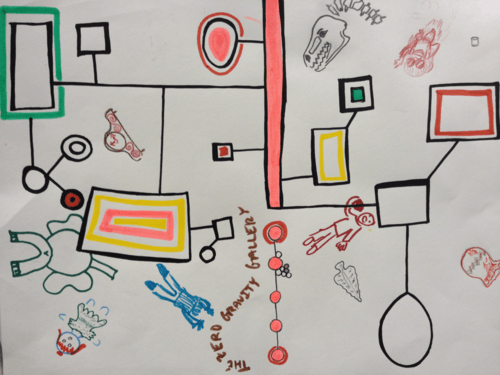 Or, by virtual of mobile, internet-connected devices & augmented reality, the museum of the future might be everywhere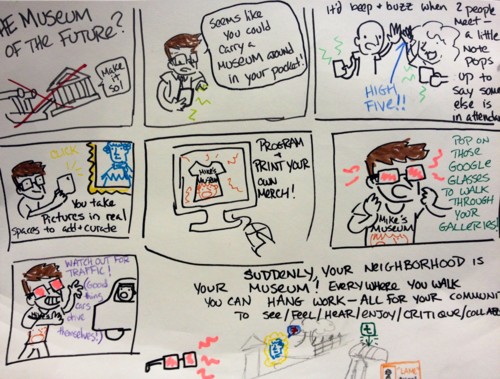 The Drawing Club's Tumblr features more drawings from the meeting—check them out! And take a look at Scott Stulen's postfeaturing the participatory art posters created with the help of 
letterpress printers from
 Lunalux at the Walker's evening reception on Tuesday May 1.
Hmmmm. These drawings would be great illustrations for a book of museum futures. Why don't you contribute some captions/commentary below, and help me get started.