An aging population presents museums with both challenges (of retention and access) and opportunities (for enhancing visitors' health, well-being and lifelong learning).
Thanks to the Baby Boom, at some point in 2012, the population of "older Americans" in the United States (aged 50 and older) will break the 100 million mark. The number of Americans aged 65 and older is expected to more than double by 2040. The expanding number of older people has already led some planners to distinguish between the "young old" (65-74), the "old" (75-84) and the "old old" (85+)—all with different needs.
CFM has looked at the changing demographics of America before, with a focus on the mismatch between current museum-goers and the growing diversity of the population. Aging Americans are a special challenge—and not only because there are so many of them. The most recent Survey of Public Participation in the Arts (the best available trend data on museum attendance) suggests that the percentage of museum-goers generally shrinks as Americans pass their mid-40s.
Reasons for this decline may include decreased mobility and the other physical (and cognitive) impairments that inevitably affect aging populations. Museums have the opportunity to address brain fitness, which AARP and SharpBrains (among other groups) have identified as a high priority for all Americans over 50.
Skip over related stories to continue reading article
Museums that rely on older volunteers face additional challenges: Half the people approaching traditional retirement age expect to keep working, and those who have the time to volunteer "have expectations for their volunteer commitments that don't currently align with the perceived need for skilled volunteers among nonprofits." (In other words, they don't want to come into stuff envelopes and chat. They want to feel that their volunteer work is meaningful.)
But some of the most encouraging studies we saw in 2011 suggested that older people who spend more time volunteering or engaged in cultural activities actually live longer. Creative Aging An aging population presents museums with both challenges (of retention and access) and opportunities (for enhancing visitors' health, well-being and lifelong learning).
"This is not just a social issue, it's an economic issue and a tourism issue. We have the  aging population, we have medical advances that indicate people are iving longer with different conditions, and so it is a right for people to enjoy their lives fully and it's an economic advantage to any organization that does it." –Christine Karcza, Royal Ontario Museum
Examples:
Contrary to popular belief, the Web isn't just for the young. In 2011, Americans aged 55+ were the fastestgrowing segment of online social media users. They also embraced smartphones and iPads, with an increasing number of smartphone apps being created with older users in mind (like SayText, which takes a snapshot of wall text and reads it out loud)—but we haven't seen any museums yet with customized apps for older visitors! Seniors have also embraced social gaming online—but not necessarily the same games as their children or grandchildren. The advice from one expert: "As our society and the Web mature, we need to make sure we are building it to empower everyone, not just the young and tech-savvy. New technologies and Web services will need to be intuitive and easy to use but not insulting."
According to the head of the World Health Organization, "Almost every one of us will be permanently or temporarily disabled at some point in life," so good design for accessibility potentially helps every museum visitor, not just the elderly. The Transit Museum in Brooklyn, located in an old New York City subway station, showed that any museum can make itself more accessible to visitors with disabilities. The Royal Ontario Museum in Toronto combines "new technology, innovative tours and displays … [and] old-fashioned great service" to maximize accessibility. As an extreme example of accessible design, the Art Museum Gösta in Finland was designed without any physical obstructions, not even traditional building columns.
The Museum of Modern Art in New York, the Carnegie Museum of Art in Pittsburgh, the University of Virginia Art Museum and others have established programs for people who have Alzheimer's and their caregivers. The artworks stimulate memory and encourage self-expression, the museums provide a respite for caregivers and the small groups provide important opportunities for social interaction among adults with Alzheimer's.
What does this mean for society?
Some futurists project that the aging of America (and other industrial powers) will lead to a profound social crisis by the 2020s, as "traditional population pyramids … become] top-heavy with elders," straining both younger workers and the social systems needed to care for elders. Others are more optimistic and see the retiring Baby Boomers as blazing the trail for a new approach to aging and "retirement" that is healthier, more productive and perhaps even more creative than previous models.
People increasingly want to "age in place" rather than consigning themselves to retirement homes; at the very least, they want housing options that allow for a gradual transition from relatively high levels of independence and activity to relatively low levels. As a result, elder housing is one of the few growth sectors for American construction right now. Architects predict that "suburbia will be the location for new forms of senior living because of the significant aging-at-home movement."
Manufacturers of everything from cars to Styrofoam cups to bath fixtures (think "grab bars") to adult diapers have already started redesigning and retooling for older consumers. Even more manufacturers are embracing the principles of universal design—"the idea that all new environments and products, to the greatest extent possible, should be usable by everyone regardless of their age, ability or circumstance."
What does this mean for museums?
Museums can do well for themselves and good for their communities by increasing the number of older visitors. This may mean addressing barriers to access, developing new programs to meet the specific needs of an aging population and experimenting with new technologies, while building on traditional museum approaches to lifelong learning. Museums might also need to consider where they locate their buildings, where they offer their programs and how they connect to elder-friendly transportation networks.
Museums need to embrace the principles of universal design and integrated accessibility. They need to pay more attention to the usability of physical spaces including companion care restrooms, assistive listening systems and the size of fonts on their signs and websites. Usable, friendly design, such as providing seating and reducing ambient noise, improves the museum experience for all visitors. Museums can create more volunteer opportunities that take advantage of the life experience and skills that older volunteers bring to the museum. This may mean changing the conventions of how and when people volunteer—being flexible about hours, providing opportunities for virtual engagement, and confronting barriers to transportation and access.
An aging population means greater numbers of people experiencing limited mobility, impaired senses and cognitive disabilities. Museums should make a priority of meeting the specialized needs of disabled individuals and their caregivers, becoming an important part of the network of care and support provided by the community.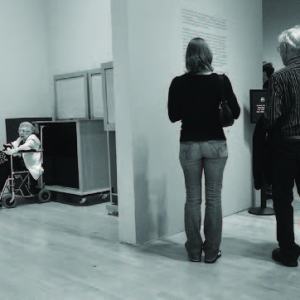 Museums might want to consider:
• Are programs and engagement strategies (including the use of new technologies) designed to attract younger audiences likely to turn off some older visitors?
• What role will museums play in a society with increasing numbers of active, healthy people aged 65+, 75+ and beyond?
• How should museums change their operations and physical structures to serve older visitors more effectively? What are the current barriers to access/use?
• Are there unmet needs in the network of community support for seniors that museums can help fill?Further reading: William H. Frey, The Uneven Aging and "Younging" of America: State and Metropolitan Trends in the 2010 Census (Brookings Institution, 2011). Great Expectations: Boomers and the Future of Volunteering (Volunteer-Match, 2011).
Further reading:
William H. Frey, The Uneven Aging and "Younging" of America: State and Metropolitan Trends in the 2010 Census (Brookings Institution, 2011).
Great Expectations: Boomers and the Future of Volunteering (Volunteer-Match, 2011).
The MetLife Report on American Grandparents (MetLife Mature Market Institute, 2011).
National Center for Creative Aging
Mark J. Stern, Age and Arts Participation: A Case Against Demographic Destiny (National Endowment for the Arts, 2011)