This article originally appeared in the July/August 2012 edition of the Museum magazine
Billionaire Businesswoman Alice Walton amassed a fortune because her father's company helped Americans buy merchandise for less. While Walmart is easily one of the most recognizable names on the planet, fewer have known that the late Sam Walton's only daughter has spent millions amassing an impressive collection of classic and contemporary American art- recognized as one of the world's best for its quality, depth, and range. With the November 2011 opening of the Crystal Bridges Museum of American Art, however, Alice Walton is making a new name for herself-and also putting Bentonville, Ark., population 35,000, on the map. With one-fourth of its collection from Walton's personal holdings, the museum is one of only a handful of its size and caliber in the U.S.
Crystal Bridges is likely the most talked-about new museum in the United States, and it's also recreating the soul of the city that's been home to Walmart's headquarters for nearly so years. As of this May, it had attracted 309,096 visitors, with more than 125,000 in the first 100 days of operation. Tourists, families, students and retirees alike are finding there is a rich, American cultural experience to be had in the Ozarks heartland.
The museum and its founder have seen their share of criticism. Walton and her advisors have aggressively pursued acquisitions since plans for Crystal Bridges were announced in 200s, angering some when she has sought art with historical ties to its location or targeted cash-strapped institutions. That year, Walton purchased artist Asher B. Durand's 19th-century American landscape Kindred Spirits from the New York Public Library, provoking protests among those who wanted to keep the artwork in New York. Perhaps more famously, in 2007 Walton jointly bid $68 million with the National Gallery of Art for Thomas Eakins's 187s painting The Gross Clinic, owned at the time by Philadelphia's Thomas Jefferson University. This was the highest price offered for any work created in the United States before World War II. Walton lost out, however, to a fundraising drive that kept the painting in Philadelphia. Tennessee's attorney general recently tried to stop Crystal Bridges from purchasing a so-percent stake in a collection from the financially troubled Fisk University in Nashville. Critics have also charged that wealth alone doesn't qualify Walton to build an art museum; the New York Times called Crystal Bridges "the art museum that Walmart built."
Such critiques, however, don't seem to make a difference to the thousands of visitors flocking to Bentonville to see the museum.
"There is something different about having a museum in a place like this," says Executive Director Don Bacigalupi. "We've seen people from Europe, Asia, all over the world. It's an exotic way for them to visit the Ozarks and experience the Southern hospitality here. Many of them have never been to this part of the world. Experiencing American art in this part of the country is something new and unique."
To draw people, the museum relies upon the welcoming, gracious spirit that defines the regional culture. Founder Walton doesn't measure her museum's success by skyrocketing attendance, national acclaim or buzz in international art circles. Rather, it's "the number of strollers, wheelchairs and pairs of overalls she sees," Bacigalupi says. "Crystal Bridges is a museum of this place. This is the Ozarks. People are warm and comfortable, not off-putting or pretentious, and that's how we want this place to be."
Since plans were announced seven years ago to build Crystal Bridges, the museum has continued to grow its wide-ranging collection, funded by more than $1.2 billion in endowments from the Walton Family Foundation. The permanent collection consists of more than 400 pieces, spanning five centuries of American art from the Colonial era to current time. It includes such iconic images as Norman Rockwell's Rosie the Riveter and Maxfield Parrish's The Lantern Bearers. The museum's seven galleries take visitors through a chronological journey of work. Admission is free, sponsored by Walmart.
World-renowned architect Moshe Safdie of Boston designed Crystal Bridges in a series of gently curved pavilions arranged around two spring-fed ponds. The museum takes its name from Crystal Spring on the property and the unique bridge construction incorporated into the building design. Engineers used bridge technology to create suspended roofs in the interior of the museum, making it appear at first glance that the structure might be floating.
The museum's 201,000 square feet of sweeping space encompass seven galleries, meeting and classroom facilities, and a Great Hall reception room with floor-to-ceiling windows. Southern yellow beam pine is used generously in the structure. There is an extensive, 50,000-volume art research library, a museum store, and curatorial and administrative offices. "Eleven," the museum's restaurant, is inside a glass-enclosed bridge.
The museum is virtually invisible from a distance and looks like it's materializing through the trees as it is approached. There are miles of trails on the 120-acre site, winding among wetlands, flora and sculpture installations. Along the way, one may encounter the massive boulders of artist Robert Tannen's Grains of Sands, or decide to take in nature's lightshow in James Turrell's "Skyspace" installation, The Way of Color-a domed viewing chamber of the sky set in a hillside.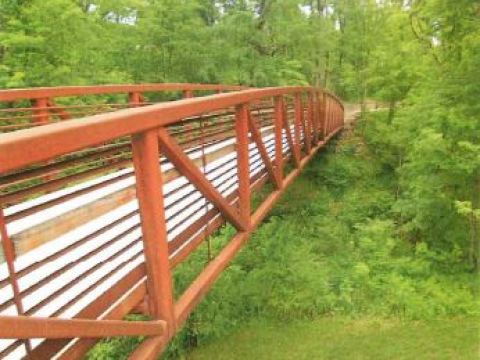 Arkansas has 600,000 acres of lakes and 2.6 million acres of national forest. For visitors taking in a soaring view of the Ozark National Forest or canoeing between bluffs at the Buffalo National River, Arkansas's rugged beauty is unmistakable. For good reason, the Arkansas Department of Parks and Tourism has traditionally marketed the area as the good ol' "Natural State."
With the opening of Crystal Bridges and the Clinton Presidential Center in Little Rock, however, the parks and tourism department is shifting the way it goes about attracting visitors- marketing itself to a new demographic as a major arts destination. With Crystal Bridges recently named one of 2012's "hottest travel destinations" on the planet by Travel and Leisure magazine, the travel industry is chomping at the bit to usher in international tour groups to Bentonville and the rest of the Northwest Arkansas region.
"Northwest Arkansas has that luster and appeal," Arkansas Tourism Director Joe David Rice says. "It's well known for the Buffalo National River and the Ozarks. We're not going to abandon the Natural State brand, but … Arkansas is a natural for culture and … a natural for arts."
A new advertising section devoted entirely to Crystal Bridges hit the stands this spring in nine metropolitan markets: Atlanta; Austin; Chicago; Dallas/Fort Worth; Houston; Kansas City, Mo.; Oklahoma City; St. Louis; and Tulsa. Geared to an upscale, better-educated audience, the ads appeared in the April issues of Elle Decor, Food and Wine, Forbes, Fortune, Real Simple and Town & Country.
"It's a brand-new piece reminding people that Arkansas has more cultural offerings than they might think," Tourism Director Rice says. "From what our groups tell us, they love the outdoors, but they also want a nice place to stay. They want to enjoy a nice bottle of wine."
The state's Department of Parks and Tourism's summer/spring campaign—called "The Art of…"—is positioning Arkansas's natural beauty as a work of art itself. An ad shows Crystal Bridges aglow at night and invites visitors to view "unexpected masterpieces all around Arkansas."
"If you look at Alice Walton's design, the nature, the grounds, and the stonework and architecture, she wanted the museum to blend into landscape, and it's a part of nature. We believe her philosophy goes right along with ours," Rice says.
Bentonville is located in Northwest Arkansas, a region that was once among the nation's most prolific producers of apples and the chickens. When Walmart became publicly traded in 1972, it set off a surge in business that's slowed only a bit with the nation's economic downturn. Retail suppliers-think Proctor and Gamble, Kraft Foods and 1,200 others-have opened officers near Walmart. Mega meat producer Tyson Foods Inc. is located in nearby Springdale, and transportation and logistics giant J.B. Hunt is in the small town of Lowell.
With the opening of the museum, however, there has been a noticeable transition in the area's economy. From March 2011 to 2012, employment in the leisure and hospitality sector grew 7.2 percent from 18,ooo to 19,300 jobs, says Kathy Deck, director of the Center for Business and Economic Research at the University of Arkansas's Sam M. Walton College of Business.
"We've traditionally been dominated by daily business travel in and out of the [Northwest Arkansas Regional] Airport," Deck says. "Now you're seeing the critical beginnings of growth in leisure and hospitality." This sector is likely to continue as one of the region's strongest job creators during the museum's first full year, she says. "The museum's brand new. There's a lot of excitement around it."
As for Bentonville specifically, Crystal Bridges is well on its way to surpassing its initial projections of 150,000 to 300,000 visitors a year, and the city wants those people to stick around. A walking trail connects the museum to the city's downtown Square, which has been undergoing redevelopment. The main attraction on the Square used to be the Civil War statue and the Walmart Visitors Center in Sam Walton's original variety store. Now, art galleries are opening, and visitors are filling up the new restaurants and shops. The atmosphere is trendy and colorful.
A swanky 21c Museum Hotel is under construction just off the Square. It will be one of only three in the country when it opens next year, offering guests not only a place to stay but contemporary art exhibitions within the building. Its 104 rooms will give the city about 2,000 rooms in all, an increase of about 500 from just five years ago.
"We're 35,000 residents, so we still have that small-town feel, but with lots of amenities within 35 miles," says Kalene Griffith, president/CEO of the Bentonville Convention and Visitors Bureau. "It's one of the things that is a big draw for people who want to stay more than just the day."
In a spillover effect, museums in Tulsa and Kansas City, Mo., both about 100 miles away, are seeing an uptick in attendance, Bacigalupi says.
"I talked to a man in the elevator at the museum the other day," Griffith says. "He'd been to the Clinton presidential center in Little Rock and a museum in Chattanooga. His tour group did three museums in one trip, and I think that's what we'll be looking at: visitors hitting multiple regional destinations in one trip."
Griffith and city convention officials are meeting with international travel agents who want to bring tour groups to Bentonville. International media have asked if they can arrange visits, too. "It's all sectors across the country and internationally," Bacigalupi says. "It's not necessarily that we're making a huge effort with marketing. People visit, and they are overwhelmed by the experience. They go back and tell others."
Part of the Crystal Bridges appeal is that it makes Northwest Arkansas an attractive place for people to call home. In the geographic heartland of the U.S., the doors of Crystal Bridges are a three-and-a-half hour drive from Little Rock, the state's capital. Fort Smith, where the western movie True Grit is set, is an hour south. Eureka Springs, a quirky Victorian arts community is to the east on winding roads with bucolic views. A quick drive over the border is family friendly Branson, Mo.
Midwesterners have long retired to Bella Vista, north of Bentonville, and Latinos and Marshall Islanders have flocked to work in poultry processing jobs and the region's booming construction industry. The population exploded between 1990 and 2000 when the region was the sixth-fasting growing place in the nation.
Quantifying a place's appeal can be tricky, but consider what the region already has going for it: outdoor amenities, a corporate prominence, and a nationally known university. Add a world-class museum and the spinoff culture that it brings, and it becomes more attractive.
Some people have even packed up and moved to be near the museum. Linda Leavell and her husband, Brooks Garner, are both retired college professors who worked 200 miles away at Oklahoma State University in Stillwater. They were contemplating where to retire when Crystal Bridges was announced in 2005 and came to Northwest Arkansas last year in large part because of the new museum. "To live this close to a major art museum is just incredible," says Leavell, 57, who taught American literature and is now a volunteer gallery guide at Crystal Bridges.
"We had been coming to Eureka Springs and had a taste of the area," she says. "We knew we liked Northwest Arkansas, and it was very much a priority for me to live in a place with an active arts community. We considered New York, places on the West Coast, but we were coming from professors' salaries and from Oklahoma."
They moved to Fayetteville in January 2on, and Leavell completed the year-long gallery guide training. Garner is a volunteer in other areas of the museum.
"People are just blown away by how fabulous it is," Leavell says. "People who are sophisticated art museum-goers are impressed, and people who've never been to an art museum are impressed."
Walton has made a point of saying she learned her love of art as a child from her late mother, Helen. It's no accident that you can hear the pitter-patter of little feet moving through Crystal Bridges. From January to mid-May, more than 5,100 schoolchildren from different socio-economic backgrounds visited Crystal Bridges free of charge through the Crystal Bridges School Visit Program, which helps eliminate the financial barriers associated with field trips. Supported by a $10 million endowment from the Willard and Pat Walker Charitable Foundation, the program will pay for an estimated 16,000 schoolchildren to visit the museum in the 2012-2013 school year. It reimburses schools' costs for transportation and substitute teachers, providing students with a guided tour of the museum, a session in the Experience Art Studio (a space for interactive exhibits and art-making) and a healthful lunch the day of the trip.
Niki Ciccotelli Stewart, Crystal Bridges' director of education, says the tours are reserved for weekday mornings to allow a museum educator to give students undivided attention at times when there are fewer crowds. They discuss and analyze visual symbols in the art and explore the context in which works were produced.
In one gallery, for example, kids experience the Colonial period, when portraiture was the main subject for American art. "Take the two portraits of George Washington," Stewart says. "They may look similar initially, but as the students look more closely, distinct differences emerge. Each one is about a different moment in time and each reflecting the artist's point of reference. When the students are discussing an artist's point of reference at a particular place in time, then it becomes a lesson not only in art but in history."
The school tours are curriculum-based, dovetailing with national, common core-learning standards adopted by the Arkansas Department of Education. Crystal Bridges provides professional development for teachers and materials they can use once they return to their classrooms.
"What's really amazing is the opportunity to study the school visits," says Laura Jacobs, the museum's communications director. The University of Arkansas's Department of Education Reform is conducting a study to measure the impact of museum visits on student learning. It is the first study of its kind and will have implications for museums and art education everywhere, she says.
Collaborating with the University of Arkansas at Fayetteville, Crystal Bridges is also guiding what Bacigalupi calls a "significant push" to establish a residential art scholars program, which would attract researchers from around the world.
University Associate Art History Professor Leo Mazow says the collaboration has the potential to produce research and scholarship opportunities rarely matched among peers. "A scholar's center, an advanced scholarship in art history-the community, our students and both institutions would benefit tremendously," says Mazow, who specializes in 19th- and 20th-century American art. There would be lectures, symposiums, gallery talks and interdisciplinary initiatives. "What is so unique is that both parties are very eager to explore the potential," he says.
As these initiatives play out, Crystal Bridges will host special traveling exhibitions, such as the "Hudson River School" masterworks exhibit that opened in May, and focus on keeping its offerings fresh and interesting for patrons, Bacigalupi says. Walton, her curatorial staff and advisors continue to grow the collection.
Once the newness wears off, and after visitors have come and gone once or twice, will Crystal Bridges have staying power? Bacigalupi says yes. More than 75 percent of the museum's visits have come from local or regional residents who are returning to the museum and already making it part of daily life.
Betsy Broun, a director at the Smithsonian American Art Museum in Washington, D.C., believes the rich collections at Crystal Bridges can't be known in a single visit. "The really big opportunities are not for the fly-in tourists but for those who can come again and again," she says. "They will learn from the museum's superb professional staff, participate in programs and explore on their own to discover profound insights over time."