With more and more museums pushing content to personal digital devices, we need to remember who we may be leaving out. When Phil and I talk about the digital divide, we are usually thinking of an economic barrier—the shrinking (but significant) portion of society that does not have access to mobile technology, particularly smart mobile technology. But apps and other digital content can pose accessibility challenges as well. Museums have a mixed record on making even their websites meet accessibility standards—often unintentionally throwing up a "digital glass wall" that hinders access. How will we fare with the myriad content being developed for apps, podcasts, etc? For this reason, we've kept our eyes open for news related to universal design and digital devices, as well as our ongoing scanning on accessibility in general.
For example, people and organizations advocating for cultural accessibility, like:
Museums making notable efforts to create accessible exhibits, such as: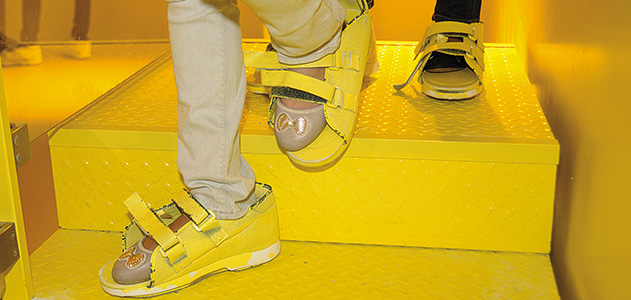 Israel Children's Museum exhibit "Dialogue With Time": 
elderly to climb a flight of stairs. (Israel Children's Museum) 
Digital devices and tools related to accessibility, like:
BrailleTouch

, which makes it easier for users who know Braille to send text messages

Hearing Loops

that connect anyone with a hearing aid or cochlear implant to a building's sound system

OpenDyslexic

, a free font that helps people with dyslexia read online
Skip over related stories to continue reading article

Guidelines or resources on digital accessibility, such as the:
Plus some resources on physicalaccessibility in museums, including: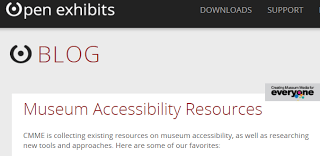 Finally, for a more scholarly and theoretical approach, Helen Rees Leahy's book, Museum Bodies: The Politics and Practices of Visiting and Viewing (Ashgate, 2012) offers some historical perspective on how museums have accommodated or excluded people with disabilities. H-Disability is an academic discussion list devoted to disability studies, including reviews of the emerging scholarship on disability and museums.    
Please help us keep our museums & accessibility resource list up-to-date by sharing links to articles, websites and other resources in the comments section below. Thank you!