The Alliance has just released TrendsWatch 2013: Back to the Future, CFM's second annual watch list of important emergent trends.
If we're right, and the trends we've tagged this year shape the evolution of museums, a museum visit in the future may go something like this: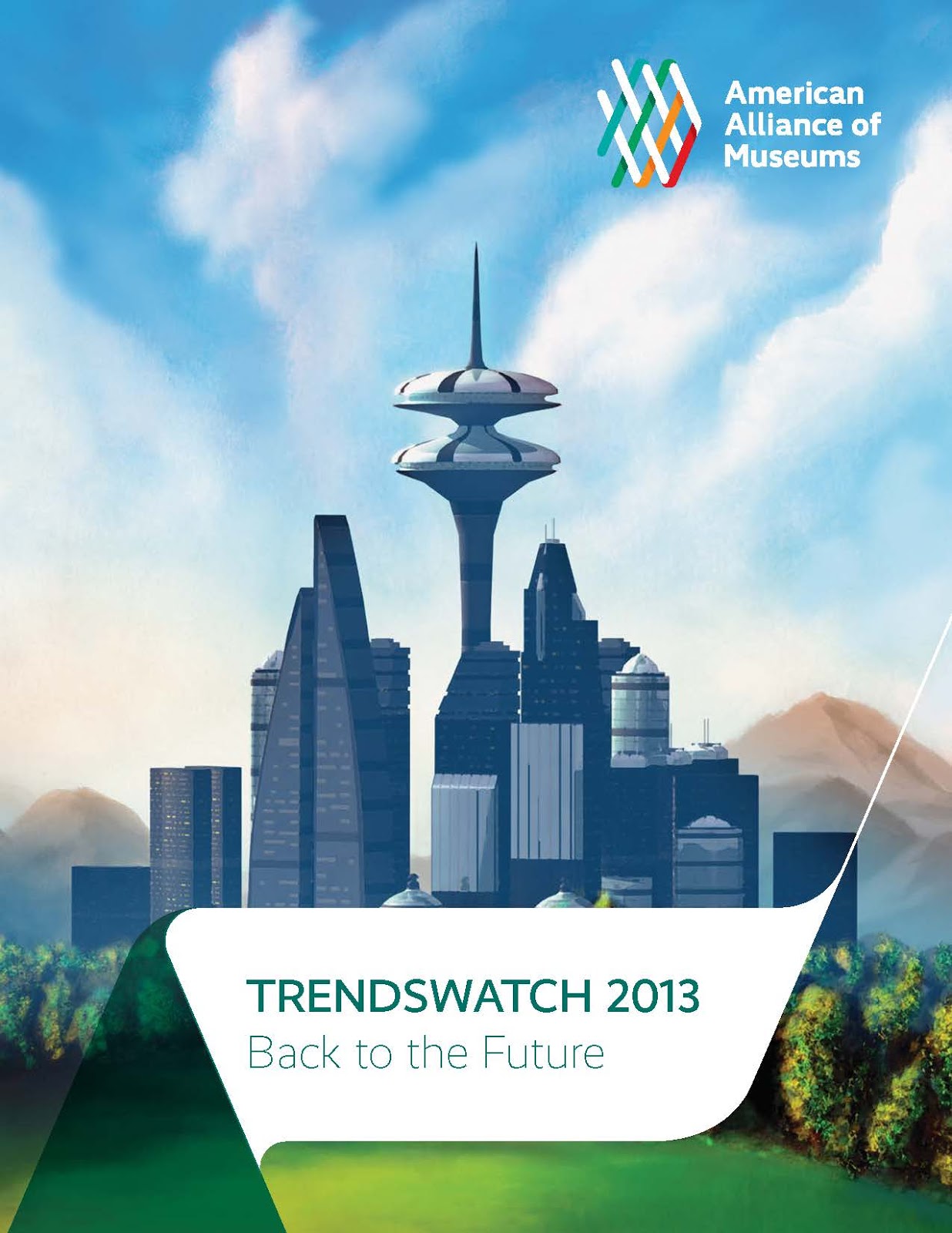 On the way in, a staff member asks if you want to borrow a "digital disconnect" pouch for your mobile device, to help you go offline for a stress-free visit;

But you decide to opt for the fully immersive digital experience. You authorize your mobile device to track your progress through the museum, pull information from exhibits as you approach, synch with your bio-monitor wristband to assess your reaction to the experience and suggest what other galleries you might enjoy;

Feeling a bit tired, you take a break to visit the museum's lounge—a popular gathering place for residents of the many "micro-apartment" developments that have popped up in the surrounding neighborhood;
In the lounge, you kick back with your tablet to complete an essay you've been writing on the current temporary exhibit, which earn credits towards your digital badge in Art History from the museum's education department;
Having submitted the essay, while you finish your latte you bring up the museum's website to check the dashboard metrics on the teen art lab project you are supporting. You are pleased to see that the museum has documented a decrease in school absenteeism and an increased graduation rate among the teens participants;
On the way out you stop at the museum store to pick up a print-on-demand miniature reproduction of your favorite sculpture (having texted your order to the shop's 3-D printing center on your way through the gallery).
Each of the elements in this story builds on one of the six trends highlighted in the new report—trends that CFM's staff and advisors believe are highly significant to museums and their communities, based on our scanning and analysis over the past year. For each trend, we provide a brief summary, list examples of how the trend is playing out in the world, comment on the trend's significance to society and to museums specifically, and suggest ways that museums might respond. There are also copious links to additional readings.
We hope that TrendsWatch (in addition to being a fun read) is a tool you can use to invigorate your museum's planning and implementation. How about holding brown-bag lunches, putting "TrendsWatch" agenda item on the board meetings, even planning your very own forecasting workshop? Or instigating conversations on these trends in museum studies classes or professional conferences?
Skip over related stories to continue reading article
As you read the report, ask yourself the following questions:
How are these trends playing out in your community, state, region or country?
Which trends are likely to have the greatest effect on your organization?
How might your museum take advantage of the opportunities or avoid any risks these trends present?
And please, in the coming year, keep an eye open for news and opinion pieces illustrating how these trends are playing out. When you see a news item that supports our trends picks, please send it along. When you read an item that suggests we backed the wrong horse, send that to us, as well. We'll share these links periodically via the Blog and our free weekly e-newsletter, Dispatches from the Future of Museums, and at the end of the year, assess how well we picked!
If you'd like to chat online with me and my co-author Phil Katz about TrendsWatch 2013, register for the Alliance Town Hall that will take place online March 27 at 2 pm EST.