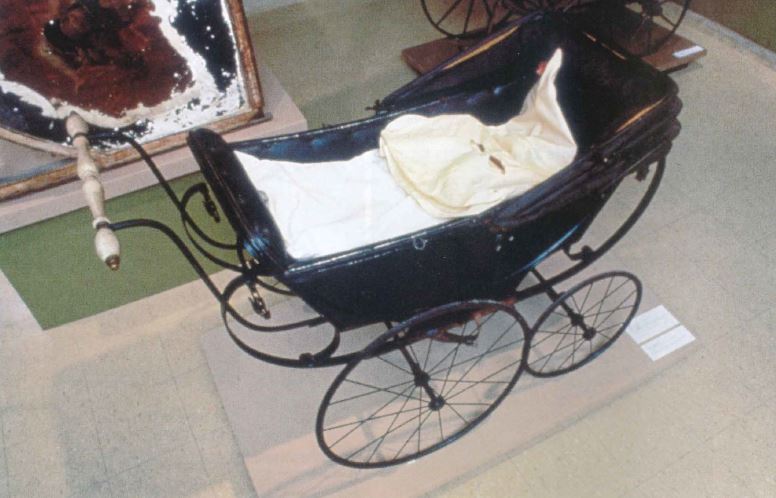 This article originally appeared in the November/December 2013 edition of Museum magazine.
It has been more than two decades since artist Fred Wilson "mined" the Maryland Historical Society. Digging through the attic and archives of the museum, Wilson came upon objects that had never been placed in public view before. When he paired them with artworks and artifacts that had long been on display, the results were electrifying: A Ku Klux Klan hood in a baby carriage. Slave shackles arranged carefully among ornate silver vessels. He pushed viewers to look at people they may have ignored before; shining a spotlight, for instance, on the face of an African American child in the dark periphery of a 19th-century painting.
This was "Mining the Museum: An Installation by Fred Wilson," a groundbreaking collaborative venture between the historical society and The Contemporary, an art museum working in temporary spaces. Eager to welcome more diverse audiences in its Baltimore community, the Maryland Historical Society reached out to Wilson, whose previous work had dealt with museum exhibition and race. "Mining the Museum" encouraged museums everywhere to reconsider how they handle the objects in their collections; and how to tackle the challenging topic of race.
The return of the AAM annual meeting to Baltimore this year was an opportunity to reflect on the exhibit and how the museum field has since evolved in its treatment of provenance and race. The annual meeting session "Talking About Race: 'Mining the Museum' After 20 Years" brought together the original players with other museum professionals who continue to grapple with these issues in their work.
Following are adapted excerpts from the session. As a fitting conclusion, and a harbinger of what museums could do in the future, Eric J. Jolly of the Science Museum of Minnesota tells us about his institution's experiences with the currently touring exhibition, "RACE: Are We So Different?"
Thanks to Ken Yellis (principal, Project Development Services), who initiated and moderated the session, and to all the participants: George Ciscle (former director, The Contemporary), curator-in-residence, Decker Library, Maryland Institute College of Art; Lisa Corrin (former assistant director, The Contemporary), Ellen Philips Katz Director, Mary and Leigh Block Museum of Art; Spencer Crew, Clarence Robinson Professor of American, African American and Public History, George Mason University; Joanne Jones-Rizzi, director of community engagement, Science Museum of Minnesota; Gretchen Sorin, director and distinguished professor, Cooperstown Graduate Program; and Fred Wilson, artist.
Ken Yellis
I like to say that there are only three important reasons to do exhibitions: you have a new story to tell, you have a new way to tell an old story, or the story has been forgotten or hopelessly corrupted. But maybe we are returning to "Mining the Museum" 20 years later for a fourth reason: to think about what we are doing when we make an exhibition in this troubled world, to paraphrase "So Much Trouble in the World," another Fred Wilson exhibit.
By the first decade of this century, it was possible to ask whether museums were really ready to respond to this challenge. But I also thought I detected a growing discomfort about this hesitancy. My article, "Fred Wilson, PTSD, and Me: Reflections on the History Wars" (Curator, October 2009), received a lot of feedback. On one level, it seemed as if museum professionals felt that "Mining the Museum" had more impact on how they think about their work than on how they were allowed to practice it. But others were more hopeful. One said that Wilson's approach "directly changed the way I have worked as a curator and the way the museums I have worked in approach their exhibitions….Looking back on the exhibit, I realized that it was liberating for the general audience as well."
I convened this panel because 20 years later seemed like a good time to reconsider what happened then, what's happened since and where we are now.
Spencer Crew
Twenty years ago we were all struck by the ideas that Fred put forth, the way he used the objects, the way he provoked thought. But what also struck me was that he was having a conversation with the field about an important concept: provenance. What does provenance mean? How do you apply it? Where is it appropriate? How much does it rule what we choose to do and how we do it?
It was an important conversation at the time, because provenance had become the gatekeeper of what exhibitions one could do. For years the argument had been that the provenance had to be exactly aligned to an object in order to use it in your exhibition. If you did not have the right object, you could not do the exhibition. Objects were the core of what we did. The problem was that traditional collections weren't very diversified in terms of whom they
collected objects from, who was represented and what stories could be told.
Fred specifically talked about African Americans and American Indians in his exhibition. This was important, because even though the Maryland Historical Society's collections weren't directed towards those individuals, he began to bring their stories forward. He was attacking both the idea that provenance rules all and the mindset that, without the appropriate collections, institutions could not do exhibitions about the brown and black people who lived around them and who were becoming more and more of their audiences.
Fred's voice joined a crescendo of others. The African American museum movement emerged in the 1950s from this argument. Museums were saying, "We don't have those objects. They probably don't exist. They're too hard to find." The founders of the African American museum movement argued just the opposite; that these objects do exist. They are in homes, in basements, in attics. You need to go find them. You need to go talk to those individuals. You need to let them know that what they have is important. What emerged was a series of African American museums. The most important of them were the DuSable Museum of African American History in Chicago and what is now the Charles H. Wright Museum of African American History in Detroit. Museum founders Margaret Burroughs and Dr. Charles Wright spoke articulately about the need to collect more broadly.
Their voices were powerful and were supported by activity at the 1971 AAM Annual Meeting. A group of artists took over the meeting and disrupted everything that was going on, to the horror of the very dignified museum people. The protestors declared that museums were bourgeois institutions unconcerned with the lives and ideas of everyday people, looking just at the rich and the famous. Theirs and a growing number of other voices suggested that museums needed to change their direction. One change which did result was that the people museums hired began to look a little different. They had color, and as a consequence, they brought other points of view about how museums should think about themselves and who should be represented within their collections and their exhibitions.
Paralleling this were new efforts within museums to create connections with broader communities; activities to collect objects with the right provenance for exhibitions. They often didn't have relationships with these communities, so they had to launch special initiatives. The process of building more diverse collections took a long time, and consequently the number of exhibitions coming forward remained limited. Museums were still tradition-bound to the idea of provenance. What had to shift was the importance of provenance to the creation of exhibitions. Did you have to have the book held by Frederick Douglass in order to tell Frederick Douglass's story? Did you have to have Martin Luther King's Bible in order to talk about Martin Luther King? The question was: How do we shift that mindset? Some individuals began to push the idea that maybe provenance did not have to be exact. As a result there began to be exhibitions that changed the nature of the conversation. "Field to Factory" at the Smithsonian's National Museum of American History was one of the exhibitions that tried to do this. Its task was to tell the story of people who migrated to the North during and after World War I. The objects were not as available as one would have liked. So the decision was made that provenance was useful but not critical; that the story was much more important. If objects available were similar to those that individuals used during that period, that would be a sufficient representation and would allow the story to move forward.
This was seen as strange by the academy. There were biting criticisms about the exhibition because of the decision not to have provenance determine all object-use decisions. Many said that this was a blasphemy, that it undercut the value and the usefulness of the exhibition. But it also pushed this conversation even further.
And that brings us to "Mining the Museum." One could say Fred Wilson exploded the conversation because he made the point that provenance is in the eye of the beholder: What is the history of an object that gives it authority and value? Is it the person that it belongs to? Is it the person who serves with it? Is it the person who cleans it at night? Whose connection is more important in these stories? Also, does it have to have a direct connection, or can it be a platform for larger conversations?
In "Mining the Museum," the concept of provenance as critical to telling important stories was pushed aside. Fred said, first of all, look with open minds in your collections. There are stories there that you can use if you look closely enough. He said that beyond the provenance the museum has assigned an artifact, there are other stories about it that can be applied. What one found in "Mining the Museum" were stories connected to objects that you might not have thought about before; that gave you an insight into the society of which they were a part and forced you to think about larger representations. Who's affected by this? Whose lives are changed? Who are the people who are part of its history but are in the shadows and cannot be seen? That was an important change in how we thought about our exhibitions and presentations. "Mining the Museum" pushed us in directions we hadn't embraced before. It was an important milestone in the intellectual growth of our field.
Dollhouse, from the original "Mining the Museum" installation.
Fred Wilson
I stepped into the Maryland Historical Society tabula rasa, not having a clue as to what I was going to do, not researching anything, just soaking in the museum and talking to everyone from the woman who cleaned the silver to the chairman of the board.
I wasn't thinking about race, walking into the institution. I was simply a sponge to the environment, especially the visual environment. As a visual artist, this is the most important thing to me, and it affected me deeply. The environment grabbed me and told me what was not being spoken about. It made me feel I needed to speak the unspoken in my work, because there was this huge hush over the place about things in the past. The visual material really affected me and guided me. The fine art, artifacts, decorative arts and ephemera in the museum's collections that were considered important, that had the provenance, followed a hierarchy in the way that museums do. They privileged some histories over others. You had to realize that it made the museum complicit with the evils of the past. And once you realize that, it becomes impossible to go forward in the same manner.
Bringing race into the conversation felt natural. It paralleled my entire life: being a person in the world and people seeing you and reading you, either as a black person or whoever they think you are and then creating their notions
about who you are from these simple visuals that may or may not have the most meaning for your entire being. Approaching the project through the lens of my inner life and experience meant that I was completely free to do any topic I wanted that seemed important, and in this museum, it certainly was race. It allowed me to be very frank with myself and with the institution, because I was being guided by something very deep. That's how I go through the world and what I hope gets imparted to museum professionals. We all have our scholarship and our ideas about things that we know and that we've studied, but who are we as people and how can we impart that within the context of the institutions we work with? How do we impart that without over-intellectualizing, without being self-conscious?
I hope part of the success of "Mining the Museum" is that, as with any artwork, when you are in front of it, you are having your own experience with it. I hope that "Mining the Museum" affected people on that level so that they could realize their own reality and put it in their work.
Joanne Jones-Rizzi
When I went to see "Mining the Museum," it had been two years since we opened "The Kids Bridge" at the Boston Children's Museum, my first exhibition about multiculturalism, cultural identity and anti-racism. Departing from the "hands across America" paradigm prevalent in multicultural exhibitions of that era, I was committed to addressing the challenges that children, especially children of color, experience in daily life.
Following my convictions and knowledge based on community collaborations, we tried things in that exhibition that were new in the children's museum held at that time. We used interactive technology and a hybrid model that actively involved people from a mix of cultural and ethnic communities in the development and in the production of the exhibition. Once we opened, we invited visitors to talk with us about race and racism.
We were inspired by the community's response and the opportunities to conduct dialogue with them about the issues we raised, particularly in a city like Boston where issues of race are so charged and always simmering just below the surface of everything.
In 2004 we opened "Boston Black: A City Connects" at the Boston Children's Museum. The museum had a partnership with the Boston public schools that brought every kindergarten student to the museum on a field trip.
As I observed these groups visiting the museum, I was struck by the predominance of students of color and the realization that most of these kindergarten children did not see themselves or their cultural experience reflected in the exhibitions.
I began asking the students how they identified. Did they think of themselves as black? African American? The responses they gave were varied and surprised me. They said they were Haitian, Dominican, Cape Verdean; a few identified as African American. This was the impetus for exploring the notion of diversity within, expanding on the idea that we each have multiple identities.
The initial hybrid approach of community-museum collaboration that I began with "The Kids Bridge" launched for me a lifelong process of refining this mode of exhibition development. Now, more than two decades later, I recognize a persistent focus on race in my work, one that continues to demand voice.
In 2007 we opened "RACE: Are We So Different?" at the Science Museum of Minnesota (SMM). As an institution we were motivated to create an opportunity for dialogue about race in the Twin Cities as well as an opportunity for an internal staff conversation about diversity. This was new ground for me: talking about culture, identity, race and racism within a science context and in a museum and a city that were new to me. I couldn't draw upon my community relationships outside the museum because I didn't have any.
Working on the exhibition required me to make contacts, learn about the communities within the cities and find
people who were willing to participate in the process of creating the exhibit. I learned that Minnesota was a leader in
the Restorative Justice Movement: a model and process for bringing victims and perpetrators together in dialogue.
Unlike a traditional model of dialogue designed to support people who are comfortable talking publicly in a group, Talking Circles are structured to provide uninterrupted talking space for each person, one at a time. The Circle Keeper guides a process that creates open space for each person to speak and for everyone to hear what each person says.
We didn't know if the Circles would work. We thought that we would be successful if we had 100 circles during the exhibition's five-month stay at SMM, prior to its national tour. In the end, more than 4,000 people participated in more than 250 Talking Circles. I consider this to be a confirmation that people want to talk about race and that museums can be catalysts for public dialogue about race.