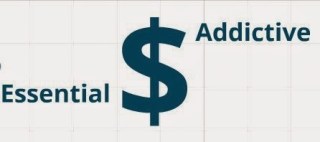 I've been using this graphic in talks lately when talking about successful financial models for museums. The point being that if your organization provides experiences or services that are addictive or essential, or better yet, both, you have the foundation for a successful business plan.
"Essential" encompasses stuff at the bottom of Maslow's pyramid: food, shelter, sleep, human relationships.
If you need an example of "Addictive," consider the Massive Multiplayer Online Game World of Warcraft. Could people live without it? Presumably. But as a species we've already spent, collectively, over 6 million years on the game, so evidently we don't want to.
Somehow, as clear as this classification scheme seems, the conversation often veers off track when I ask museum staff to slot what their organization offers into these two categories.
Me: "What do you do that is essential?"
Staffer: "Arts education."
Well ok, I wish we lived in a world where people worked art into their household budget right up there at the top with buying enough groceries for the week, and getting shoes for the kids to go to school with. But I think we don't. (Otherwise we wouldn't have needed a national campaign to try to convince the public of the need for arts education.)
Granted, "essential" is a tough one for our field to tackle. Museums don't usually think of themselves as social service agencies, though some tackle food deserts, run soup kitchens (of a sort), even provide a neighborhood laundromat. I suspect our most promising pitch for casting ourselves as essential community resources focuses on our role as educational organizations. But in conversations on education, museums are referred to, dismissively, as places for "informal" learning, so that argument isn't a sure fire winner, either.
The fact is, most of what museums do we hope will be addictive—creating a desire so intense people are willing to allocate scarce time & money to scratch the itch. Sometime, unfortunately, the itch they scratch is our passion to create a particular exhibit, program, building or whatever.
I admit that categorizing everything as either "addictive/essential" generalization oversimplifies the world. Let's make the exercise a little less "either-or" and redraw the figure as a scale



To figure out a workable business model for anything a museum wants to support, first place it accurately on this spectrum of "essential to addictive." Probably most things won't be either as essential as sleep or as addictive as WOW—they'll be somewhere in the middle.
You know what's dead smack in that middle? "Nice."



The worst place to land is "nice." Nice gets a pat on the head. Nice is what gets cut first when funds from any source are short.
So how come museums end up creating so much nice stuff? How come we so often we have the luxury of scratching our own creative itch? Maybe because nonprofit economics are different, in a significant way, than those governing for-profit business plans. Nonprofit income isn't a simple line from producer to consumer. It's a triangle, with the third player being people or organizations willing to underwrite that transaction. Funders may think that consumers ought to want, or need, the experience, good or service a museum is providing, whether or not the consumers in question agree.
If a funder's assessment is inaccurate—the consumer doesn't think what the producer offers is addictive or essential—that funder isn't doing the museum any favors in the long run. Their support may merely encourage the museum to invest resources in something that is fundamentally flawed. Something "nice."
How can we avoid bad decisions that are premised on funders' presumptions about what people ought to want or need? One radical approach is to eschew prescriptive solutions altogether. Some people are proposing that the best way to fight poverty, for example, is to just give cash to poor people. That approach is even coming out well in some real world tests.
If the US, instead of creating an elaborate system of food stamps and housing assistance and head start, etc., etc., emulated the proposal recently floated in Switzerland and simply provided adults with a minimum monthly income, what would they spend it on? How much income would a family need, on average, before they started to budget for things that museums provide? Great question, to which I wish I had the answer.
For now, since museums are buffered by government and philanthropic support, it can take years, or decades, of slow economic decay for them to find they have put together a bundle of offerings people don't want, or need, enough to pay for.
So try a bit of brutally honest introspection next time you tackle organizational planning. Put a line up on the wall, with "Addictive" at one end and "Essential" at the other. Start pinning your products, services, programs where you think they belong. Make sure you have some people in the room (on staff or outside recruits) who bring a fresh eye and fearless skepticism to critique the placement of your tags.
And everything that lands on "nice?" Take a hard look at what it costs you to provide these nice things, and rethink whether they belong in your plan at all.
Skip over related stories to continue reading article