Sometimes people who work in small museums take me to task about some of the technologies I highlight in CFM forecasts ("we can't afford that!") When this happens, I point out it's never really about the technology—it's about the human desires and behavior that drive the creation of the shiny tech toys. Technology, and tech platforms, may in turn shape the expectations of our audiences, but there are often low-tech or no-tech ways to meet those needs. I invited Allison Weiss, executive director of the Sandy Spring Museum, to blog about a recent experiment with harnessing cultural trends to active participants in the operations of small museums.
I love the idea of integrating pop culture and museums. Who doesn't love/hate reality TV? Is there anything museums can learn from reality TV? Aside from the obvious voyeur-appeal, I think that we are also attracted to reality shows because we like watching the process, not just seeing the end result. Last spring the staff of the Sandy Spring Museum, which is a small history museum with a staff of 3 FTE and an operating budget of about $385,000, decided to use the appeal of "reality" to recharge our visitation.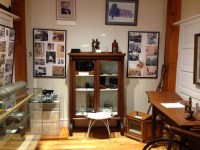 "Before." Photo by Allison Weiss
Our exhibits hadn't changed in fifteen years, and with estimates at $300 a square foot for design and fabrication, building new exhibits was out of the question. And how much would new exhibits accomplish? Probably a small crowd would attend the opening, but considering that our walk-in traffic averages around 10 people on days without programs, that hardly seemed to justify any financial investment in new exhibits. We concluded that in our case, just changing the exhibits was not enough.
So, instead, we borrowed several concepts from reality TV and created the Extreme Exhibit Makeover. We brought together a diverse group of strangers who had to collaborate and compete, and made it into a spectacle. Museums take themselves so seriously. We saw this as an opportunity to inject a little humor into the otherwise somber process of interpreting history.
The project started with a call for participants . We invited curators, exhibit designers, artists, historians, and the general public, and were amazed at the experience of the people who applied, many with decades in the museum field. Nearly all commented on how stale the traditional exhibit process is, and all shared an adventurous spirit.
Participants were divided into two teams – Team Jersey Shore and Team Kardashian – with five participants each and a graphic designer who floated between the two teams. We tried to make the teams fairly evenly matched in expertise and skill, i.e., each team had a designer, an artist, a researcher, etc. Everyone came to the museum for an orientation and to pick sections of the exhibit hall on which they would conduct their makeover. The parameters were very broad: each team was given a $1000 budget, a deadline, and a mandate to have their research verified by volunteers at SSM; otherwise they were given nearly free rein.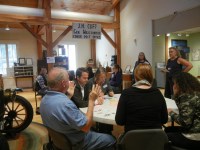 Team Meeting. Photo by Allison Weiss
It was obvious even during the first meeting that any time you bring two or more people together there is the potential for conflict and disagreement. Within 24 hours, we lost one participant and within two weeks, two more dropped out or, as we prefer to phrase it, got "kicked off the island." During the ensuing months, life intervened – several participants got jobs, one got engaged. It turned out to be very difficult to keep everyone engaged and focused, which resulted in us having to extend the project deadline. A

project blog

was updated several times a month to give the public an idea of what was going on behind the scenes.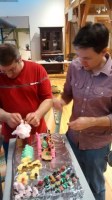 Museum Peeps!
To me, the highlight of the project was the installation. In true reality TV form, it was a public event and all of the construction had to be done on site during a two-day installation weekend. Graphics were prepared ahead of time but the exhibits, one of which required major construction, were otherwise built on location. To ensure that we incorporated some spectacle into the weekend, Tania Katan, the producer of Shenanigans at the Scottsdale Museum of Contemporary Art, was the MC for the installation and also judged the mini-makeover competition, during which the participants recreate
d famous moments in Sandy Spring history using marshmallow peeps.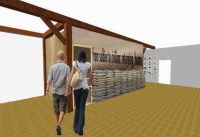 Conceptual drawing by
Lynda Barry-Andrews
The team's exhibits were vastly different from one another. One team stuck to the concept of "makeover," making great improvements to a very weak exhibit on general stores. They focused on the concept of "gathering place" and explored ways in which residents historically came together for social purposes and to better the community. The other team de-installed an existing exhibit so they could start from scratch. Their exhibit, From Soldier to Civilian – looked at how a soldier reintegrates into society, drawing from contemporary sources like oral histories, and historic sources from the museum's archives.
Three "celebrity" judges – Larry O'Reilly (the mastermind behind the IMAX theater at the Museum of Natural History), Jose Dominguez of Pyramid Atlantic, and Mary Alexander of the Maryland Historic Trust – reviewed the final exhibits and listened to the teams pitch the concepts behind their makeovers.
Although it had not been my intention to have winners and losers, the judges selected From Soldier to Civilian as the better of the two exhibits. The real winner, of course, is the museum. We ended up with an estimated $50,000+ in donated time and materials, an updated exhibit hall, and media coverage in the Washington Post.
The most surprising thing to me was that during the widely-hyped installation no one showed up to watch! So while the project was a successful way to recruit time, labor and talent, it did not in fact tap into a public desire to peek behind the scenes at the process of creating museum exhibits. This really made me wonder whether what we are doing, in small history museums, is of interest to anyone outside of the museum field. Maybe we needed more live drama and fewer historic artifacts? It's something I'm pondering as we launch another public-participation project this summer.
Skip over related stories to continue reading article