I'm keeping my eye on MOOCs (Massive Open Online Courses) because they provide a platform through which museums might increase their reach by orders of magnitude. Last year Lisa Mazzola blogged for CFM about
MoMA's dive into the realm of MOOCs
with their professional development course for K-12 teachers. Now I'm pleased to share a post by Dr. Sarah Anne Carter, Curator and Director of Research at the
Chipstone Foundation
, telling us about Harvard's newly launched MOOC that draws heavily on museum resources, exploring how digital engagement can lead people to a closer examination of physical objects.
"Art" is typically presented in art museums, "cultural artifacts" in anthropology museums, and "specimens" in science museums. These categories appear simple and straightforward, but the things in them rarely are. The Tangible Things project, drawn from Harvard University's unparalleled museum and library collections, challenges these facile, historic categorizations. It starts from the premise that careful attention to almost any material thing can open up a wide variety of interdisciplinary questions. Most material things—both inside and outside of museum collections—are best understood from interdisciplinary perspectives, as objects with social, cultural, aesthetic, economic, biological, chemical, and even spiritual meanings. The chair you are sitting in isn't ever just a chair.
Through a decade of Harvard University seminars team-taught by Laurel Ulrich and Ivan Gaskell (now of the Bard Graduate Center), a university-wide
exhibition
I organized with Ulrich, Gaskell, and Sara Schechner, two large team-taught undergraduate lecture courses, and a forthcoming book co-authored by the entire team the Tangible Things project has explored the interdisciplinary potential of object study and the ways all kinds of material things may be employed to write history. Specific objects become the center of dynamic interdisciplinary stories—stories about love, international politics, racism, colonialism, scientific discovery, war, human rights, friendship, memory and loss.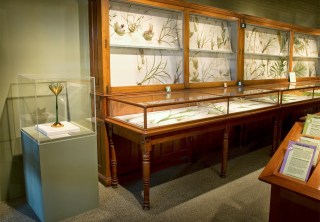 A floriform Tiffany vase, ca. 1900, on loan from the Harvard Art Museums,
was displayed with The Ware Collection of Glass Models of Plants, better known as the
"Glass Flowers" in the Harvard Museum of Natural History, to investigate the distinctions
and connectionsbetween art and science. Photo by Samantha Van Gerbig
Now, the ongoing Tangible Things MOOC, a massive open online course on HarvardX through EdX that Ulrich and I are team-teaching with help from Gaskell and Schechner, offers new opportunities for expanding the project's mission and for exploring the meanings of material things and the collections that sort them.
An online course may seem to be a funny place to teach about the tangible, but its tools are well suited to the study of material culture—in some ways better suited to the task than those of traditional classroom or museum teaching. Our MOOC both models and explains how things can become the center of interdisciplinary study. Instead of creating a series of 50-minute, expert-at-the-podium-style lectures we worked with creative HarvardX producer Zachary Davis and a team of talented videographers to craft a series of short documentary-style films focused on key objects and collections set on location in museums and libraries throughout Harvard. Though the numbers have varied throughout the course, over 12,000 students from around the world signed up to learn about Tangible Things online. With this diverse student body we knew we needed materials that could be presented in a straightforward way through videos and also offer students the chance to delve deeper into any topic, whether in physical museum collections or through online resources and additional selected readings.
We organized the course into three broad categories: objects, museum collections, and exhibitions. First, we focused on different kinds of close looking, starting with a fish collected by Louis Agassiz ("Look at the Fish") located in the Harvard Museum of Natural History, examining a "toga" in the Harvard College Archives ("A Toga in the Archives") and studying the John Harvard statue ("John Harvard's Toe") through close looking in conjunction with historic materials in Houghton Library. In each case the point was not simply to deliver content about these objects. The goal was not to teach students a body of knowledge about material things, but rather ways of thinking about and processing knowledge drawn from the material world. For example, instead of just looking at the "toga," a student garment from the 1830s, we partnered with a seamstress to recreate it, a process that mandated close looking and helped us understand the garment in new ways.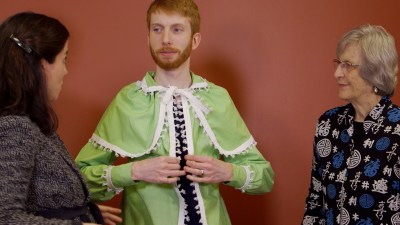 Tangible Things Teaching Fellow John Bell wearing a recreated "Toga."
To study museum collections, we first focused on Harvard's Artemas Ward Museum. We explored the ways house museums blend history and memory through the preservation and presentation of material things ("Hidden in Plain Sight"). Harvard's own piece of the Philadelphia Commercial Museum is represented in two cabinets created as traveling teaching collections a century ago that reside in the Natural History Museum ("Museum in a Box"). As we looked at the drawer-filled cabinets put together by the Philadelphia Commercial Museum for school children, we challenged our students to think about the seemingly arbitrary categories that the museum employed to sort things into each drawer – from "The Cow" to "Brush Fibers" – and asked our students to create their own "drawers" of objects. In the Peabody Museum of Archaeology and Ethnology ("Whose Collections? Whose Heritage?"), we discussed the acquisition and repatriation of Native American things and the connection between tangible things and cultural patrimony.
After considering specific objects and modes of museum collecting, we turned our attention to display strategies. We asked about how human history may be represented in the Harvard Museum of Natural History ("Animal, Vegetable, Mineral"). We examined an excellent interdisciplinary exhibit on the material history of time created by Tangible Things collaborator Sara Schechner ("Time, and Time Again"). Finally, we imagined the journey of a ca. 1900 Singer sewing machine from a Harvard study to exhibition in a wide range of collections, including Chipstone's ("Orphan Sewing Machine").
The range of videos and supporting materials (including readings and moderated discussions) have allowed us to present specific ways of close looking at individual objects and to think about how museums sort and define the things they collect and display. We designed several units to move students away from their computer screens (or tablets or smartphones) to apply lessons learned to study the things around them. With students from all over the world, the responses have been fascinating. After learning about the John Harvard Statue, students shared their experience of monuments in their own communities—the Gloucester, MA Fisherman, a WWI memorial from Burnham, Buckinghamshire in England, a Statue of Prince Leboo at a community college in the Republic of Palau, Dick King on horseback in Durban South Africa… and many more. In

another assignment,

one student shared her analysis of objects she dug up in her backyard while gardening—from a religious statue to a group of potsherds—another considered the origin of the materials in her smartphone, another created a project devoted to the history of Chinese currency. In these cases, students engaged with things close at hand, regardless of their location. Not too surprisingly, our global student body also visited a wide range of local museums—from the British Museum and the Rijksmuseum, to an ethnology museum in Japan and a tea museum in India.
Our team of experienced teaching fellows helped to moderate these online discussions.
We purposefully modeled modes of object engagement that students could apply in their own communities.
The broader Tangible Things project aims to show how nearly any material thing can be the subject interdisciplinary study. Our online course allowed us to apply this principle more widely than an exhibition or traditional course typically makes possible. Our MOOC lets us link the study and interpretation of museum objects to the objects in our students' everyday lives, and—through online engagement—to explore the many ways those things relate to a wide range of academic fields. Though our content may be delivered online, we hope that at least some of the learning—the close looking, the experimenting, and the questioning—continues to take place through direct contact with material things and in museum galleries around the world.
Skip over related stories to continue reading article