Just to switch things up a little, this week's Futurist Friday assignment is a listen rather than a read.

Jacob Morgan interviews Deb Acosta, the chief innovation officer for the city of San Leandro, CA, for his Future of Work podcast:

Cities of the Future: building the city of the future and driving innovation (1 hr)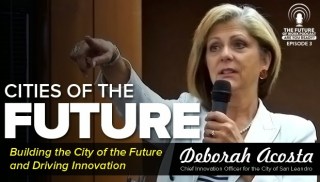 Acosta shares how San Leandro is using high-speed connectivity to become competitive as a good place to run a business and a good place to live, as well as her projections of what cities will look like in the next quarter century.

I think you will like her remarks on the importance of the arts in creating a livable city, (I kept waiting for her to say "museum"–but I guess San Leandro doesn't have one now since their History Museum & Art Gallery shows up on Google Maps as "permanently closed." Sigh.)

I hope this podcast inspires you to look around in your own city/town/state for Acosta's counterpart. Austin has a chief innovation officer–so does Kansas City, Philadelphia and Pittsburgh. (Here's one attempt to map these positions across the country.)

While these officers often emphasize technology, they are more broadly responsible for a futures-oriented approach with city planning: charged with identifying strategies that will help their community take advantage of cultural, economic environmental AND technological trends in order to prosper.
Skip over related stories to continue reading article
I hope these CIOs appreciate the power of museums to help shape the future, and count the resources we bring to the table as one of their tools for change. But I suspect many of them do not. So if you have a Chief Innovation Officer (or the equivalent) in the area you serve, call them up, give them a tour of the museum, ask how you can contribute to their work. And let me know what they say…

Here's a video introduction to San Leandro to warm you up for the podcast: