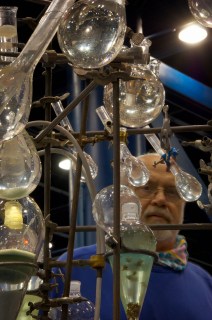 Tracy Hicks, Helix, AAM Annual Meeting 2011
photo by Susan Breitkopf
One of the blessings of this job is the wonderful, brilliant, generous people I have met in the course of my work for CFM. Tracy Hicks was all these things, and more. You may remember him as CFM's "Artist Interpreting the Future of Museums" in 2011 at the AAM Annual Meeting in Houston, where he gave so generously of his time—sharing his concerns about the decline of amphibian species, and his appreciation of the beauty to be found in the work museums do to document that vanishing world. I first met Tracy through John Simmons, and in today's post, I invited John to share his memories of our friend.
In the early spring of 1999 I received an urgent message asking if I could help an artist whose installation of dozens of jars of goldfish preserved in alcohol had just been shut down by the fire marshal. That was my introduction to Tracy Hicks. When we spoke, I was impressed by how concerned Tracy was with authenticity in his art—he wanted the jars in his installation to be as similar to actual fluid-preserved museum specimens as he could make them.
Tracy and I connected immediately—we were about the same age, we had grown up in the same part of Texas, and he raised poison dart frogs in his studio. A few months later, Tracy drove up to the Natural History Museum at the University of Kansas (KU), where I was collections manager in the Division of Herpetology. Tracy was fascinated by museum collections, particularly the way that specimens were treated individually but valued as members of sets of similar objects—he was particularly enchanted by the seeming repetition in collections. Much of his art at that time dealt with his interpretation of what he called museum vaults, such as Correlation and Collection and Freedman's Field, as well as the powerful Third Ward Archive which consists of hundreds of photographs exhibited in jars (these works can all be seen at www.tracyhicks.com under the heading "Stills—older works"). But when Tracy arrived at the museum at KU that day, he had something more profound in mind—he wanted to probe much deeper into the mystery and the beauty of collections. In 1994, he had participated in a field trip to Guatemala with a team of scientists from the University of Texas at Arlington, and returned intrigued by the details and processes of preparing scientific specimens, and worried about the disappearance of amphibians in the wild.
Skip over related stories to continue reading article
In the lab at KU, Tracy demonstrated the rapid alginate cold-casting method he had developed to make molds of fluid-preserved frogs without damaging the specimens. His goal was an exhibition that would interpret scientific collections, but in a radically different way than I then imagined. I introduced Tracy to Marjorie Swann, an English professor who taught a class on collecting in the KU Museum Studies Program and was the author of an insightful book on the history of collecting (Curiosities and Texts: The Culture of Collecting in Early Modern England). Marjorie immediately understood what Tracy's work was about, and proposed that we find some means to get Tracy involved with our students and fund an exhibition. The result was two grants from the Museum Loan Network. The first was a travel grant to develop the concept. Tracy, Marjorie, a museum studies graduate student, and I went to the Field Museum in Chicago to select Asian frog specimens to compliment the New World species available at KU. The second grant provided nearly $45,000 to borrow the Field Museum specimens, pay for molding and casting materials, and support two graduate student assistants for Tracy's work. The Hall Center for Humanities at KU provided an exhibit venue. The project melded our three distinct interests in collections. I thought of scientific specimens as tools to be used to understand evolution; Marjorie conceptualized collections as cultural constructs that shed light on the conflicted relationship between humans and nature; Tracy saw in the specimens the inherent beauty of nature, life, and death. The overarching concept was to demonstrate how scientific specimens, selected from the wild to be preserved as objects of cultural patrimony, reflected our efforts to interpret the diversity of life. Tracy derived the name of the project from C.P. Snow's book, The Two Cultures, which addresses the communication gulf between scientists and artists.
Early in 2005, the Two Cultures: Collections exhibit opened as a walk-in installation containing around 1700 jars of glow-in-the-dark silicon casts of scientific specimens of frogs. After exposure to UV lights, the various casts would fluoresce for anywhere from a few minutes to nearly 24 hours before fading. I digitized some field recordings I had made of frog choruses from the Amazon basin for Tracy to play in the background. A computer in the exhibit displayed a database of the catalog information for the specimens. The student assistants planned programming related to the exhibit, conducted tours, and organized a mini-conference on art and science at the Hall Center. A splendid time was had by all.
Tracy had many circles of friends who he turned to for inspiration, information, and amusement. I was invited to join the group that Tracy called The Chorus, a name derived from a combination of a chorus of singing frogs and a critical Greek chorus. We kept in touch through frequent email messages. The idea was that The Chorus would comment on Tracy's art, which we did, but we also became a very tight group of friends, sharing many intimate moments of our own and Tracy's life.
The glowing silicon frogs reappeared in Tracy's art from time to time over the next several years, but he was never content to repeat what he had already done. As his understanding of scientific collections and the disappearing amphibian crisis grew, Tracy's art took some fascinating twists and turns through several other major installations. By 2009, when Tracy was invited to participate in a show called Reflections on Darwin at Wright State University in Dayton, Ohio, he had moved from storage vaults to a two-story high indoor scaffolding holding objects and specimens that he had collected on a trek across West Texas and mounted on heavy glass panels. It was a mesmerizing display that included a reassembled snake skeleton, rocks, fossils, a bat and a frog, butterfly wings, doll parts, plants, dozens of insects, laboratory glassware, animal skulls and bones, and bottles of strangely colored oils.
Tracy's commitment to preserving amphibians was a constant current in most of his art and a driving force in his activities. He went to the tropics again, this time to Peru, with several friends, and played a role in putting together an organization called Tree Walkers International that awards grants for amphibian research and publishes a magazine called Leaf Litter.
Tracy had survived a massive heart attack in 1981, but suffered from severe angina the rest of his life. The scarring on his heart meant that nothing was easy for him—not the long hours he spent at work on his art, not the physical effort required for the astoundingly long drives to far-flung venues to set up his complex installations, not trekking around in the humid tropics, and not the daily awareness that he was living on borrowed time. Tracy once wrote that, "Since the early 1980s my work has been continually charged with the physical reminder of mortality."
In 2010, Tracy was selected for the Smithsonian Artists Research Fellowship (SARF) program, a prestigious award that gave him inside access to the largest natural history collections in the world, and the scientists who made them and care for them. His art continued to morph, now including fantastically mixed images of field notes written by scientists during their studies in the wild, superimposed with beautiful, touching photographs of specimens suspended in time in fluid and human skin (Tracy had been a commercial photographer before he became a full-time artist, and that experience shows in his images―he knew how to use light). The SARF project became a metaphorical comparison of human skin and amphibian skin, using close-ups of finely textured preserved frog and tadpole skin, young and old human skin, and particularly scars. At his request, I sent him images of cross-sections of amphibian skin and stories of how scientists found frogs in the wild.
In the midst of his SARF fellowship, Tracy came down with H1N1 flu. With his bad heart, the virus nearly killed him. For days, he lingered in a coma. We didn't know if he would ever awake, or if he did, whether he would have lost some measure of cerebral function. To everyone's relief, Tracy pulled through, weakened and exhausted, but alive, and eager to get back to work, which he did.
Tracy devoted considerable energies his last few years to the design and construction of the house he and his wife, Victoria Loe Hicks (an award-winning journalist) built in the mountains of North Carolina. It was their dream house, quiet and restful, with studio space amid acres of woods where Tracy walked daily. Last spring, they held the first of what was planned as an annual gathering of artists, musicians, and scientists, a converging of the Two Cultures around the theme of giant salamanders. Back in 2003, when we were at the Field Museum, Tracy became transfixed by a specimen of the giant Japanese salamander. Although the specimen did not fit the parameters of our project, we borrowed it anyway, and one afternoon I watched as Tracy made an alginate mold and then a plaster cast (which had to be poured within ten minutes of making the mold) in the lab at KU. The huge plaster salamander traveled with Tracy back home to Texas, moved with him to Atlanta, and then to North Carolina in 2010 before he found time to work on it. Giant Japanese salamanders (Andrias japonicas) grow to five feet long or more; its only living relatives are a similar Chinese species (Andrias davidianus) and the somewhat smaller hellbenders (Cryptobranchus alleganiensis) of the eastern United States. All of the giant salamanders live in cold water that flows down mountains; like all amphibians, they live through their porous skin; and like too many amphibians, they are gravely threatened with extinction. Tracy spent hours working with the plaster cast, transforming its dull white surface until it looked very much alive, its' skin glistening, an astoundingly beautiful piece of art. Tracy, who liked to describe himself as a crazy old artist, frequently told people that Andrias was the only god he believed in, emblematic of the way he embraced the natural world with a childlike curiosity coupled with a fascination with science.
Tracy once wrote in a description of his SARF project that "Preserving life and death is universally personally charged with emotion." The message that Tracy had suffered another massive heart attack came on a Friday evening, as Victoria was en route to Liberia for a reporting assignment on the Ebola outbreak. Via email, members of The Chorus shared a mixture of disbelief, loss, and consolation until late into the night. I wandered about the house, unable to sleep, never before realizing how much of Tracy's art we had—a massive glass panel from Reflections on Darwin sits atop a bookcase, a brass apple rests by the window in the living room, a stack of custom-made books of Tracy's SARF images sits on the floor, one of Tracy's photographs from Two Cultures: Collections enlivens the cover of a book I published. I finally gave up and crawled into bed, only to lie awake watching several jars of glowing frogs slowly fade to black.
Aug 11, 2008 still/LIFE study, Tracy Hicks

All photos by John Simmons, unless otherwise noted