May I just say, for the record, that I love love love the AAM annual meeting staff. They do a glorious job each year of pulling off the near impossible—decamping for a distant city to host a few thousand of our besties, orchestrating content, transportation, signage, A/V, food, drink and the logistics of getting a couple hundred vendors in and out of a massive exhibit hall. They totally rock.
But I'm a futurist. However good something is now, I wake up every morning wondering how it might be different in the future. Maybe better, at least better suited for the world that exists in five, ten, twenty years. Almost certainly different, however much we love what we have now.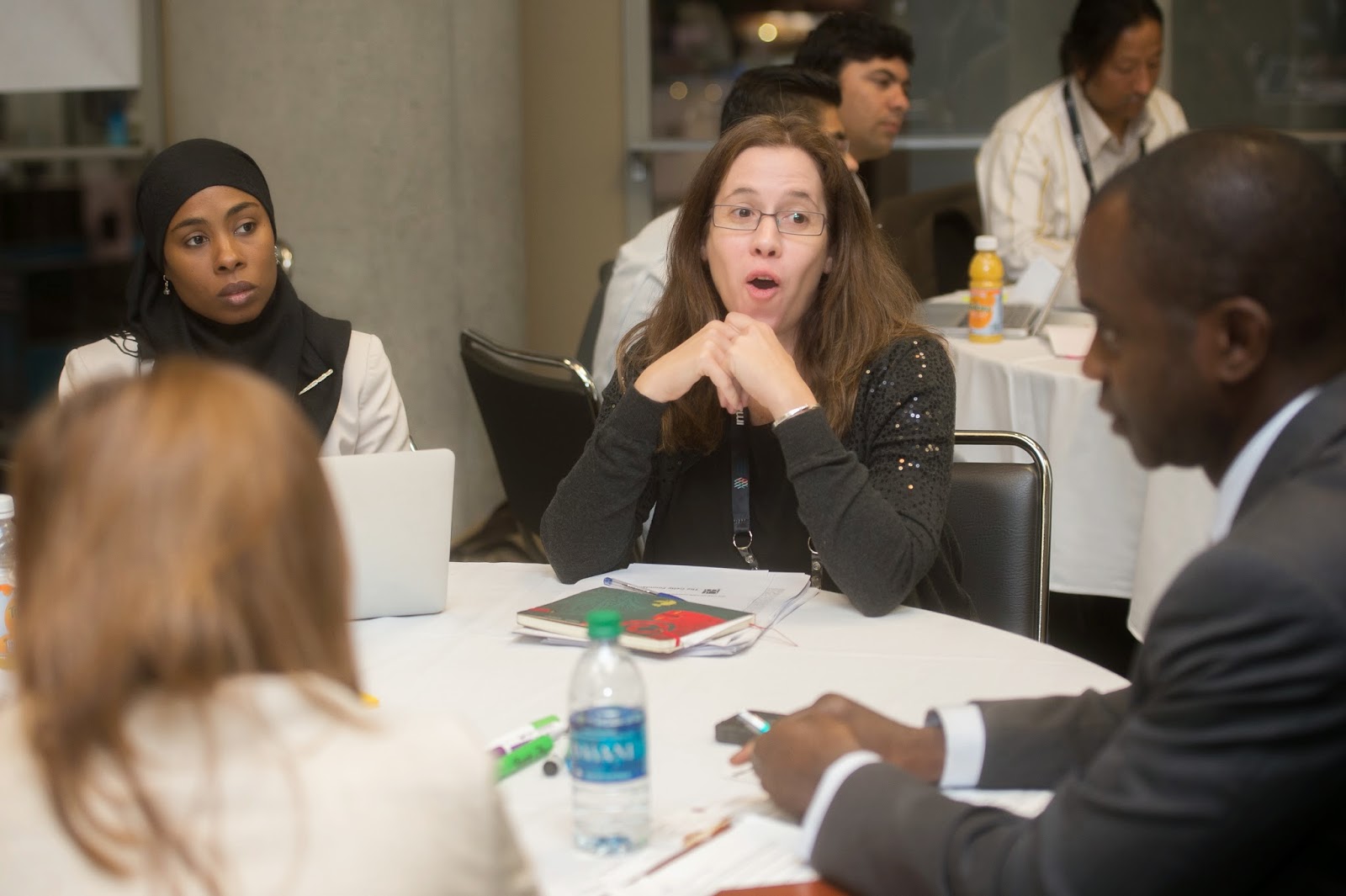 Lively discussion at #AAM2105
At the extreme end of the spectrum, we already have associations experimenting with radical integration of technology into their meetings: outfitting staff with Google Glass to live stream proceedings; or saturating the conference center with hundreds of sensors to track the behavior of attendees in real time.
On the more mundane level, there are many forces disrupting the conventional model for conferences bit by bit. For example: Airbnb is eating into hotel room blocks, giving organizers less leverage to negotiate lower rates and few
er free rooms to assign staff (which helps keep costs down).
Perhaps most profoundly, digital communications, from email to social media, foster what Lonny Bunch, director of the National African American Museum of History and Culture, has dubbed "rump parliaments"—gatherings that spring up around the "official" agenda, taking advantage of the critical mass of people and energy that converge on the conference. My informal count of these independent offshoots tallies well over a dozen, from convenings organized by consulting and research firms such as the Museum Group and Reach Advisors to provide content and face time with their clients, to reunions like the one organized by the Getty Leadership Institute for its alumni.
In Atlanta last month, some of these rumpuses were small scale and informal. Elise Granata and Nina Simon created a LinkedIn Group (Hack Your Hello's At AAM) to facilitate connections between any size group of people with shared interests—one organizational step up from "we had this great spontaneous conversation in the bar last night." At the other end of the spectrum, a "diverse group of emerging museum professionals" used Facebook and Twitter to flash-organize a gathering of over 70 people Tuesday night at Atlanta's Ger Art museum to discuss labor issues in museums. (Here's a resource list they compiled in case you, like I, regret missing their alt conf.)
I'm particularly interested in how social media empowers…well, anyone, to circumvent the limitations imposed by the formal selection process. Those limitations include both volume and timeliness. The National Program Committee has to winnow proposals down to a manageable number, which means many great ideas don't make it onto the program. And since the call for proposals closes the previous fall, there's no easy way for the meeting to respond to "of the moment" issues. However, folks engaged in #MuseumWorkersSpeak used their self-organized platform to promote discussion about #MuseumsRespondtoFerguson, and Baltimore, and other recent incidents inciting concern about justice and equity.
Most museum conferences today are hybrids of academic gatherings and trade shows. This creates so many tensions: between the established leadership that controls who gets on the program and emerging voices who don't want to wait in line for their turn to present; between some people who view vendors as inherently suspect sources of information, and exhibitors who want to contribute content on an equal footing; between people looking for basic "101" sessions and people only interested in cutting edge ideas; and, frankly, between conference organizers trying to exert some measure of control over this unwieldy beast, and people who want to "hack the conference" (in the best, creative sense of the word) to create additional good.
I wonder if, in the future, these tensions aren't going to fragment the conference as we know it into separate, independently viable pieces. Some possible forms I can imagine conferences taking in the future:
Mega "unconferences," where organizers line up the space, housing, and supporting services, but rather than curating the content via a central program committee, concentrate on enabling attendees to self-organize in a multitude of ways (as illustrated above) to claim space, attract like-minded individuals and tackle topics of interest in ways that might range from presentations to working groups to workshops. Staff become air traffic controllers, tracking who is doing what, finding space on the fly, helping everybody find an appropriate seat.

Conferences whose central and explicit purpose is networking via social events. I have friends who attend the AAM conference to hang out with folks in the evening and tour the local museums during the day—some don't even register (they have the grace to be slightly embarrassed, when they admit that to me), others register but don't attend sessions. There are so many places to find high quality content now—ranging from local convenings to videos, webinars, blogs and web archives of papers. Why listen to someone read a paper when you could be brainstorming with folks you only see once a year?

A distributed model, where the role of the national/central association is to create high-quality core content that is beamed out to satellite site that host local convenings. Local organizers build tailored on-site content to supplement the live-streamed events, and participants at all the distributed sites can interact over the share content in chat rooms and via social media.
I confess I pulled a little futurist sleight-of-hand there, characterizing this as the future. Fact is, all these things are happening, at least a little bit, now. And they are not entirely under the control of the organizations that run the official conferences. The question facing the Alliance, as well as the regional, state and discipline-specific associations, is how we will choose adapt to these changes, and take charge of our own futures before it gets reinvented for us. And the question for you (feel free to share your thoughts via comments, below) is what kind of conference you want, in the future.
Here are some summaries and analysis of #AAM2015, including the non-official events, that have appeared on the web. Insight into what people found memorable and rewarding!
Rogue Sessions and Conversations: Thoughts on AAM 2015 in Atlanta by Paul Orselli on ExhibiTricks blog. Paul shares his frustration with our "big and unwieldy" event, while celebrating the great conversations he had "most of which happened outside the confines of formal conference session." As I said…
Museums as Change Agents? The AAM Meeting and Expo 2015 From Clara Rice, of Jack Rouse Associates, on Blooloop
Reflecting on AAM on the Incluseum, in which Rose Paquet Kinsley talks about how she and a co-presenter reworked their session on inclusive language and social value 2 hours before they went on stage, in order to respond to what they had heard of the conference so far. [Applause.]
AAM Conference: Atlanta, GA from NewProject Think & Build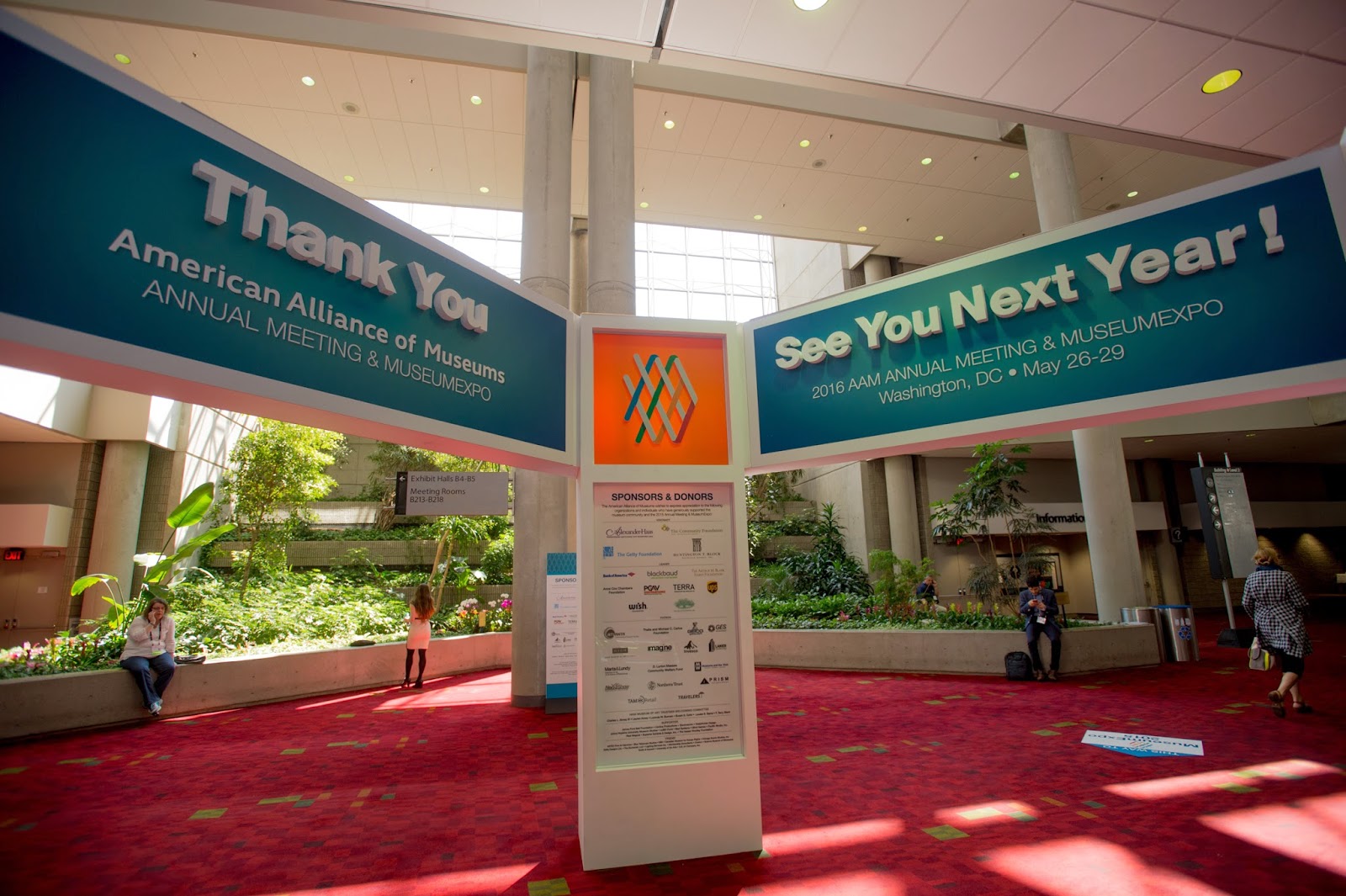 Skip over related stories to continue reading article