I'm having a great time following the many and various discussions on Museum Junction—the Alliance's conversation forum for members and non-members alike. One recent thread explored service dogs in museums—their role, the regulations that make accommodating these canines an important part of accessibility, the tricky issue of distinguishing service dogs from companion animals in a legal and appropriate manner. In the course of this back and forth, Cathy Callaway, museum educator at the Museum of Art and Archaeology at the University of Missouri, let drop that her museum has its own canine assistant—Emma the Docent Dog. I had never heard of a docent dog. (The closest I could think of is the Philbrook Museum of Art's resident cats—which, other than occasional video blogging, have no official duties that I know of.) Cathy was kind enough to recruit Kathie Lucas, Emma's human counterpart, to explain this unusual arrangement.

Emma, the Docent Dog is a unique addition to Columbia's art world. As the official canine tour guide and ambassador for the
University of Missouri's Museum of Art and Archaeology
, Emma is a welcome sight to staff and visitors alike. After all, who can resist the warm greeting of a smiling, silvery-black standard poodle?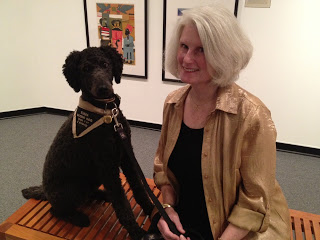 Emma the dog and Kathie Lucas

Emma is my dog and she is especially trained for her role: serving museum visitors, especially children, in a therapeutic capacity. 
Visitors, especially children, are surprised—and delighted— to see a dog in an art museum, and just about everyone is cheered by Emma's good-natured, tail-wagging welcome. And although there is a hands-off rule when it comes to the art, museum visitors are free to gently stroke Emma the Docent Dog's soft curly fur.

A docent is defined as a person who acts as a guide, or teacher. At the Museum of Art and Archaeology, docents are intensively-trained volunteers who eagerly share their knowledge of art and history with museum visitors. Sharing art with others is both a mission and a passion for museum volunteers and professional staff. But until recently, no one ever thought to include a dog on the tours. In fact, my preliminary research indicates that few, if any, art museums have docent dog programs. Emma appears to be the first docent dog in Missouri. And definitely the first in Columbia. Could she be the first in the the country—or in the world?  And if so, wouldn't that be a first for our University!

If other art museums don't have docent dogs, why would the Museum of Art and Archaeology be willing to give Emma a try?  The answer lies partly in the Museum's dedication to teaching. Studies in the field of cognitive psychology, such as those on emotional memory, suggest that a novel, positive stimulus—perhaps, for example, the unexpected presence of a friendly dog on a museum tour–may well increase visitors' emotional arousal, thereby enhancing their ability to retain the interesting information shared with them during their visit. The research possibilities are intriguing, not only for children's learning but also for reaching out to our healing arts community.
The Museum's director of education, Dr. Cathy Callaway comments, "I was worried that a dog in the museum would distract from the art, but I now believe that Emma will enhance the experience of any visitor and even help create a sense of calm awareness that is part of a great museum experience."  
Skip over related stories to continue reading article
Indeed, prior to each Docent Dog Tour, children, especially, are encouraged to use calm energy when interacting with Emma. I teach them that calm energy is moving slowly, speaking softly, thinking about what they are doing, and feeling their bodies relax as they reach out to greet Emma. And I ask them to use their calm energy throughout their museum tour. Soothed by a calm-energy frame of mind, children seem quite open to learning about specific pieces of art as we move through the exhibit areas. And, interestingly, when their attention wanders, a short petting break with Emma allows them to refocus and continue their tour with renewed concentration.
The Museum of Art & Archaeology is a treasure trove with a collection of close to 16,000 objects of antiquity and art. In fact, it's the third largest art museum in the state. The Museum's mission is to preserve and understand these priceless pieces of our past and present, and share them with the public as well as with the university community. That's why the museum is open to the public six days per week, including weekends, with evening hours on Thursday–and is always free of charge. Even the docent-led tours are free!
Not surprising, the Museum's Docent Dog Tour with Emma emphasizes the theme of animals as our creative companions throughout the millennia. From the ancient  Mesopotamian stone wall plaque of a Griffin and Horseman, to the 1500-year-old Roman floor mosaic of Kneeling Gazelle, to the Medieval oil painting of the Holy Family fleeing into Egypt on the back of a donkey, to the contemporary wooden sculpture of an antelope by Korean-born artist, Nam Jun Paik, to the animal-themed objects in the African gallery, art in the Museum is rich in animal motifs.
So who better to bring this art alive than a living, breathing animal?  In fact, one visitor, a teacher, commented, "Having Emma with us is like having the art jump out of the frames and come alive!"  And, other visitors, especially children, agree that having a grinning, curly-haired poodle greet them at the door, and then accompany them on a tour, makes their visit extra rewarding.
Emma is well suited for her role as canine ambassador for the Museum. As a poodle, she does not shed, so furry floors are not a concern. An added benefit of non-shedding is that Emma is less likely to cause reactions in people who suffer from allergies. And she is intelligent, easily trained, and friendly with everyone.
Emma has been preparing for her role as Docent Dog for about 4 years. She is a native Missourian, bred by Denise and Dave Spotila at their kennel, Apres Argent, near Jefferson City. The Spotilas donate one puppy from each litter for service or therapy dog work, and raise their puppies with the expectation that they will play active and important roles in the lives of their owners. Emma and her brothers and sisters spent their first 8 weeks of life in a safe, stimulating environment with lots of gentle handling, proper nutrition, and veterinary care.
At 8 weeks of age, Emma joined our household here in Columbia. She learned to interact with our elderly German shepherd, Ella, two cats, Beatrice and Biggs, and our 
donkey named Jeeves. And, best of all, she spent many hours playing with our extended family members, including our young granddaughters, Kate and Claire. Emma's good cheer and playfulness, tempered with gentleness and respect for us and our other animals, earned her easy acceptance into our home and hearts.

She continued her informal training for service by learning how to behave properly inside our home, in our yard and on walks in the park. Then, at about 7 months of age, she began her formal schooling in Columbia which lasted about 2 years. First came group lessons in puppy socialization and obedience at Ann Gafke's Teacher's Pet dog training classes. Then, Emma and I trained, one-on-one, with professional dog trainer, Judy Steiner, at the Columbia Canine Sports Center. During obedience training, Emma practiced basic commands, such as sit, down, stay, come, and leave it. She also learned to walk calmly on a leash while surrounded by other people and dogs. Later, she learned to interact with people with disabilities, including walking beside those in wheel chairs and safely accompanying people on crutches.
After her formal schooling, Emma entered the certification stage of training. She easily passed her certification for the American Kennel Club Canine Good Citizen award which evaluates not only proper obedience but also excellent temperament. She went on to earn certification through Therapy Dogs International. Following that certification, Emma also became certified as a therapy dog by the University's PALSS program (Pet Assisted Love & Support for Seniors) directed by MU professor, Rebecca Johnson. Finally, Emma passed a formal veterinarian-administered obedience and temperament evaluation through Columbia's local PALS (Pet Assisted Love & Support) therapy dog program run by students at the University of Missouri School of Veterinary Medicine. As an active PALS member, Emma now represents the Museum of Art and Archeology during MU Vet School-sponsored open houses and other educational events.
The Museum of Art and Archeology offers a rich opportunity to appreciate the creative efforts of mankind from the ancient past to the present day. Please visit us and enjoy what we have to offer. And if you are interested in scheduling a free, 45-minute Docent Dog Tour with Emma, call the Museum of Art & Archaeology at 573 882-3591. Tours require at least two weeks prior notice. Emma and I are looking forward to showing you around Columbia's jewel of a museum!