This article originally appeared in the January/February 2016 issue of the Museum magazine.
It's a common assumption that the arts and culture fields are populated with LGBTQ folks who find welcoming working environments in museums, historical societies, zoos and arboreta.
The truth is that the culture sector lags behind the corporate workplace in formalizing its commitment to LGBTQ staff and visitors.
Over the past two years, AAM's LGBTQ Alliance has been developing a broad set of Welcoming Guidelines to help museums be more inclusive of lesbian, gay, bisexual, transgender and queer staff and visitors. The guidelines touch on all areas of museum work and are expected to be published online in 2016.
As with any policy that supports the inclusion of diverse perspectives or abilities in museums, the Welcoming Guidelines can help establish workplaces that are cordial and productive for everyone.
"If cultural institutions really want to appeal to their audiences," observed Mike Lesperance, principal at the Design Minds, Inc., and chair of the LGBTQ Alliance, "they need to create an environment that welcomes and reflects the needs of all visitors. What better way to start than by encouraging diversity practices for staff?"
Annette Gavigan, exhibits registrar at the California Academy of Sciences, chaired the first phase of the guidelines' development, which grew out of a session at the 2013 AAM Annual Meeting. She also wrote the human resources section of the guidelines referenced here. Renae Youngs, director of research and evaluation at the Minnesota State Arts Board, and independent museum professional Christopher Leitch lead the volunteer team, a sub-committee of AAM's LGBTQ Alliance Professional Network. They are compiling and synthesizing existing resources from the museum field and from related or inspirational fields, such as the business sector, libraries and formal education.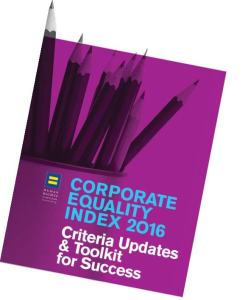 The group is organizing its proposals according to AAM's Characteristics of Excellence for U.S. Museums and drawing from the Corporate Equality Index (CEI) established by the Human Rights Campaign, a national LGBTQ advocacy group. The Welcoming Guidelines will include a matrix for institutions to easily align AAM's standards with LGBTQ best practices, reflecting the CEI.
The guidelines stress three points, listed below with excerpts from the draft recommendations.
LGBTQ diversity is on purpose
The guidelines urge museums to make inclusion a strategic priority and to design policies and practices that facilitate diverse recruitment and hiring. Baseline recommendations include adopting non-discrimination policies that apply to sexual orientation and gender expression or identity. Museums should actively recruit LGBTQ prospects for board, staff and volunteer positions through professional associations (such as the National Gay & Lesbian Chamber of Commerce), recruitment events and job sites.
Your museum can encourage LGBTQ diversity
A simple first step is forming an organization-wide diversity council or LGBTQ affinity group. These teams can be tasked with surveying peer institutions and identifying resources that can facilitate a culture of inclusion. Implementing museum-wide LGBTQ-specific training and accountability demonstrates "commitment to diversity and cultural competency through new hire trainings, supervisor trainings, professional development and/or gender transition supportive trainings."
Your museum can stop discouraging LGBTQ diversity
Actively and passively, a culture of exclusion can develop at your museum unless steps are taken to prevent it. If life events—marriages, births and adoptions, etc.—are recognized and celebrated among staff, all who desire to participate should be encouraged to do so and be treated equally. Employee and public data collection forms should "include optional questions on sexual orientation and gender identity." Importantly, access to safe and appropriate restrooms must be guaranteed to staff, volunteers and museum patrons "through gender-neutral/family restrooms and/or actively disseminated and enforced policies granting transgendered individuals access to restrooms consistent with their identified/presented gender."
This document, in its final form, is intended to be scalable, with adoptable suggestions for museums of all sizes. It will also serve as both a reference resource and a self-assessment tool for museums to track their progress as they become more welcoming institutions.
---
Renae Youngs is director of research and evaluation, Minnesota State Arts Board. Christopher Leitch is an independent museum professional, Kansas City, Missouri. Michael Lesperance is principal and content director, The Design Minds, Inc., Fairfax, Virginia, and chair, LGBTQ Alliance, a professional network of the American Alliance of Museums.