When I was a collections manager, I learned the risk management mantra "avoid, share, transfer, mitigate, accept." As guardians of heritage, museums quite rightly emphasize avoiding and mitigating risk. For the hazards that remain, however, sharing and transferring risk via insurance is vitally important. And insurance professionals, wanting to minimize their own risk, can be valuable partners as museums reevaluate risk in a time of climate change, as historic data become weak predictors of future threats. In today's guest post, Joseph Dunn, president of Huntington T. Block Insurance Agency, Inc. (a proud sponsor of the Alliance) gives some advice on both sharing and avoiding risks related to flood and storm.

The Trendswatch 2015 article, "A Rising Tide: the changing landscape of risk," features this quote from the Urban Land Institute Boston: "How do we plan for a future in which change, and water, are the new normal?" My goal in this guest post is to address that question.
As stated in the article, weather change in the form of hurricanes and global warming pose a serious threat not only to museums on the water like the Chrysler Museum of Art in Norfolk and the Perez Art Museum of Miami, but they can result in catastrophic claims to institutions far inland.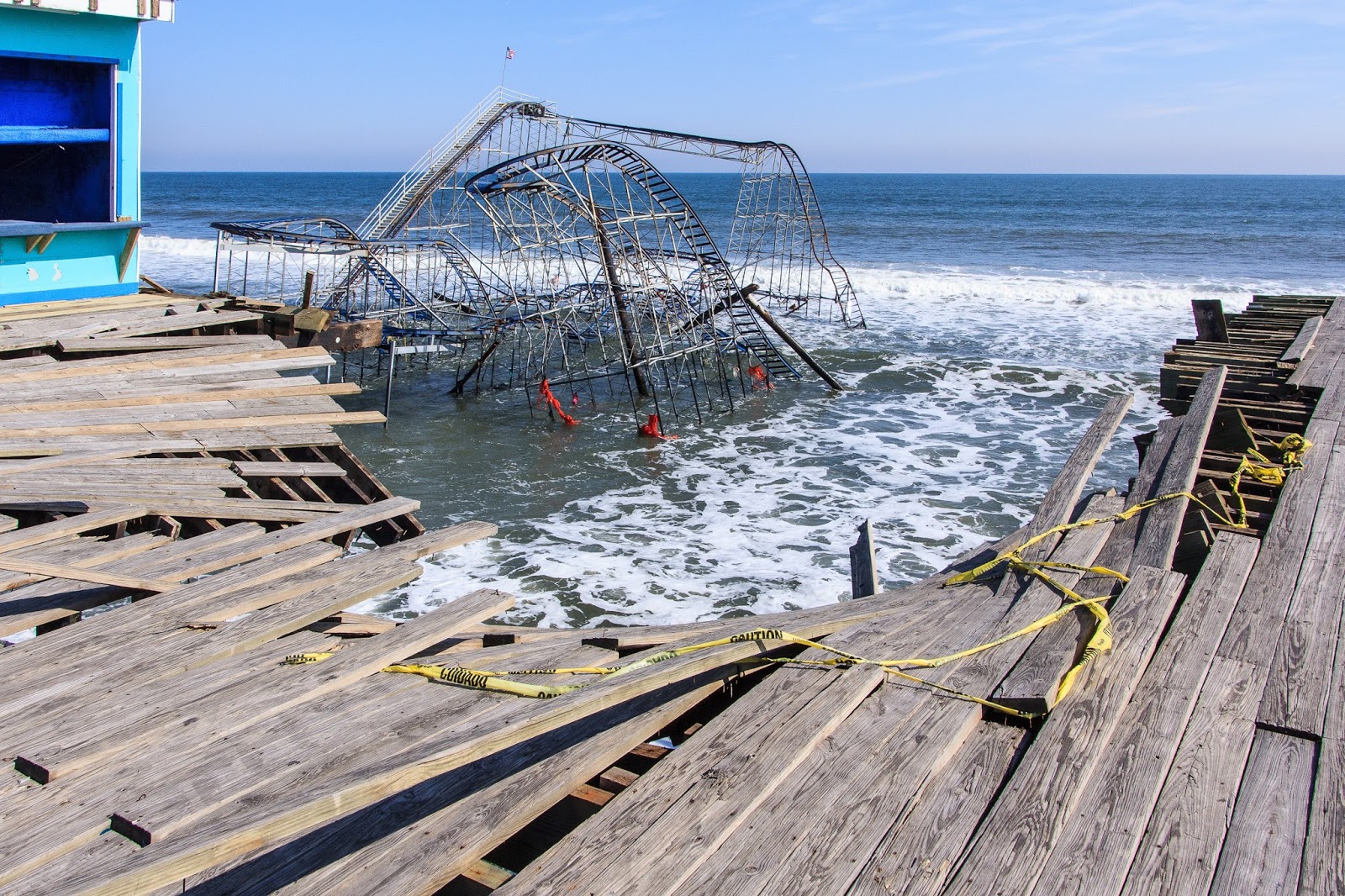 Hurricane Sandy damage of Casino Pier and Jet Star roller coaster, Seaside Heights, New Jersey
, February 25, 2013 (FEMA/Steven Zumwalt)
Risk Management

When it comes to preparing for future weather change, insurance is only one piece of the puzzle.

One of the things we often tell clients is that, the best way to deal with any potential claim, is to avoid it all together. One key tool in avoiding risk is a good disaster/emergency plan.

You can find a lot of help on writing disaster plans on the internet. The following are a few suggestions you might want to consider.


If you have property sub-level, have a plan in place to move it to higher ground in case of an approaching weather event.
Register the location of your artwork on a consistent basis. Be able to quickly prove your loss and provide an inventory of damaged items.
If you don't have one already, install a backup generator that will maintain the integrity of your climate control system.
Construct a storm-proof closet to store artwork in advance of a storm. Have a plan as to where to move your artwork, and by whom.
Consider purchasing floodgate mechanisms, reorienting your display areas and/or storage, and contracting with a shipper and warehouse in advance of a future event.
Store all important records, insurance policies, consignment agreements, museum archives, certificates of authenticity and other irreplaceable documents in a waterproof safe and consider the location of the safe. Store copies and backup of computer data files off site.
Create an emergency list containing the home and cell numbers of: staff employees, vendors, insurance representatives, art shippers, conservators and local storage companies.
Provide a copy of your emergency list to your insurance broker so that this list is off site and so your insurance broker has the ability to contact you.
Prior to a weather event distribute your emergency list to your staff.
Empower your senior staff to make decisions in the absence of the museum directors. Provide them with keys to the museum and alarm codes to be able to access the building.
Determine what emergency equipment your museum needs to collect and can afford to have on hand.
Recommended items to keep on location: flashlights, batteries, headlamps, wet/dry vacuum, extension cords, EverSoak (to help soak up water), blotter paper, and if affordable a portable generator.
Learn the elevation level of your property and whether the land is flood-prone as this will help you better prepare for when a storm surge or tidal flooding is forecasted.

It is in your own best interest to let your insurance broker know what you have done along these lines to protect your artwork. Send him or her, a copy of your plan. While that won't guarantee favorable rates, it will help your broker negotiate for you with your insurer.

Insurance Basics: Stay up to Date

In a perfect world, museums would review their insurance program annually. Unfortunately, insuring a museum, particularly its fine art collection, is a lot more labor intensive than insuring say a car or a residence.

My colleague Diane Jackson (chief operating officer at Huntington T. Block) points out that while most personal property items such as furniture or appliances are going to depreciate year after year, a museum's artwork is appreciating, sometimes at a rapid pace. If museums don't periodically reevaluate their collections—they stand to lose, big time.

You'll lose dollars for not keeping the value of your insurance up to par, but you also stand to lose your reputation and litigation if your community learns you were underinsured. It's not uncommon for donors, stakeholders, benefactors, your school system—anyone that benefits from your museum—to sue the directors and officers of the museum for failing to properly insure the treasures in their care.

I realize a museum can have literally thousands of pieces of art under one roof and continually reappraising everything is a monumental task, but here are a few suggestions that may help:


Be proactive on keeping your insurance values up-to-date. If you need help on determining values, call your broker, they can provide people that can help.
Have your top 10 pieces of art reappraised every 3-5 years. This should help prevent valuation 'creep' that leaves you drastically underinsured.
Make sure your fine art insurance includes the perils of flood and earthquake. While most companies exclude these two perils, insurers that specialize in selling fine art insurance will typically include these two important types of coverage.
Skip over related stories to continue reading article

The Granddaddy of Weather Claims: Flood

After a hurricane like Katrina or Sandy, flood waters caused more damage than the high winds.

If you've done your due diligence, your fine art collection is covered for flood. But what about your building, your furniture, fixtures and everything else?

Flood, which includes any form of surface water, is excluded from most commercial property insurance policies. You must carry flood insurance, which is offered through the Federal Emergency Management Agency (FEMA), a program that has become a political football and consequently is $24 billion in debt.

Among the problems with the National Flood Insurance Program (NFIP) are its limitations. The maximum a commercial property can secure through the NFIP is $500,000 of building coverage and $500,000 of contents coverage, which for some museums could be exceeded by the paintings on a single wall. On top of this, the NFIP excludes coverage for property in basements.

If you have not done so already, inquire with your insurance broker about an excess flood insurance policy. These are written over top of the NFIP policy and provided by private insurance companies like Lloyds of London. Availability and eligibility may be limited, but if they are able to write your risk, they can increase your coverage between $5 and $50 million (combined building and contents).

Diane points out that for museums with collections worth in excess of $1 billion, this may hardly seem adequate, but as most floods are not a total loss, it's a way to at least mitigate your risk.

Here are a couple of articles by my colleague Anne Rappa (senior vice president at Huntington T. Block) that can help you explore insurance and storm risk in more depth:

Rappa, Anne, "Navigating Insurance Claims in the Wake of Superstorm Sandy," ArtBanc Market Intelligence, January 2013.

Rappa, Anne, "The Effect of Superstorm Sandy on Fine Art Insurance: A Practical Guide to Collectors, Advisor and Dealers," ArtBanc Market Intelligence, September 2013.

Huntington T. Block offers Alliance members customized insurance programs for the Museum's Collections and Temporary Loans, Property & Casualty Program and Directors & Officers Liability. AAM member and Accredited Institutions can take advantage of the discounts offered by this comprehensive program that provides very broad coverage for a museum's permanent collection, temporary loans and objects entrusted to the museum to insure. You can find out more about the discount program here.