This week, our Future Friday Fiction work is by Joe Tankersley, a futurist. His story is set in New Orleans and imagines a future where a VR enhanced music program is developed by a museum. Check out the other entries here and submit your story! Who knows….YOU could win $1,000 for your submission.
Alesha considered the reflection floating in front of her. She was dressed in a pair of grey woolen pants, and a white muslin shirt, not the sort of outfit typically worn by a fashion conscious 18-year-old. Yet, she had spent hours obsessing over every detail. Even though the clothes were 100% recyclable, made from algae grown in the community farm, she felt guilty about printing so many variations to get to this one.

Still, it was the most important day of her life and she knew her dads would understand.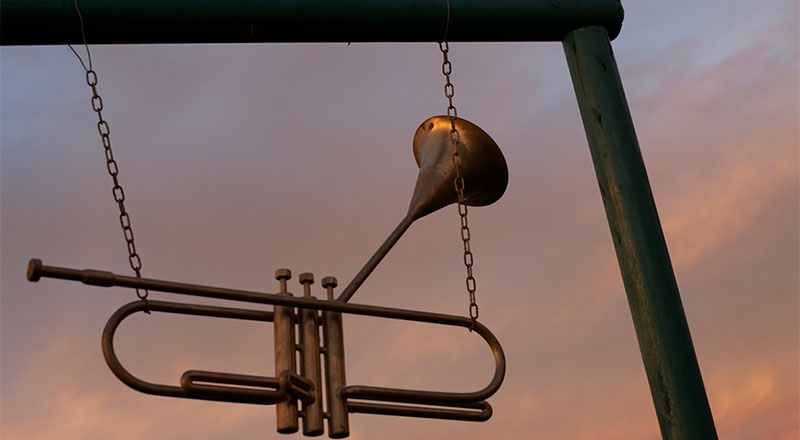 She carefully hid her long hair under a perfect replica of a battered old felt hat. She considered her reflection one last time. Finally satisfied that she could pass as a young boy living in New Orleans nearly 150 years ago, she waved the reflection away.
Alesha picked up a beautiful brass cornet. Her fingers rested naturally on the faux pearl keys. Without thinking the fingered the first few notes of the composition she had spent the past year writing.

She knew it by heart. Today she would find out if she knew it in her soul as well.
Dad Michael called from downstairs; "Time to go, Alesha."
In a flurry of sudden energy, she put the cornet in its case, grabbed her holo-lenses, and headed downstairs.
The walk to the New Orleans Historical Museum and Archive, aka The Wax, took less than ten minutes. On this morning it felt like it took forever. Alesha hardly noticed the steam of other teenagers, dressed in an assortment of historically accurate and futuristically imagined costumes. A stranger to the city might have thought she had arrived in the midst of a misplaced Halloween or Mardi Gras. In fact, it was the annual finals day. The day when 18-year-olds from around the city were called on to demonstrate the results of six years of concentrated study in the field they had chosen as their calling.

Finals could range from artistic performances to practical demonstrations.

Most didn't require the student to leave their homes, but many, like Alesha, kept to the tradition of performing wherever they had done most of their studies.

The fact that Alesha was going to be onstage at The Wax, where she had been inspired to her calling, was as important to her as knowing every note of the composition she had so painstakingly practiced.
In a world where every experience could be virtually recreated, Alesha still got a special tingling when she walked through the doors of The Wax. She suspected it was a lingering sense memory imprinted on her when she first visited at the age of 12. It had been one of many group trips taken with other kids her age that year – the year of declaring, They visited academies of science, virtual reality learning parks, and even spent the night on a real riverboat floating in the Mississippi, all for the purpose of discovering the topics they would commit to study for the next 6 years.
Much to her surprise that day, The Wax Museum was unlike anything she had known in her virtually rich childhood. In an astute bit of counter programming, the designers had kept the museum's 100-year-old wax figures as the center of the experience. Of course, they had embellished the tableaus' with all the latest immersive technologies, but there was something powerful in the stillness of the figures themselves.
One of the scenes they visited was simply titled: "Birth of Jazz". There, posed on a tiny stage stood a light skinned Creole man dressed in the style of the early 1900s holding a gleaming cornet. The narrator called him King Bolden and explained that he created New Orleans Jazz while playing the notorious bars and gaming houses of Storyville at the turn of the last century.
As she listened to the full out stomping gospel mixed with mournful blues, Alesha couldn't help but stare at the figure of King Bolden. His waxy face, covered in simulated sweat, seemed to be grinning directly at her. It was at that moment that Alesha knew what her learning project had to be. She would combine the music lessons she was already taking at the Preservation Hall Academy of Music with musicology workshops offered by the museum. Together, the two institutions would give her the skills and knowledge to recreate the moment when Buddy Bolden gave birth to Jazz.
It seemed like the perfect plan until she learned from the museum's musicologist that Buddy Bolden had never recorded any of his performances. For a young girl living when every moment of life was recorded, and publicly available, this was almost impossible to imagine. When she finally got over her amazement that such a world could have ever existed, she simply redoubled her efforts. If the music of Buddy Bolden wasn't recorded anywhere then she would just have to recreate it and record it herself.
Convincing Mr. Clyde,

the museum's principal of curriculum, to sponsor such an ambitious project had been a tough sale. He argued that the cost of the research, and AI development, not to mention creating a virtual New Orleans that accurately represented 1904, was far more than the typical student stipend offered by the museum. In the end, it was Alesha's exceptional musical aptitude and her unbridled enthusiasm that won him over.
Armed with a sponsor, Alesha dove into the project. She studied performance and composition at Preservation Hall, while learning to create VR experiences from the Foundry, the world's largest online coding school. She spent hundreds of hours working one on one with the museum's musicologist to unravel 150 years of music and discover the threads that made up the "King Bolden sound." There were AI programs that could have recreated those elements much faster, but for Alesha they didn't have the soul that came from spending long hours alone trying to imagine what sounds the brash young musician would have pulled from his instrument.
Today, she would find out just how well she had done. Her performance, with an AI she had programmed to mimic Bolden's musical inferences, would be attended by her mentors, family, friends, and the general public. In fact, anyone in the world could access the performance on one of the many edutainment platforms available.
Alesha and her dads finally reached The Wax. Her dads headed to their seats in the audience while she climbed the steps to the empty stage. She found her mark center stage and a spotlight beamed on. She looked up and spoke softly; "Time to call your children home," and the holo program engaged.
She was there: Standing in the middle of a cobblestone street in the legendary Storyville district of New Orleans on a hot summer morning in 1904. In front of her was a faded mansion, one of Storyville's most notorious gaming establishments. To Alesha, and everyone watching, the scene was as real as any reality they had ever experienced. Every detail was perfect. Even physical sensations, from the rich fecund humidity to the pressure of the cobblestone on the bottoms of her feet, were totally "real."
Alesha wasted no time. She carefully put the cornet case down and bent over it. She was nearly knocked down by two young women pushing by her. One was probably in her mid to late 20s, already hardened and worn by life as one of Storyville's "soiled doves."

The other was much younger, possibly even younger than Alesha. The older one stopped and looked back at her.
"What U doing hereabouts?" she demanded.
Alesha gulped; "I'm here for Buddy Bolden."
The older woman roared with laughter. "King Bolden ain't got no interest in a 'lil rut like you. Ya'll best be runnin' home now." She turned, her long skirt and petticoats swirling in a flash of faded crinoline, and continued inside.
Undaunted, Alesha raised the horn to her lips and began to play. It was a simple Big Four beat, the core of Jazz and the rhythm Buddy was credited with first playing. She started slow, then began to pick up the pace and the volume. Soon, people passing not he street began to stop and listen. Knowing she had an audience, and praying that King Bolden was in one of the upstairs bedrooms of the house, she began to slide the melody toward her own composition.
A second-floor window flew open and a big, light-skinned Creole man stuck his head out the window.
"Who Yat?," he thundered with a baritone voice that reverberated across the cobblestones.
Alesha stopped playing and looked up to see King Buddy Bolden staring down at her.
"U play that?," he demanded.
Alesha shook her head-yes.
The King considered her for a long moment. His wild eyes were already showing the strains of madness that would cut short his legacy.
Alesha raised the cornet and began to play the passage she had worked so hard on for so long. First, as a history student trying to understand the roots of the Jazz and later as a musician trying to tease the soul of the notes out of her own horn. She blew loud and hard, her eyes on the man in the window above. He just stood there, listening intently. Then suddenly, he disappeared from the window….without

a sign of acknowledgment. Alesha stopped in mid-note. Was that it? He was just going to leave?
Before she could process her emotions, she heard the sound of a cornet being played through the open window. It was Buddy Bolden playing her riff. She raised her own instrument and began to play again. At first, he simply followed her lead but soon he began to improvise, weaving in and out of the melody line she had built. She was ready for the challenge and the two of them were soon playing off one another like they had been doing this for years. Alesha was so focused that she hardly even noticed the other instruments – first a guitar, then a trombone, and finally a snare drum, join in from other nearby windows. Everyone on the street stopped to watch and listen.
They played like that for nearly twenty minutes. Trading off the lead, following one another, improvising, soaring into a musical stratosphere that Alesha had always known existed but had never experienced. Finally, in what felt like no time at all, the song was over. It ended on a slow mournful note, held long by the King himself. There was nothing more for either performer to add.
Without looking up, Alesha muttered quietly; almost under her breath; "I thought I heard Buddy Bolden say,"

and the scene dissolved. Alesha stood trembling in the middle of the empty stage, cornet hanging by her side, as applause thundered in the auditorium and across multiple virtual channels.

King Buddy Bolden might never play again, but this young woman would make sure that the power of his music continued to live on for as long as she could raise a horn and make that beautiful sound.
Mr. Clyde, the museum's principal, stood in the back of the theater and smiled. Taking a chance on this young prodigy had been one his museum's best investments. Even before the applause died out the museum had received ten times more in contributions than during a typical finals performance. Those credits would be used by the museum to enhance their educational and public programs, to expand their world-class New Orleans musicology program, and of course, to refurbish and maintain those wax figures that had helped to inspire yet another talented young person to find her calling.
The End
Skip over related stories to continue reading article