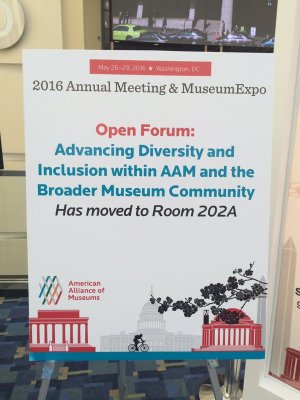 I must admit: writing this blog post about AAM's work in diversity, equity, accessibility, and inclusion is humbling.
In spite of the fact that I grew up in an African American-majority community, attended a majority-minority high school and college, and have a wonderfully diverse group of friends, there is so much that I don't know. I am a white woman, but until recently, I had never thought deeply about white privilege. Some of my closest friends are members of the LGBTQ community, but I don't think I've ever fully grasped the discrimination they face. I didn't know what intersectionality meant, or why it was so important. (Thank you to Museum Commons for these language primers.)
As chief of staff of the American Alliance of Museums, part of my job involves helping to move AAM's strategic priorities forward. That includes our focus area of diversity, equity, accessibility, and inclusion. I am excited and honored to work with my AAM colleagues and our volunteer leaders on this focus area, both because of how deeply I care about human rights and equality and because of the vital importance of this work in the museum field.
But when Rob asked me write something for Alliance Labs about AAM's next steps in diversity, equity, accessibility, and inclusion, I felt a bit uneasy. Or rather, unsure that my voice could contribute to the existing dialogue. I'm still learning, while so many others have been fighting for equality their entire lives. On top of that, there's the pressure of writing as a representative of one of the largest museum service organizations in the world—an organization that genuinely wants to be a good partner in this work and that wants to amplify the efforts of those who have been working hard for so long.
Skip over related stories to continue reading article
In sharing my thoughts with Laura recently, she reminded me that many museum leaders likely feel the same way. We know that we must embrace diversity, equity, accessibility, and inclusion. Many of us are grappling with how to take the next steps. And we're all probably a little nervous about sounding uninformed or inadvertently saying something hurtful in the process – in spite of good intentions.
But discomfort is not a reason to shy away from the conversation. And while the dialogue around diversity, equity, accessibility, and inclusion is certainly not a new one, we are focusing on it with a new intentionality at AAM, with the hopes of using our power and influence to help move the field forward in a meaningful way. AAM doesn't have all the answers, but Laura has made it clear that we're not going to wait until we do. It's our intention to share our process with you— including our missteps, which we're bound to have. We're going to ask for your feedback and your criticisms, and embrace what we hear. We want to contribute to real change, and with so many thoughtful, knowledgeable, passionate activists out there (whether new to the conversation or leading the way for decades), we can do just that.
What We've Heard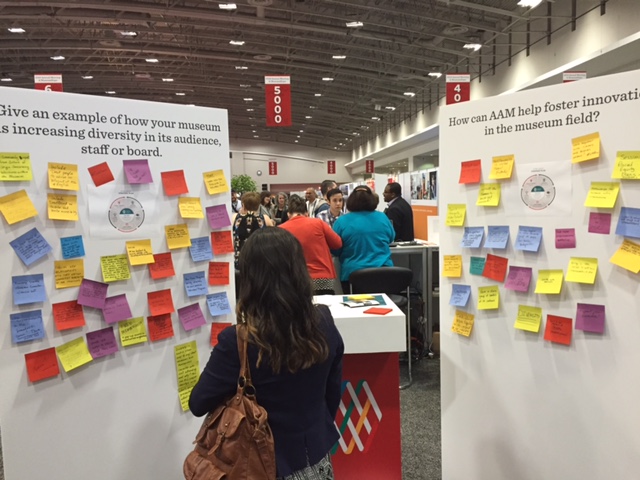 AAM's 2016 Annual Meeting in Washington, DC, presented an excellent opportunity to hear from you about how to advance diversity, equity, accessibility, and inclusion within AAM and the broader museum community. We asked for input through several forums, including the Alliance Resource Center and the Open Forum on Diversity and Inclusion, which was organized in conjunction with several of our Professional Networks: DivCom, LGBTQ Alliance, and the Latino, Asian Pacific American, and Indigenous Peoples Museum Networks. (Special thanks to Tim Hecox, co-chair of the Diversity Committee, for approaching us with this idea and for his leadership in helping us to execute it.)
The forums asked participants to respond to questions or engage in discussion around specific topics, including:
How can AAM make its Diversity & Inclusion Policy actionable?
How can standards be changed or made measurable to hold museums accountable?
What types of professional development would you like to see?
What best practices are being demonstrated in the field?
Museum compensation and staffing
Accessibility
Starting a diversity and inclusion plan
The input we collected from approximately 200 participants fell into several broad categories:
Model best practices: Participants noted that they would like to see AAM model best practices in our hiring/staffing practices and share our journey with the field—like our recent experiment with combating hiring bias. They also called for AAM to model best practices at the Annual Meeting with more diverse speakers/panels, accessible presentations, restroom equity, etc.
Support content from Professional Networks (PNs): Respondents called for AAM to support PNs in the creation of relevant content (the recent LGBTQ Welcoming Guidelines were highlighted as a strong model). It was also suggested that AAM consider establishing a PN around accessibility.
Develop/collect/share resources and trainings: Participants indicated a need for related resources and professional development opportunities. Ideas included: a research library, suggested readings, sample documents (e.g., D&I policies or plans, inclusive membership forms), standards/legal compliance for accessibility, museum self-assessments/organizational readiness checklists, cultural competency assessments, glossary of language usage, compensation resources, best and "next" practices, and case studies. Other suggestions included exploring the issue of pipelines for entering the museum field and helping to foster mentorship in the field, particularly for underrepresented staff.
Consider diversity and inclusion in standards of excellence: The field would like to see more transparency from AAM around the process for developing standards. Other ideas included: requiring a Diversity and Inclusion Plan as a core document or a part of the accreditation process, revising standards to be actionable rather than aspirational, and including the perspective of community partners during accreditation reviews.
Establish key partnerships: Participants suggested a number of groups/organizations, both inside (e.g., Museum Accessibility Consortium, Museums & Race, #museumworkersspeak) and outside the museum field (e.g., National Access Board, NYC Department of Cultural Affairs), with which AAM could partner to further the conversation.
What Are Our Next Steps?
From this feedback, we've identified a couple of immediate next steps to take:
Sharing Our Journey: We'll use the Alliance Labs website to share our internal journey around the diversity, equity, accessibility, and inclusion focus area of AAM's strategic plan. AAM leadership feels strongly that without pursuing change in these areas ourselves, we cannot be an effective advocate to the field. Topics for future blog posts may include: recruiting/hiring practices we are considering and experimenting with, changes we're making to the 2017 Annual Meeting, and how we are addressing the intercultural competencies of our staff.
Building a Resource Page: We are currently developing a dedicated page on the AAM website that we hope will become a go-to place for related resources and trainings about these issues. We've chosen to make this page available, for free, to members and non-members alike. (Typically these resources – and others like them – are accessible via AAM's Information Center and Resource Library as a membership benefit.) Initially, this page will focus on providing practical guidance through resources like sample documents and case studies demonstrating "how tos" and best/next practices.
Developing Competencies of AAM Staff and Volunteer Leadership: We are working to identify trainings and resources for AAM staff and volunteer leadership, with the goal of enhancing intercultural competencies and inclusiveness internally as well as equipping staff and volunteers with the knowledge and tools to feel comfortable taking leadership roles in advancing conversations externally.
Providing Clarity around AAM's Excellence Programs: In an effort to increase the transparency and clarify the process for how new standards, guidelines, and best practices are identified and vetted, we will create a series of documents to form a framework for how individual members and Professional Networks can effectively engage with the documentation of standards for the field and how AAM's staff can best steward and support those efforts.
Continuing the Conversation at the 2017 Annual Meeting: We are exploring ways that diversity, equity, accessibility, and inclusion can remain a topic at the center of each aspect of our 2017 Annual Meeting in St. Louis. Stay tuned in the following weeks for more announcements about how you can participate in this conversation at the Annual Meeting.
Of course, these are just a few first steps in what I expect will be a robust plan for AAM over the next several years. The process might feel overwhelming, but that doesn't mean we will shrink from the need to address gaps in the museum field concerning diversity, equity, accessibility, and inclusion. To do so, we need you to be a part of the discussion.
What are we missing as takeaways from the Annual Meeting?
What actions would you like to see the museum field take?
What parts of this are we getting right? Where could we do better?
How might we help each other to make real progress?