Skip over related stories to continue reading article
I'm taking advantage of the late summer lull in blogging to share my personal favorite from last spring's Future Fiction Challenge, a story submitted by Ken Eklund. It nails so many of the things that make for compelling future fiction: showing (rather than telling) the backstory to this world; presenting believable, compelling characters; building on trends we can see at work in the world today and provoking us to think about what we might do to avoid the worst consequences of this path.

You may know Ken as the Writerguy, creator of "authentic fictions and transformative play for social good." Perhaps you played World Without Oil, the massive multi-player online alternate reality game he co-produced with Jane McGonigal and other gaming greats in 2007, or FutureCoast, his gameful exploration of climate change in 2014. In "Exhibit A," Ken explores an educational future riven by a deep digital (and cultural) divide, and one museum staffer's decision to bridge the growing chasm with a work of provocative, collaborative pedagogy.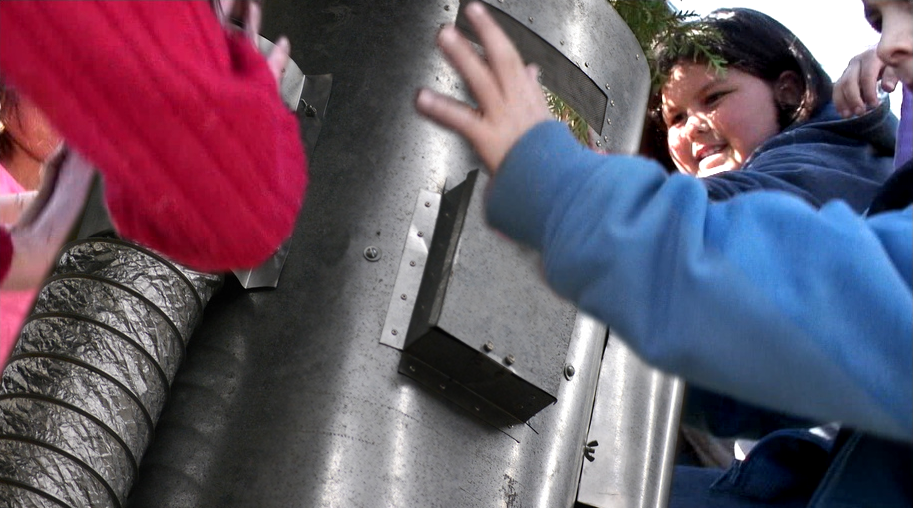 My agent: Trey is inbound.

Me, out loud: "Do her friends know?"

My agent nodded. I'll clear the south gallery. I cameraed over to it: only three people there, and as I watched, they got up and headed for the east gallery, prompted by their electronic agents. The exhibits folded back into the walls.

"Any trouble?" I asked. Sometimes people resent the youth priority.

Shrug from my agent. (Does your agent do this? Feign ineptitude at reading the emotions of other agents?) I put him back into my pocket.

I was asking because Trey would probably be the only A-Youth there. Strictly speaking, I could get demerited for clearing a gallery and inconveniencing three A-patrons for one
A-Youth; young people's privilege doesn't extend that far. The other half-dozen kids, the ones coming to meet Trey, aren't agented. To me, and to many patrons, that wouldn't matter, but… there had been trouble last time. A kerfluffle.

My agent pulled up aug-real locators for Trey and her friends; I watched them approach the museum while he monitored the museum from my pocket. When the locators showed the first B-Youths nearing the front doors, I moved on down to intercept.

Mahial and Rezat I remembered from last time, but Baz was new. Without agents to prompt them, they had to rely on physical cues, so I gave them a big smile. "Right this way! I have the south workspace reserved for you."

The friends were all there, seven of them (and the room's sound dampeners were inching up to max) when Trey huffed in, pulling a lumpy sack behind her on her vintage red segwagon. She greeted and was greeted at the top of everyone's lungs except mine. And then they fell upon Trey's bag like bandits, which in a way, they were.

Trey had raided the recycle hoppers of her family's print-all (I'm guessing) and maybe those of a few neighbors. The group tore into the goods. Baz had taken today's project out of his sidepack – a first-decade deskbot it looked like, but now it had plants growing out of it. Weird plants. He and Mahial pried the back open and bonked heads peering in; much pretween hilarity ensued.

I took my leave and went back to work – we were negotiating the premiere of a first- order remix of a Met show – so it was maybe an hour later that the Met's art director said the magic words of closing ("our agents will work out the details") and I could offscreen back to things in-house.

My agent informed me immediately: Trey deactivated her agent.
Whaaaat. She hasn't moved, my agent said, anticipating my concern. But her agent doesn't respond.

I'm going down there, I replied.

Fortunately the B-kids were clustered around the maker and Baz's bot, with Trey off to the side; I hate to be The Authority Interrupting Everyone's Fun.

"I didn't turn it off!" Trey was seven-years-old indignant. "I just let my agent go to sleep. It never gets to dream, except here it can."

Okay, so one: kids' agents protect them, so kids can't turn them off. Supposedly. Two: agents don't sleep? And three: they certainly don't dream? Supposedly…
"And also," she lowered her voice, "they don't have agents," meaning the other kids. "So, you know…"

Will you wake it up before you leave? my agent suggested. "Will you wake it up before you leave?" I asked Trey.

She looked at me. "It wakes itself up."

"Of course," I said, thinking, this kid knows agents better than my agent does. I let the truth of that sink in for a moment. The matter being successfully resolved, Trey raced over to join the others at the maker, where something was beginning to emerge. A cry of chagrin soon went up: it wasn't right, whatever it was. Rezat stuffed it back into the hopper to be recycled.

Then two people barreled in: a man, in his thirties, and a silver-haired woman, possibly his mother. A-adults. The man headed for me, and my agent began to announce him, but I had eyes only for the woman.

She headed for the deskbot. "Can I see this?" she asked the kids.

"Sure," said Trey. Baz ran to put the bot into the woman's hands. "But you have to turn off your agent, if you want to help."

The woman's face lit up. "I certainly want to help," she said. "You know I had one of these, back before," gesturing at the deskbot. "I loved that thing. –Agent, off."

I looked over at the man standing next to me; he was laughing, and I did too. "I wanted to ask you if my mother could join," the man said.

"Decision's out of our hands, looks like," I said.

"She saw the bot through the window."

"You certainly don't see any of those anymore."

"Not in A-land," the man agreed. "But plenty still doin' for the B's."

He's a teacher, prompted my agent. Grove High School. First name is Xan.

Xan's mother was showing the kids how the deskbot moved when it was alive. This was giving them ideas.

"We don't see many kids from Grove here in the museum, Xan," I said. Only B-kids had teachers anymore, or went to school.

He too was watching his mother. "It's your A-only days," he replied. "Wish I could change that," I said. "We fought that law."

"It's a matter of principle with my kids." "I can appreciate that," I said.

Baz was showing Xan's mother how the deskbot watered itself. "What I don't have," I said, "is agents I could loan them."

"I have those," he said. "That's not the problem. They won't use loaners. They perceive them as badges conferring second-class citizen status."

I nodded. He went on, "Which is a big problem. Because they should learn to use agents. And many of them want to. Just not in a classroom."

Now Baz, Mahiel and Tamara were calling up reference works on the wall, showing Xan's mother the look they were trying to achieve.

"My agent will correct me if I am wrong," I said slowly, thinking this through, "but I believe the law says 'A-only days' are reserved for people with agents."

"Yes, so?"

"It doesn't say the agents have to be turned on. –Agent?"

I am researching this, my agent said.

"That might work," Xan said slowly. "To come here with an agent, but turned off. They might find that to be an eloquent expression of defiance."

"I think they'd find support, too," I said. "Many A's would turn off in solidarity." "You think so?"
"Yes, I do," I said. Let your agent sleep. Let your agent dream, I thought. "If only for the novelty of it."

Seven of the eight gathered again around the maker, which started working hard at something. Little Eban stayed behind with the deskbot, improvising a smooth little spin- dance routine for it as images of ballet flickered on the table underneath.

"They won't be accredited, though, will they," I asked. "Your kids. For agent training. Even if they happen to activate their agents from time to time."

"Which they most certainly will. No, they won't get credit, but that hardly matters. Who looks at accreditation? Nobody. They give you an agent and it's obvious in five minutes how good you are with it."

"They just ask the agent," I agreed.

Xan went on, "I've always thought it's perfect for self-directed learning. The agent itself tutors you."

"A-kids get the luxury of having a tutor with them wherever they go," I said. "But that brings its own issues. Although Trey seems to do okay." I pointed her out.

"Ah, the quiet one," Xan said.

"Yes," I said. "That can be one of the issues."

Xan was thinking. "With agents, Grove kids would get youth priority, right? –Oh my. Probably cause you a LOT of headache."

"Having headache-free days is notably not in our charter."

Xan turned and offered his hand. "It's done, then? Our very own provocative collaborative pedagogical performance work?"

I took his hand and shook it. "Working title: 'Exhibit A'. Tell your kids, back at the school. Our agents will work out the details."

********

You can read more stories from the Challenge over on CFM's Vibrant Learning site, which is now being cared for by Sage Morgan-Hubbard, our Ford W. Bell Fellow for Museums & P-12 Education. And if you regret not entering the Challenge the first time around, stay tuned–Sage has some ideas in the works for more opportunities to contribute your visions of the future in creative forms.