HI, Nicole here! Earlier this month, I had the honor of participating in a panel discussion held by Cool Culture, a New York City cultural organization that encourages arts education by providing free access to local arts institutions for low-income families and children. I joined panelists Margaret Morton, Program Officer at the Ford Foundation; Tom Finklepearl, Commissioner of New York City's Department of Cultural Affairs, artist Miguel Luciano; and James E. Bartlett, Executive Director of the Museum of Contemporary African Diasporan Arts for an in-depth roundtable entitled, "Advancing Equity Through Arts and Culture." The discussion was ably moderated by Cool Culture's Executive Director, Candice Anderson. The audience included members of the arts and culture community, thought leaders, and a core group of museum educators who comprised the current cohort of Cool Culture's Laboratory for New Audiences.
Some of the highlights of the discussion included:
The impact of social movements on museums

How institutional change happens in cultural institutions

The effects of having artists involved at the board level

The importance of including disability in articulations of diversity

Funding priorities that raise up works from the margins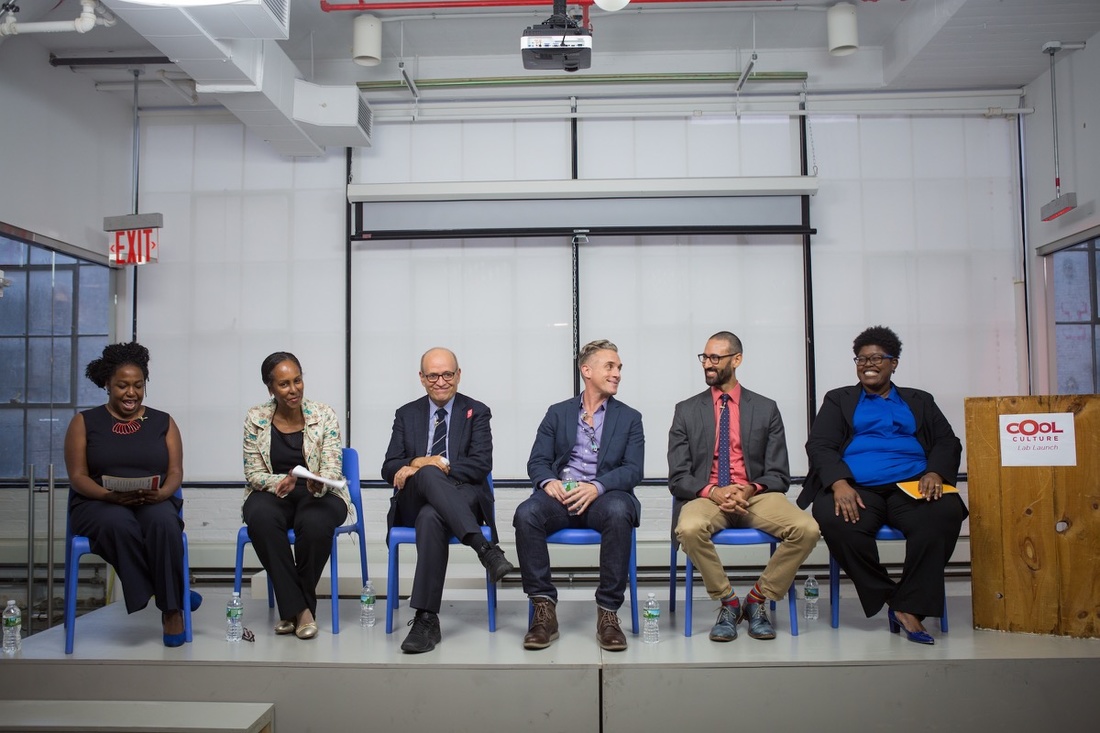 L to R: Anderson, Morton, Finklepearl, Luciano, Ivy. Photo by Cool Culture
Museums and the Fight for $15
Skip over related stories to continue reading article
The very first question of the evening invited us to reflect on how social change influences the role of museums in society–and how social movements bear on the urgency of museum work. In my comments, I tried to stress the fact that this dynamic is not new, that the field of museum work has consistently responded to social trends and disruptive events across the twentieth century. I took this moment to reflect on the current Fight for $15 movement, in which low-wage workers across the country are fighting for a livable wage. I tried to link this movement to present-day discussions of diversity, inclusion, equity, and accessibility that are shaping the museum field. I believe that any museum community outreach must also be complemented by internal practices that privilege equity and inclusion in the workforce.
Since the discussion, I've had some time to reflect on my comments and on how this specific movement for a living wage influences the museum field. Many (non-museum) people tend to think of museums as places where thoughtful, well-heeled people go to quietly appreciate objects or living collections. Of course, many, many museums offer leading-edge programs and exhibitions that debunk this stereotype. But, the fact remains that persons in the lowest income brackets are the least likely to attend arts events—recent surveys place that number at 37%, compared with nearly 54% of the entire population.
There are persistent and "significant disparities in museum participation by different racial and ethnic groups," with non-white museum visitors
making up only 9% of museum-goers.
For people earning less than a living wage, fees for museum entry tend to fall lower on the list of budgetary priorities. The need for a livable life–and for sustenance–is a priority that we all share. The Fight for $15 is linked to museum practice not only by the ways it calls for employers to pay wages that support the basic living conditions of workers but also by the fact that it reminds museum professionals of how precarious the lives of many of its would-be visitors actually are.




A Call to Accountability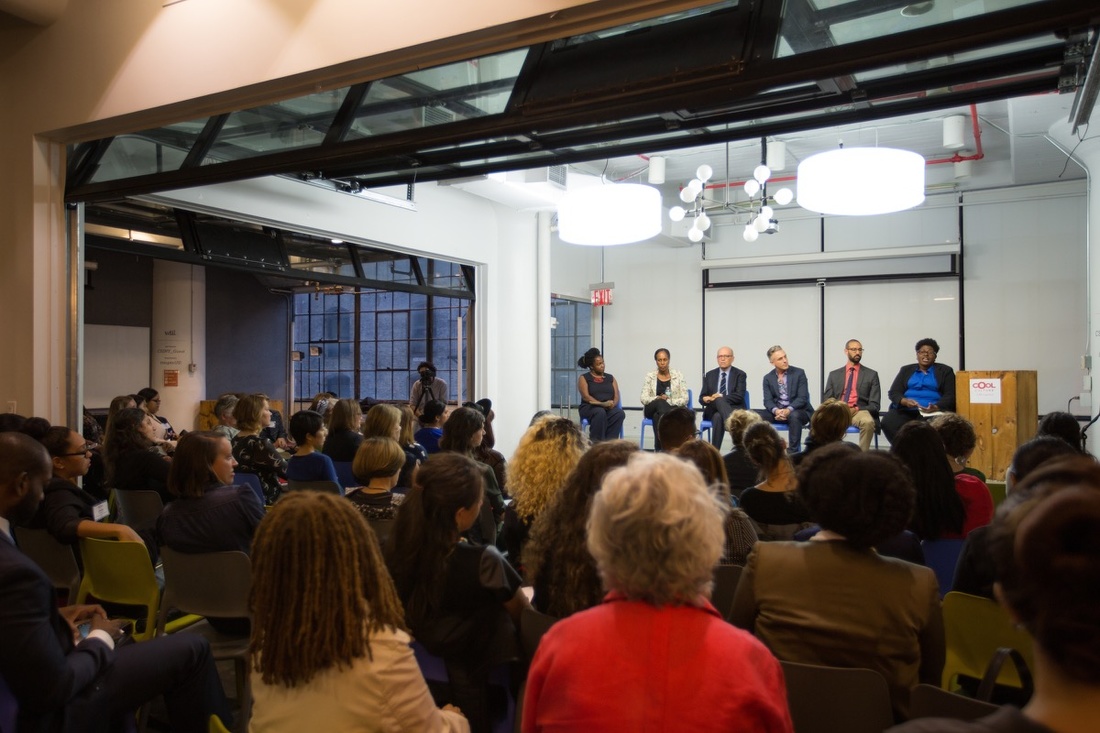 Photo credit:

Margarita Corporan for Cool Culture
One of the most poignant insights of the night, for me, came from a comment made by Naiomy Guerrero, founding editor of Gallery Girl NYC. Guerrero recounted her personal story of growing up in the Bronx, in a city rich with cultural resources, but never exploring the rich arts institutions right near her neighborhood. She explained that she had to go to the Midwest, as a college student studying art history, to find out about the depth of arts innovations in her hometown. Her question, posed to Commissioner Tom Finklepearl, was pragmatic and deceptively simple: "I always hear…politics have to change, or…these very general statements and no, I want a plan. When are y'all taking us to the museum? What's up? When are we going?" Finklepearl's response was equally specific. He talked about the IDNYC card, an identification card that offers NYC residents free membership benefits to 40 cultural institutions, including the American Museum of Natural History and the Museum of the City of New York.

What stood out to me was the accountability that Guerrero's question demanded of the panelists and of the audience. "No," she said, "I want a plan." Her tone was hopeful, confident, and inviting. But few could miss the urgency in her witty delivery. In that moment, a young, Dominican-American woman moved the conversation beyond the more abstract discussions of politics and power in order to focus the conversation in on the lives of the individual people museums serve.

Guerrero's question and the rich exchange sparked from it remind me of the power of the personal. Too often, storytelling work can make the personal narrative something that demands only the imagination of the listener and not a response (for a good description of this, see Vanessa Chase's Mistake #5 here). Museums can use Guerrero's story and her mode of questioning as a prompt to consider who their neighbors are and pay attention to those times when members of the surrounding community aren't part of the visitorship.
You can view the entire conversation on Cool Culture's website. I'd love to hear how your museum engages social movements and action. How does your museum approach community accountability? Share your thoughts in the comments section below!