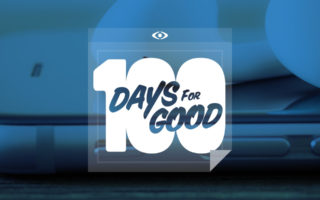 And in a nice bit of timing, the first episode of 100 Days for Good, a new podcast from Independent Sector, reinforces that message.
The first #100daysforgood guest is Kyle Lierman, who just finished clearing his desk in the White House's Office of Public Engagement, where he was liaison to Young Americans and coordinated outreach on education issues.
Kyle didn't share any specific news on his successor (though I've read reports that President elect Trump has recruited Omarosa Manigault to play a role in community outreach. Manigault worked for Al Gore in the Clinton administration.) However public engagement is organized in the new administration, Kyle's advice to the nonprofit community is to make sure they get a lot of input on what we feel they should do. He recommends both digital and in-person advocacy and notes that a great way to do this is through national associations and groups. (Museums Advocacy Day!!!) Much of what Kyles says could have been taken directly from the Alliance's advocacy 101 training: start by building a relationship (it's harder for political representatives to say "no" to people they know), and bring in people you are serving and for whom you do your good work.
Strategically, as we enter the first 100 days of the new administration, Kyle's advice to the nonprofit sector is to proactively speak up for what you think is right. "Be vigilant," he says, "and go after things in a big way."
"It's on nonprofits and foundations to fill a leadership void that may occur because of the change in administration. It's also on them to catch the inspiration people are feeling right now in their communities, and channel that positively."
"Why advocate?" he concludes, "These goals are in our reach, you just have to show up.
I'm going to follow 100 Days for Good (#100daysforgood) and recommend you add it to your podcast queue as well. Upcoming episodes will look at the possible repeal of the Affordable Care Act; how executive orders, the Congressional Review Act and agency directives may impact our collective work; and the tax reform debate. Stay tuned…
Skip over related stories to continue reading article