This article originally appeared in the July/August 2017 issue of Museum magazine.
Since its founding in 1984, the Contemporary Jewish Museum (CJM) had been in a 2,500-square-foot space in the lobby of the Jewish Community Federation of San Francisco. There, it mounted exhibitions that explored diverse aspects of Jewish culture, history, art, and ideas. Unlike some Jewish museums, CJM never sought to build a permanent collection or fill itself with religious or Holocaust artifacts. Its exhibitions were designed to have broad appeal, although most of the museum's visitors were Jewish. Typically, museum attendance ran between 10,000 and 13,000 each year. The museum's leadership wanted to magnify its reach and impact, promoting explorations of culture through art among a broader audience. This desire led to the construction of a significantly larger museum in a more central location. Under the direction of then-director and CEO Connie Wolf, the museum was reborn in June 2008, in a 63,000-square foot facility, with more high-profile programs designed to attract non-Jewish audiences.
Seeing the Future in Families
Wolf had witnessed the vitality that families with children can bring to museum spaces and wanted that energy in the new facility. But attracting a sizable family audience presented significant hurdles. First, the museum had made very few overtures to that demographic in the past, and exhibitions were designed for adult audiences. What's more, CJM was little known outside a relatively narrow segment of the Jewish community.
The CJM Board of Trustees welcomed the idea of targeting families. Not only would it stimulate an intergenerational, intercultural dialogue, but board members also saw it as an enjoyable way to share Jewish values with their own children and grandchildren. Working with families today also represented an investment in the future of the museum. Bringing in families helps create audiences decades later, the staff noted, citing research showing that children who attend museums with parents are more likely to visit museums as adults. To Wolf, children and their parents represented a potential pool of future museum supporters and leaders.
Both Wolf and the board were adamant, however, that CJM would not become a children's museum. It would remain a contemporary museum that could bring together people of all ages to appreciate diverse aspects of Jewish art, ideas, and culture, while exploring important societal themes.
Research Reveals Challenges
The museum commissioned two rounds of focus groups to explore how it was perceived. Participants included CJM members, and groups of potential members, both Jewish and non-Jewish. That research revealed the predictably limited awareness of the institution and its programs. Although most respondents said they found the vision for the new museum compelling, many who had never visited had either not heard of CJM or considered it irrelevant to them. Those with children simply did not consider it a family destination.
Discussions with parents revealed they: wanted to participate in family activities any time they visited, wanted scheduled programs providing opportunities to meet other families with children the same age as theirs, saw admission price as a barrier to visiting, often felt unwelcome and were concerned that other patrons would regard their children as disruptive.
Discussions with educators working with local youth and family groups revealed they too felt the admission price represented a barrier. They also emphasized that parents not used to attending museums—and even some who were—needed help when it came to experiencing exhibitions with their children.
Putting Together Strategy and Tactics
Based on the research, the staff concluded they needed to: raise awareness of the museum as a destination for families of all backgrounds, create programs to help families of all backgrounds connect with the exhibitions and with other families, reduce or eliminate the admission price barriers many families face. Wolf's first step was to create an education team of professionals with experience and expertise in helping children and families appreciate art. Fraidy Aber was appointed as the new director of education to lead the team, working alongside Janine Okmin, associate director of education. In its first few years in the new facility, the museum also added two full-time family program managers and five part-time teaching artists to develop and deliver new programs.  The team devised a plan comprised of four key strategies to attract families and meet their needs.
STRATEGY #1: Major Exhibitions Designed to Attract Families
How do museums get on families' radar screens? The answer for CJM has been presenting high profile exhibitions around themes made intriguing to both children and adults.
In 2008, the new museum opened to large crowds, thanks in part to the substantial press that accompanied its dramatic new home and premiere exhibition, "In the Beginning: Artists Respond to Genesis." CJM also presented an exhibition of William Steig's illustrations, including both his adult-oriented cartoons from The New Yorker and illustrations of the ogre Shrek.                                   
In the first three months, the museum served its largest audiences ever, with attendance reaching 14,766 visitors per month. Thirteen percent of those visitors were families with children. After the Steig exhibition closed, however, monthly attendance dropped to 6,918, and families with children represented only 8 percent of visitors. CJM therefore committed to having at least one high-profile exhibition that is a family draw each fall, as well as at least one exhibition with family-friendly content on view at all times.
STRATEGY #2: New Programs and a Welcoming Environment
Sunday is designated as a special day for family programs, and the museum made sure something was always available.
Scheduled Programs 
Drop-in Art Making. Every Sunday and on select school holidays, the museum offers hands-on art activity sessions around a specific theme, usually related to exhibitions or to Jewish holidays and traditions. The drop-in format provides maximum flexibility: families can join in at any time during the sessions. While art projects can be completed in as little as 45 minutes, the staff report that most families opt to stay closer to 90 minutes. Attendance ranges from 10 to as many as 60, with even larger numbers when major exhibitions with family oriented content are on display.               
Preschool Gallery Hour started in response to parents' reservations about bringing their youngest children to museums—and a recognition of the necessity of midday nap time. On the second Sunday of each month, the museum opens one hour early exclusively for preschoolers and their families, offering child-friendly gallery tours, art making, and music. Originally run year-round, the Preschool Gallery Hour had low attendance in the summer of 2010, so staff decided to only offer the activity from September through May. Family Gallery Tours. These tours provide an activity-based, guided exploration of the exhibitions for families with elementary-school children. Lasting about 45 minutes and offered on the same Sunday as Preschool Gallery Hour, the tours attract 15 visitors on average; that number rises when the museum hosts family-oriented exhibitions.
Anytime ArtPacks. ArtPacks are specially designed tote bags, boxes, or other containers with art supplies, guides, and activities that help families more deeply explore exhibitions. ("Evergreen" ArtPacks with activities not linked to any exhibition are available as well.) Offered free of charge, ArtPacks complement the scheduled programs and are available anytime to families with children. The ArtPacks aren't expensive to produce, but they do take time to design, assemble, and frequently replenish. 
But what if families wanted to come at other times? To accommodate unscheduled family visits, the museum staff also created "anytime" activities that can be enjoyed by families on their own. Their common objective: helping parents and children connect with the themes and ideas in the exhibitions.
Creating a Welcoming Environment
Focus groups aired concerns that young children are often considered disruptive in a museum setting and somehow don't belong. In response, CJM staff welcome families as soon as they arrive. However, CJM's lobby does not immediately communicate "family friendly." Moreover, because CJM is a Jewish institution, security is higher than at many other museums: bags are searched, and all visitors pass through a metal detector when entering.
To neutralize these potential negatives, the museum provides annual sensitivity training for all staff. These sessions focus on welcoming families and other visitors who may be hesitant when entering a museum. Now, visitor services staff stationed in the lobby provide families with information about stroller parking, coat check, ArtPacks, and family programs. On busier days, a Family Table in the lobby serves as a central location for all information on family activities.
In addition, those security guards who are the most adept at welcoming young visitors are placed at the entrance on weekends, the busiest family times. Thanks to this policy, many long-term security guards have developed a rapport with returning family visitors.
The staff also has worked to create a more inviting atmosphere when family-oriented exhibitions are on view. During exhibitions on Curious George and Maurice Sendak, for example, the museum posted graphics on the lobby walls of George jumping rope or Sendak's characters looking wild. On days when a large family audience was anticipated, actors dressed as Curious George and Sendak's "Wild Things" characters circulated to welcome arriving children.
When the museum first opened, changing tables were only in select restrooms; now, they are in every restroom. Steps have been added near a sink in each restroom so young visitors can wash their hands. And family seating nooks are placed within many exhibitions, providing space to read, draw, or just take a breather without leaving the galleries.
That said, the vast majority of CJM visitors are adults. The staff recognized it couldn't allow what it was doing for families with children to detract from the museum experience for adults. So far, visitor feedback has revealed no concerns that CJM's offerings are any less sophisticated than in the original museum, according to Okmin. Nor has the museum received any complaints that the presence of children is disruptive. "What we hear in the hallways and galleries is that our [adult] audiences support and are heartened by the inclusion of multiple generations," Okmin says.
STRATEGY #3: Reducing Financial Barriers
Admission at the new museum is free for children  under age 18. This is a first for Bay Area museums, and free admission ends at age 12 at many institutions nationwide. Of course, the change hasn't removed the barrier entirely, since parents have to pay full admission—$12 per person since the fall of 2012. The museum thus has employed several other tactics to reduce financial barriers to family attendance. Some have been successful; others are a work in progress.
Free Family Days
In 2008, CJM held its inaugural Free Family Day, underwritten by Target Corporation. Festivities included musical performances, storytelling, dance, and various art-making activities. The museum received more than 4,500 visitors. Four additional Family Days were held over the next 12 months. In subsequent years, the number of Family Days dropped back to two per year because of a shift in funding priorities at Target. Those two Family Days continue to be very popular.
Passes Providing Free Admission
Having heard in focus groups that admission for two adults might be a barrier, CJM offered free admission programs.
Family Passes Distributed Through Schools. To reach moderate- and low-income parents, the staff drew on the museum's long-standing relationship with public schools. Tour guides provided each school group with passes—one for every student—offering a free visit for two adults. In all, 2,000 passes were distributed during the program, and fewer than one percent were ever used. The process of getting the pass from tour guide to teacher to student to parent may have left too many opportunities for it to be mishandled or its benefits miscommunicated. The program was ultimately discontinued.
Discount Admission Bookmarks. In the fall of 2009, CJM produced bookmarks that offered two-for-one admission for adults when family-oriented exhibitions were on view. The bookmarks had eyecatching graphics from a specific exhibition and were distributed through libraries and bookstores. The 10,000 bookmarks distributed were redeemed at a higher rate than family passes, but still at a disappointing two percent. In subsequent years, that rate dropped, however, CJM decided to continue the program.
STRATEGY #4: Community Partnerships
Creating ongoing strategic partnerships with institutions that have close ties to families has yielded much better results. The key to success, the staff have determined, is making the partnership equally important to both institutions, encouraging ongoing and active investment.
Connecting with Preschools
The prototype for CJM's partnerships emerged out of efforts to build an audience for the Preschool Gallery Hour. During focus groups, preschool directors bemoaned the lack of opportunities to build a sense of community with parents that would in turn help with their own efforts. Aber pitched the Preschool Gallery Hour to various preschools as a community-building tactic by offering to designate one of the upcoming dates for their school.
Museum staff create flyers and online announcements inviting parents to attend the Preschool Gallery Hour on the day that the museum would host their children's preschool. (Families not affiliated with those preschools also are able to attend.) The museum has partnered with up to four preschools on any given Sunday.
Involving Parents in a School Partnership
Even though distributing family passes through school tours did not pan out, CJM staff still saw schools as an avenue to reach families. In the fall of 2010, an experimental partnership was launched on a smaller, more targeted scale that emphasized direct outreach to parents.
Three public elementary schools participated in the first year. The program combined a mix of evening arts instruction for students and parents at the school, followed by activities at the museum—an unconventional approach for museum-school partnerships. Museum staff and school principals together selected one grade from each school to participate, and all students and teachers from that grade took part.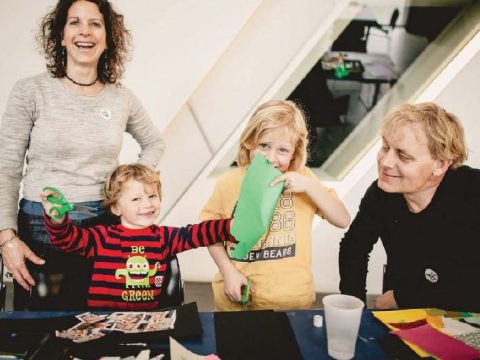 Teaming Up with the Public Library
A partnership with the San Francisco Public Library system provides another avenue to inform families about CJM's programs. The idea is to promote children's literature through the museum's exhibitions on children's book illustrators. The program includes three elements:
Free Library Days. One day per year, library cardholders and one guest may visit the museum for free. Local librarians read from books featured in exhibitions. The events are promoted via posted and online announcements as well as by word of mouth from the library staff
The Art on the Go program has been providing free CJM exhibition-inspired readings and art workshops to about a half-dozen libraries annually since 2010. The art-making has involved everything from collage to bookmaking to puppet making. In 2009, the City of San Francisco launched 
Check Out San Francisco, a program offering families free one-week passes to a variety of local attractions and cultural institutions, including CJM. The passes can be "checked out" at 28 branches of the public library. In exchange for CJM's participation, the City of San Francisco provides free publicity in periodic advertisements and press announcements, as well as promotion in all public libraries.
Keys to Success
Building a new audience has required not just resources but also investment and commitment from the leadership and staff. Even though it was slow-going at times and had occasional setbacks, staff members had to stay on top of the work. That kind of continuing organizational focus required museum leaders—from the board to senior managers—to see the initiative as an integral component of the institution's long-term success.
Families have become the focus of CJM's major annual fundraising event, the Family Gala, offering parents the opportunity to attend a formal evening with their children at the museum. Each gala has performers, art-making, and activities around a theme, usually one linked to a current family-oriented exhibition. The Family Gala has grown so popular that it sells out, welcoming approximately 550 adults and children each year.
Today, CJM has solidified its status as a family destination. The new museum has consistently welcomed more than 12,000 family visitors from 2008–2016, with annual family attendance approaching or exceeding 20,000 in some years. Compare these figures with the 1,300 annual family visitors the institution attracted in its previous facility. Families have gone from 10 percent of all visitors to 15 percent—and even exceeded that figure in some years.
Reflecting on how far the museum has come, current Executive Director and CEO Lori Starr remarks, "I don't think it's appropriate to call [our family programming] an initiative anymore….I think it is just now really expected, something we do. Families are part of our fabric as an institution."
---
This case study is an adapted excerpt from The Wallace Foundation report "Converting Family into Fans: How the Contemporary Jewish Museum Expanded its Reach," written by Bob Harlow and Cindy Cox Roman. It is one of 10 case studies commissioned by The Wallace Foundation to explore arts organizations' efforts to reach new audiences and deepen relationships with their existing audiences. The report is part of the Wallace Studies in Building Arts Audiences series, available for free download at wallacefoundation.org.