Is your museum seeking ways to activate its spaces with the enthusiasm of young learners? As museums strive to be more diverse and inclusive, museums of all types can embrace the larger movement to meaningfully engage young children. In an earlier article, members of the Smithsonian Early Learning Collaborative shared why this audience is critical in transforming museums into 21st-century spaces. Creating a positive and inclusive environment is a museum-wide effort. In this post, we will consider how museums can show they value young audiences through physical accommodations, communication efforts, exhibition supports, and education programs that truly put the child first.
Ensuring that young children and their caregivers have successful museum experiences is critical to developing a loyal audience. So how do museums show they value young children? While museum educators play a critical role, all museum staff can contribute to creating a positive environment for families. Small changes can impact how welcome visitors feel. Taking steps to ensure that all bathrooms, including men's rooms, have changing tables; providing stroller parking near accessible entrances; and placing benches as rest areas sends the message that families belong in your museum. Because navigating a museum with young children can be a challenging endeavor, many families like to scope out the museum ahead of time. Consider these questions: does the museum website share the locations of accessible doors, changing tables, and spaces where snacks are allowed? Does it identify comfortable places for nursing or convey that nursing moms are welcome everywhere in the museum? Featuring children and families on museum social media channels will help families picture themselves inside your exhibitions. Caregivers of young children are often looking for opportunities to get out and explore; take these small steps and communicate that the museum is the perfect place for meaningful and exciting experiences.
Welcoming families can involve a shift in perspective in how staff (public-facing and otherwise) interact with children. Empower staff by giving them tools that will allow them to embrace the natural inclinations of young children, protect the objects, and make the experience enjoyable for everyone. Encourage public-facing staff to greet caregivers and children both, getting down to the child's eye level. Organizations might consider training front-line staff so they are better prepared to understand and meet the needs of this audience. Families often appreciate logistical information about spaces, objects, or programs that may be appealing to kids; as well as any areas with sensitive content or language. Encourage staff to ask about the child and adult's specific interests. Behind the scenes staff members can also help. Consider taking steps to provide easier-to-read exhibit text and object labels, increasing young children's access to information. Placing stools in-gallery can literally give children a step-up to better see and understand objects placed above their eye-level. All museums can take steps toward welcoming and valuing this audience, and the wider the staff involvement, the better.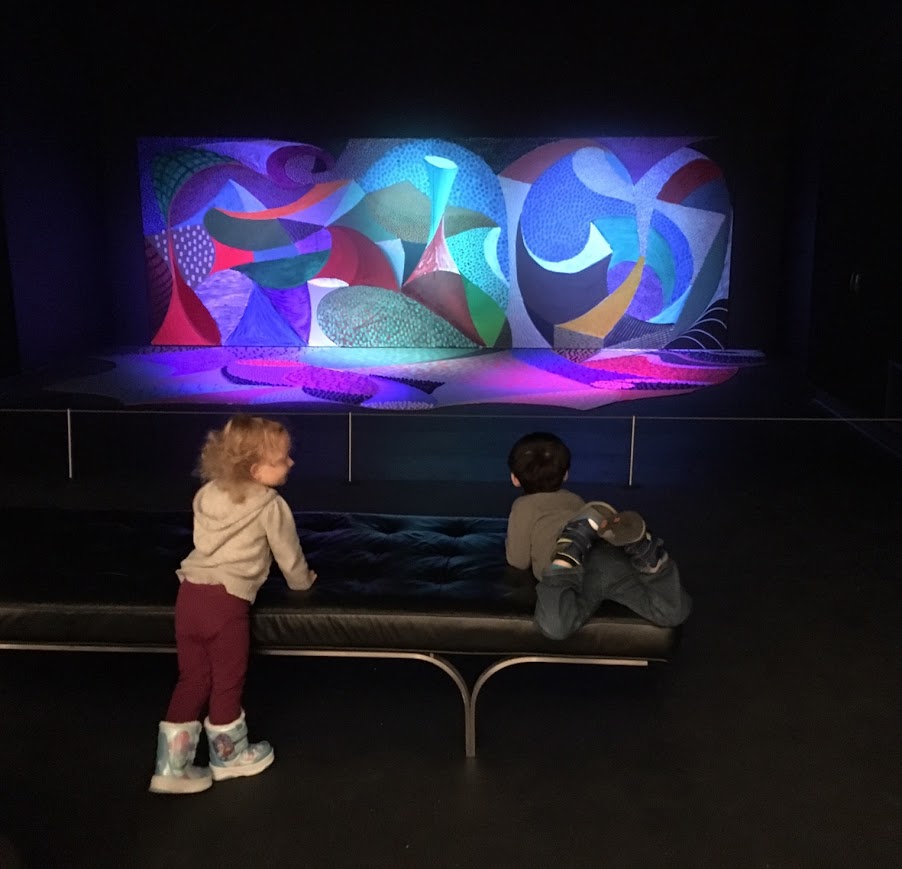 While the whole staff can be instrumental in creating an environment that gets young children in the door, museum educators are essential in developing programs that will keep visitors coming back again and again. In a previous post, educators from the Smithsonian Early Learning Collaborative explored how museums provide concrete, hands-on experiences that are highly engaging. These methods are simply the tip of the iceberg. Museum educators design successful programs by infusing learning with play, art, experimentation, and sensory learning. While all of this is important, creating truly meaningful and long-lasting connections to the museum requires one thing: keeping the child at the heart of the learning experience. Specifically, child-centered programs value children's individual interests and contributions, innate capabilities, and unique learning needs.
Skip over related stories to continue reading article
Valuing children as individuals starts with inviting their participation. At the National Postal Museum, a program about letter carriers begins with an educator asking a group of three-year-olds if they have ever received mail or seen a blue mailbox in their neighborhood. Imagine the children's excitement as they realize they have! Many children will be eager to share their experiences as the educator listens and responds to the group. The children's personal stories and connections provide valuable cues for how to proceed with the lesson, helping the educator focus on specific content to personalize the experience. Providing opportunities to connect personally with museum objects helps prime children's curiosity and willingness to learn more about new topics, setting the stage for future museum visits.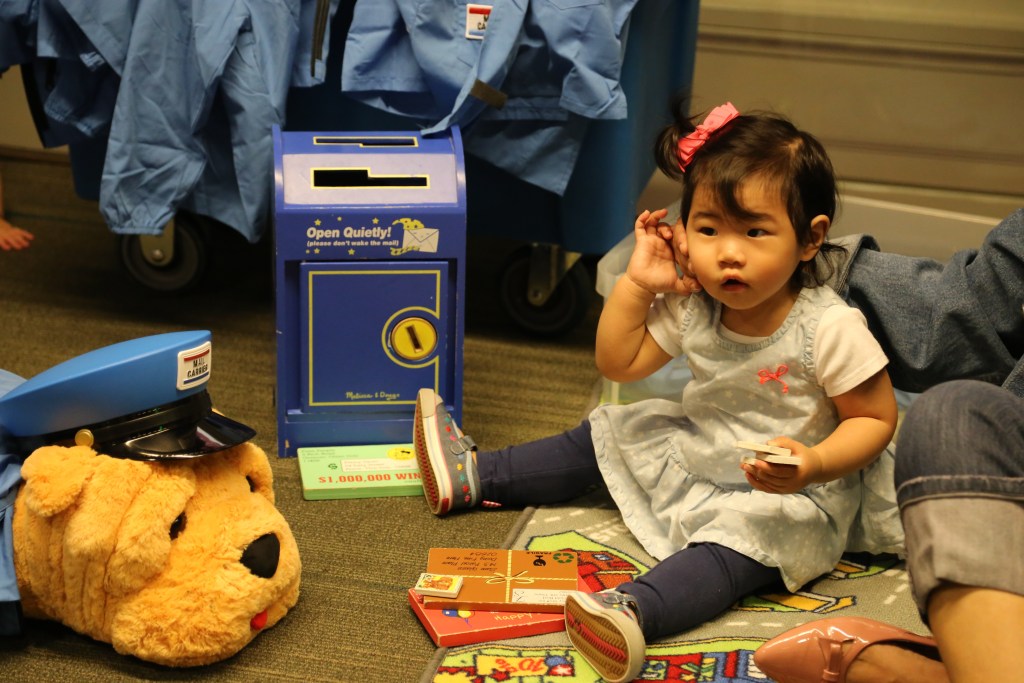 Beyond valuing individual contributions, a deep respect for children's abilities is essential to the approach of educators in the Smithsonian Early Learning Collaborative. By recognizing young children as capable participants, we cultivate positive first museum experiences. Allowing children to actively explore museum objects, and celebrating all contributions, including "off-topic" comments, is paramount. A recent program at the Hirshhorn Museum examined the footprint-covered painting Nomad by Annette Lemiuex. After close-looking and discussion about the footprint pattern, children were asked to hold out their own feet and compare the size to the prints on canvas. Next, children examined the movement of the prints by moving their own bodies, deciding to walk in a circular pattern in front of the canvas. At this point, one child excitedly began describing a headlamp from home, seemingly going off-topic. With further prompting, it became clear he was connecting the artwork to his own experience going on "night walks" with his family. Offering children multiple entry points to explore and share what they have found draws them into the object. Valuing every contribution communicates that we believe children are capable and builds children's confidence that they belong in the museum environment.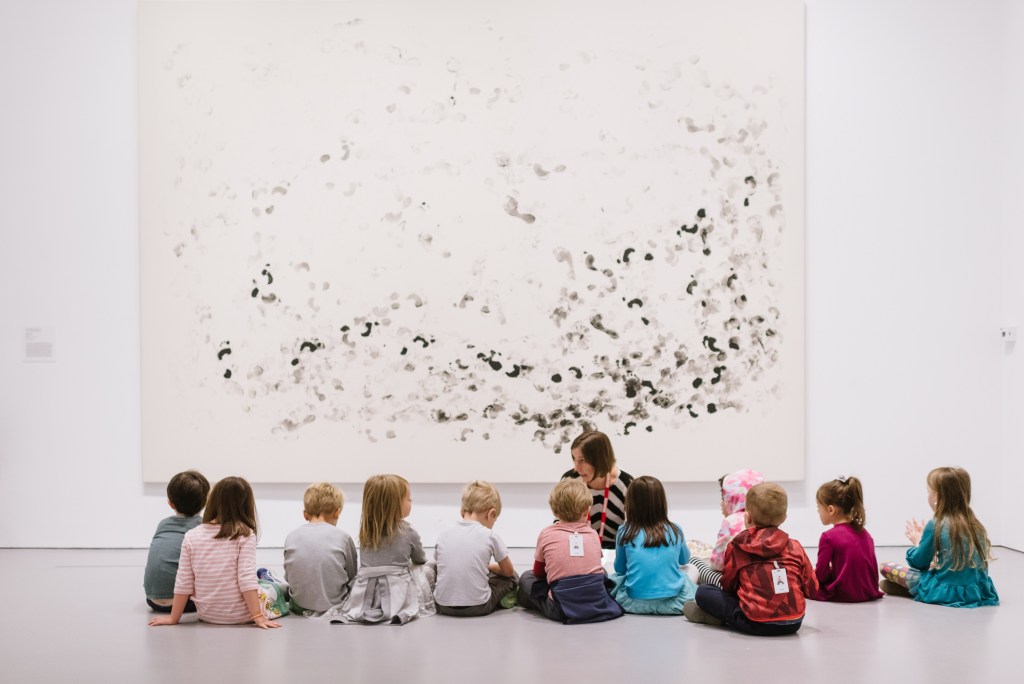 Finally, we value children by recognizing and planning for their unique learning needs. Children need to engage in unstructured, self-directed activities such as play, process-based art, and sensory experiences. In a program exploring the moon, a museum educator invited children to step outside the museum and imagine the National Mall was the surface of the moon. Children playfully took large bouncy steps, gleefully exploring the moon's light gravitational pull. In another program featuring the painting Gathering Autumn Leaves by Winslow Homer, a group of toddlers observed the changing trees outside. Each child received a bag containing leaves so they could push on the bag and hear the sounds of crunching leaves. For a lesson on the ski airplane at the National Air and Space Museum, children played with toy airplanes with popsicle sticks attached to them. These types of programs celebrate children's need to play and explore materials, honoring their unique learning needs and resulting in a more memorable museum experience.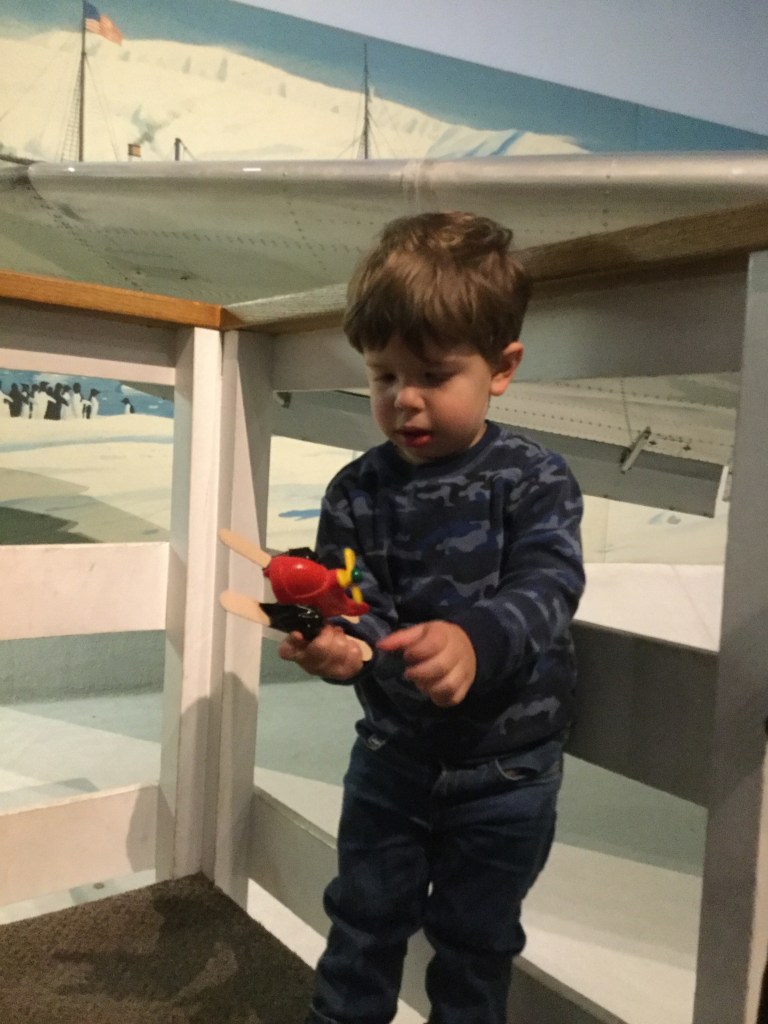 So, how do museums show they value young children? It starts by anticipating family's needs from signage to staffing, making small changes that communicate young visitors are welcome. Beyond these simple adjustments, developing a loyal following of young museum visitors requires programming that puts young children at the heart of the museum experience. Finding what works for children and making them feel valued as members of a learning environment is important to cultivating overall positive attitudes toward learning and museums. When a child realizes that they are valued, capable, and more curious as a result of a museum visit, the museum has successfully planted the seed of a lifelong museum-goer.
About the Authors
As the Assistant Director of the Center for Innovation in Early Learning at the Smithsonian Early Enrichment Center, Cynthia Raso's work explores how museums and other informal learning environments support the growth and development of young children. She holds a Master's degree in art history from The George Washington University.
As an ARTLAB+ Educator for the Hirshhorn Museum and Sculpture Garden, Tiffany McGettigan is devoted to creating radically inclusive museum spaces and programs. Her work focuses on families with young children and young people with intellectual and cognitive disabilities. She holds a Masters degree in Museum Education from The George Washington University, where she now teaches a graduate-level course on museums as learning environments.
Meredith Osborne is a Museum and Early Learning Specialist at the Smithsonian Early Enrichment Center. She has worked with a wide variety of audiences and believes children are never too young to learn while in a museum. She studied study Museum Education at The George Washington University where she received a Master of Arts in Teaching.
Motoko Hioki is the Public Programs Manager at the Smithsonian's National Postal Museum. She is passionate about designing and facilitating inclusive and accessible programs for all museum patrons. To understand and assess the early childhood learning community needs, her approach is to turn to visitor surveys and evaluations. Since 2014, the results have led her to take initiative in launching the StoryTime program and in-gallery family activity guides. She holds a Master of Arts in Museum Studies from The George Washington U