This article originally appeared in the January/February 2018 issue of Museum magazine.
In the spring of 2017, the American Alliance of Museums (AAM) released the results of a national governance survey of museums it conducted in partnership with BoardSource and Northern Trust. Museum Board Leadership 2017 grades boards on a wide variety of policies, practices, and performance. The survey was modeled after BoardSource's Leading with Intent: A National Index of Nonprofit Board Practices. For more than two decades, Leading with Intent has served as a resource and tool for understanding how nonprofits govern their organizations, providing the most up-to-date compendium of information on nonprofit board policies, practices, and performance nationwide. This article provides a summary of the report's key findings and highlights board and chief executive demographics, with a particular focus on diversity and inclusion. To read the full report, which includes further detail on board structure, responsibilities, and culture, visit the AAM website (aam-us.org) and search on the title: Museum Board Leadership 2017.
Board Composition
Gender, Age, Race/Ethnicity*
The following is a snapshot of current board and chief executive demographics, as reported by museum directors.



* This survey followed the U.S. Bureau of the Census that distinguishes between race and ethnicity. Race categories are White, Black, Asian, Native American/Alaskan Native, Hawaiian, and other Pacific Islander, "some other race," and "more than one race." There are only two ethnicities in the Census classification: Hispanic/Latino, and not Hispanic/Latino. Hispanic people can be any race.
** Data taken from BoardSource's Leading with Intent 2017.
Summary Of Key Findings
1. Museum board performance is largely on par with other nonprofits. The average grade for board performance in 16 categories, ranging from understanding the mission to monitoring performance against goals and objectives, is B- for museum boards and other nonprofits. While there is room for improvement, there are no failing grades in any of the categories.
2. Museum directors and board chairs believe board diversity and inclusion are important to advance their missions but have failed to prioritize action steps to achieve it. The report found that almost half of museum boards (46 percent) are all white, i.e., containing no people of color. Yet, the vast majority of museum directors and board chairs agree that diversity and inclusion matter when it comes to "enhancing the organization's standing with the general public," "understanding the museum's visitors," "developing creative solutions to new problems," and "understanding the changing environment from a broader perspective." Nonetheless, only 10 percent of directors indicate that their boards have developed a plan of action to become more inclusive. The top three priorities for recruitment of board members are passion for the mission, community connections, and ability to fundraise.
3. The vast majority of museum boards do not assess their performance. Seventy percent of boards have not conducted a formal written self-assessment to evaluate their own performance. Though widely accepted as a best practice, only 16 percent have conducted a board-self assessment in the past two years, compared to 48 percent for other nonprofit boards.
4.Two-thirds of museum directors say their boards have a moderately to extremely positive impact on their job satisfaction. Further, board chairs receive high marks (61 percent received a grade of A from their directors and 23 percent received a B) for cultivating a productive, constructive partnership with the director.
5. Eighty percent of museums give themselves a grade of C or lower on monitoring legislative and regulatory issues with potential to impact the organization. Only 28 percent of museum directors monitor (to some or a great extent) the impact of local, state, and federal policy on the organization's mission delivery and resources; and only 28 percent educate (to some or a great extent) policymakers on behalf of the organization, the museum field, or the nonprofit sector.
6. Museum board chairs express a high level of comfort related to fundraising activities, but overall, fundraising is the board performance area most in need of improvement. More than half of board chairs describe themselves as very comfortable when it comes to attending fundraising events, making a personal contribution, providing names for letters/calls, and even meeting potential donors face-to-face. Nonetheless, 77 percent of chairs and 75 percent of directors agree that fundraising is the most important area to strengthen.
7. Museum boards meet frequently, but attendance is mediocre. Seventy-three percent of museum boards are meeting five or more times per year, but average attendance falls short: 25 percent of boards have 90-100 percent attendance; 51 percent have 85-89 percent attendance; 21 percent have 50-74 percent attendance, and 2 percent have less than 50 percent attendance. Although 77 percent of board chairs feel (to a great extent) that meetings are well run (efficient), only 27 percent report that meetings focus on strategy and policy rather than on operational issues (effective).
Diversity And Inclusion
One of the most striking changes in the composition of the United States since 1984 has been the dramatic expansion of the minority population. A fundamental challenge for museums is that while the population is already one-third minority, heading towards majority minority, today only 9 percent of the core visitors to museums are minorities and approximately 20 percent of museum employees are minorities. If museums want to be relevant to their communities, they must address these discrepancies.
As leadership teams recognize the need to adapt their organizations to society's changing needs, this includes examining who is sitting around the boardroom table, which is where critical decisions are made. Various backgrounds and experiences (professional and personal, as well as cultural and ethnic) add to the quality of the board. A board is often expected to "represent" the organization's community as a way to create accountability and form a link with the public.
The demographic profile of museum board members reveals considerable ethnic and racial homogeneity along with minimal age diversity. Board composition is tipped to white, older males—more so than at other nonprofit organizations. In fact, 46 percent of museum boards are all white, compared to 30 percent of nonprofit boards.
Research suggests that lack of diversity in board composition may be a network problem. Ninety-one percent of white Americans' social networks are other white Americans, which is the racial group that dominates nonprofit board and chief executive positions. Board members tend to be older and from wealthier populations, and their social networks also tend to be majority white. These factors both explain and perpetuate the problem of board diversity.
Whether hiring the museum director, recruiting board members, allocating resources or serving the community with authenticity, the board's commitment to diversity, equity, and inclusion matters. The data show that museum directors and board chairs are in agreement that diversity and inclusion are important to help advance their missions, especially when it comes to "understanding the changing environment from a broader perspective," "understanding the museum's visitors," and "enhancing the organization's standing with the general public." Further, 77 percent of museum directors and 66 percent of board chairs indicate that expanding racial/ ethnic diversity is important or greatly important.
Museums fall short, however, when it comes to taking action. According to museum directors, only 10 percent of boards have developed a plan of action for the board to become more inclusive, and only 21 percent have modified policies and procedures to be more inclusive.
What We Found
Of the various diversity categories, museum directors are most dissatisfied with the lack of racial diversity on boards. While 57 percent of museum directors have agreed that it's important to increase board diversity, only 10 percent report that the board has developed a detailed plan of action to become more diverse.
64 percent of museum directors are dissatisfied with the board's racial diversity.
43 percent of museum directors are dissatisfied with the board's age diversity.
24 percent of museum directors are dissatisfied with the board's gender diversity.
Why It Matters
Museum directors understand that the lack of diversity impacts their ability to advance the mission and meet the needs of their members, yet, like many nonprofits, museums are struggling to adapt their board recruitment practices.
Becoming more diverse requires moving beyond conversation to intentionality. It requires an action plan and the examining of interpersonal dynamics and the cultural fabric of the board and organization. To help move the board forward, consider the following questions:
What information and data are needed to better understand the community you serve?
What opportunities might be missed or what blind spots exist due to lack of diversity?
How can the museum embrace the inclusion of individuals coming from diverse or traditionally marginalized communities?

Value Of Board Diversity And Inclusion percent of "Very Important" rating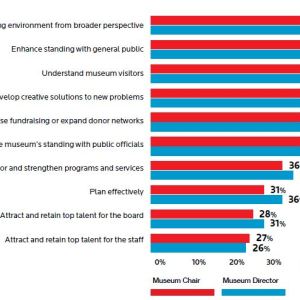 Board Actions Related To Diversity And Inclusion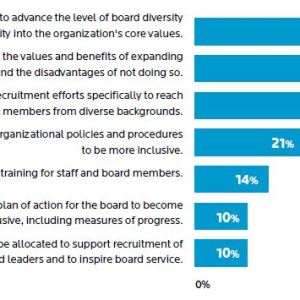 Recruitment Practices
An organization's board is a critical resource, and the board is responsible for its own composition and leadership. An effective board is composed of individuals who contribute critically needed skills, experience, perspective, wisdom, contacts, time, and other resources to the organization.
It is difficult to create an effective recruitment strategy without first assessing the present composition of the board and identifying the missing links. Only then can the board develop an effective recruitment strategy—one that ensures that the museum is prepared to support the community's changing needs for years to come. Ensuring diversity on the nominating/governance committee is a key element to increasing heterogeneity.
What We Found
Forty percent of museum directors and 43 percent of board chairs agree that it is difficult or very difficult to find people to serve on their boards. When it comes to recruitment, the following percentage of museum directors assigned these qualities as "high priority":
75 percent – passion for the mission
60 percent – community connections
42 percent – ability to assist with fundraising
39 percent – desired skills
30 percent – professional occupation
28 percent – donor or ability to contribute
24 percent – demographic characteristics (age, race/ethnicity, gender, etc.)
Why It Matters
Finding and recruiting top talent is essential, and it does not appear to be getting any easier. Museums are competing for board leaders and need to be strategic in how they pursue individuals, as well as whom they pursue.
A well-conceived board-building plan helps the board to identify and recruit members and cultivate officers. Agreeing not to do the "same-old, same-old" is hard but necessary to get different results. Also, approaching recruitment as a year-round process is a solid step towards strategic board building.
The governance/nominating committee can play a key role by cultivating a continuous pool of candidates. In doing so, the committee should consider including young professionals who have access to networks of talent and resources that aren't easily accessible to older members of the community; individuals who have connections and skill sets not currently present on the board; and individuals who, in addition to their skill sets, add racial, gender, or socio-economic diversity, to help ensure diverse perspectives.
---
Museum Board Leadership 2017: A National Report was prepared by Rosemary Tenuta, project consultant, and Vernetta Walker, vice president of programs and chief governance officer at BoardSource.