Santa Barbara, as it is known to the world, is a small city that is a major tourist destination—on the Pacific with great beaches, close to Los Angeles but far enough away to leave the stress of the metropolis behind, and a very pretty downtown. The Mission, the Courthouse, and Stearns Wharf are probably the best-known destinations. But the city is part of the county, with just under a half-million inhabitants, a famous wine region, varied terrain (one part is known as America's Riviera), and more than two-dozen museums and cultural organizations. The city of Santa Barbara, the county seat, has about 92,000 inhabitants, and the two neighboring communities—Goleta to the west and Montecito to the east—have around 31,000 and 11,000 respectively.
At the turn of this year, this community was struck by two very different catastrophes. From December 6, 2017 to January 10, 2018, the fragility of the local eco-system was cast into tragic high-relief with the Thomas Fire, the largest in California's recorded history (lasting three weeks and scorching 281,983 acres, destroying 1063 structures) and the debris flow in Montecito, the wealthiest community in the region, which in the early hours of January 10 killed twenty-three people and destroyed over 100 homes, as a strong rainstorm hit the devastated slopes above the town, washing everything away in front of it. For nearly three weeks in December, the air was virtually unbreathable, and many people relocated to wait it out, all the while watching with great anxiety the inexorable march of the flames up the coast to the mountains above the city. Towards the end, virtually the entire city was under mandatory or voluntary evacuation. Over 8500 fire personnel and some 500 fire trucks were on alert. On one frightening day, Saturday, December 16, the winds picked up and it looked like all the work to prevent disaster would be overcome as flames accelerated down the hill directly above Montecito. Then, because the fire had been so intense and had destroyed so much vegetation when the first major storm of the winter arrived, Montecito was again evacuated and the worst damage imaginable occurred. The next morning, with all power, gas and water cut off, an avalanche of boulders, broken homes and cars had ground past the Biltmore and out to the ocean, cutting off the only highway access south. People wandered through the streets in their pajamas, muddied to their thighs, and possessing no more than what they were dressed in. It was a traumatic experience, even for those of us who were far enough removed to have been in no danger at all: Montecito, known as the home of movie stars and millionaires (but with many middle–and working-class families as well), reduced to little more than a war zone.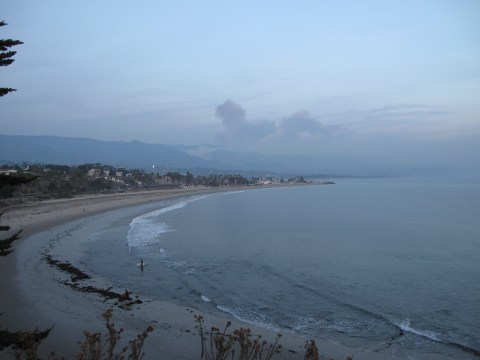 Among the highlights of Santa Barbara is an extraordinarily rich grouping of cultural institutions. These institutions are as varied as the terrain, ranging from large-scale and well-established organizations as the Santa Barbara Museum of Art, the Zoo, the Natural History Museum and Botanic Gardens, the Music Academy of the West, the Mission Museum and Archive, several academic museums, historic houses, and other art museums. The budgets range from small to large, and staff size from as few as three professionals to dozens. The directors of this varied group meet regularly to visit each other's exhibitions and discuss shared concerns.
Most accounts of natural disasters concern events that occur quickly and with little chance to counter them: that was the case of the Montecito disaster. But the fire was very different as it unfolded over three weeks, everyone had time to prepare. Yet it was as devastating in the short term as Montecito's debris flow will be in the long term. What makes the disasters in Santa Barbara interesting is the different nature of the events and the institutions it affected, with, at the same time and despite these differences, the fundamental similarities in the problems. No model of how to cope with catastrophe is offered here. Rather, it is important to observe how a close-knit community prepares and learns from disaster.
Skip over related stories to continue reading article
All these cultural institutions have disaster plans, of one degree or another. The Zoo, for example, practices drills every year, preparing to evacuate animals in case of earthquake or fire. The Natural History Museum, on the other hand, has a protocol for removing important records but keeps collections in place. Hurried removal would result in damage, while carefully sealing buildings and relying on fire suppression systems secures the collection more safely. The Art Design & Architecture Museum (AD&A), on the other hand, has digitized the majority of its important records and relies on University systems for backup of data. But everyone discovered that the scale and sequence of disasters stressed any preparations and plans.
The first effect was the loss of revenue of all kinds. The fire occurred during December, the time for end-of-year donation requests and membership renewals to go out, the period for holiday parties and galas, and for gift shop sales. All of that went by the wayside. Businesses around town are failing or cutting back because sales were so anemic during the busiest shopping month of the year and the greatest number of parties, all canceled. Every institution dependent on ticket sales and gift shop revenue for a significant part of their support suffered a minimum 20% drop, and generally a 30% drop for December and January. During December, the town emptied of people desperate to get to better air quality, and no one was in the mood for shopping. Despite the localization of the tragedy in January (Montecito has only a few blocks of shopping and restaurants), no one has wanted to shop, or even go out, although that is, fortunately, changing to a degree (but even now months later, attendance is generally down at events). In truth, everyone in town is distracted, unable to focus. It has not helped that, with an overabundance of caution, Montecito has been evacuated four times more, in anticipation of storms that never materialized. The Music Academy has postponed their gala till after their summer season—but that's a radical readjustment to a development schedule, with unknowable results.
Contributing to these losses, and with profound consequences for staff, was the closure of the freeway for nearly three weeks as the boulders and mud (some 100,000 cubic yards of mud) were removed and the road repaired. Highway 101 is the major artery connecting Santa Barbara to the north county and to Los Angeles: any staff south of the freeway closure could not make it to work. During the closure, a ferry service brought essential personnel in (hospital staff, teachers and so on), and Amtrak put on special train service, once the tracks were cleared. But for much of the period, the only way to drive between Santa Barbara and Carpenteria, the next big community south (and in good traffic a drive of no more than 20 minutes) was to head north, then west, then south and back up the 101, taking about four hours. Not to mention that no tourists could drive north.
But there were more immediate concerns as well. Safety of collections was paramount—but very differently expressed. Lotusland, an extraordinary historic garden in Montecito, evacuated its archives with the intention of bringing them to Art, Design & Architecture Museum on the campus of the University of California, Santa Barbara, which is located on the ocean about as far west and as far away from the mountains as possible. And the University has its own fire department. Casa del Herrero, an historic house and garden also in Montecito, evacuated some of its most important art objects to the AD&A Museum. But neither institution could evacuate its real collections, the houses and gardens. Nor could the Botanic Gardens, which suffered a severe burn nearly 10 years before: the fire this time came within a mile of the Gardens. The Zoo was in a better position. Although it was within the mandatory evacuation zone, it never moved the animals. By calling on its two closest colleagues, the San Diego Zoo and the Los Angeles Zoo, it brought in large-animal cages, moving vans, and packed all the small mammals and birds preemptively. On Saturday, Dec 16, the trucks were lined up in the parking lot, all facing out and prepared to run, but they never had to. The farm animals from the petting zoo had been moved earlier in the week to the Earl Warren Show Grounds some 5 miles west. (It turns out goats and sheep require some handling but pigs are really easy to move. Hold a leaf of lettuce in your hand and a pig will follow into the truck, eat it, and fall asleep.) Beyond learning how to handle pigs (a fact we all stored away for future reference), three lessons might be drawn from this experience. First, what constitutes a collection is fundamentally different from one museum to another, and even within collections: an animal is not an archive. Second, some collections cannot be moved, and ultimately cannot be protected. Less pessimistically, it is possible to think about materials as necessary for the public experience, and those that are secondary or even invisible—and perhaps those can be removed and lent long-term to more secure institutions, like the University.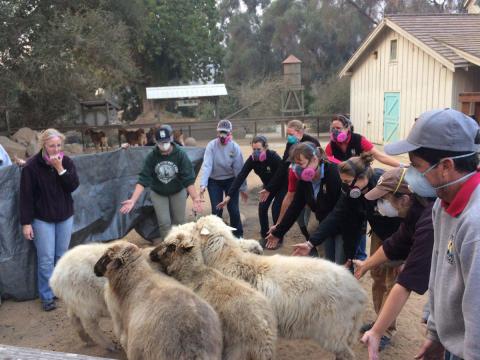 Short-and long-term damage to facilities was also a concern. We all monitored our buildings to make sure that ash and smoke did not enter them: the AD&A Museum was expecting major loans for an exhibition to arrive in early January and the lenders were nervous about the climate control. Others discovered that taping the windows and doors gave good enough security. But what does a garden do with all the ash over its grounds? The art museums and other structures could wash their walkways clean, but Lotusland had ash drifting inches deep all over its property, rising up and choking anyone walking down the paths. No visitors could be allowed to come onto the property since the ash was toxic. Only rain could minimize the problem. And in the meantime, even as the ash was falling, the garden needed to be watered. Problems like these emphasize the ways in which each kind of institution suffered different challenges depending on the nature of its collection and facility. And even the Wildling in Solvang, some fifty miles away, suffered indirect smoke-related harm, with real losses to businesses in the community.
One problem that was shared by all was the issue of staff, of course, and here there were real dilemmas about how to compensate people. Two issues were at play: first, considerable numbers of staff simply could not tolerate the air quality and needed to leave town; second, the facilities were shut to the public, so guards, ticket takers, and shop personnel were not needed. What was the right balance between compensation and balancing the budget, and respecting and attending to the needs of the people who constitute the life of the organization? Many institutions offered sick-leave and holiday pay initially, but as the fire ground on into its second week that became untenable. Some people were able to work from home, but museum work generally requires being in the museum. In the end, for the most part, a delicate balance was achieved between turning a blind eye to peoples' absences, reducing pay slightly, and hoping everyone could make it up later. Most of us felt that the long-term strength of the institution resides in the people who work for it and that some small "gift" of paid time-off was appropriate, given the circumstances. Even the University of California, one of the most bureaucratic institutions around, ultimately pretended the problem didn't exist, allowing supervisors complete discretion.
Then there was the multitude of practical problems. How do you work when you've been evacuated from your house? How do you prepare galleries for an exhibition when you have no water to wash paint brushes? Or your bathrooms are hundreds of yards away? Westmont Ridley-Tree Museum, located on the campus of Westmont College, was right in the middle of the burn and evacuation zones, but still had to keep staff and then students going. The costs of portable toilets and a movable industrial kitchen were astronomical. While some of the costs could be covered by insurance, not all could. Westmont was able to turn this into a fundraising opportunity, because of strong alumni support, but other institutions didn't have that kind of donor base to approach. Lotusland was used as a staging ground for firetrucks and personnel: the gates had to be left open in an evacuation zone that was not perfectly patrolled. The staff, forced to leave for short periods, would return to discover their equipment used—but who could blame the firefighters? The Museum of Contemporary Art and Westmont were sharing an exhibition with loans from Guatemala: how do you get a courier into a mandatory evacuation zone in the middle of a fire to supervise the packing of a loan (the short answer is…you don't)?
On the other hand, technology came in very handy. All of us could contact trustees and donors and make sure they were all okay, and keep in close communication with them. Keeping in close touch with first responders and the sheriff's office was important as well. Even without being able to be physically present, staff could keep abreast of the situation, share gate codes and security protocols. Casa del Herrero was glad to have upgraded their ticketing software to Eventbrite, otherwise, refunds would have been impossible to coordinate.
A larger dilemma that we all shared was a sense of conflict over even asking for support, when very real, direct needs faced our community. We felt it was important to protect the whole fabric of the community, and in many instances, people expressed their relief at the opportunity to put aside their grief and anxiety for a while, but it's a sensitivity we have to maintain close rapport with. Nonetheless, we are already experiencing the withdrawal of grants that would normally have come to us. At the same time, it felt good to be able to give back. To share space with others in greater need—holding a science fair for a school that had been evacuated, for example. Or offering free concerts or free admission.
Were there lessons to be learned that could be applied to the long-term? If nothing else, sharing stories—even the names of insurance agents—was therapeutic. It helped a great deal to remember that we were all in this together and had gone through a shared experience. We felt stronger knowing that we had weathered the catastrophes. Emergency plans were implemented and strengthened. Nonetheless, we all came to the sobering conclusion, as we prepared to put this behind us and recover, that we would not be returning to "normal." As Rich Block, the director of the Zoo, reminded us: this was the new normal. It is a lesson sinking in to Santa Barbara generally, and even California as a whole. We must expect more danger ahead of us, both long-term detrimental change and short-term disasters, the double whammy that other parts of the country are experiencing as rising sea levels and dramatically worse storms. And add to that the ever-present threat of earthquakes. For us in Santa Barbara, though, the effects are quite specific in other ways. Montecito, with its concentration of great wealth, has suffered a permanent hit to its tax base, and our donor base. There are many house lots where rebuilding will not be permitted, and others that will be abandoned. Residents are now paying attention to decades-old debris flow maps, and it is a real question whether or not property values will return to former heights, at least in the next half-dozen years. Some of our donors, having been forced to evacuate now five or six times, are questioning whether or not it is worthwhile to even return to Santa Barbara permanently. A typical pattern for many has been to spend only part of the year here, dividing their residences among several locations. Should Santa Barbara/Montecito be one of them in the future?
We won't really know how we feel until next winter, of course. But perhaps the one real positive outcome is that in a future of reduced expectations and resources, we have the network in place to figure out ways to share what we have, and continue to grow by working together.
With contributions by:
Nicole Biergiel, Asst. Director, Museum of Contemporary Art Santa Barbara
Rich Block, CEO, Santa Barbara Zoo
Elyse Gonzales, Asst. Director, AD&A Museum
Judy Larson, Director, Westmont Ridley-Tree Museum of Art
Monica Orozco, Executive Director, Old Mission Santa Barbara
Stacey Otte-Demangate, Executive Director, Wilding Museum
Scott Reed, President, Music Academy of the West
Gwen Stauffer, Executive Director, Lotusland
Luke  Swetland, President, Santa Barbara Museum of Natural History
Jessica Tade, Executive Director, Casa del Herrero