This article originally appeared in the May/June 2018 issue of Museum magazine.
When Paula Williams surveyed the damage from the violent winds that battered Albany, Georgia, one night in January 2017, she was shocked at what she saw. "My street looked like a lumber yard," she says.
Because emergency personnel had to clear fallen limbs from the roads, it wasn't until the next morning that Williams could reach the Albany Museum of Art, where she is executive director. When she arrived, her fears were confirmed: the two-story, 25,000-square-foot museum building had been hit hard.
"The whole roof had been peeled back, and insulation was scattered for miles," she recalls. Much of the museum's 3,000-piece collection of African, European, and American art was exposed to rain and high humidity.
Skip over related stories to continue reading article
While there was nothing that Williams or her staff could have done to prevent the disaster, having an up-to-date emergency response plan was critical in limiting the damage and recovering quickly.
"Within half a day, everything from our galleries and collection storage vaults had been moved to one area of the museum that had managed to stay dry. We used that as a triage area," she says.
The next morning, Williams and her staff met with insurers. By the end of the week, more than a dozen art handlers and conservators were moving pieces either for restoration or for off-site storage while the building underwent repairs. While restoration of some works continues, the museum reopened in August 2017, just seven months after the storm.
Williams' biggest takeaway from the experience? "You can't review your emergency plan too often."
Make Planning Part of Your Culture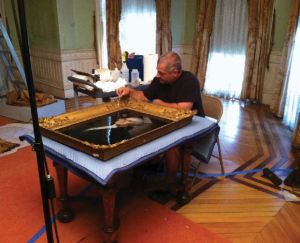 Identifying the potential risks to people and collections, and allocating appropriate resources to mitigate these risks, is "vital to museum management," AAM says in its standards for facilities and risk management.
Museums should have a comprehensive disaster plan that is tailored to their needs and circumstances—and they should regularly train staff to implement this plan. "The more you can train your staff to respond properly to any disaster, the more you can trust each other and respond in an efficient manner," says Rebecca Kennedy, preservation specialist for the National Postal Museum.
The National Postal Museum has five disaster carts placed strategically throughout the museum. The carts contain first aid provisions, materials to stop water leaks, and equipment for safely handling and transporting artifacts. To ensure that the supplies are accessible, the carts are secured with breakaway zip ties instead of locks.
As part of the museum's training, all employees—even education and security staff—learn where the carts are and how to use them. "We have more than 6 million objects, and we have a collections staff of seven people," Kennedy says. "If anything were to happen, we would need all hands on deck."
The National Postal Museum is in an old building, and its copper pipes have been known to leak. Because employees know how to use the carts' supplies, however, none of these leaks have damaged any artifacts.
Emergency plans need to cover the gamut of potential disasters, while also focusing on the most likely. For example, at the beginning of each hurricane season, staff members at Marie Selby Botanical Gardens in Sarasota, Florida, make sure they have everything they'll need in a storm, such as generators and bottled water. "We don't want to be scrambling for supplies as a storm approaches," says Michael McLaughlin, director of horticulture and site operations.
When a storm is expected, staff begin boarding up windows and chaining down anything that could become a projectile, such as park benches. The final phase, reserved for when a storm is imminent, involves moving rare collections. "We don't want to do that unless we absolutely have to," says President and CEO Jennifer Rominiecki, "because collections can be damaged in the moving process—and we might do more harm than good."
Disaster planning and training should become part of a museum's culture. "Many directors put this on the collections department, but this should be an institution-wide undertaking," Kennedy says. "Everyone should be involved, because if your collection is damaged, then you're no longer a museum."
Know Where to Go for Help
A fundamental aspect of disaster planning is knowing where to turn for help in an emergency.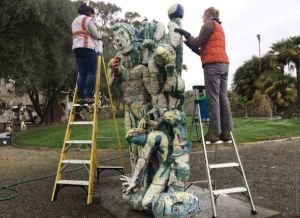 When Sue Shutte, historian for Ringwood Manor in New Jersey, returned to the museum after the holidays in January 2012, she noticed something wasn't right. "It was cold in the house," she says, "and as I started walking around, I noticed a fine layer of soot covering everything."
She discovered that one of the four oil furnaces in the basement had exploded, spreading soot that had built up in the ductwork throughout the 51-room mansion. Disaster training "tends to focus on situations like fires and floods. But I didn't know what to call this incident. I didn't even know if it was considered a disaster," she says.
One of her first calls was to the American Institute for Conservation (AIC). "I found out this was called a puff back," she says. "They sent out conservators who have been trained in emergency response. They were able to give us an assessment of the damages and a report with their findings. This was a free service, and it was extremely helpful."
The AIC report was instrumental in dealing with insurers, Shutte says. It also laid out a roadmap for recovery, which took two years and cost $1.7 million. "When an emergency happens, don't be afraid to reach out to other experts in the field," Shutte advises. "I did not have the resources for an event like this."
The Albany Museum of Art also relied on outside assistance after the storm damaged its building. After notifying trustees and communicating with staff, Williams called the Heritage Emergency Response Alliance, a group of preservation specialists and disaster recovery experts in the metro Atlanta area.
"They gave advice, answered questions, and helped me anticipate issues that I might not have thought about otherwise," Williams says. "I appreciated their compassion and words of assurance, which made me feel that I was not alone."
Williams also reached out to Randall Suffolk, director of the High Museum of Art in Atlanta, who offered to store Albany's collection at no charge while the building was being repaired. Other institutions loaned emergency supplies and expertise.
"People who had been involved in disasters like this before were very helpful," she says. "The outreach from the museum community was incredible."
Communication Is Key
Recovering from a disaster involves coordinating many teams of people, which requires good communication. At Ringwood Manor, contractors and conservators held several meetings before the recovery work started. "We all included our ideas, and we hashed out issues we thought might come up," Shutte says. "It was almost like a dance. If we didn't do our choreography correctly, the whole dance would fall apart."
And while communication among staff and volunteers is crucial before, during, and after an emergency, don't forget about keeping external stakeholders in the loop. When Hurricane Irma hit Florida in September 2017, Selby Gardens prepared for the worst. Fortunately, the damage was not nearly as bad as it could have been: the museum lost 10 trees and had to replace some windows in its conservatory. It opened to the public just five days after the storm.
"Once we had done our assessment, we let our constituents know the extent of the damage," Rominiecki says. "It's important for our community to know what's going on."
4 TIPS FOR DISASTER PLANNING
1. Review Your Plan Annually.
Keep copies of your emergency plan off-site, both on paper and in the cloud. Rehearse your plan frequently, and make sure it's actionable. "I've seen disaster plans consisting of several binders six inches thick," says Rebecca Kennedy, preservation specialist for the National Postal Museum in Washington, DC. "No one is going to read that."
2. Catalog Your Collection.

Keep a current list of every item in your possession. "This is extremely helpful for insurance purposes," says Sue Shutte, historian for Ringwood Manor in New Jersey. Also, know what your insurance policies cover.
3. Take Warnings Seriously.
If a storm is approaching, "you'd better be prepared," says Michael McLaughlin, director of horticulture and site operations for Marie Selby Botanical Gardens in Florida. "It's always dangerous to hedge your bets and say, 'I think we can get away with this.' If the storm turns, you're a sitting duck."
4. Document Everything.
If a disaster occurs, keep track of all aspects of the recovery process—including damages, expenses, and even donated time and services. "We got  some help from FEMA to replace the trees we lost, and that was because of the documentation we had," says Paula Williams, executive director of the Albany Museum of Art in Georgia.
Turn Challenges into Opportunities
No one hopes for a disaster, but sometimes it can present an opportunity—if you are open to it. When wildfires struck the di Rosa Center for Contemporary Art in Napa, California, in October 2017, a storage building on the 217-acre campus was destroyed. Fortunately, most of the works had been removed from that building months earlier—and the museum's three main galleries were spared. But about 400 of its 1,700 works sustained smoke damage, and the museum shut down for a few months to recover.
In the aftermath of the fires, the di Rosa Center received an emergency Collections Assessment for Preservation (CAP) grant from AIC. An assessor worked with the museum to develop a long-term plan for securing its collection from future disasters.
"While the grant was triggered by the wildfires, it goes beyond disaster planning," says Executive Director Bob Sain. "It allows us to get a better handle on aspects such as climate control, so we can be better stewards of our collection. It's a real boost for us."
The Albany Museum of Art also found opportunity in the wake of its disaster. City officials offered to help the museum move to a downtown location.
"I got some advice from another museum director, who said: 'Never let a good disaster go to waste.' If all goes well, we will close on another building that is twice the size of our current facility," Williams says. "We have a chance to be closer to our constituents and to be part of the rebirth of our city. And while we have never received any city or county funding before, both have committed funds to this project."
She concludes: "We are coming back stronger—and better informed."
Resources
Standards Regarding Facilities and Risk Management
Emergency Preparedness and Planning Resources
---
Dennis Pierce is a freelance writer based in Fitchburg, Massachusetts.