As I noted in TrendsWatch 2017, museums' communities are being buffeted by the economic, cultural, and political fallout from current inequities in the justice system. Increasingly, museums are being called on to play a role in addressing these tensions through serving as venues for dialogue, as places of healing, or by acting as advocates for social justice. In today' post community engagement manager Michael Berlucchi tells us how the Chrysler Museum of Art is enabling people who are incarcerated to be seen—as people, as artists, as members of society.
–Elizabeth Merritt, VP Strategic Foresight & Founding Director, Center for the Future of Museums
Imagine trying to create art with no scissors, glue, paint, paintbrushes or pencils. Using jail safe pens, paper, and powdered milk as glue, Jonathan LaCount meticulously crafted Straight and Narrow, a three-dimensional work featuring broken images of his wife and daughter. His work represents his revelation; not following a straight and narrow path will tear his family apart. Straight and Narrow and twenty-three other works were featured in Beyond the Block: An Art Exhibition created by Inmates at the Virginia Beach Correctional Center. In partnership with the Virginia Beach Sheriff's Office, the Chrysler Museum of Art presented the exhibition from October 17–November 26, 2017.
Some inmates use art to express their emotions and share their experiences in a productive way. Art can be therapeutic and transformative, both for the viewer and the creator. Following the success of the 2017 presentation of Beyond the Block, the Chrysler Museum has partnered with the Norfolk Sheriff's Office and the Hampton Roads Regional Jail Authority to present works from other local inmates from October 23, 2018–January 6, 2019. The upcoming exhibition will feature artists from the Virginia Beach Correctional Center, Norfolk Jail, and the Hampton Roads Regional Jail. The Beyond the Block exhibitions fulfill the Chrysler Museum's mission to enrich and transform lives by bringing art and people together, serving traditional audiences as well as inmates and their families.
We pursued the idea after learning that many inmates at the Virginia Beach Correctional Center are gifted artists. Security measures prohibit the use of most art supplies, but inmates still create impressive works. Many of the works that were on view at the Chrysler were created with sanctioned jail safe pens that measure a little over three inches, have no stability or rigidity, and are designed especially for individuals in high-security environments. The artists incorporated color with candy and other items available to them such as deodorant and food items.
The title of the exhibition highlighted the fact that the inmates' work was on view outside of the jail. It provided a rare chance for people who are incarcerated to creatively express themselves beyond the confinement of their detention and allowed the general public to connect with people who are incarcerated.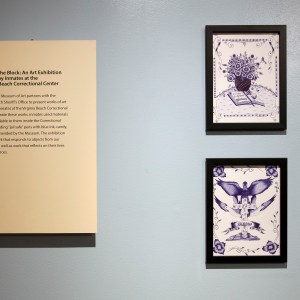 The exhibition was impactful for the inmates who participated and for their loved ones. Artist Kenneth Helms has spent time behind bars since he was a teenager. He was serving time for probation violations at the time he created the work on view in Beyond the Block. "I have pleasure doing it. We're all gifted with something, and I believe that's one of the gifts I got," Helms said in an interview with Southside Daily. Helms was accepted into art school but was not able to attend. For him, having his work on view at the Chrysler Museum was something to be proud of. "This is kind of wild. I never thought it would happen, but miracles do happen," he said.
Angela Madison created "Matthew 10:31" while incarcerated at the Virginia Beach Correctional Center. She served thirteen months there after spending many years in and out of jail and prison, abusing drugs and alcohol, and eventually losing custody of her five children. Participating in the exhibition gave Angela hope for her future. Her work included the verse, "So don't be afraid therefore; you are worth more than many sparrows." Angela was elated that her work was included in the exhibition and has used her new gift to create more artwork. Immediately following her release from jail, Angela arrived at the Judeo Christian Outreach Center. After thirty-four nights in their Emergency Housing Program, she signed a lease and moved into her own apartment, her "first place in twenty-four years." Angela has also started a new job and is in the process of rebuilding relationships with all five of her children.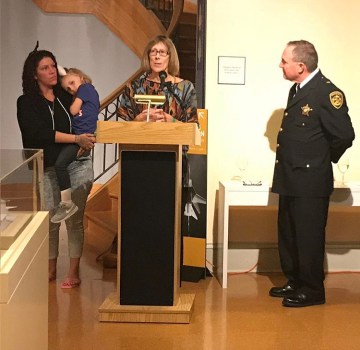 The artists featured in this exhibition were not able to attend the October 19, 2017 opening reception, but some of their family members did. For the family of Jonathan LaCount, the experience was emotional. Diana Taylor, LaCount's wife and one of the subjects of Straight and Narrow told WTKR, "I was amazed by it. Automatically my heart just dropped because I know he has so much talent. He could be home, but decided to do what he did and be where he's at now. So I am a little messed up because I wish he was here." In public remarks at the opening reception, LaCount's mother told guests that her son now knows what he needs to do "in order to keep his family together, otherwise they're all broken up."
Beyond the Block also served as a learning opportunity for local high school students. Art students from Frank W. Cox High School in Virginia Beach toured the exhibition, enjoyed a gallery talk with Captain Tina Mapes from the Virginia Beach Correctional Center and completed an art activity that required them to create their own works of art using only "jail safe materials." Students were surprised and challenged by using the limited art materials accessible to inmates.
The inmates were inspired and empowered by Beyond the Block. "I believe art can aide in offenders' rehabilitation as they work through the mistakes of their past and look forward to their future. We hope that their future is as productive members of our community," said Virginia Beach Sheriff Ken Stolle. "Most people have no idea what it's like to be behind bars or have a loved one who's locked up. I hope this exhibit can give our community a better understanding of this aspect of our criminal justice system and humanize the people in our jail and jails throughout the region."
The Virginia Beach Correctional Center houses nearly 1,400 inmates and is run by the Virginia Beach Sheriff's Office. The Sheriff's Office is committed to the welfare and rehabilitation of the inmates and offers a variety of programs for them including GED, Substance Abuse, Life Empowerment, Alternative Sentencing, and Reentry programs.
Beyond the Block earned national and local media attention and was popular with Museum guests. As the relationship between the public and criminal justice system continues to evolve, the Chrysler Museum of Art is proud to serve as a venue where this important discussion can occur. While viewing the exhibition, one Museum guest remarked to a staff member, "…it really just shows our common denominator."
"I learned I have a gift and art has changed me. I'm worth more, and I'm going to make it."
Michael Berlucchi is the Community Engagement Manager at the Chrysler Museum of Art in Norfolk, Virginia where he creates and implements educational and community partnerships to engage diverse audiences across Hampton Roads, and develops new strategic initiatives to expand the Museum's audiences, particularly those in underserved constituencies. Michael volunteers on numerous boards and commissions, including two terms as president of Hampton Roads Pride, a founding co-chairman of Virginia Beach for Fairness, the Virginia Beach Human Rights Commission, Teens with a Purpose, Norfolk Tourism Research Foundation, and the Princess Anne County Confederate Statue Roundtable. He was recognized by Inside Business as one of their Top Forty under 40 in 2015 and by Equality Virginia as an OUTstanding Virginian in 2018. Michael is a graduate of George Mason University and the Sorensen Institute for Political Leadership at the University of Virginia and lives in Virginia Beach.

Skip over related stories to continue reading article