This article originally appeared in the Association of Science and Technology Center's September/October issue of Dimensions magazine and is reprinted here with permission. Updated 10/3/2019
Are you looking for new ways to address diversity, equity, inclusion or accessibility at your museum? Cultural Competence Learning Institute (CCLI ) is a year-long professional development initiative for museum teams that helps leaders catalyze diversity and inclusion efforts at their institutions. Available and applicable to a variety of museum types and sizes, CCLI's success lies in its focus on local strategic initiatives, a peer network of museum learners, and leadership development at all levels. According to one participant, "Being part of the CCLI gave weight and urgency to our work. It gave a framework of accountability and credibility to this as not just a singular person's or department's responsibility but as essential to the health and well-being of our entire organization." CCLI is currently accepting applications for the 2020 cohort, due November 19, 2019.  Museums of all types and sizes are encouraged to apply.
The working definition for cultural competence in CCLI focuses on a process of lifelong learning that results in knowledge, skills, behaviors, and attitudes that
allow individuals to work effectively with others from different cultural backgrounds
increase the ability of organizations to maximize the benefits of diversity within their workforces, and
improve the services museums offer to various stakeholders.
The process involves investing in the necessary organizational change that will support museums in broadening participation, both for visitors and for staff. Grounded in organizational change theory and leveraging learning from museum practitioners, the CCLI curriculum helps museums identify their own areas for growth and markers of success. Participating museum staff are encouraged to consider team structures and composition, communication strategies, leadership roles, and recruitment and hiring practices. Information from staff surveys helps museums shape their approaches to creating institutional change and transparency.
Skip over related stories to continue reading article
Captured here are case studies from three institutions that participated in Cohort 4 of CCLI and whose focus on broadening participation addressed three different areas of organizational change:
The Wild Center—preparing staff to work with diverse partners
Exploratorium—training managers in new hiring practice
Cincinnati Museum Center—broadening community engagement strategies
The Wild Center: Preparing Staff To Work With Diverse Partners
By Stephanie Ratcliffe, Hillarie Logan-Dechene, and Jenn Kretser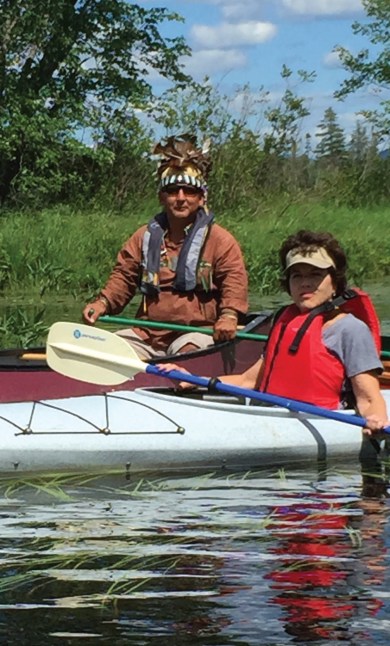 The Wild Center is located in a region (upstate New York) that—like in many parts of the rural United States—continues to exhibit little diversity in the resident and visiting tourist population. Prior to embarking on a multiyear project with the Haudenosaunee Confederacy (Six Nations/Iroquois, the original inhabitants of the land), our staff knew we needed to prepare. The CCLI program supported our efforts to construct a series of trainings and professional development activities to fundamentally change how we approach diversity broadly and
provided us with the tools to move staff through an effective learning process.
It is important to note that this work takes time and our efforts were just the beginning of an organization-wide shift that continues today. The project with our Haudenosaunee partners is focused on introducing our primarily non–Native American audience to the idea of understanding and honoring traditional ecological knowledge alongside Western science and encouraging them to begin to think about indigenous worldviews of nature. A core activity is a reinterpretation of permanent exhibits designed and curated by our partners without any curatorial intervention or filter from The Wild Center. The goal is to share voice and authority. Our CCLI learning prepared us to recognize our privileged position and to exercise listening in service to authentic collaboration.
Part of The Wild Center's project included hiring interns from the Haudenosaunee community. This process provided us the opportunity to step back and look at all of our hiring practices. What we learned is that if we want a diverse staff, we have to be willing to name and change a variety of assumptions. Rather than asking someone to fit into our box, it was a case of changing the shape of the box itself.
The skills and perspective gained through the CCLI staff development process allowed us to see that often when museums and science centers intend to work with diverse populations, we are really asking people to assimilate and fit into our established mold. The CCLI curriculum gave us the new perspective to begin to rethink how we do our work.
Exploratorium: Training Managers In New Hiring Practice
By Anne Jennings, Theresa L. Timpson, TJ Chow, Vanessa Avery, and Veronica Garcia-Luis
Exploratorium joined CCLI with excitement about the opportunity the program could provide for initiating some long-anticipated organizational change. While the museum has for many years produced research, programs, and projects aimed at understanding and engaging diverse audiences, before the CCLI project we had not addressed diversity and inclusion in a systematic way as an organization. By identifying (and driving) a project in our organizational development department, we knew we would be charting some new territory.
Both the CCLI staff readiness survey and the kickoff workshop with our cohort pushed the internal Exploratorium team to narrow our focus toward creating a workshop for managers. We called it "Recruiting and Hiring for Diversity." In true Exploratorium style, the team decided to prototype, test, and iterate the workshop based on feedback from staff participants.
After even the first prototype workshop, staff participants reported changes in their practices, as well as increased diversity in their hiring. The revised and final two-hour workshop now covers topics ranging from how to choose diversity-serving organizations for job postings to exercises on unconscious bias to techniques such as "blind" resume screening, standardizing interview questions, and structuring interview panels. The workshop, which merges tools and information gleaned from CCLI training with organization-specific approaches, has now been integrated into our quarterly training series for new managers.
The results are already showing promise: Managers feel they have new tools and institutional support to identify and increase our hiring of diverse, highly qualified people. In one department, managers reported that while their candidate pool has not changed dramatically, as a result of the training the hiring team noticed a pattern of elevating applications with a well-written cover letter. When they examined this habit, they realized it revealed an unconscious bias: The job does not require writing skills, so they recognized that they might be ruling out otherwise qualified candidates.
These efforts are stepping stones, demonstrating incremental changes in awareness and staff practices toward creating a more diverse and inclusive workplace at the Exploratorium.
Cincinnati Museum Center: Broadening Community Engagement Strategies
By Elizabeth Pierce, Claire Pollock, and Delilah Norris
Cincinnati Museum Center (CMC) is a one-of-a-kind, multimuseum complex housed in the city's Union Terminal. CMC, which includes children's, history, and natural history and science museums, is at a unique time in the life of the organization. In 2016, as we began the CCLI program, we also began an extensive two-and-a-half-year restoration of our historic home. Once completed, the facility will eventually include many new and updated exhibitions for a reimagined museum experience.
Part of our CCLI work involved demographic research about our city, our county, and the greater metropolitan region. We also compiled demographic data about our staff, volunteers, board members, and guests. This exercise helped us identify areas of strength and opportunity within CMC. With this information, we developed a data-driven CCLI strategy that magnifies our community engagement efforts and guides our hiring and training practices.
For example, through place-based, resident-relevant neighborhood programming, we expanded our dialogue with five local underserved neighborhoods. Through this work, we intentionally partner with individuals and organizations to learn about and work alongside these neighborhoods. Our goals are to work with (not just for or in) these communities. This process has helped us gain a much deeper understanding of the goals, needs, resources, and aspirations of residents in these communities.
CCLI provided the language and framework we needed to facilitate diversity and inclusion conversations with staff and volunteers. Using this framework for equity and inclusion, we have updated our performance evaluations, professional training options, and leadership development.
Our CCLI strategy includes purposeful diversity recruitment efforts. We participate in job fairs likely to attract minority applicants and have developed an online presence with minority-focused websites. We announce staff and volunteer position opportunities on targeted sites. These steps have resulted in an increased national presence, reaching more applicants of color. As we continue to strengthen relationships with local partners while enhancing our presence on sites such as HBCU Connect (hbcuconnect.com), we anticipate a more racially and ethnically diverse staff and volunteer base.
Thanks to CCLI, as November 2018 nears and new galleries in Union Terminal open, we are continuing our successful community engagement and our focus on equity and inclusion in staff and volunteer recruitment, onboarding, professional training, leadership development, and coaching.
Increase Your Institution's Capacity For Diversity And Inclusion
CCLI is currently accepting applications for the 2020 cohort, due November 19, 2019.  Museums of all types and sizes are encouraged to apply.
---
Jenni Martin (jmartin@cdm.org) is the project director of the Cultural Competence Learning Institute and the director of education and strategic initiatives at Children's Discovery Museum of San Jose in California.