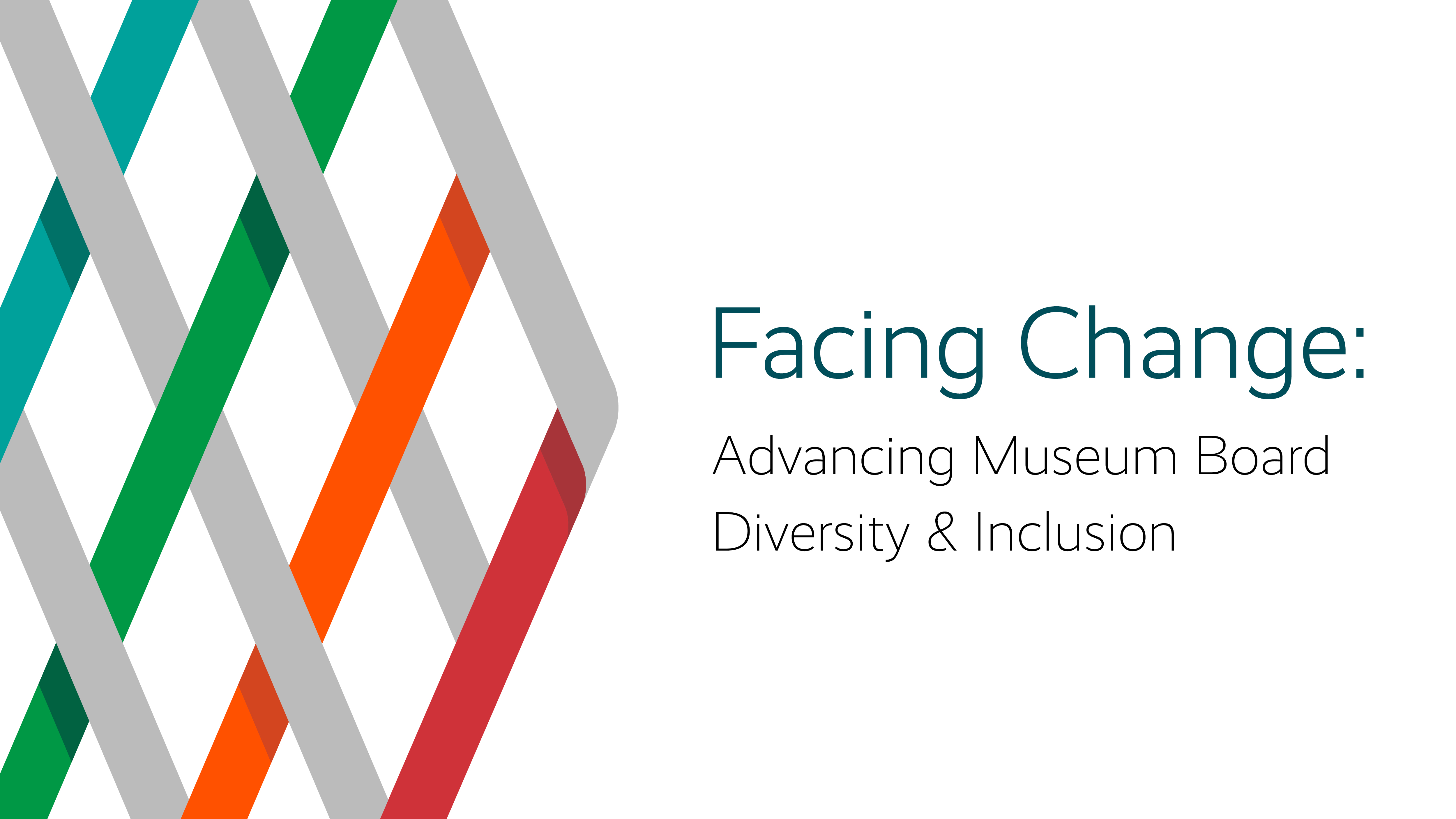 Transcript
Tonya Matthews, Director of Inclusion:
So, we want to get started with a bit of logistics and overview.
My name is Dr. Tonya Matthews.
I am the Director of Inclusion here at the American Alliance of Museums.
I am supported this afternoon by Brooke Leonard, our Chief of Staff, and I must say that given the overwhelming response we brought some extra folks into the room.
So, our head of IT is also with us this afternoon.
If my screen goes blank, I will give you his email address.
We also have Alexandra [Roe] here, who is our primary project manager for the program at the moment.
What we are going to do is we are going to be taking questions throughout the presentation and answering them as they make sense.
Sometimes the questions will preview what we are talking about.
Sometimes they will be appropriate to answer in real time.
We also of course have a question and answer section at the end.
I want to thank everyone who sent questions in advance.
They actually helped us design the presentation this afternoon and highlighted some things that we needed to talk about.
This session is being recorded, and the audio as well as the PowerPoint will be available after we have completed.
If there is something you miss, or more importantly, something you would like to share, it will be available for you to do so on our website.
Like any good grant project, we've got acronyms.
[laughs]
I will do my best to reiterate them in real time.
But the three major acronyms that we will be using: of course, AAM, American Alliance of Museums.
DEAI, diversity, equity, accessibility, and inclusion.
And our new acronym for the day will be MCOL, our museum communities of learning.
I'm going to start with a brief introduction into the American Alliance of Museums.
We know that some of our participants are not actually as familiar with the Alliance, because we have opened this invitation to professionals in DEAI as well as nonprofit professionals across the board.
I'm going to highlight a little bit of what it took for us to get into this space, some of the preliminary reports that helped us decide our first initiative, highlight the charge of "Facing Change," and then describe the fellowship itself.
We will have a question and answer session which will hopefully help all of you with your applications and create even more interest and excitement.
So I'm going to start with a brief introduction to AAM.
We are one of the largest, most comprehensive organizations representing museums in the world.
Our vision is to have a world that is more informed and more enriched by thriving museums.
Our charge: we champion museums and nurture excellence with our members and our allies.
I'm also delivering greetings from our CEO, who is shown in the picture to the right with her family at one of our museum institutions.
We support more than 35,000 museum professionals and museums, from a to z.
Art museums, history museums, science museums, science centers, zoos, aquariums, botanical gardens, and all the other types of museums that are filling the sector and engaging the minds of our communities all over our country.
As a matter of fact, we just concluded our Advocacy Day in Washington, DC, where several hundred museum professionals joined us to come and talk to our congressmen and women about the role, the importance, of museums, and what it takes to keep us going.
I will say that despite everything else happening here in Washington, DC, the museum folks always seem to be welcomed.
So we are very excited about that.
So it is one of the largest scale programs that we do.
In that category of what we do, the American Alliance of Museums accredits, advocates, connects, educates, and puts forth strategic foresight for museums.
We are the primary accreditation body for our sector, and our sister organizations have additional and supporting accreditations, as well.
We advocate for museums, as mentioned.
We just finished our annual Advocacy Day but for us, it is a year-long process of testifying and noting and educating and championing the roles of museums.
We connect ourselves to each other as well as to our community, and the same can be said for our educational footprint.
We offer strategic insight, not only into the challenges that we are currently facing, but to the challenges that we may soon face.
The Alliance, like every good organization, is indeed powered by our strategic plan.
As I am noting documents that we have available on our website, I am embedding the link right here in this presentation.
So that after this conversation, if you would like to check those materials out yourself, you can.
Our strategic plan is powered by what we do: accredit, advocate, connect, educate, and provide strategic foresight.
The "what we do" is powered by our how and our why.
For accreditation, this is where we are talking about our Continuum of Excellence.
I know many participants on this phone call are already participants in advocacy, global thinking, access, all having educational access to what we provide as well as helping our sector provide universal access to the education and the cultural materials that we steward, and strategic foresight.
All of what we do is powered by our how and our why.
And those are our focus areas.
Our three focus areas from the current strategic plan, reading from the bottom up.
P-12 education – that would be preschool through 12th-grade education.
Financial sustainability, for ourselves as well as for our sectors, and diversity, equity, accessibility, and inclusion.
Each of these focus areas is run through each of the five goals.
And so today, as we talk about the "Facing Change" initiative, of course, we are talking about the focus area of diversity, equity, accessibility, and inclusion.
DEAI has always been at the core of AAM's work.
As we talk about it, this is a trajectory, a very long work.
We ourselves have been working ourselves on DEAI internally as well as championing it throughout the field.
So, this is what leads us to where we are today, in terms of launching the major initiative of "Facing Change."
Some of the questions we received leading up to this presentation really wanted to dig in to how we got there.
A couple of quick notes — where we are as a sector.
When I say as a sector, I mean the museum community as a whole.
We are businesses.
Nonprofits – still business, for-profits – still business, and we know that high-performing organizations must have the right people.
What we have become much more sophisticated about is that we need the right people at the helm. We need folks of different and complementary backgrounds and experiences.
Diversity, equity, accessibility, and inclusion are required for the kind of vision and strategy and leadership that any organization needs to thrive and sustain itself.
In 2017 we commissioned a national report alongside BoardSource, who is also looking at the nonprofit sector, to see what the leadership at the board level of museum organizations across the country look like. Many of you participating in this call have seen this report and also participated in this report.
Again, let me say thank you.
I have also embedded the links for this report.
It is good, and I should say motivating, reading around the challenges and things we can tackle in terms of expanding and adding some sophistication to our board leadership.
As it relates to what we are talking about today, a couple of key findings and data points.
One of the startling things we uncovered is that 46% of museum boards are all white.
This is compared to 30% of nonprofit boards.
So, while the nonprofit sector as a whole is also struggling to create diversity among its most senior leadership, museums seem to be lagging behind.
The good news also embedded in this report is that museum directors and board chairs believe that board diversity and inclusion are important.
64% of museum directors are dissatisfied with the board's racial diversity.
We see this reflected in things such as participation we are having in this call today.
While we do know there is a challenge, there is a renewed and new interest in attacking this challenge.
In figuring out how far we have to go, the report also dove into awareness of the challenge versus the effectiveness of the strategy we are putting in place.
What we found is that there is a significant disconnect between the directors' impact recognition.
Meaning, understanding and being aware of the fact that diversity and inclusion are an issue and the urgency around solving that.
Only 12% of the directors surveyed are satisfied with their board's composition.
Very much in line with the slide previously, which shows that we understand we need to work on it.
77% said that it is important – advancing the mission.
12% are satisfied, three-fourths are saying we actually have to do something about it because it is important to advancing our mission.
But only 24% of those surveyed said it's a high priority in board recruitment.
What we actually found is that we are having challenges translating our understanding of the problem, and our desire to pursue the problem actually implementing.
This disconnect is a barrier to our sustainability and our relevance.
We have been speaking about this on the ground level for nearly a decade now, about how museums can more comprehensively represent the communities that they serve.
And why this is important for our continued existence and impact.
The Leading With Intent report, it's quite comprehensive.
We talked about many lenses of diversity and accessibility and inclusion.
What we actually found is that the widest area of disconnect and challenge was on racial and ethnic diversity.
I know some of you are familiar with the report, and the report resonates with different organizations in different ways.
We did look at gender, we did look at accessibility, we did look at some of the other criteria that are also challenges in the work of DEAI.
But the widest disconnect and the largest challenges always seem to show up in racial and ethnic diversity.
That is where the American Alliance took its cue from.
We decided we might as well head for the most challenging of the issues.
Late last year, we stepped in and asked, "All right, so what is the work we have done?"
"How can we talk about it for so long and still have such challenges in moving forward? Is there any way we can distill some of the next steps?" So we released the "Facing Change" report. And the "Facing Change" report included five particular insights around what must be done.
This report is exceptionally well-written, a nice, easy read.
And as kind and comprehensive and inclusive as the language is, it's one of the most challenging reports that the American Alliance of Museums has put out.
Because it makes clear the personal and professional and institutional work are simultaneously required to handle the challenges.
The first insight was around our personal development, around unconscious bias as individuals.
The second insight called into question something we know we all face: debates on definitions, completely stalling the process.
The third insight reiterated that inclusion is central to our effectiveness and sustainability.
The fourth insight is that we need to talk systematic change.
There are institutional, some intentional and many unintentional barriers that hinder progress. And last and certainly not least is that empowered, inclusive leadership is essential at all levels of an organization.
With that, the American Alliance chose our first steps.
Our first steps were to look at what we can do about museum leadership at its highest level.
At the level of our boards.
The response to the "Facing Change" report, and the Leading With Intent survey, we have launched the "Facing Change" initiative. Advancing Museum Board Diversity & Inclusion.
The program will last for three years, specifically targeting five cities, 50 museums, ten museums in each of those cities.
That is the museum community of learning.
Throughout the three years, AAM will provide intensive, deliberate work to educate, coach, and steward museums in broadening racial and ethnic diversity.
With a stated goal of boards becoming more racially and ethnically diverse by the end of the program.
Part of what we are also looking to do, because the interest is so high and the need is even higher — in real time we will also be working to translate our learning outside of the 50 museums that are getting the intensive work.
The kinds of insights that we can have, the types of learning that we can gather.
One of the reasons we are choosing five different cities and ten different museums in each city is because — while we all have common issues and common challenges, perhaps a common vision for the good of museums in our world, we are unique organizations with unique challenges.
One of the things we want to do is to be able to understand how those impact the conversations about museum boards' diversity.
The American Alliance of Museums' board itself has been grappling with these issues over the last 20 years, and we have been successful in diversifying our board, but it has been a journey—a very deliberate one.
We have had to make institutional changes, make cultural changes.
All of this work, the wind beneath the wings, will be the ten "Facing Change" fellows.
Which is the program we are giving the introduction to today, the applications opened last week.
The role of the fellows will be multifaceted.
Initially, and one of the primary things, is that the fellows will help us facilitate baseline assessments of the cultural competency of the museums that are engaged in our communities of learning.
The fellows will be then assigned to be coaches to the boards and leadership through a regimen of technical support and DEAI curriculum.
That curriculum is being developed by the American Alliance of Museums along with consultants that work in the DEAI field.
Over the course of the program, particularly, in years 2 and 3, the insight and input of the fellows will begin to impact to the curriculum.
As the fellows actually serve as liaisons and advocates for the museums which they are coaching.
And the conversations they are having, helping them with their specific challenges.
There are some very specific outcomes; we would like boards to have a board inclusion plan.
All of the reports have told us is that we need structures to support the ideas behind diversity.
And so one of the things we will be developing are board inclusion plans; this is also one of the skills that we hope translates to the broader community.
Lastly, certainly not least, the fellows act as champions of the work of "Facing Change."
Active engagement and profiling in our online platforms as well as our print platforms.
Helping us think through sharing best practices, if not being the sharer of the best practices and other learnings from the "Facing Change" program with the broader learning community.
This is the general scope of the role of the fellows.
There are additional program elements.
Some of you may be thinking, "If I don't know how to facilitate a baseline assessment of cultural competency, does that mean I'm already out?" Not necessarily.
Part of what's incorporated into the fellowship program is the specialized training needed to support and facilitate the work we are doing.
While we are very interested and very excited about having aptitude and having done significant work in this space, you will see when we get to priority criteria that what we are looking for is a cohort of fellows who bring different talents and different geniuses to the table.
Some of the training and competencies needed for the role will actually be supported within the program.
Exceptional networking, the fellows themselves as well as the members of the museum communities of learning and their boards, as we do that work.
Sponsored access to the AAM Annual Meeting. In addition to some of the more intensive training for the fellows occurring at the AAM meeting, in years 2 and 3, the fellows will be supporting the museums participating in the museum communities of learning—their training at our Annual Meeting.
As well as celebrations of their success.
Of course, the profile and exposure on AAM platforms, in terms of talking about their work, their progress, their learning.
That will also be an opportunity, and a specific element of the program.
Time and travel commitment — this is very interesting.
We have designed the fellowship as a nonresidential fellowship.
We have several questions related to that.
I'm going to try to get to some of them here, but please ask additional questions if this is not clear.
The fellowship runs the course of the initiative, from May 2019 through May 2021.
We are estimating a monthly commitment of 40 hours.
Some of that work is going to be independent in terms of planning.
Some of that work is going to be the monthly check-in calls.
Some of that work is going to be engagement, phone calls with the board chair or the board champion group that the fellow is working with.
What we are trying to do is give the fellows an estimate of the amount of time that they will be committing.
However, a significant portion of that time will be very flexible, particularly when it comes to the time that fellows must prepare for particular activities.
That is also included in that 40 hours.
It is a nonresidential fellowship, meaning we are not requiring people to move to either Washington, DC, or Arlington, Virginia, where the AAM headquarters is, or to reside near or next to the museums in the cohort of learning that the fellows are supporting.
All travel to these places will be provided for.
One of the questions we got specifically, "It seems like the majority of the program is virtual."
I would say yes, to a large extent.
However, by nonresidential, we are specifically referring to folks not having to relocate to the Washington, DC area.
If we think through the time commitment, traveling to the museum communities of learning as well as traveling to the headquarters here in Washington.
That is actually part of the fellowship.
So it will probably break down to somewhere between 30% or 40% of the time will actually be touching base with your cohort in the fellowship, with your museum community of learning, at the annual meeting, or here in the Washington area.
But your proximity to us or to the museums is not a consideration, with the exception, unfortunately, that we are at this point only able to support people traveling within the United States.
There will be regular trainings and orientations that will comprise a big portion of the trips to the Washington, DC, area as well as a lot of the time that is spent at the annual meeting.
Some of those orientations will also be webinars and phone calls.
And then also monthly check-ins. The monthly check-ins are actually not to be underestimated.
The work ahead is exciting.
But I do think that the work ahead will also be challenging.
And so we refer to the fellows as a cohort that we are prepared to support.
And the fellows will also be supporting each other, in terms of the check-ins and calls.
That is also the conduit for which we begin to lay out priority issues that the curriculum designers need to take into account, that the fellows are seeing are particularly challenging.
So, eligibility and selection.
I would note the phrasing of "minimal" as opposed to "minimum" eligibility restrictions.
We are very open to nontraditional and bold candidates, as well as classic and perfect fit candidates for our fellows.
We want to be as diverse and inclusive in selecting our cohort as we hope that our museum boards will also become.
We did get a question about whether or not you need to be a US citizen to apply for a fellowship.
What I will say to that is that you must be able to work and receive a fellowship in the United States.
This is a grant-funded program, so the monies associated with the stipend for the fellows is associated with their restrictions.
So if you have particular questions about that, definitely send us a note or give us a call.
We will be able to relay those very specific questions to our funders to make sure that you are eligible to be receive this fellowship.
If you are an international student or resident here in the United States and are currently working overseas, is likely that it will also apply.
The next three bullets are actually a nod to folks who may think that they are not included, as opposed to being things that you must be to be included.
Both museum and nonprofit professionals across the board are welcomed.
Independent consultants who are in this space, for-profit or nonprofit, are invited.
And mid- and advanced-career professionals are also encouraged to apply. It may have been some time since you've thought about being a fellow.
But we do want a full range of diversity in applications within our cohort.
If you have a specific question or disqualifier, please send that — we tend to be very inclusive and open to the types of folks that will apply.
So that's eligibility.
Let's talk about what we are really looking for and some of the priority criteria.
Priority criteria are centered around our goals and the biggest challenges that we anticipate.
First, of course, a demonstrated commitment to diversity and inclusion, however that is demonstrated and shown.
A demonstrated ability to work with nonprofit boards, high-capacity volunteers, and/or executives.
We have gotten questions about whether or not you have to be at a certain level in your organization.
The level in your organization is not what is being evaluated.
What we are actually looking for is the experiences and opportunities that you have had to work both with peers and superiors.
As we see think through the special kinds of relationships that boards actually have with their organizations.
We like to see experience in working with boards, or other high-capacity volunteers, or even in other parts or aspects of your work where you are working with executives, and that persona type.
As those are often the types of people that sit on our boards.
Our fellows must be both self-directed and collaborative.
Because it is a nonresidential program, obviously folks will have assignments; those assignments will be [inaudible] training. That training will be clear and helpful, et cetera, et cetera.
Travel.
So there is a lot of self-direction.
At the same time, the fellows will be working as a collaborative and as a cohort.
Being able to share information, communicate across experiences and across cities, et cetera, et cetera will become vitally important.
In particular, you may have already done the math and noticed that there are five cities and ten fellows.
It is likely that each city will have two fellows that are most actively working in those cities.
And those fellows will become as much a team as the entire group will also become a cohort.
We are looking for folks who work well independently as well as work well in groups.
Last and certainly not least, folks who are to communicate and present with some gravitas and authority that guides.
Those museums that join and apply to be part of the museum communities of learning are asking to be guided.
So being comfortable with taking on that role, presenting in that way is key.
As well as being open enough to stimulate conversation and learning.
We have all been in this situation, where there are certain teachers and consultants and leaders who inspire us to learn and to think and to have a conversation.
And there are those that really sort of do not create that atmosphere. And in this space that is really required. So thinking through that…
I will also say that this is part of all of these criteria, with the exception of the commitment to diversity and inclusion, are part of the way we are also looking to design the cohorts.
We expect some fellows to be much stronger in one priority criteria than another, and be able to enhance and participate in the co-learning of fellows alongside the learning of the museums.
We also got a question I want to note here, that the selection of the fellows is separate and apart from the selections of the museum communities of learning.
The cities for the museum communities will be announced later this month.
The selection of the fellows and the selection of the museums participating is neither dependent nor exclusive.
They are two very very different processes, two very different applications, two very different sets of evaluations.
So if you are wondering, "If my city is chosen, can I still apply?" Yes.
"If my city is not chosen, can I still apply?" Yes. Those are very separate processes.
We also have a question about "If my CEO is already on the board of the American Alliance of Museums, or is planning to participate in the museum communities of learning, can I still apply?"
The answer is still yes.
The processes are separate, and they are not mutually exclusive.
I will not go so far as to say that the processes are blinded.
We are not going to select all ten fellows and the museum from one city and one organization.
But I would say that there is no mutual exclusivity in that selection process.
Last but not least, the applications are open.
They will close on March 19th.
Cover letter, CV, supporting materials.
Pretty standard.
Everything is being submitted electronically.
If I can back up a moment and say that each of the fellows will receive a stipend of $25,000 for their participation annually in the program.
And that is meant as an acknowledgment of the work and efforts that are being put in to the fellowship.
Back to the cover letter, the CV, and the supporting materials — one of the things we wanted for this information session to do is to help guide.
Particularly things you might want to talk about in the cover letter and the type of supporting materials you might want to share with us, to give us a bigger picture of who you are and what you intend to bring to this.
With that, we are going to go into some of the questions that people are submitting right now.
We are going to try to get to as many of these questions as possible.
I want to note that the reason the email appears more than once is that if we do not get to your question or if you have follow-up questions, once you've had time to think, please email us and send us those questions.
Some folks have already sent questions and gotten responses outside of this webinar and this process.
Okay, let's start with a few questions.
Specifically in terms of thinking through working and content for the fellows.
One of the questions is content, timeline, thematic focus per month, et cetera, et cetera.
Then there is a follow-up question to that.
The content and thematic timeline have not been determined yet.
Part of what is going to inform that process are actually the museums that are participating in the museum communities of learning, as well as the five cities that are being structured.
What we do know is that this first year, which we kick off in May, will primarily focus on cultural competency, recognition of bias, and understanding "where we are."
So in the first year, the museums will be doing quite a bit of self-thinking work and reflection.
Some of the very soft stuff in terms of understanding personal experience and bias, and some very by-the-book stuff.
History, the board governance processes that may be providing impact.
And then the follow-up question is, "Will the curriculum exclusively focus on boards or will it also work on the community-focused initiatives?" This particular initiative really does focus on board work.
The museum's relationship to the community will only come up as it relates to the way that the board is directing the institution.
For example, this is not related to racial and ethnic diversity — I formerly was a part of the Association of Science Museum Directors when I was the CEO of the Michigan Science Center.
One of the conversations we were having, for example, was whether or not we or our staff could officially participate in the March for Science.
Which you may think is a really interesting conversation for a science center to be having, but the reason that conversation was coming up was because we had to think through the culture of our board and how our board would feel about such participation.
And we had to balance that with community expectations.
Those are the ways in which that conversation will come up—and that will likely be very institution and clearly very community specific, but we are really focusing on boards.
Not just because they can be a hinderance to certain things – but also because really good boards can also be a help.
Okay, and so, I think we sort of clarified a bit about, "So which museums will the fellows be working with?"
So, the "Facing Change" fellows will be specifically tasked to supporting museums that are in the museum communities of learning.
They are selected through their own selection process.
However, we do not expect for the knowledge to be withheld from the rest of the community.
So it is one of the things, for museum professionals — active museum professionals who are participating as fellows, we do expect a really good outcome to be raising the level of knowledge within the sector.
We also expect for museum fellows to bring their own experiences about what's happening in their own institutions to the table.
And part of what the fellows will be trying to do will be helping AAM figure out how to translate some of this beyond just the fifty museums getting the hyperfocus.
We do expect for the fellows to speaking to their own museum experiences, if they are currently part of the field.
We have a question here about whether or not people who are currently employed at a museum or in any other space — if you are currently employed, can you be a fellow?
The Alliance itself will not have any restrictions on that.
But at some point we will ask for confirmation that your supervisor and your institution are on board with your participating as a fellow in terms of your travel and the amount of time that is required.
We do expect many institutions will recognize this is an incredible professional development opportunity, and the talent it will bring back home to them.
On the other side of that conversation, we also have the question, "Can newly graduated students, current students, or emerging museum professionals apply?" I would say go back to the priority criteria that we talked about.
If you have these experiences, if you can bring this level commitment to the table, I would say apply.
I'm actually very big proponent of taking the opportunity to apply, if for nothing else just to learn how to tell your story.
So I would say, again, we are not so much considering your level or the places you've worked.
We are looking at how you describe your commitment to diversity and inclusion, what kinds of experiences you have had.
So say for example newly graduated students.
If you are on the student council and are responsibly for regularly communicating with teams, that is very similar to what we are talking about.
Think through the different experiences you've had, how they relate to the priority criteria and the way you describe yourself.
A very similar question was around, "Are you just looking for folks who are, say, maybe on the development team or specifically assigned as a board liaison?"
One of our questions came from someone who was leading a diversity task force within their own organization.
I think doing that kind of work really demonstrates that there has been work in the space that we are looking forward to.
And particularly, if you are working on a team or a task force that has to communicate out, that has to communicate up, or even has to communicate more broadly than the participation.
That is also part of what we are talking about.
And I want to encourage you to think about your experiences, even outside of your daily work.
Some of you are actually board members yourselves, of different organizations, because there are other things that you care about.
So being on the other side of the conversation can also be considered part of that experience.
Let's see.
"Is there a concern if a fellow switches jobs during the process?"
So, I would say that we can't predict such things.
What we would encourage fellows to do is to have a plan for that.
The fellowship itself is not tied to where you currently are and what you currently do.
We do not have any exclusions for who gets to stay in the fellowship.
But obviously, as you move from position to position, your employer or your supervisor would be the ones that would be where you would take that conversation.
And if I can just sort of add kind of a word of negotiation advice, say it during that process.
Not until they offer you the new job.
Once they've decided that you are their top candidate, if you are one of our fellows you can talk about the extraordinary training you're getting that you can also bring into the organization.
So, let me do one more question of eligibility.
Then we'll get into broader spaces.
"I work for a federal agency. Am I eligible?"
Yes.
As long as your agency doesn't have any restrictions about you receiving outside funding from another place or source, or this as a fellowship, then we would not have any restrictions on that ourselves.
So we have a question talking about the narrowness of where we are working with the grant.
So if we're focused on racial and ethnic diversity, will accessibility be addressed, gender, disability, and ability?
Part of what we are looking at is having to have a diversity and inclusion conversation with communities – and by communities, I mean the board — that are unfamiliar with the conversation at all.
And after a lot of conversations picking an entry door is what we needed to do.
The entry door we chose was the one that was universally rated as the most difficult and the most daunting.
That said, one of things that all of the boards will have to do is design their own board diversity and inclusion plan, for the board.
Those plans are intended to be reflective of the institutions and their communities.
And so, what we are actually intending is to be able to use these conversations about how to be racially and ethnically inclusive, which has been rated as the most difficult to be able to teach skills and have the conversation about creating space for accessibility, for gender, for disability, for learning ability, and all of those different kinds of things.
So the short answer is that we had to choose and this is where our curriculum is going to focus, where our efforts are going to be focused.
The long answer is that that focus is not designed to be exclusive.
Frankly, if you have to go back in and have a conversation around inclusion every time you're trying to include somebody different, you can actually miss the boat on explaining what it is.
That is a great, great question.
I would hope that it comes up every single month of the fellowship.
Ooh, this is a great question.
"Are you looking to expand boards beyond those who can contribute?"
Thank you, development professionals and CEOs.
One of the things that we will be helping boards to look at is how they define what a good board member looks like.
So we've got two categories of that.
One, that classic "time, talent, treasure."
Even though it's a mantra – we need some folks to contribute time, some talents, some treasures, somehow we always get stuck on the treasure.
That said, part of what we are also seeing is foundations or other grantors asking "What is the percentage of giving?
Do you have 100% giving on your board?"
One of the things we will be working with boards to really unearth is how they design their minimum giving expectations.
How they design their time and responsibility expectations, as well.
So that we can think through that.
At the end of the day, yes, boards are fiscally responsible. Boards are also supposed to financially contribute.
But there is some unearthing to do in that space.
The other side of the conversation is the assumption that certain members of your community cannot contribute.
That is also one of the things that we will be unearthing.
I myself am from a community that has a significant portion of wealth within communities of color, but we are still not represented on nonprofit boards in that community.
So part of that is also unearthing those assumptions about where we can find and how we can diversify and whether or not we are shifting standards or eliminating barriers.
"Will the fellowship be offered again next year?"
That is actually really good question.
Our goal is to be able to connect fellows and museums for the three years, so that the museums and the fellows can have continuity and build trust for the difficult conversations that are bound to happen.
What we do not have in place yet is a firm process by which we would replace fellows if, for some reason, a fellow had to leave the program.
I would say that if all goes well and the fellows will be in this space for all three years.
However, we are also looking to use the "Facing Change" fellowship as a model of other fellowships we would like to have in the future.
Next year is probably too soon.
The year after that, probably not soon enough.
"Who did the fellows report to?"
The fellows report to the director of inclusion.
"What does the selection process look like?"
Thank you very much.
So, the selection process will be both an internal and semi-internal – semi-external channel.
Meaning, an internal group of folks who working on the "Facing Change" initiative in the American Alliance of Museums.
In addition to that we will have representation from our board and from the diversity task force that is also associated with the "Facing Change" program.
I will not go into details, but the diversity task force is a selection of individuals who are going to be charged with figuring out how DEAI, the full scope of DEAI, should be incorporated into our accreditation process and our Continuum of Excellence.
Okay. Folks are very active! So we are still doing questions here.
Okay.
I am liking this continued question about digging into how boards are composed.
Here's a question.
"Will we examine/address economic gaps between board members and think through those choices, et cetera?"
One of the things that we will be asking from museums, and the fellows will also be researching, is the composition of their current board.
So we will be looking at economic status.
We will be looking at racial composition.
We will also be looking at what I call veteran board members. We will be looking at things like terms and term limits and the lack thereof.
So these are really good questions, and that comes in the evaluation of the institutional unintentional or intentional barriers to inclusion.
We've got several questions here that are coming together around —
"I'm working at a museum, I've got a limited employment term. Am I still eligible?"
"Do I need to be employed at a museum?"
"If I work at a museum, will my automatically be part of the museum community of learning?"
"Can you work a full-time job while doing the fellowship?"
The answer to that question is, essentially, if you can, we can.
What we have laid out is thinking through, looking at this – 40 hours, this is essentially a week, give or take.
But not necessarily altogether and there's some flexibility in thinking through that time.
So if you are currently employed at a museum, the way that this is likely to work for your museum is at the museum itself would consider this a paid professional development opportunity, in which you are getting skills, essentially some advanced training and thinking through diversity work.
Whether or not that has you directly working with, to help diversify your board, or to help move a diversity and inclusion task force internally, or getting one started.
If your employer is willing to share that time with us, we are more than willing to share your time with that employer.
I would say that the fellowship is broken up in terms of half and half.
In terms of time that is flexible and time that is scheduled.
For example, the half day, full day sit down in Washington, DC, training — that cannot be moved according to individual fellows' schedules.
But when your calls are scheduled at the museum that you are coaching, when your visits to the museum that you are coaching are scheduled, that actually can be worked around your schedule in collaboration of course with the museum and the board you are working with.
That is one of the things that we will be looking at when we are also doing the matching. So we have flexibility there.
Again, the fellowship program is actually separate from the selection of the museum communities of learning.
They are not mutually exclusive, meaning if you get in one category you can't get into the other category, and they are not tied together, meaning that vice versa is not true as well.
I talked specifically about having a full-time job at a museum, if that would apply to whatever organization that you are part of.
And if folks are thinking about whether or not they can manage, even around the flexibility of the time.
Keep in mind that even as you are flexible in scheduling times and thinking through that, you are going to be working with another museum as well.
For example, you may be willing to work at 2:00 in the morning but I'm not so sure that the board chair you are attached to will want to receive that call at that time.
So we will be working through that.
But there is flexibility in any of the nonphysical traits, when the fellows are our out supporting their museums.
We will work with that.
The other advantage there is that we are working with boards. These are exceptionally busy individuals.
And because of that, that time in which a fellow is specifically tied down to a two-day window, one-day visit, it will be quite limited because of flexibility of the board.
I want to be mindful, and I am looking for new questions and different categories as we enter our last 4 minutes.
This is a great question: "Are the required travel dates available yet?"
The only required travel dates that are set are the Annual Meeting dates, because we know that at the Annual Meeting there will be designated trainings for both the fellows and the museums.
However, we also received a question, very specific, a couple of questions, to attending this particular Annual Meeting.
We're going to post and update that.
When we say that there will be training at the Annual Meeting, it is a given day during the Annual Meeting.
Attendance at the entire Annual Meeting is encouraged and is considered an opportunity, but that is not required if a fellow has a conflict and cannot attend the entire meeting.
The single day will be specified.
Based on some of the feedback we're getting, we will look to have that specific day on the website for next week so that folks can think through that.
Allow me to say that before you eliminate yourself from application, if you think there is something that bars you from applying, please send us a very specific question.
We can talk very specifically through what your challenge might be.
And let you know if that's something we've anticipated or we are already working through for others.
This, I think it's going to be a great question to end with.
"When will applicants be notified?"
We are going to be reviewing very quickly, and we expect for applicants to be notified no later than April 1st.
Part of this is managing travel, coming to May, the Annual Meeting, that time, for those who are not already scheduled to go.
Also thinking through, as people are giving us feedback around conflict with that time.
I want to thank everyone for your attention and your input.
We've got several folks over here sending questions in our direction.
We are still reading them and watching them.
Of course, the direct email if your question is still specifically not answered and you don't have what you need: facingchange@aam-us.org.
I want to just close with a thank you for your interest and your commitment.
And, three extra tips and insights as you think about how to deliver yourself in your applications.
We are bringing together a diverse cohort, so do not be afraid to highlight and lean on your talents and experiences.
Think about the program, think about our core competencies, think about our priority criteria.
And do not shy away about highlighting what you are exceptionally strong in, and highlighting the place you are exceptionally interested in learning and growing.
Because we are looking for diversity within the cohort itself as well.
Because that's going to be required for us to process the learning.
Remember, we have a twofold challenge. One of course is the diversity, equity, accessibility, and inclusion coaching and facilitation itself.
The second is the board coaching and facilitation.
Some of that may be structural, some of that may be cultural, et cetera, et cetera.
Both will be challenging, separated from each other.
They are much more interesting together.
Again, do not shy away from being very clear about where you are strong and what you are bringing to the table in either or both of those challenges.
Last but not least, take advantage of additional materials.
As you can imagine, this is also how we're getting to see who you are, how you talk, how you communicate, don't be afraid to be creative in terms of communicating that.
Those supplemental materials are optional.
You do not have to fill up the entire five pages.
Or whatever limit it is that you set.
Please do feel free, if you have something that you think really communicates the work that you've done or even a team that you've participated on or led, and you would like to share that work with us, be it a video, a brochure, a TED Talk.
Think creatively about how you can communicate to us.
Again, thank you very much for your participation.
I don't know if any of you were watching the number of participants grow.
We did have about 100 folks on the line today.
I'm very excited about what we will be able to accomplish together.
Thank you, and have a wonderful evening.
Skip over related stories to continue reading article