For me, the most exciting part of publishing TrendsWatch is making new connections with people doing great work around each issues' themes. One of the topics we address in TrendsWatch 2019 is homeless and housing insecurity. In a happy confluence, last week, just as the report published to the web, the Dignity Museum was opening its doors in Atlanta, Georgia. I reached out to founder Terence Lester, (who is also the Starter and Founder of the community nonprofit Love Beyond Walls) to tell us how this new museum is tackling the issue of homelessness.
The Dignity Museum is the first museum in a shipping container in the United States devoted to addressing the issue of homelessness firsthand. Many people think homelessness is just a localized issue relevant to metropolitan cities with a few people hanging out on street corners here and there, but it is really a much larger issue than people know.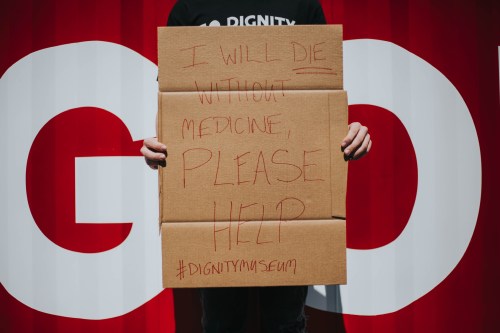 In fact, according to research from Yale University, homelessness is a global issue with over 100 million people experiencing this plight worldwide. And, if we want to factor in "inadequate housing" there are 1.6 billion people globally who are housing insecure.
It has been my experience that when people have a small view of homelessness, it becomes very easy to generalize the topic and dismiss people experiencing this plight. The distance itself creates fear and bias towards those who suffer day-to-day. Therefore, instead of having empathy, people may respond with resentment towards the poor and marginalized.
This resentment or lack of understanding makes it easy for someone to call a person lazy, a mental case, or a bad person when they have not taken the time to know how that person actually arrived in the plight of homelessness.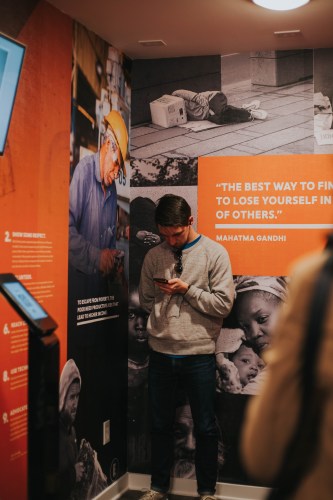 To me and my colleagues at the Dignity Museum, every single person has a story and that story is worth hearing!
When we don't take time to know people's unique story, we then criminalize their experience or govern where we allow people experiencing this plight to dwell, walk, or even sit.
It's sad to know many states in the U.S. have criminalized simple things like food-sharing, sitting in public spaces, and even sleeping in vehicles by those who are suffering.
All of this and more stems from what we see as a lack of empathy and concern for our fellow humans. The Dignity Museum was designed to invert this process of thought when it comes to those experiencing the plight. We wanted to give everyday people an opportunity to see what it is like from the perspective of someone actually going through the experience of homelessness, and to strip away their normal response of dismissing people.
Our goal was to infuse Technology and Art to create an immersive experience for people to actually hear the stories of people going through challenges from their perspective. We wanted to strip bias and judgment and assumption away and allow people to hear these stories from the source.
Most people are actually closer to homelessness than they think. According to Market Watchers, the average American doesn't have 400 dollars in savings, and are only one paycheck away from being on the streets themselves.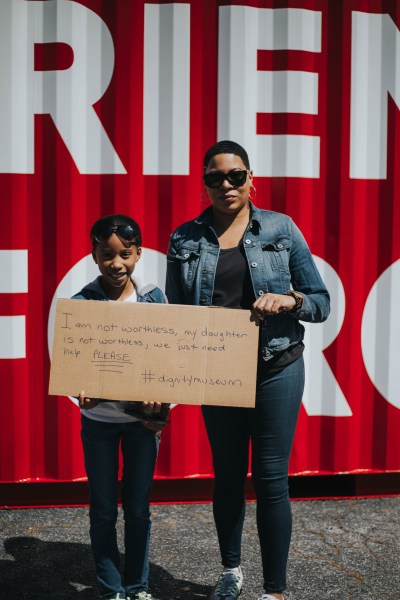 It has been our experience that if empathy and dignity were at the core of our approach to addressing homelessness then we might think and dream of better solutions to address this global problem. We must first care about those that we are seeking to help before we can provide the help needed to address the issue. These are people…humans!
Our museum has been called many things, but the one thing that I like to hear most is "a walk in the shoes of someone experiencing homelessness."
It was our desire to have our guests take off their lenses and actually see life from the perspective of someone they might pass by on the streets.
We've even created a space for people to process what they would write on a sign if they were trying to beg for money to wash their clothes or raise funds to buy medication.
It's a different experience when you are faced with the same problems that you may judge someone else for.
Another great thing about our museum is that we have given people going through the experience the microphone and intentionally silenced those who may have all the resources, education, and opinions.
It is a simple message that we cannot be experts in someone else's story.
Our museum is a little untraditional in that it is housed inside of a renovated shipping container. The idea behind this is to drive home a metaphorical message: every shipment has a story and is transient, every shipping container carries things that are of worth and value.
Similarly, the experience of homelessness is transient, each person experiencing homelessness has a story, and each person experiencing homelessness still has worth and value on the inside no matter what has brought them to this experience.
To me, our work is worth everything to keep this issue in people's minds and hearts. We are speaking truth to power and applying sheer activism with boots on the ground. We are in the trenches changing and challenging false narratives that people may believe about those they have never met experiencing homelessness.
To sum it up, we want Dignity Museum to inspire the next generation of leaders and social do- gooders to dream about ways to address the issues of homelessness and poverty. It's the same work the Museum of Homelessness is doing in the UK, and Museum of Street Culture is doing in Dallas.
It is our desire to show people how they too can join the fight and use their talents to make a real difference in the world. We must stop solely relying on institutions and become the changemakers we have been waiting for.
We want to show people how they can make a difference on the ground wherever they are located. We hope to continue our work of breaking negative stereotypes and giving those who are going through homelessness a voice and showing the next generation that they too can think of innovative ways to address this issue.
Being that we are a new museum, we are excited that we have leveraged that art of taking information to people instead of having people only come to us—because our shipping container can travel.
We will get a chance to be disruptive and engage people in places that may be distant from those experiencing homelessness. Keep us in your thoughts as we rewrite the narrative of homelessness.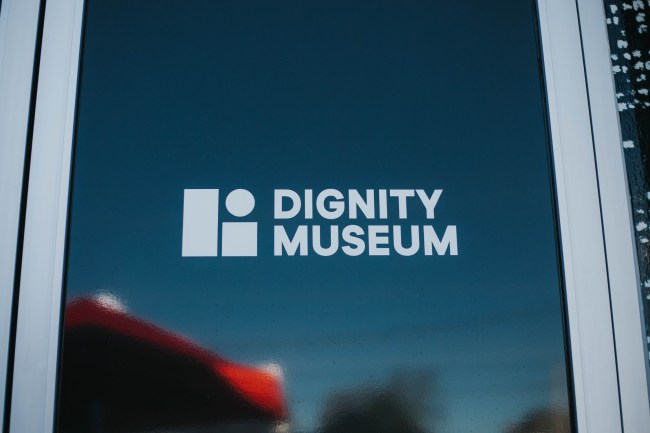 Skip over related stories to continue reading article