Abundant research demonstrates the efficacy of a building's design to enhance and support human and environmental health. Peer-reviewed professional studies in journals such as Indoor and Built Environment, Journal of the Illuminating Engineering Society, International Journal of Epidemiology, International Journal of Environmental Research and Public Health, and others have documented improvements in staff productivity, attendance, focus and mental engagement, mood, overall physical health, recruitment, and retention stemming from building design. Benefits like these show particular potential in the arena of the cultural nonprofit: our nation's museums, public gardens, science centers, libraries, and other institutions have long offered respite from the rest of the world as havens of learning, inspiration, and tranquility. Creating a physical space to match enhances that purpose.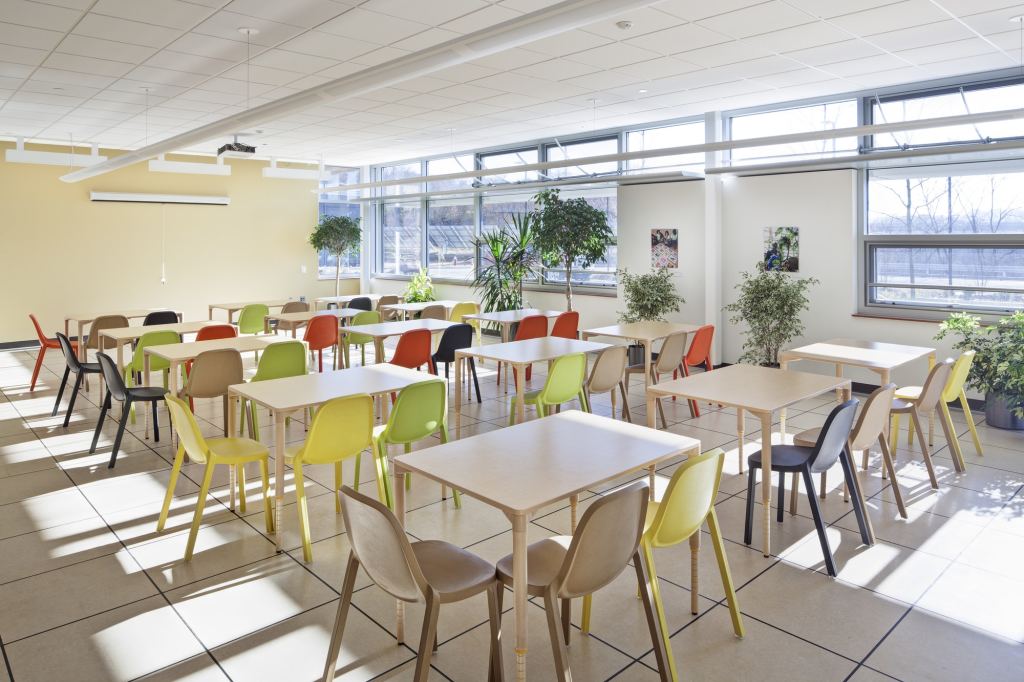 People spend over 90 percent of their time indoors, where we often are disconnected from nature, receive little natural light and ventilation, and can be exposed to toxic chemicals. Our institutions and the visitor experiences they deliver can significantly impact the lives of all who enter our doors, but achieving this requires a significant paradigm shift in the way we build and operate our facilities.
At Phipps Conservatory and Botanical Gardens, we seek to demonstrate how human and environmental health are inextricably connected. The built environment provides an excellent canvas to convey this message. Our site encompasses new, modular, and renovated buildings and serves as a model of the healthiest built environments in the world, providing a hands-on experience for our almost half-a-million visitors annually. Each building on the campus offers the public distinct examples of and insights into the inner workings of responsible design, illustrating the benefits for occupants and showing guests how they can aid the cause for healthier living at home and in their workplaces and communities.
The nucleus of Phipps' efforts is the Center for Sustainable Landscapes (CSL). Constructed in 2012 as Phipps' facility for education, research, and administration, the CSL is an integral part of the Phipps visitor experience. The building generates all of its own energy and treats for re-use all storm and sanitary water captured on-site. It is the first and only building to meet four of the highest green certifications: Living Building Challenge, LEED® Platinum, Sustainable SITES™ Platinum, and WELL Platinum. Designed to invite exploration and inquiry while seamlessly integrating with Phipps' guest experience, the CSL is uniquely positioned to showcase renewable energy technologies, conservation strategies, water treatment systems, and sustainable landscaping to a broad audience, including many engaging with these topics for the first time.
Making Standards Work for You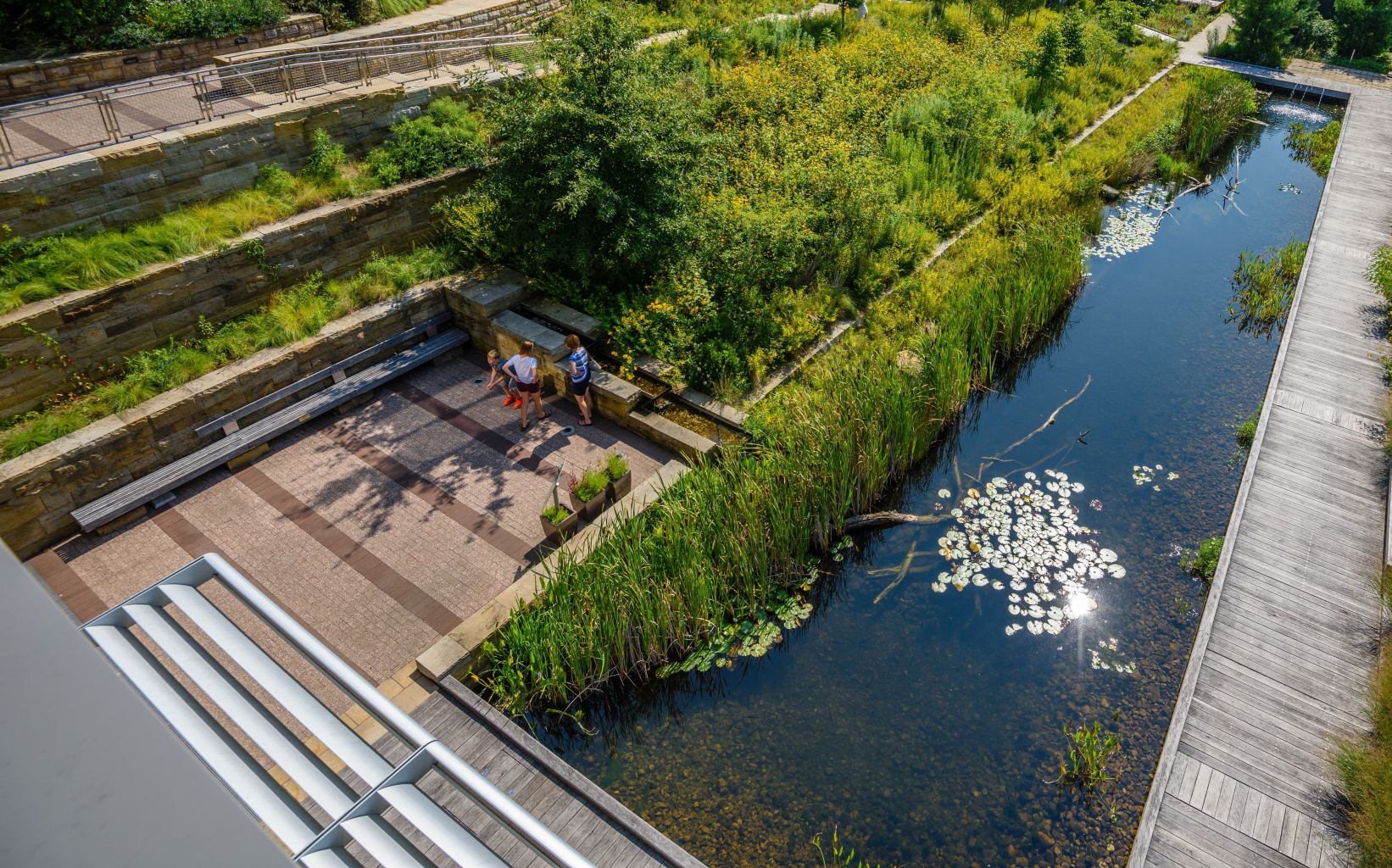 The CSL is constructed and operated according to certification standards which were instrumental in shaping its approach to human and environmental health. One of those standards, the Living Building Challenge, defines a holistic design protocol for healthy buildings that can operate cleanly, beautifully, efficiently, and harmoniously with their natural surroundings. The Challenge divides these criteria into a system of performance standards it calls Petals. Each Petal directed us to take a particular action in designing our site. With the guidance of the Site Petal, for instance, Phipps transformed a toxic, barren hillside into a thriving landscape that hosts native plant communities and wildlife and serves as an immersive site to connect visitors to nature via walking paths and interpretive signage. The Energy Petal requires that we produce all the power we need onsite without the use of combustion. As directed by the Materials Petal, Phipps and its design team painstakingly sourced and vetted materials that are compliant with the Living Building Challenge's "Red List," which identifies many toxic chemicals that are ubiquitous in building products. Other Petals addressing higher standards for natural light, views of nature, indoor air quality, and water led to innovations in these areas that benefit staff, the public, and the ecosystem. Perhaps most innovatively, the Beauty and Inspiration Petal led Phipps to fill the interior space with biophilic art, further blurring the outdoors and indoors while reinforcing the organization's mission and purpose to connect people to the beauty and importance of nature. These standards are powerful statements of where we need to go in addressing climate change and preserving the health of the planet.
Skip over related stories to continue reading article
Another certification we pursued, the WELL Building Standard, is a performance-based certification system which focuses on how buildings affect human health. To meet this standard for the CSL, Phipps implemented a series of preconditions and optimizations around air, water, nourishment, light, fitness, comfort, and mind. Some of these features, like air and water quality, overlap with Living Building Challenge standards, while others—such as the inclusion of interior exercise space, food preparation equipment standards, and hydration—are unique to this standard, which illustrates the usefulness of combining multiple certifications to achieve the most optimally healthy space. Every institution will find a different combination to meet their specific needs, as all have distinct elements to offer.
The Role of Biophilic Design
Across these standards, biophilic design elements and attributes, which emulate or draw inspiration from nature and enhance our innate desire to connect with it, were critical to the design of the CSL. Biophilic design manifests itself in many ways, most of which are focused on creating perceived and literal connections to nature, from incorporating water sources and diffuse light elements to including natural shapes and patterns in design and décor. Biophilic design features give the CSL a natural, organic character while helping to achieve its net-zero energy and water goals. In the building's atrium, natural patterns and processes are brought to vibrant life by a dynamic audio art installation of natural sounds which change based on the season, weather, and time of day. In the administration, research, and education offices, natural light and open spaces also contribute to the wellness of staff and visitors.
The Phipps Research Institute for Biophilia and Science Engagement takes a multi-disciplinary approach to better understanding the connections between people and their environment, and to improving human and ecological health and wellness through research, education, and practice. Through the Institute, staff and visitors are surveyed to assess if and how the CSL has impacted the way they think about and live in relation to the environment. The results are striking: 71.4 percent indicate that the CSL has impacted the way they think about their relationship with the environment, while 41 percent report that the CSL has changed the way they live their lives regarding their health. Incorporating biophilic design principles in the earliest stages of design and development is ideal, and helps all project participants to focus and align their talents toward your healthy building goals.
Taking Your Building to the Public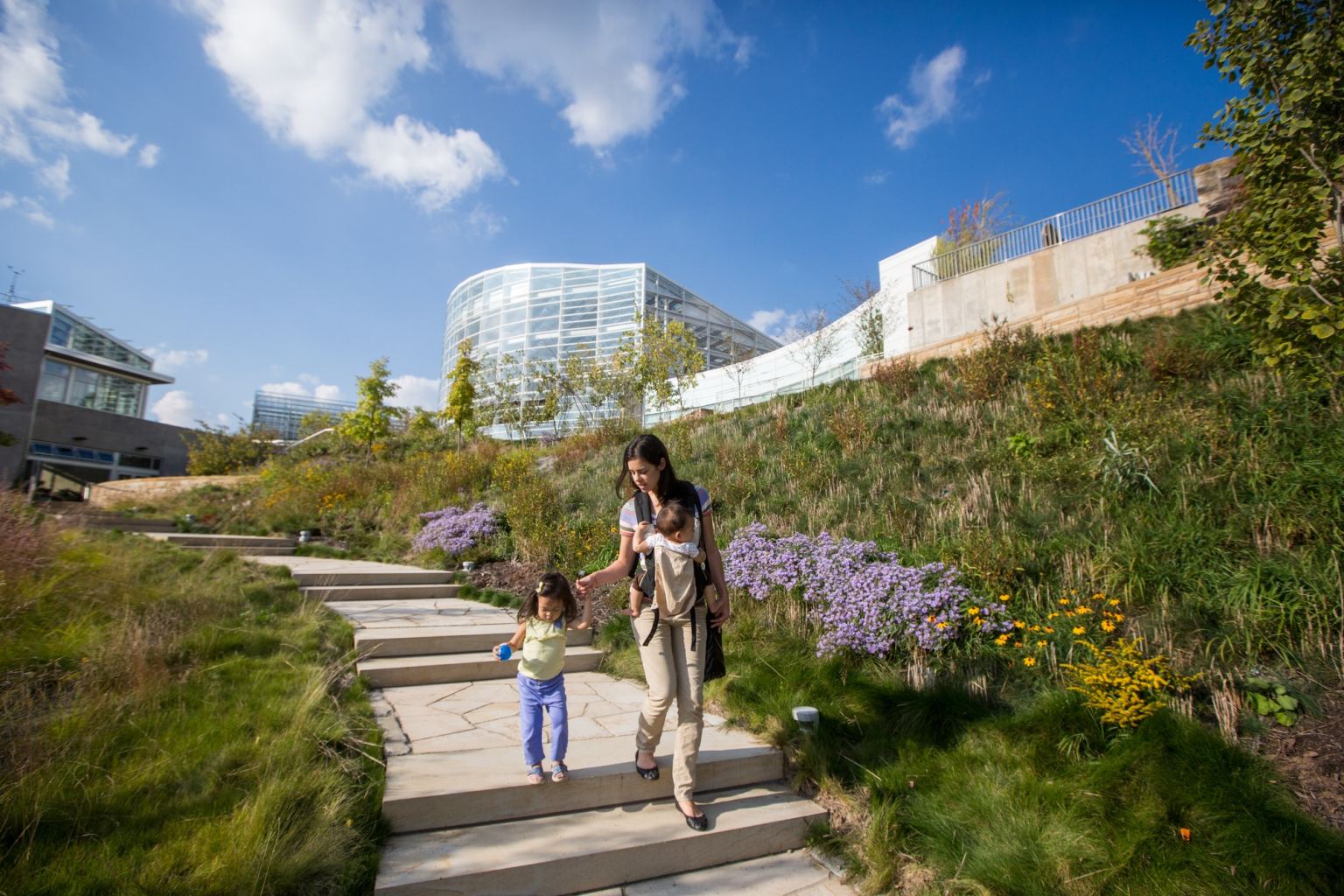 It's not just in the design of the buildings but also how they are operated and used that you can see dramatic results. Once you have a biophilic, healthy, efficient building on your campus, what you do with it is powerful, and cultural institutions are uniquely positioned to introduce the public to the inner workings of these life-changing, inspiring facilities and practices. Phipps' engaging talks and presentations, docent-led tours, science education classes, and on-site interpretive signage explain operational protocols and green building design while reinforcing the importance of interactions between humans and their environment, with particular emphasis on green spaces in the city, urban gardening, healthy food initiatives, and urban-based sustainable building practices. As more people discover these concepts at work at Phipps, as well as the potential to implement them elsewhere, they will be encouraged to embark on similar projects at the home, business, and community levels. Additionally, in Phipps' numerous indoor and outdoor classroom spaces, children get a chance to connect to nature, instilling in them a sense of wonder and fostering the growth of tomorrow's environmental stewards. According to a 2014 study, introducing young guests to these concepts early in life is the best way to inspire them to make green buildings and sustainable lifestyles the standard for the future.
To begin your own journey with sustainable design, here are some initial steps and considerations to make:
Join Phipps and other cultural institutions as a signatory of the We Are Still In campaign — a project that seeks to unite businesses, institutions and other leaders to honor the Paris Agreement. It's a good way to start thinking about what you're already doing, see what others have done, and consider what you can commit to long-term.
Commit to constructing all new buildings as zero-energy. There's no better time than today, and whenever it comes time to build that next building, to show your community and the world that you care about the future of our planet and our children and grandchildren who will inherit it.
Commit to 100 percent renewable energy. Even if you don't yet have on-site generation for green power, you can start your commitment right now by purchasing renewable energy credits and carbon offsets, getting yourself on the right track to work on energy use reduction and on-site generation in the future.
Eliminate bottled water and single-use plastic disposables from your café. This low-cost commitment makes a huge difference and has very little barrier to entry. Tell your patrons why through interpretive signage—they will appreciate the thoughtfulness.
Pick a building standard that makes sense for you: the Living Building Challenge is the most comprehensive as it relates to human and environmental health, or you can focus on the building (LEED), landscape (SITES), or how the building effects human health (WELL). Once you have selected one, take a deep dive in understanding all of the components of the standard and how implementing it can help you improve your operations and make a better place for people and the planet.
Committing to green buildings and sustainable practices with the same high prioritization and daily attention as your other areas is more than a business imperative. It is a matter of human and planetary health, well-being, and survival.