---
This article originally appeared in the May/June 2019 issue of Museum magazine, a benefit of AAM membership.
---
Museums subsisting on tight budgets often don't prioritize taking risks and experimenting with new ideas. Yet, museums that don't do these things will struggle to adapt to changing conditions or grow beyond their current scale.
At the San Diego Natural History Museum (The Nat), we established an internal venture fund to encourage a risk-tolerant and creative atmosphere and develop longer-term strategies for building audiences and earned revenue. Failure is not only tolerated, but expected, and we aim to learn from our missteps. While we envisioned the program as beneficial, we did not anticipate the depth and breadth of cultural change it would ignite.
How We Began
The Evolutionary Venture Fund (EVF) program was named as a nod to the museum's expertise in paleontology and our study of evolution and in recognition of the fact that we need to adapt to changing times. We used the museum's new Strategy Roadmap to provide parameters for this experimentation. The roadmap challenged us to lead with our science, proactively communicate our research, and become more involved with regional conservation issues. It also recommended moving away from renting expensive traveling exhibitions, focusing instead on our collections and in-house expertise for exhibition development.
Further, we decided to add more personal experiences to the museum to attract repeat visitation not tied to exhibition openings. We wanted to broaden our base of visitors without losing our traditional guests. From a cultural perspective within the museum, we wanted to share authority and challenge staff at all levels to become problem solvers. We hoped the EVF would spark creativity, create a greater sense of teamwork, and generally energize the staff.
With a new set of goals and challenges and a tight budget, we turned to a local foundation that had been generously supporting The Nat for many years. It graciously granted us $175,000 to start the EVF.
The Nat's executive management team determined that we should learn not only from the projects that were funded but also from the process. We devoted approximately half of the fund to a trial round of proposals. Although executive management determined the program goals, we established a committee representing a cross-section of museum staff to manage the application and grant-approval process.
All staff were invited to submit proposals after receiving approval from their supervisors. They were encouraged to work in teams and to keep their proposals short and general to minimize the time investment. Projects were evaluated on the issue being "solved," the feasibility of the implementation plan and budget,
whether they represented a sensible risk, and whether the work could be sustained after project completion.
We received 38 proposals in the EVF's first round in 2017, and the committee selected seven to participate in a "pitchfest," 15-minute presentations to a judging panel of invited community members and selected staff who provided constructive feedback through questions. The judges ranked the projects, which went back to the EVF committee, and final funding decisions were made in concert with senior management so we could ensure the overall workload was feasible. Because we had committed only around half of the available funding, we had a buffer for unanticipated final project costs.
Budgeting and staffing proved more of a challenge than we initially anticipated. So in succeeding rounds, the committee worked with the teams to develop budgets, and we added evaluation components and invited teams to identify their own challenges.
What We Have Learned
We are still learning from each round of EVF funding, which we hold roughly twice a year, and continue to refine the process. It was immediately clear that staff across the organization had excellent ideas, and many hidden talents and outside interests surfaced during the process. We saw immediate benefits from multidisciplinary teams and new energy and enthusiasm in staff who didn't usually develop museum content.
We also learned the limitations of staff time. Although it was refreshing and sometimes rejuvenating for staff to participate in creative endeavors, the museum's daily functions still needed their attention. It was also clear that certain functions, like marketing and building operations, needed to be an integral part of all public-facing projects. We needed to factor in staff time on projects from the beginning.
Although the program was grassroots in function, executive management provided direction and support. Beyond setting the initial goals, executive management ratified the funding recommendations and helped ensure coordination among projects. Because many of the participants were less experienced with project management, senior leadership needed to make sure that projects could be accomplished on time while meeting budgets and with normal staff workloads.
Finally, over the course of the first year, we decided to reserve a small portion of the funding for directed or commissioned projects. This allowed us to fund good, timely ideas that arose outside of the normal EVF deadlines yet fit the EVF criteria.
Although the EVF was funded by outside grants, it was not without cost to the museum. We decided to exclude staff salaries from the grants so the funds would stretch further. EVF grants covered hard costs and outside contractors, but the departments essentially donated the staff time. This made it trickier, but not impossible, for hourly workers to be involved.
Lasting Benefits
The EVF has been a powerful change agent for the museum and has awakened an entrepreneurial spirit in museum staff. It shook up the normal hierarchy and encouraged new staff relationships. The spirit of experimentation extended beyond EVF and into daily operations, and staff at all levels rose to new challenges. When a project failed, we tried to treat it as a learning experience; we count our new risk-tolerant atmosphere as one of the major EVF successes.
The cross-departmental interdisciplinary teams have created professional development and mentoring opportunities and lasting staff relationships. The heightened sense of creativity opened the door for new budgeted projects that are not part of the EVF. The projects helped everyone better understand the nature of work across the museum, demonstrated the value of interdisciplinary teams, and brought to light a variety of previously hidden talents.
Several of the projects are creating new sources of earned revenue for the museum, including an escape room, our rooftop refresh, and a temporary conversion of the traveling exhibition gallery into meeting and event space (see "What the EVF Has Created" sidebar on p. 24). The escape room and rooftop, in particular, have attracted new visitors and created successful programming opportunities for 18- to 35-year-old guests.
Two years into EVF, several projects are starting to generate new funding streams for the museum. The next round of project funding is continuing with two more foundation grants. Although we are not ready to reinvest proceeds back into the fund, we hope to do so in the future. And while some of the projects stopped after the funding ended, others evolved into new programs supported by the general operating budget or revenue generation.
The EVF has given our staff a voice in our collective future, and it is an important statement about our values and direction. It signals to the outside world that The Nat is dedicated to being creative, taking risks, growing, and improving our museum and culture.
---
What the EVF has Created
Following are a few EVF-born projects that have been particularly successful.
Botanic Panic: Escape The Nat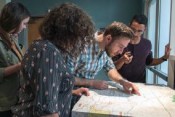 Escape rooms are popular puzzle-solving activities. A small group is "locked" in a room and needs to use theme-based clues to "escape." The escape room team was comprised of gamers from across the museum, including a scientist, a visitor services lead, a development officer, and an A-V technician. At $22,000, this was one of the larger EVF grants, and it had one of the most prolonged development periods. At The Nat, the escape room is a premium experience for groups of up to six people. Players need to find the correct plant in our herbarium to save the world from a bioterrorism threat—in less than one hour!
Art cart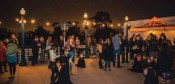 This modest, yet effective, activity is a cart with drawing supplies and a carpet visitors can use to sketch in the museum. At $4,500, it was the smallest investment of the EVF—and also one of the most sustainable. Visitors are prompted to deeply observe specimens, ask questions, and look for their own answers.
Rooftop refresh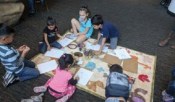 The museum has a delightful rooftop with an unparalleled view in Balboa Park. We had been using it for special events, but it was rarely  available for museum visitors. After we purchased furniture and umbrellas, repainted, and added some planters, the rooftop became a more desirable rental space and an occasional rooftop bar. Last summer, we tried out a Friday night bar and natural history trivia contest, which was so popular that it will return this summer.
Botanical specimen scanner
A relatively small investment in technology became one of the most financially successful EVF projects. The botany department used the EVF to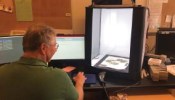 purchase specimen digitization equipment for new research projects and to enhance the value of online collections. The technology has led to new grants and contracts to digitize specimens in nearby herbaria, bringing in significant new income.
Exhibition hall conversion
When we suspended the traveling exhibition program, we were left with an empty 8,000-square-foot gallery in the lower level of the museum. With EVF funding, we painted and added lighting and temporary walls, transforming the space into a venue for rentals and internal meetings. We often use it for staff meetings, scientific symposia, volunteer training, and expanded adult education offerings.
---
6 Tips for Starting an Experimental Venture Program
Start small. Some of the most creative and sustainable projects are low-budget items.
Delegate to a staff group. Create a project review committee that is a cross-section of your museum staff in terms of both job level and department.
Include a pitchfest. This is one of the most interesting parts of the selection process. It provides positive, constructive feedback on the ideas, and it is a great way to include board or community members in the experimentation.
Understand how new projects will affect normal operations. Staff working on the experimental projects will need release time from their normal duties. Factor in all the support needed from various parts of the museum before approving projects.
Provide feedback for all participants. The panel and executive management should provide feedback on all proposal ideas whether they are funded or not.
Evaluate. With proper evaluation, you will learn a lot regardless of project success or failure.