I will be running a Cryptokitty meet-up at the AAM annual meeting in New Orleans on Tuesday, May 21 from 2:00 – 2:30 in the Alliance Resource Center in MuseumExpo. Join me for a brief tutorial on collecting, breeding and trading digital felines. If you are already a collector, come prepared to trade or gift some Cryptokitties to colleagues! –Yours from the future, Elizabeth.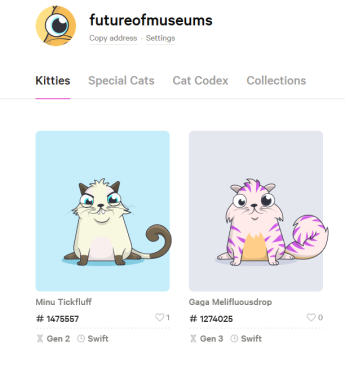 Every new technology, however forbidding, finds an accessible, friendly face to introduce itself to the world. IBM sent the Watson artificial intelligence algorithm to compete on Jeopardy. When they aren't taking our jobs, robots infiltrate their way into our hearts in the form of puppies and kittens. (So successfully that a Buddhist temple in Japan holds funerals for decommissioned beloved Aibo robot dogs when they can no longer be repaired.)
For blockchain that friendly face is also feline—in the form of Cryptokitties.
Cryptokitties are an example of blockchain-based digital collectables: digital items that can be bought, sold, collected and traded, with the transactions being recorded in a blockchain ledger (in this case, Etherium). Cryptokitties.co has built a hugely successful game around the buying, breeding, and trading of these digital cats.
Cryptokitties are a fun way to explore blockchain in general, and its potential as a platform for trading and tracking art in particular. For example:
Cryptokitties are unique. Unlike digital currency tokens like Ether or Bitcoin, cryptocollectibles are what are known as "nonfungible tokens." A Bitcoin is a Bitcoin, just like a dollar is a dollar. But the code that specifies the attributes (sorry, "cattributes") of a given kitty distinguishes it from any other kitten.
That code is a 256-bit genome, a kind of digital DNA, determining color, shape, fluffiness…wings, horns, clothing. (Yeah, it gets weird.) When you breed two Cryptocats, a genetic algorithm combines the traits of the parents to create a new, unique, digital kitten. The algorithm throws in the occasional mutation, for an added bit of biologic verisimilitude.
Cryptokitties are digital property that you own exclusively. When you buy a Cryptokitty, you own the cat via a private, digital key—no one can duplicate your cat or take it away from you, but you can sell or gift it to others. A secure, immutable record of Cryptokitty transfers and births is stored on the Etherium blockchain.
Players use digital currency (in this case, Ether) to purchase cats and pay breeding fees. Less playful uses for cryptocurrencies like Ether and Bitcoin include investing (or speculating), paying for products and services online or at local businesses, or (if you are unlucky) ransoming your files from digital pirates.
Cryptokitty collecting and breeding is made possible by "smart contracts"—self-executing agreements that abide by conditions programmed into them. Some of these contracts specify how two kitties will breed, and the traits of the resulting kitten. Others transfer Ether as cats are bought, sold and bred.
To get started with Cryptokitties you will need:
Chrome or Firefox browser on your laptop
A "wallet" to store digital currency. The Metamask wallet can be installed as a Chrome browser extension, and mobile wallets like Coinbase and Trust work on mobile devices
Ether (digital currency) to put in your wallet, which you can purchase with non-digital currency via a debit card or a bank account. Cryptokitties can sell for stratospheric prices, but there are plenty of cats up for sale for as little as .0058 Ether (about $1). There will be a tiny "gas" fee every time you breed your cat.
I'll have some CFM digital kittens up for adoption at the meet-up in New Orleans. They will be free to a good home, while supplies last, for people who come equipped with a public wallet address. Or you can just come coo over the digital cats….
You can find a primer on Blockchain, and some observations on potential museum applications, in TrendsWatch 2019.
Skip over related stories to continue reading article