It's Monday, November 5, at 1:01 pm. I'm headed to a meeting in downtown Waco, Texas. As I drive by The Silos, a retail space developed by Fixer Upper stars Chip and Joanna Gaines, I am amazed to see the crowds standing in line to get in. I stop my car in the middle of the street to snap the above picture. It's not a holiday weekend. It's just a regular Monday in Waco, Texas. My immediate thought is, "Thank you Chip and Joanna."
The impact of HGTV's television show Fixer Upper and the subsequent entrepreneurial activities of the show's stars, Chip and Joanna Gaines, have changed the economic and touristic landscape of Waco. As director of Baylor University's Mayborn Museum, which is located in the city and has benefited from the boom, I can attest that it's sometimes better to be lucky than good. The crowds I noted above are coming every day to Waco, and all museums in our community are reporting increased attendance.
The Television Show and its Spin-off Magnolia Market
For those of you who have not seen Fixer Upper, it was one of the highest rated cable television shows before it ended in 2018 (its reruns are still very popular). On my initial viewings, I thought it was just another home improvement show. But then I watched it one day and to my shock became hooked on this reality TV show, which featured the Gaines family working on their farm and "fixing up" houses in the Waco community. Joanna Gaines's unique design skills, her husband Chip's passion for his work and his humor ("It's Demo Day!"), the Gaines's strong commitment to family and friends, the beauty of Waco and central Texas, the many houses Chip and Joanna have renovated, the genuine warmth with which the Gaineses treat their clients, and the opening of their design center called Magnolia Market have combined to create something people want to come experience for themselves.
I arrived in Waco as the new director of Baylor University's Mayborn Museum in August of 2015. The Gaineses opened their iconic Magnolia Market at the Silos facility in October of that year. The facility includes a retail shop with home décor, apparel and jewelry, a bakery, a seed and garden supply center, and an event space surrounded by food trucks. This tourism graph (below), developed by the Waco Convention and Visitors Bureau, shows how tourism in Waco took off with the opening of Magnolia Market in 2015.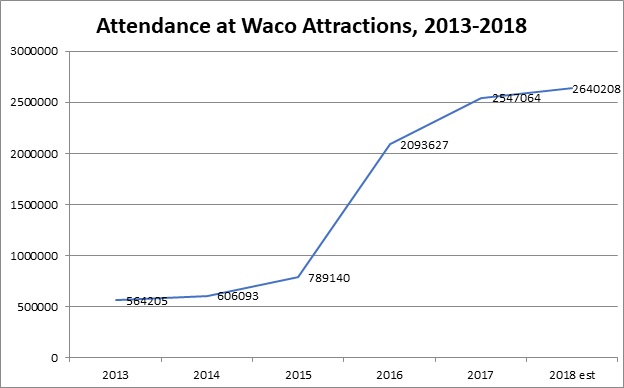 Impact on Waco's Museum Community
While many museums across the country are reporting a drop in their attendance, Waco's museum attendance continues to grow:

These attendance numbers are for the past two years, which is after the exponential tourism growth of 2015-2017. Chris Dyer, President and CEO of the Dr. Pepper Museum, has probably seen the greatest gains from the Magnolia effect. It doesn't hurt that his museum is located across the street from the Silos. "A record year for us pre-Magnolia was seventy-five thousand visitors…by the end of 2019 we hope to hit 170 thousand," Dyers says. He adds that his museum has struggled to catch up as it learns how to deal with this level of growth.
To be sure, there are other reasons for Waco's tourism growth. When Waco Mammoth National Monument was designated in 2015, the brand attraction of the National Park Service kicked in and raised attendance to the site from twenty-eight thousand to 108 thousand in three years. Baylor University and its stellar academic, artistic, and athletic programs draw tens of thousands of individuals to the area each year. And the Mayborn Museum continues to host stellar traveling exhibitions, the two most recent being Titanic: The Artifact Exhibition and Very Eric Carle: A Very Hungry, Quiet, Lonely, Clumsy, Busy Exhibit, which both set record attendance weeks for the museum. But there is no doubt the Magnolia Effect is huge: they outdrew The Alamo last year!
Looking for a Deeper Meaning
But what can museums learn from the Magnolia Effect? What is drawing these visitors to Waco?
Carla Pendergraft, Director of Marketing for the Waco Convention and Visitors Bureau (CVB), notes, "All of us have our story of when it dawned on us that Chip and Joanna were a "thing." Mine was when I went to see the "Little Shop on Bosque," [the Gaines's original home design store] and it was filled, wall-to-wall, with people. I chatted with a couple of them and asked if they were part of a group. I couldn't imagine all of these people being unrelated in some way. The customer said, 'No, we don't know each other!' and I realized this was a true phenomenon." Pendergraft believes the Gaines have tapped into a zeitgeist, "People are looking for comfort… [Joanna's] designs are clear, simple, uncluttered, and homey combined with industrial elements… It's about home as refuge, homemaking at a high level."
Skip over related stories to continue reading article
Magnolia Market Customer Surveys, by Mara Gomen and Mariah Osgood, notes that:
"The majority of those interviewed (60%) lived outside of Texas. The 40% of instate visitors were primarily from the most populated cities in Texas: DFW [Dallas/Fort Worth], Houston, and Austin. Only one interviewee named Waco as their home residence… We concluded that about 78% of our Magnolia interviewees came to Waco only because of Magnolia… On average visitors are extremely satisfied with their experience, the staff, the property and shopping; the exception would be store maneuverability on weekends… Consumers have extremely positive brand associations about Magnolia."
J.B. Smith, writing in the Waco Tribune-Herald, notes, "It's a brand, the glow of a couple [who] have become icons of faith, family and affordable home design to millions of Americans." In the same article, Smith notes that Kelli Hollinger, Director of the Center for Retailing Studies at the Mays Business School at Texas A&M, was impressed with Magnolia's strategy of "starting with 'content, brand and story' and moving into 'merchandise and experience.'"
I believe that the thousands of people traveling to Waco each week are in search of an experience. They want to experience central Texas as they have seen it on the Fixer Upper television show. They want to shop at the Silos, where they can get closer to Joanna's design ideas and perhaps bring some of that magic back to their homes. If they are lucky, they might catch a glimpse of Chip and Joanna. Magnolia now has hundreds of employees, and they are the friendliest, most helpful people you will ever meet. You can take a tour in Waco and drive by many of the homes the Gaineses have remodeled. You can spend the night in Magnolia House. You can have lunch at Magnolia Table or buy a cupcake at the Silos Baking Company. Can museums create similar experiences by developing a strong brand and providing stellar service?
But I also wonder: is the magic of Magnolia as simple as getting to walk onto the set of a popular television show? If so, I should add that the Mayborn Museum's Historic Village was featured in Season 4, Episode 5. Watch that episode, then come and visit the Mayborn Museum!