I'd never visited New Orleans before, and my brief but fascinating experience served as a metaphor for this year's AAM Annual Meeting experience. New Orleans is a city of layers, with old finishes poking through, new ideas still pushing forward, and yet other thoughts and practices still in transition. As you walked around the city, you could see bits of the old poking through new coats of paint.
At AAM, the new was there, with progressive features like land acknowledgments; Kimberly Drew's incredible keynote putting her own salary up on the screen, followed by her male predecessor's higher salary; the Museums and Race Lounge; and the ability to follow along with so many sessions on Twitter, no matter where you were.
But the old was still strongly there too: panels that felt like talking heads; a predominately white, male, and technology-heavy exhibit hall; and a continued resistance to pay transparency despite Drew's comments.
New Orleans is also a crossing place of cultures, which was reflected in my AAM experience as well. A vital part of my week was the chance to get to know the Getty International Fellows, who had come from around the world to attend the meeting. For many, it was their first chance not just to experience American museums, but to dive into American culture. Just a few of their observations:
"Why is it so cold in the building—we're talking climate change here!"
"The pronoun name tag ribbons can be used to start a discussion back home, where such conversations are just beginning to happen."
"The 'Mistakes were Made' session was so cathartic—so many mistakes!"
"At the conference, as at museums—if you eat, you'll be okay."
"Walking the city is an education and experience in itself."
"I need to be telling stories in my country that have not been told yet."
Skip over related stories to continue reading article
We had much to learn from our international colleagues, and I'd welcome increased opportunities at AAM annual meetings for them to share their work. This year I learned about everything from an exhibit furniture recycling program in Mexico City, to working with antiquities, to working with all kinds of different communities from Mongolia to Argentina.
In addition to Kimberly Drew, two other speakers particularly resonated with me, confirming the sense that there is so much work still to be done in our field. We can, if we decide to, make museums places for communities to both reflect and work towards change.
Mitch Landrieu, former mayor of New Orleans, spoke about the city's decision to take down Confederate statues. He commented in his keynote that "our country is struggling mightily with the very simple notion that diversity is a strength, not a weakness" and that "we know that we're never going to hit that more perfect union—but to aspire to it, we need to be purposeful and thoughtful."
Lonnie Bunch, named Secretary of the Smithsonian soon after the conference, spoke at the ICOM-US lunch about the power and meaning of history. The first historian and African American to be named Secretary, he pushed us about our work: "Your job as a historian is to help people remember not just what they want to remember, but also what they need to remember."
As Global Networks Program Director at the International Coalition of Sites of Conscience, I work with human rights activists around the world who are coming to museum work as a tool for social justice. These new museums and new colleagues, not necessarily from traditional museum backgrounds or training, have increased my appreciation of the value of new ways of doing, of the importance of lived knowledge, as opposed to pure academic learning, and to the ways that museums can change the world. I want to express my deep admiration for all those of you at the conference who pushed out new ideas, asked tough questions, and proposed the creation of a more just world as the responsibility of museums. I still struggle, though, with how to ensure these new voices can be heard by those who still like that old coat of paint, that old way of doing things. I think we'll find a way, but like many of you, I'm impatient.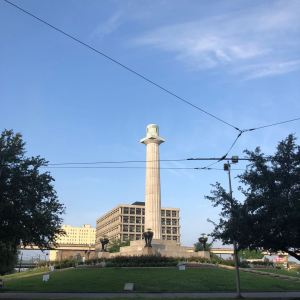 My hotel was right on Lee Circle, and every morning I looked out my window at that enormous empty column that used to hold the statue of Robert E. Lee. It seemed pretty clear in New Orleans that the city's stories are many and evolving—but equally so, that the museum field's work is evolving as well. As Mitch Landrieu said about change, "We need to get about it, not be dragged to it."
Get about it!
About the author:
Since 2017, Linda Norris has been working with museums and memory organizations in sixty-five countries to use the past to create a more just future for all of us through the Global Networks Program for International Coalition of Sites of Conscience. Previously, Linda was an independent museum professional working on issues of community engagement in all facets of museum work. She is the co-author of Creativity in Museum Practice and blogs at The Uncataloged Museum. She is also an instructor in JHU Museum Studies and Cultural Heritage programs and a former Fulbright Scholar to Ukraine.