When I became the executive director of the expERIEnce Children's Museum in 2013, the museum was seeing tremendous growth in attendance and reinventing itself in the community. With these changes afoot, it was important to me and the rest of the museum team to learn as much as we could from our peers and ensure we were headed in the right direction. For that reason, we applied to the Museum Assessment Program (MAP) and were accepted in 2016.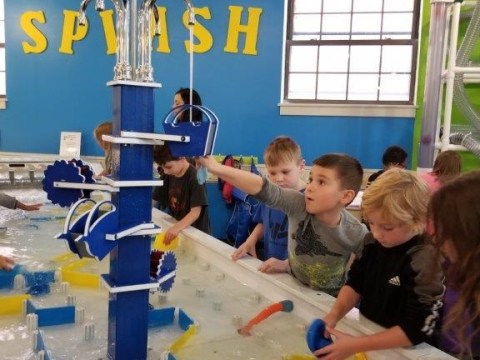 The MAP assessment gave our small-to-medium sized children's museum the boost we needed to dream big and become the museum we knew our community needed. Though the process was time-consuming, the work was the most beneficial thing we could have done for our organization. It brought our staff, board, community stakeholders, and donors into the process of illuminating who we are and why we do what we do. With the help of the exercises, we began to think about our organization in completely new ways.
We were very lucky to have Michael Shanklin, CEO of Kidspace in Pasadena, CA as our peer reviewer. Michael dedicated time to reviewing our museum, assessing our needs and concerns, and answering our questions. Afterward, he prepared a forty-page document that outlined the changes he suggested we make within our museum, including creating our first-ever strategic plan. His assessment showed us how to "get our house in order" and think strategically of where we want the museum to be in five or ten years. I also gained a trusted advisor in Michael, a priceless gift as a young executive director that I would not have gotten without the MAP process.
So where are we now? We've been working to complete many of Michael's suggestions already, including organizing exhibits by learning topic (Example: Air, Motion, Water, etc.). We also completed many of the "Best Practices" tasks such as adding our audited financial statements to the website and creating policies for the board and staff regarding safety and governance.  A few of the other ideas were to utilize our education staff more and have them conduct engagements on our stage.  This made it more like a "show" and helped us connect with our visitors in a more formal way. We created themed engagements that rotated every few weeks. Our museum cannot afford Traveling Exhibits and this was an economical way to keep the experience fresh during each visit.
Most importantly, we created our first strategic plan. In the process, we realized that our museum cannot grow to its full potential in its current space. Thinking about the program needs of our community, and our need to continue increasing earned revenue, we developed a plan for a new museum and launched our first capital campaign, which we're calling Full Steam Ahead. We are currently in the quiet phase of the campaign and plan to raise fourteen million dollars for the new museum.
We were also fortunate to receive a MAP follow-up visit in late 2017. Michael Shanklin returned to our museum and spent 2 days with our leadership team digging deeper into topics we felt we needed more help with. Specifically, Michael examined our operating budget and helped us evaluate our programming to determine if the revenue from these programs outweighed the staff time they took to implement. He helped us brainstorm strategies to increase earned revenue in the museum including "packaging" corporate sponsorships to include programming such as our Museums for All initiative, Sensory Friendly Time at the museum and Member Mornings. He also encouraged us to be creative and think outside the box about small-scaled exhibits that we could create in-house that could serve as our own "temporary exhibit" space. For example, Erie has a large New American population. How could we involve these different groups to plan a temporary exhibit? This 2nd  MAP visit gave our small museum the opportunity to work one-on-one with Michael, whom I consider to be an expert in our field and to dig deeper into topics that were important to us.
I truly believe we would not be at this point without our MAP Assessment. If you are thinking about applying—do it! You will not regret the experience.
MAP is supported through a cooperative agreement between the Institute of Museum and Library Services and the American Alliance of Museums.
About the expERIEnce Children's Museum
The expERIEnce Children's Museum, located in the historic cultural district of downtown Erie, Pennsylvania, provides a safe, family-centered educational experience that inspires creativity, exploration, and imagination through play, interactive exhibits, and innovative programming. It is a place that has been inspiring creativity and imagination in children for nearly twenty-five years. The museum is a place where children can race a boat, paint a painting, shop healthy, imagine a career, and produce a play.
Named Erie's Choice for Best Museum every year for five years running, and Erie's Choice for the Best Place to have a Birthday Party in 2017, the museum welcomes over sixty-five thousand guests annually. Three floors and a certified outdoor classroom including over twenty-five hands-on exhibits provide hours of fun for children ages eight and under. In 2016, Discovery Corner, the outdoor classroom, was certified by Nature Explore. It was recertified in 2019.
Skip over related stories to continue reading article